When you think of a Rolls-Royce, you're likely to imagine a vast vessel filled with much wood and plenty of cow hide. They have a presence of the road which is exclusive to those who can actually afford one. Lord Alan Sugar, Simon Cowell and so forth.
Mini Rolls
The British luxury carmaker has unveiled it's latest model, and it's probably a lot smaller than you were expecting. It also only seats one, meaning you will have to drive yourself – God forbid! Mind you, this is not a car designed for adults, although I'm pretty sure Warwick Davies could give it a good go. This is a one-off model that has been specially commissioned for St. Richard's Hospital, which is located in Chichester – the home of Rolls-Royce. Because of this it's been appropriately name the Rolls-Royce SRH.
It's been created for the hospital's paediatric unit in an attempt to make going to surgery a less traumatic experience for children. Can I just say I find this all very heartwarming? Big respect from me, but let's carry on before I get too warm and fussy. The idea is that the young patient will be able to drive themselves to surgery in this special model, which is capable of a top speed of 10mph.
Very Important Patient
Any model that is built to order as part of Rolls-Royce's Bespoke Manufacturing is subject to an special unveiling in front of the customer and this pint-size Rolls was no different. The SRH was given the seal of approval by patients Molly Matthews and Hari Rajyaguru, who were given the special privilege of driving the car car for the first time – an occasion normally saved for the big boss himself. Mind you, let's face it, he wouldn't fit anyway!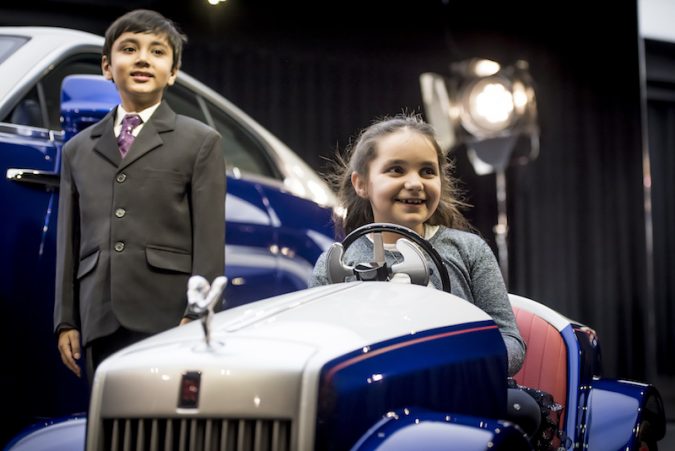 Also in attendance were the families of both Molly and Hari who were able to enjoy the first look of the SRH, which used 3D printing as part of its design, with over 400 hours devoted of the development team's free time. The model features a two-tone finish of Andalusian White and Salamanca Blue, which is contrasted by a red interior. Like any Rolls-Royce, the SRH features the iconic grille with the equally iconic Spirit of Ecstasy on top.
Sue Nicholls, Paediatric Matron at Western Sussex Hospitals NSH Foundation Trust, said, "It's wonderful seeing a smiley face on the way to theatre, rather than an apprehensive one, and everyone caring for children at St Richard's is so grateful to Rolls-Royce for this unique donation. We know boys and girls alike will love driving it and in the coming years it will help turn a daunting experience into a more fun and enjoyable one for hundreds and hundreds of children."
Download your Rolls Royce wallpaper here.