Testing continues for Rolls-Royce's new all-electric vehicle, Spectre. Their first step into the electric market sees them continue with 2.5 million km of testing, with the location now shifting from Arjeplog, Sweden to the French Riviera.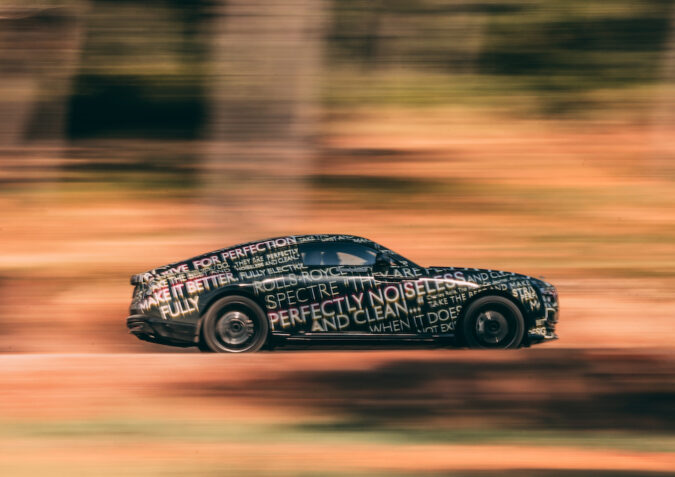 Described as 'the most anticipated Rolls-Royce ever' By Rolls-Royce Chief Executive, Torsten Müller-Ötvös and as 'unlocking the extraordinary potential of integrating a fully electric powertrain into our Architecture of Luxury platform' by Dr Mihiar Ayoubi, Director of Engineering. The Spectre certainly is highly anticipated, with deliveries expected in the final quarter of 2023.
Spectre, A Background
Considered the pinnacle of luxury motoring by many, Rolls-Royce is no stranger when it comes to electric power. Henry Royce began his working life as an electrical engineer and the signature 'whoosh' of a passing Rolls-Royce is derived from his dedication to building an internal combustion engine quiet enough, and powerful enough to emulate an electric powertrain. He was seeking the immediate torque and seemingly never-ending gears that an electric engine can produce.
Royce prophesied the electric car 'should become very useful when fixed charging stations can be arranged and described them as 'perfectly noiseless and clean' with 'no smell or vibration' as early as 1900. Spectre looks to be the fulfilment of his early work.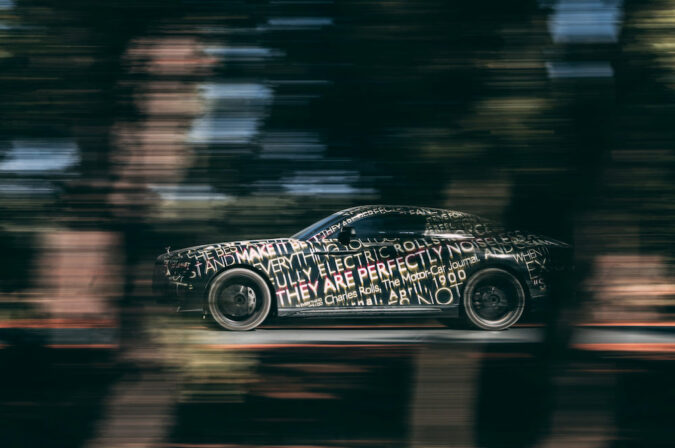 In more recent years, Rolls-Royce has promised to be fully electric by 2030 after receiving significant interest in the fully electric, experimental Phantom concept from 2011. Rolls-Royce clients expressed their belief that an electric power train would fit perfectly with the characteristics of the brand. The Spectre will undergo a testing programme spanning 2.5 million kilometres, simulating on average more than 400 years of use in what's to be a monumental undertaking.
The French Riviera Testing
Testing began with the extreme, just 34 miles from the Arctic Circle, at a custom-designed finishing school where the car learnt how to behave and react the way a Rolls-Royce should. With this phase over, the focus has now shifted to the car's everyday life and where could be more suitable than the French Riviera?
Spectre is intended to evoke the spirit of the Phantom Coupe, possessing the ability to master technical coastal corniches and dominate faster inland carriageways. Continental touring is to be central to Spectre's formula.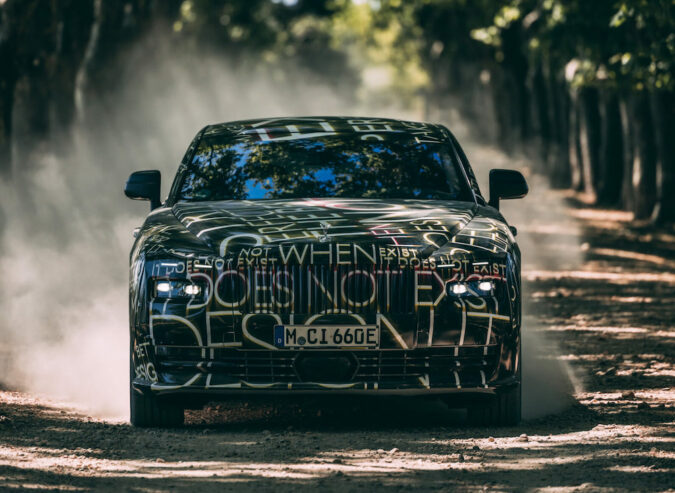 Spectre will be tested for a total of 625,000 kilometres around the Cote d'Azur, beginning at the Autodrome de Miramas Proving Ground, a closed testing facility ranging from irrigation units to allow for the creation of standing water to a heavily banked 3.1-mile-high speed bowl enabling testing at continuous high speed.
The second phase sees a move to the Provencal. This region is enjoyed by many of the marque's clients so it perfectly encapsulates the environment and real-life conditions the Spectre might well expect. Such meticulous efforts go a long way to ensure Rolls-Royce are able to not only meet their client's expectations but so often exceed them.
Electronic Architecture
The innovation doesn't stop with the electric powertrain, as Spectre will feature an unprecedented level of computing power and the application of advanced data-processing technologies. A dramatic increase in intelligence for Spectre's electronics and electric powertrain will see three times more sender-receiver signals than a typical Rolls-Royce, featuring 141,200 relations, 1000 functions and more than 25,000 sub-functions. All this enables a free and direct relationship allowing for detailed information transfers with minimal central processing.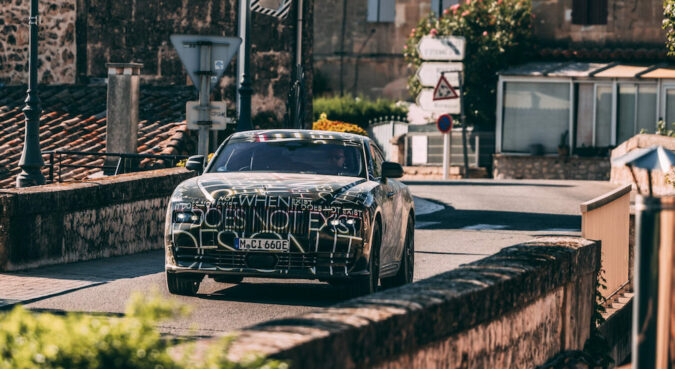 Rolls-Royce's software engineering specialists have designed a system that processes data closer to its source, rather than using a single, centralised processing unit. This allows for not only more sophisticated data packets but the ability to process and respond to these at far greater speed. Consequently, Spectre is able to reliably respond to hundreds of thousands of possible scenarios and evoke an appropriate mechanical response.
Rolls-Royce has harnessed a processing power that creates an unparalleled level of detail, refinement and effortlessness whilst staying true to the character and experience of Rolls-Royce's internal combustion engine cars. The result is described as 'Rolls-Royce in high definition'.
The Magic Carpet Ride
One element undergoing continual testing and refinement is a new suspension technology that has been given approval for Spectre. It utilises both the sophisticated anti-roll stabilisation system and the Flagbearer system to read not only the upcoming road surface but also the satellite navigation system to alert and prepare the car for upcoming corners.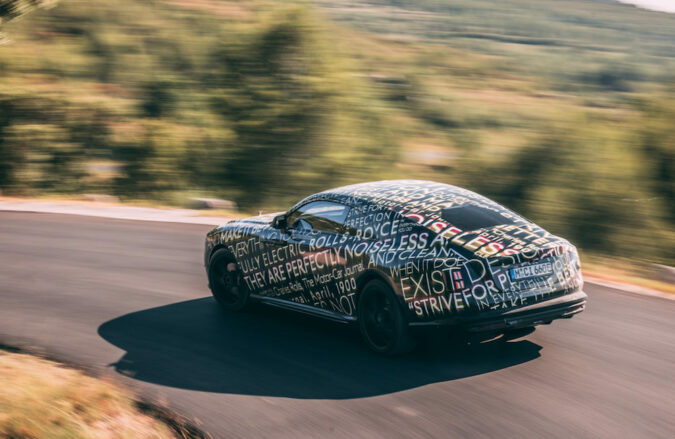 Eighteen sensors are triggered for any one corner with steering, braking, power delivery and suspension parameters all monitored and adjusted accordingly. For the driver, this ensures serenity, predictability, greater control and of course, the hallmark 'magic carpet ride' in unprecedented high definition.
A New Benchmark
Spectre represents a new class of automobile for Rolls-Royce – the Electric Super Coupe. With state-of-the-art technology, the marque's all-aluminium spaceframe architecture provides Spectre with the most rigid body in its history to date. Representing the largest body panels of any Rolls-Royce yet, the one-piece side panel is the largest 'deep draw' part ever produced by the company – extending nearly four metres in length. Likewise, the 1.5 metre-long pillarless coach doors are the longest in Rolls-Royce history.
No luxury car can boast better aerodynamics than Spectre with a drag coefficient of just 0.25, post-Miramas testing. This has been helped, in part, by the recently announced redesigning of the Spirit of Ecstasy mascot that will sit proudly at the prow of Spectre.
The testing programme continues for Spectre with a further one million kilometres required before the marque's engineers will consider the job complete. A rigorous but essential task to ensure the exemplary Rolls-Royce standard is maintained whilst propelling the brand into a new era of luxury and prestige in an electric age.