"I guess that's why we love the sport," said Mercedes boss Toto Wolff at the end of this one. One imagines however that few at Ferrari in the same moment would have been sharing the view.
Yes, motorsport is not like other sports. While just like in those we always seek to project ahead, in this game things can look very different very quickly.
So it was in this race. For months this Singapore weekend had been identified as the place for Ferrari to make hay; for Mercedes to limit damage.
It was this way after qualifying too – Sebastian Vettel was on pole and Lewis Hamilton fifth. Given this, not even Red Bull's likely potency perturbed Seb unduly – surely his would be a major points gain in the title fight and retaking his place at the table top.
Smash within seconds
But after seconds of the race start things were, as intimated, very different. Lewis led and Seb was out. One guesses the equivalent would be a football team expected to win easily finding themselves 5-0 down a blink into the match.
This wasn't the only way it was unusual. For the first time, in this the tenth visit, rain hit Singapore on-track running and we started with wet conditions under floodlights.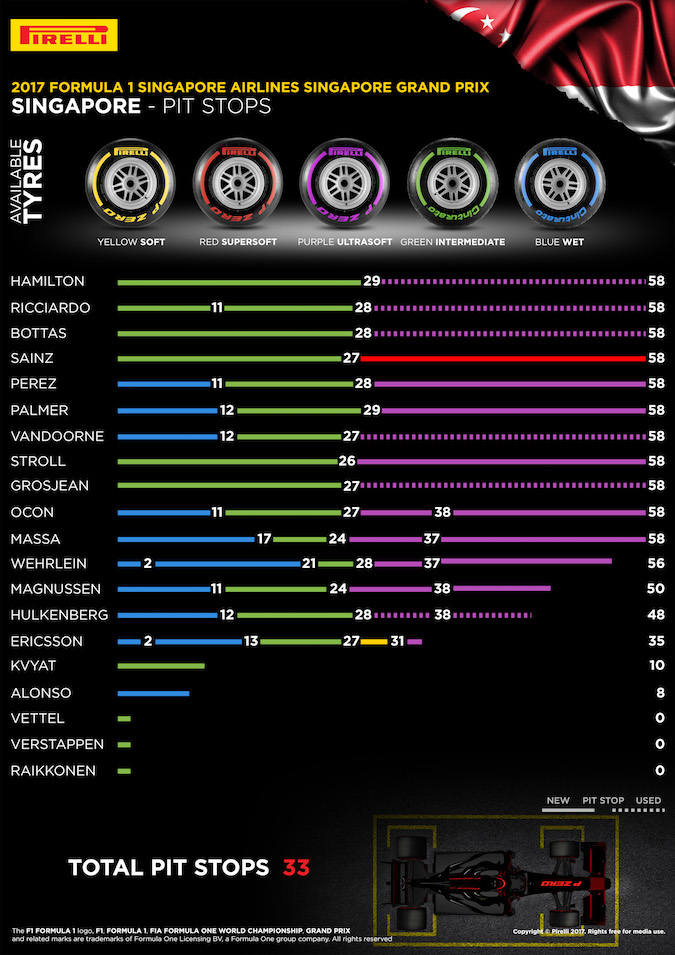 Seb's start was poor and he moved to 'cover off' second-placed Max Verstappen. Trouble was his fellow Ferrari pilot Kimi Raikkonen had a good start and was already alongside Max. Three into two didn't go.
All three collided and were eventually out as a result, as was Fernando Alonso who was collected amid the uproar. His superb start had got him briefly into a net second place. He reckoned a podium at least was possible.
Lewis takes maximum advantage
That left Lewis with the task of bringing it home. This he did, but it was not a cruise. More than once he scampered clear of second-placed Daniel Ricciardo – himself a strong wet weather driver – even during a spell when the Australian had much the fresher tyres.
The track dried by around half distance, but even in the dry Ricciardo looked no more potent. The prodigious Red Bull pace of earlier in the weekend didn't materialise, in part as Ricciardo was nursing a gearbox problem.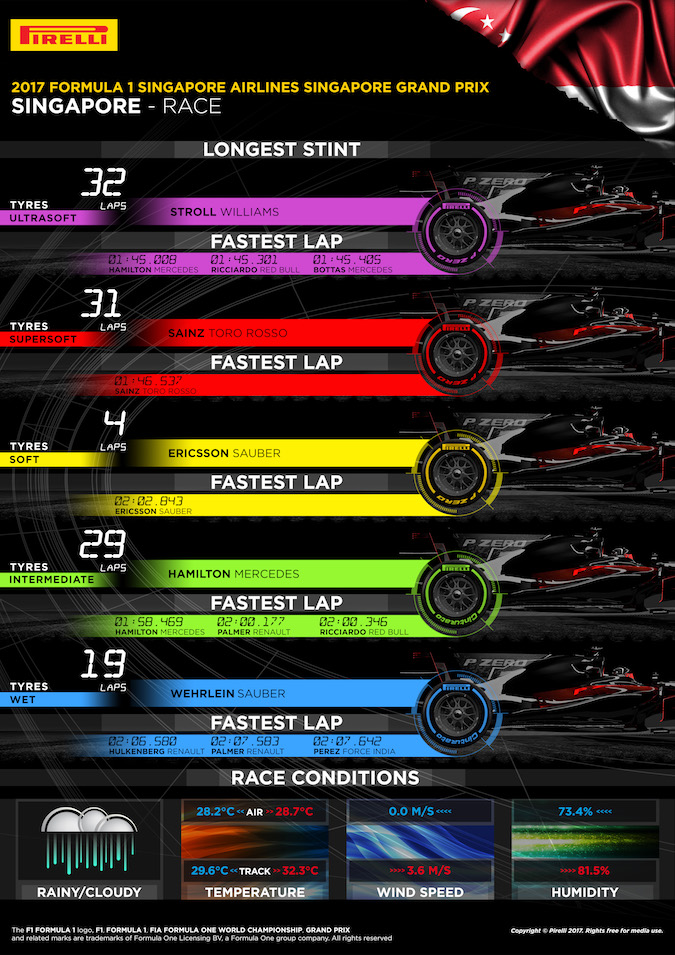 Lewis won comfortably; the other Mercedes of Valtteri Bottas was even further adrift of his pace but got third. Lewis reckoned that such was his wet weather strength he'd have won even without the early frolics.
Those frolics – removing four very likely competitors – removed a lot of the race's drama, but it was not only the race that looked unrecognisable as a result. All of a sudden, after months of nip and tuck, it looks Lewis's title to lose. His lead is now a gaping 28 points when it in advance had looked near impossible to leave Singapore still in front. Quite the jailbreak.
It would, you suspect, take something like what happened today in reverse to rekindle Seb's title chance. But, given what we said, we cannot rule that out.
Image Credit: chensiyuan CC