There are times in life when bigger is simply better. Think big sumo wrestler versus a small, skinny opponent. Or a large chocolate muffin versus a bitesize one. The same applies to cars.
Specifically the Volkswagen Tiguan Allspace.
It's like the normal Tiguan just bigger. And since the Tiguan is one of my all-time favourite family cars (it should really come with wet wipes, a packet of Percy Pigs and National Trust membership as standard), how could bigger not be better? Because if there's one thing that families always need, it's more space.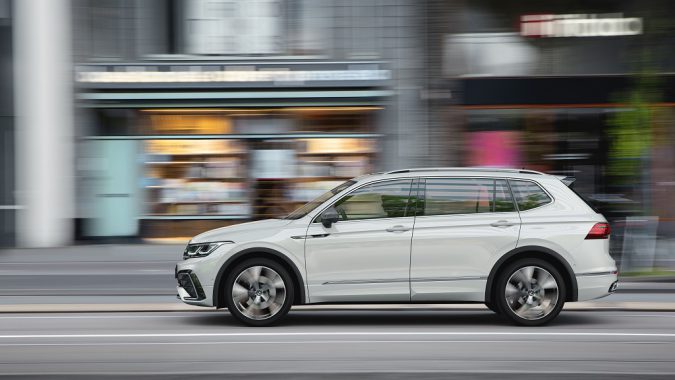 A Bestseller?
Which is why the announcement of the new and bigger VW Tiguan Allspace is so exciting. Will it live up to expectations? Will it be as successful as its older brother which has sold 1.5 million examples since its launch in 2017 and now accounts for 55 per cent of all Tiguans sold?
Let's have a look.
Size
The new Tiguan Allspace is just over 4.72 metres long. That's 22mm – or about a third of the length of your little finger – longer than the old Tiguan Allspace. Hmm. It's not really longer at all then. With your kids growing every few months, it's almost a reduction in size. But we are told by VW that its "virtues as a spacious SUV remain unchanged."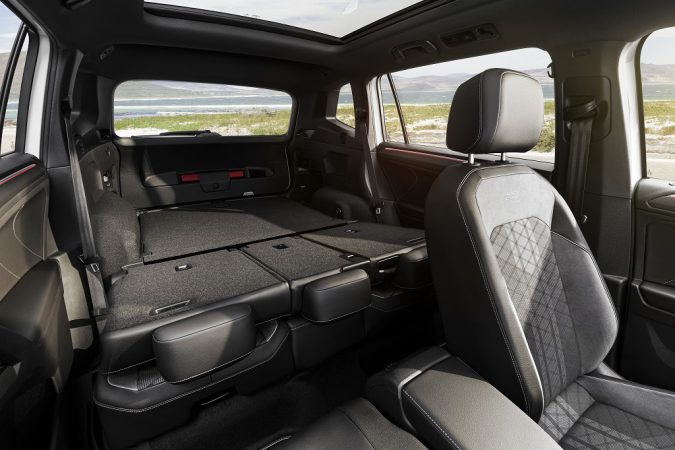 Let's take a closer look at the stats. According to VW, the 5-seater configuration of the Allspace offers 760 to 1,920 litres of boot space. The 7-seater configuration provides 700 to 1,755 litres. In comparison, the VW Golf gives 800 to 1,493 litres. Not excited? There must be more going for this car.
Comfort
How about looking at the comfort side of things? Parenting is tough, so parents need a little comfort – right?
Phew! Good news. The front seats in the new Tiguan Allspace can be ordered in "ergoActive" version with electric 4-way lumbar support adjustment and massage function. Which means you can have a massage on the school-run and feel less stressed at the end than at the beginning. Who knew that was even possible? Winner!
A three-zone automatic air conditioner, operated from a digitised module in the centre console, also means that you never have to lose your cool. Even when Ribena is spilt onto those new cloth seats.
Robot Driving
And if you're just too tired at the end of the day to drive at all (because you've been ferrying around the little ones to music lessons, football and ballet classes), have no fear. The Tiguan Allspace can do it for you. The partly-automated IQ.DRIVE Travel Assist (the full-stop and capitalisation are clearly very important here) can take over the steering, gearbox and acceleration from 30 km/h to 210 km/h (Eyes on, hands-on assistance). So let the kids fight in the back and allow the car to do the hard work. Comfort reigns supreme.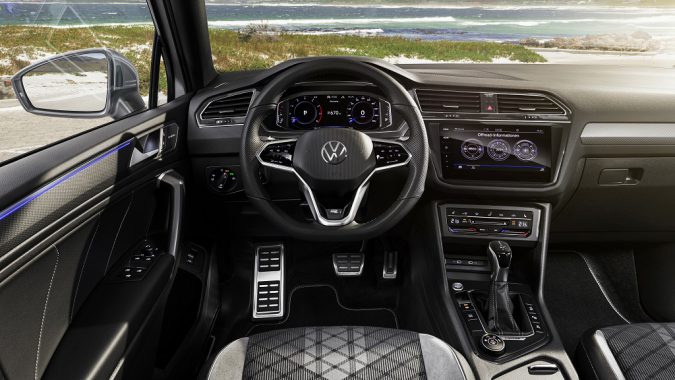 Sound System
But maybe that's not such a good idea – not least because you've paid a lot of money for this car and you've chosen to go for VW's premium sound system designed in partnership with Harman Kardon. With a subwoofer, digital 16-channel amplifier, 8 plus 1 high performance loudspeaker, four sound scenarios (breathe) and surround mode you can listen to all your favourite pop tunes from when you were a kid in the 70s, 80s and 90s. Because nothing beats the Bee Gees and Bryan Adams does it?
Well your children might disagree but you can both agree on the nifty heads-up display and new infotainment system that connects to "streaming services" and "cloud-based personalisation."
The result?
All in all, the new Tiguan has the space you want, the technology you want and the power you want (choice of 3 petrol and 2 diesel engines). That's why I can see this one selling in the same or even bigger numbers than its older brother. Proving that bigger (even if only by a little) really is better.