LA, the City of Angels, is known for many reasons: from perfect weather, sandy beaches, beautiful graffiti, movie stars and celebrities, crazy traffic, Mexicans, hippies, the LA Lakers, probably every Red Hot Chili Peppers song… I can go on and on about the list. Which is why we decided to take a road trip to LA and experience all that. The first thing we had to settle on as we made our plans was "to rent or not to rent." No, we are not talking about real estate property here, we are talking about the cars since we wanted to travel in style.
We decided on renting a car for the whole experience. Someone recommended us to Black & White Car Rental. At first, we thought it would be, well just normal, you know, car rental services. Little did we know.
Receiving the Rental car
This was our first shock, our rental car was dropped off at the hotel where we were staying. It was amazing since we didn't have to go to the rental service office to pick it up. It was a powerful Ford Mustang Convertible. The reason we chose the convertible was, well, the idea of cruising around openly sounded nice, with the wind in our face and the sun on our skin. What other better way to enjoy the LA weather than with a convertible?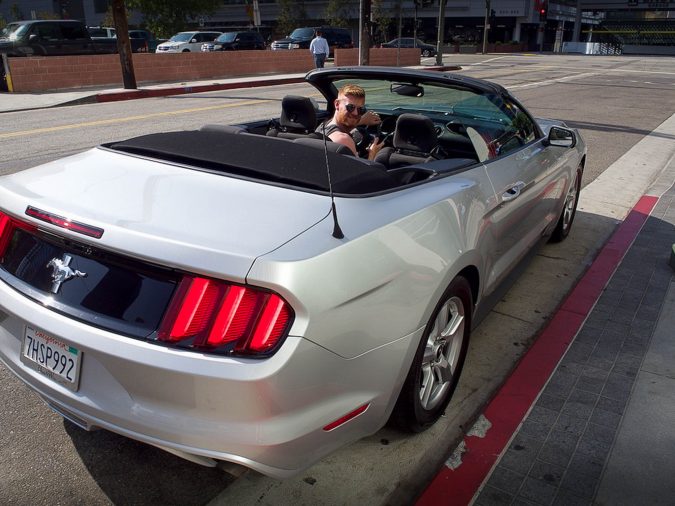 Driving Experience
Afterward, our next stop was stocking up on food and snacks. Walmart seemed the perfect place, not implying that the others are bad, no, not merely the fact that it was the nearest and it is huge, it cannot be missed.
Packed with goodies, we decided not to miss the baseball game playing at the Dodgers Stadium. The Dodgers are the LA home team and it was critical that we showed our support, even though we are not synonymous with baseball, the idea of watching a live game and the excitement that overshadows it was appealing. The air was filled with adrenaline and ecstatic screaming from fans and soon after we fell into that and joined in as well. We almost lost our voices in the process.
After the game we decided to go where LA is famous for, Hollywood Hills, we took a few selfies for remembrance and marvelled at the breathtaking view.
We like to keep fit, and knowing about the calories we just consumed, we decided not to miss our regular workout schedule just because we are on a road trip. Therefore, we hit at a popular local gym, Gold's gym, where we worked out. Afterwards, we were too tired to do any extreme stuff, so we just opted to watch the sunset on Venice Beach, and call it a day. Relaxing, we did agree that all this couldn't be possible without the rented Mustang, we believe it favoured us, working to our advantage. We drove back to the hotel and prepared for the next day.
The next day we went over to the Griffins Observatory, which coincidentally is the place where everyone who hires a car goes to get a photo of the "Hollywood" sign. To our surprise, the car park was full of Mustangs! But not one quite as nice as ours from Black & White Car Rental.
In culminating our LA road trip, we thought it would be great to spend the last evening at Mission Tiki Drive-in Theatre. All in an effort to get the 'classic' American drive-in, the movie War Dogs was showing and we really enjoyed it.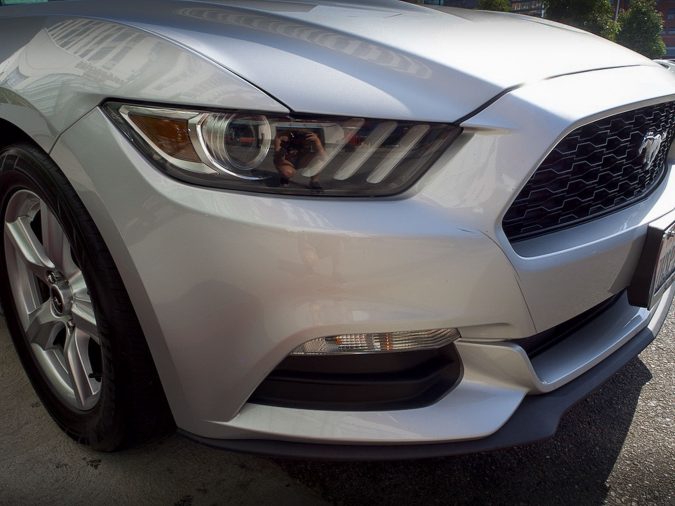 Another point to note, which I skipped intentionally to the last point, is the boot of the Mustang is large enough to fit a suitcase, that is how we sneaked out pillows and duvets from the hotel room for a cosy time at the drive-in cinema.
Update your desktop or iPhone with our free mustang wallpaper.