If you're a fan of Volkswagen, or just desperate to get your hands on a compact, nippy runner, the new VW up! GTI might be just the hot hatch for you. With its roots firmly in the iconic Golf GTI which debuted 41 years ago, the latest up! model is perfectly sporty, and promises to deliver an incredibly fun driving experience. The Up GTI 2018 – Available to order February 2018.
The Volkswagen up! GTI is a city car through and through. Powered by a 115 hp engine, the new up! weighs just 997kg. It's the ideal vehicle for inner-city travel, compact for twisty corners and for heavy-traffic scenarios. Aesthetically, it's going to be similar to the Renault Twingo GT and the Vauxhall Adam S, but comes in at a lighter weight than both, with a faster 0-62 speed than the Twingo GT. Furthermore, the up! GTI has already been crowned the winner of a BBC Top Gear Magazine award for 'Pocket Rocket of the Year'.
VW up! GTI – Stylish, Sporty Fun
The first thing you'll notice about the Volkswagen up! GTI is its funky styling. The scarlet pin-striping ensures the car is instantly recognisable in a line-up of its peers, and a black honeycomb grille adds another layer to this classy aesthetic. The up! sits on 17″ alloy wheels, and has black mirror caps and black trim pieces down its sides. You also get a nice red stripe on the boot, and a roof-mounted spoiler which really suits the overall sporty look that we love on VW cars. The rear fog-lights frame the large back bumper nicely – everything is decked out really well, with a lot of thought put into the car's looks.
The up! GTI sits 15mm lower than the standard model, and will be available in a choice of either 3 or 5 doors.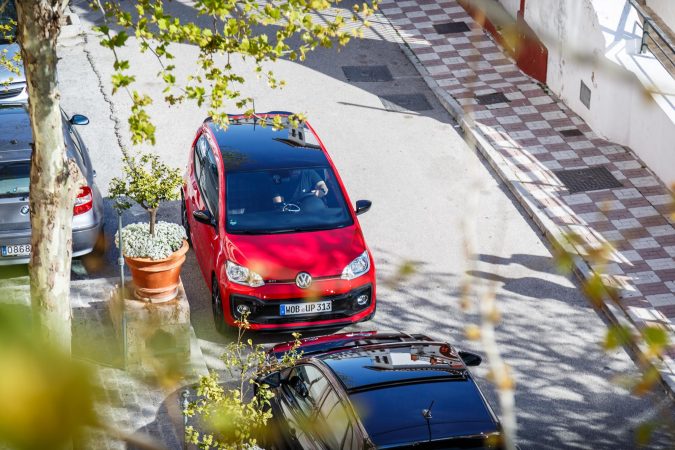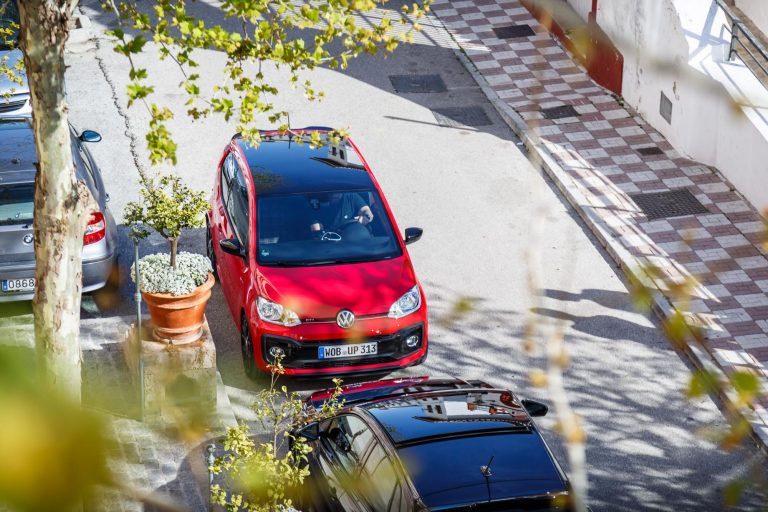 Impressive Specs and a Classy Interior
The VW up! GTI is bound to be a powerful, compact little hot hatch. It puts out 115 PS of power, a tribute to the original Golf's 110 PS. The GTI also has a top speed of 122 mph, with a 0-62 time of 8.8 seconds. The 1.0 TSI engine is ideal for this car, which sits in the smallest car class. It promises a zippy, exciting ride to make big city journeys less monotonous. This GTI hosts a multitude of sophisticated sports running gear, providing a kart-like agility and speed without compromising on comfort.
The interior is also something to write home about as ever in VW cars. The red theme from the car's exterior carries through here, with a scarlet dashboard and red stripes in the radiator grille. Paying homage to typical GTI insignias, seat covers will come in 'Clark' tartan patterns, red brake calipers, a black leather-trimmed steering wheel, and a GTI-badged gear stick.
A 3.1″ touchscreen infotainment system comes as standard with the car, with an optional upgrade available to a 5.0″ screen.
A 2018 Debut – Release Date and Price
The VW up! GTI is setset to hit dealerships in early 2018. The 3-door model comes in at £1,3750, with the 5-door version priced at £400 more.  The Volkswagen Up GTI is available to order at Specialist Cars VW.
Volkswagen's up! GTI is set to follow in the footsteps of its 1976 predecessor, providing a classy, comfortable ride in an affordable price bracket. The car's set to be an ideal hot hatch for everyday use. We're excited for a modern twist on the original Golf GTI. Explore the VW up GTI at Specialist Cars VW based in Aberdeen and Kirkcaldy, Scotland.