I had the opportunity to test SsangYong's Tivoli off-road and I had no idea what to expect from this car off road. looking at the car it's just like your everyday run-of-the-mill city car with no exceptional off-road features.
SsangYong Tivoli Off Road
We attended Millbrook proving ground and took out the Tivoli to see how we got on. The car doesn't have many design features to let you know what it is like off road. We set off on a long gravelly path into the off-road section and in no time we came across lots of finely crafted bumps and hills to test the car.
Rocky Boulder Path
The first complicated road we came across was a rocky boulder path that we gently had to move the car over.  The car doesn't have an extreme level of ground clearance, so with a bit of careful diagonal driving over the obstacles you are able to ensure clearance is maintained. However, I was very impressed that the car could take on this rough ground.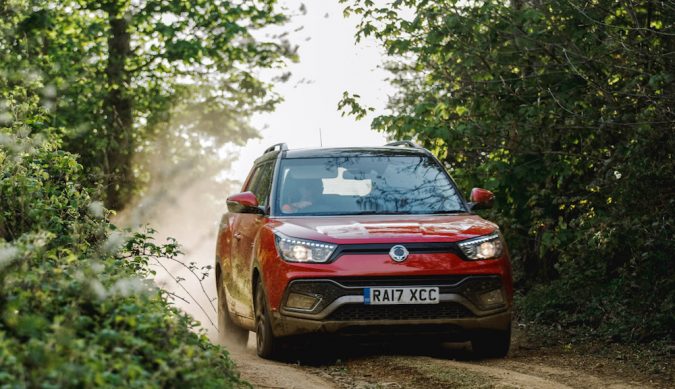 Steep Slopes
Next was a sharp 90° right turn which then went straight up around a 25° damp and muddy track. This was a great demo of the 4×4 system in the Tivoli. On road tyres on this muddy track, the car gripped and went straight up with little input from myself. I understand that a  25° slope doesn't sound too steep, but is enough to make you feel like you're going up the hill on a rollercoaster.
Log Stacks
Once up the hill we drove over some slippery logs that had been battened together. This was a great way to show how the car can make the grip work on a range of surfaces. Of course the logs were pretty bubbly, but the Tivoli conquered them with no trouble whatsoever.
Serious Declines
Following the logs we approached the first real serious decline. I edged the car to the top of the hill  and started my descent with my foot calmly on the brake.  The Tivoli has no decent hill technology, however it uses systems such as ABS to maintain grip down the hill. I learnt first-hand that it works exceptionally well in very extreme declines. I wouldn't expect anyone to use their Tivoli for extreme action such as this on a regular basis, but I was certainly impressed.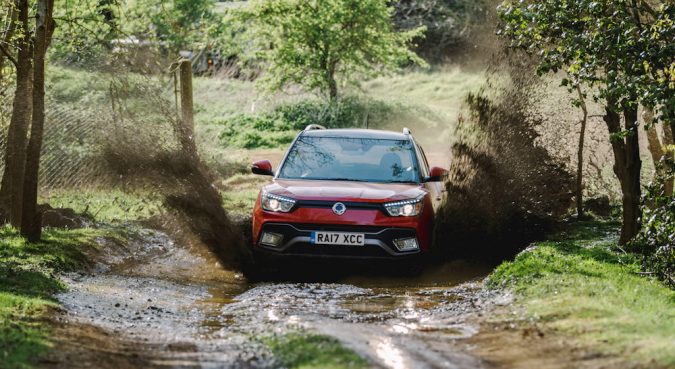 Muddy Water
The Tivoli is also able to take on a bit of muddy water. On part of the test circuit we were able to put the Tivoli into mildly deep pools of water and test the grip travelling through and out the other side. As you can imagine the surface is very slippery and low traction, but once again the 4 wheel drive system on the standard road tyres worked exceptionally well to carry the car through.
Verdict
Overall, I was very impressed with how the Tivoli worked on these extreme surfaces and it by far exceeded my expectations from this affordable brand.
News content images are sourced via www.newspress.co.uk for editorial use.