The loss of Sir Stirling Moss over a year and a half ago still left a gaping hole in my heart. And I reckon, the same goes for most of you, as well. Without a doubt, he will forever be remembered as one of the greatest racing drivers to have ever lived. Yet, the machines that still rev on will continue to carry his legacy, which Mercedes was honoured to commemorate upon bringing out the 722.
Legend has it, Sir Stirling Moss, along with his expert co-driver and navigator, Denis Jenkinson, began their 1955 Mille Miglia entry at 7:22 am. One which, 1,000 miles later between Brescia to Rome and then back again, the pair won outright. The sprightly machine that carried them to victory is none other than the Mercedes 300 SLR. Its 3.0-litre straight-8 made it one of the fastest cars at the time.
The Hardest Word, Is 'Goodbye'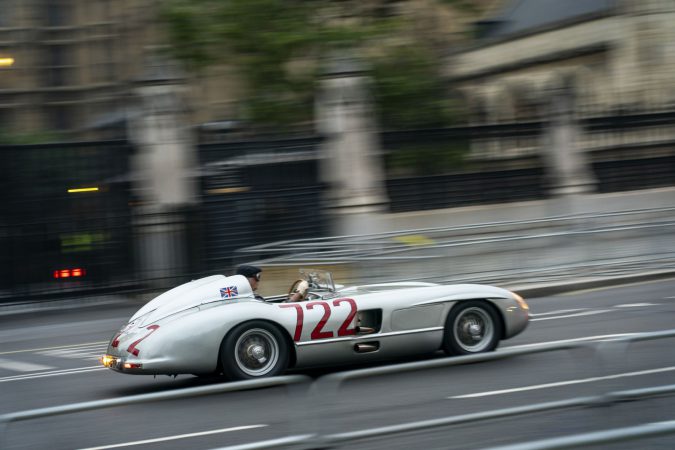 Sir Stirling Moss passed at the age of 90, on the 12th of April, 2020. What better way to celebrate his countless achievements than to bring out the "722" 300 SLR for a final run around London. A city in which he's spent nearly 60 years of his life. From the cobbled streets of Italy, Mercedes-Benz's Classic division brought it to central London for a final send-off before it retires permanently.
Once its urban cruising is done, the 722 will be ferried away to the Mercedes-Benz museum at its hometown in Stuttgart. Best of all, you can experience what racers from 60 years ago were like to drive at the limit, with only three and a half minutes of your time. Interestingly, Mercedes's "The Last Blast" short film is also the first time this particular 300 SLR has ever set foot in The City.