One of the dreams of many a fast-paced petrolhead is putting rubber to road on the "Green Hell"; the iconic and infamous Nürburgring Nordschleife circuit. Tucked in amongst the thickly-wooded forests of western Germany lies one of, if not THE finest tracks found anywhere in the world. It's a mecca for speed freaks and motorsport fans alike. Yet, despite all these decades later, that mystique still remains ever so elusive.
While the Nürburgring might be a popular point of interest, not that many people get to experience it. Even for those with the means of going there and bringing a car with them, the legend of the Nürburgring itself is enough to give many folks second thoughts. Besides, it didn't get its name for nothing. The Nürburgring (Nordschleife) is 12.9 miles long from start to finish, with over 154 mind-bending corners in between.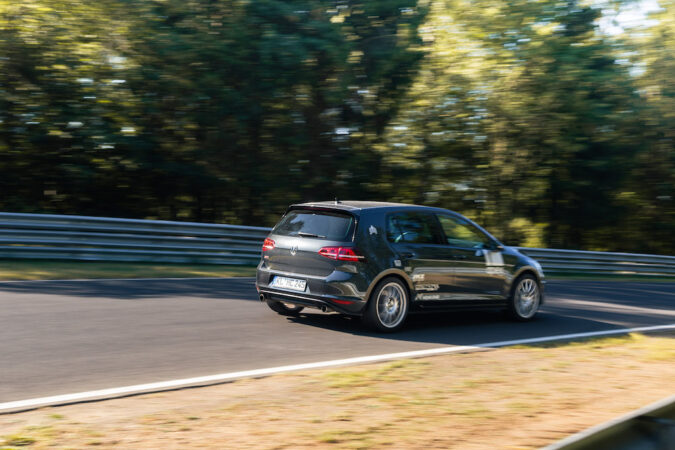 Moreover, with elevation changes upward of 1,000 feet between its lowest and highest points, it's a track that's immensely challenging, even for professional racing drivers. While I was passing by these hollowed grounds, however, I wasn't deterred. If anything, I wanted to have a feel for it first-hand for myself. But, not alone, I couldn't. I didn't have the right car, nor experience to tackle the Nürburgring on my lonesome.
Thankfully, these days, there are plenty of companies that provide services to cater to folks just like me. It's here that I found refuge with the folks over at Apex Nürburg, whose ultimate goal is to make it so that the Nürburgring is as accessible to as many people as possible. With that in mind, and given how costly some of these can be, is it worth it? Well, here's a quick snippet and some thoughts on what I went through…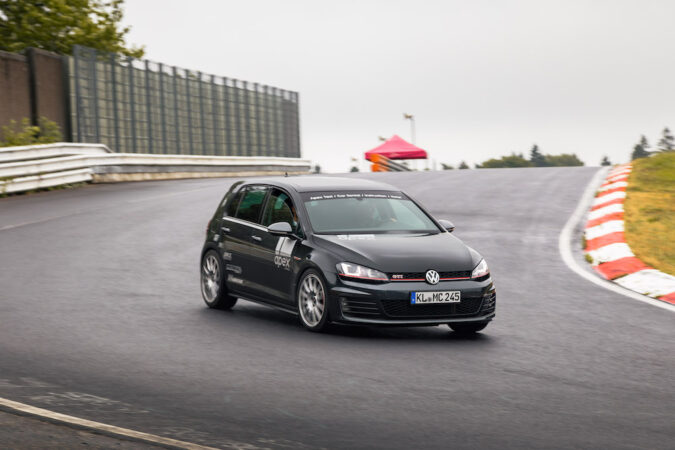 What Does Apex Nürburg Do?
Since this was my first time driving around the Nürburgring, I was looking for three things… (1) Being able to drive at the Green Hell in its fullest and rawest form. (2) Yet, I'd still like to do all that on a cost-effective basis. (3) And, most importantly, doing so safely and coming back home in one piece. I looked up a few companies that offer these sorts of services, where you could rent a car for a lap or two, and get some coaching advice.
Apex Nürburg was the one that stuck out the most, so I went with them. Who'd knew that despite just how nervous I was to taste the tarmac on the Nürburgring, by the end of it, it was the most complete and thorough journey I could've asked for. As soon as you get to the Apex Nürburg reception area, you'll get a glimpse of what they can do right away. The cars that you can rent for a drive around the track are parked right at the front.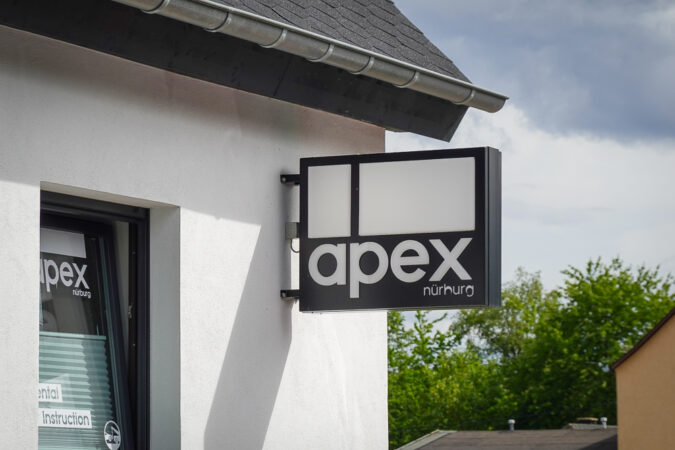 Oh, and we'll definitely have more to say about these in a bit. Apex Nürburg also runs a quaint little hotel near the Nürburgring Nordschleife itself. So, if you do need accommodation for the night, they have a nice selection of rooms that you can book. I've not stayed in their hotel, but it looks rather cosy, from what I can tell. Nonetheless, what I was most interested in at the time was Apex Nürburg's public sessions. Note, it's not called a "track day", but rather, "public sessions", as these are run in conjunction with the Nürburgring itself.
In all, I managed to get two laps around the Nürburgring done with a VW Golf GTI Apex Nürburg rental car. Plus, with some guidance from a professional tutor to get me to grips with getting around the Nürburgring both quickly, and safely. It's worth mentioning again that I've never driven on the Nürburgring Nordschleife before. Sure, I've gone to as many as 15 circuits throughout Europe, but there's nothing like it here.
What Cars Can You Rent From Apex Nürburg?
There's so much to talk about from my brief time with Apex Nürburg. But first off, I guess we can start with the cars that you could rent from them. Most of us dream of driving around the Nürburgring, yet very few are ever able to do so. There are a lot of reasons for this… Geography being one of them. The other reason would be the sheer cost and risks associated with bringing your own car to such a track at all.
This is where companies like Apex Nürburg can swoop in to help solve the latter. (As for the former, a plane ticket and an overnight hotel should answer that). From Apex Nürburg, you could rent one of 6 cars in their rental fleet, with fairly reasonable rental prices charged per lap, as well – more on that later. These aren't your ordinary, run-of-the-mill track cars, either. Each one has been specially tuned and prepped for the occasion.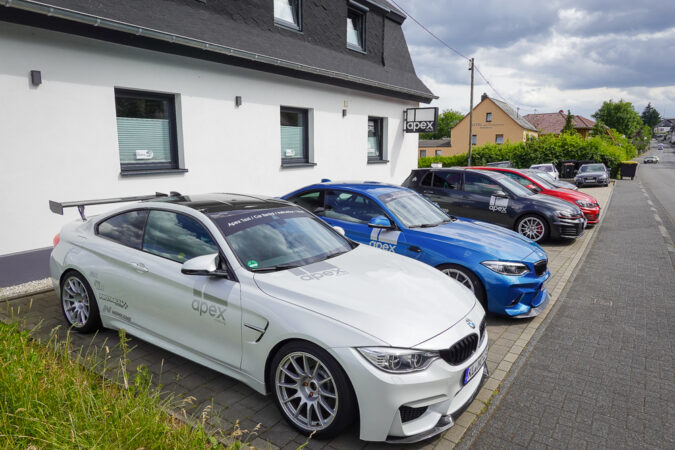 The selection of cars available to you is hand-picked with good intent, too. Apex Nürburg wants to ensure that these cars are dynamic and sporting enough for you to really feel like you're making good pace around the Nürburgring Nordschleife. Aside from that, without feeling as though these cars are holding you back, like some sort of bottleneck, allowing you to feel the raw sensation of every corner and undulation.
However, these cars are still set up in a way that's handily approachable enough to folks with varying levels of driving experience and skills. As such, it's made so that people like me could still get in, drive with some degree of confidence, and have bucketloads of fun. Although there are just "six" cars, there's a good amount of variation in how these cars stack up in terms of power, handling, grip, and on-track personality.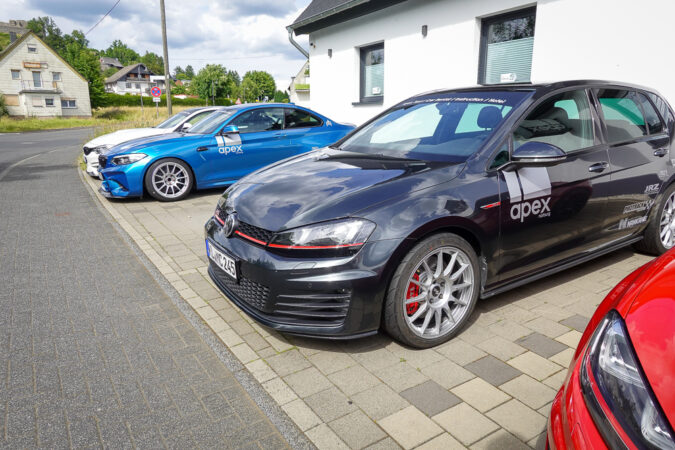 The Six Horsemen Of The Green Hell
Going by rental prices, the most affordable car on offer that you can rent from Apex Nürburg is the Volkswagen Golf GTI (which is what I opted for), and the BMW 230i. Both of them are very capable performance cars in their own right. Though, with more entry-level tiers of performance and beginner-friendly handling, either are definitely good choices for anyone who might be new to sporty cars or driving around a track.
They have the right balance of good grip, predictable handling, and just the right amount of horsepower. A bit further up, you could otherwise rent a VW Golf GTI CS, aka the Club Sport. The CS is slightly lighter, since it's a 3-door instead of a 5-door. Having lost that extra weight, and with some sportier suspension tuning, it's certainly a tad livelier to drive.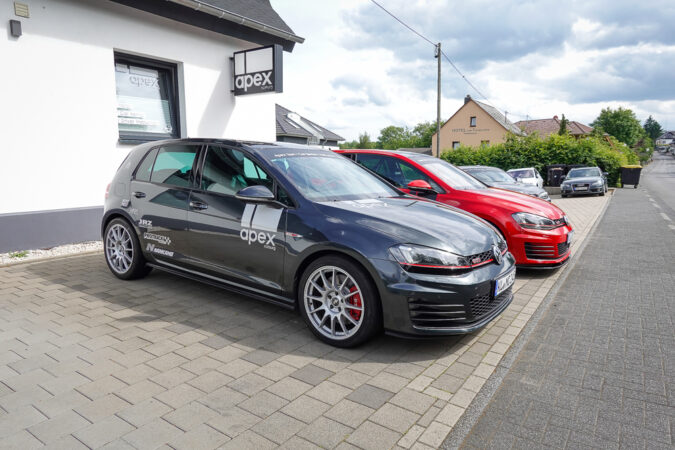 Yet, your options get more potent the further up the ladder you go. Atop that (and for more money), you could rent the SEAT Leon Cupra 300. This one's a properly eager yet adaptable hot hatch, now getting you into and beyond the 300PS threshold. With this amount of speed on demand, some skill and experience will do you well to get the most out of the car. Plus, the SEAT here is a fully-built race car, made to proper FIA specs. In fact, Apex Nürburg even won several races in this. These 4 rental cars alone make for a diverse bunch.
The two Golfs and the SEAT are front-wheel drive, but with their varied setups, they feel quite different. So, depending on your driving style, skills, or past experience, each one might make a good companion while you're out attacking the Nürburgring. On the other hand, the BMW 230i is a brilliant first step in letting you understand how rear-wheel drive cars feel on the track, and enabling you to more comfortably push it to the limit.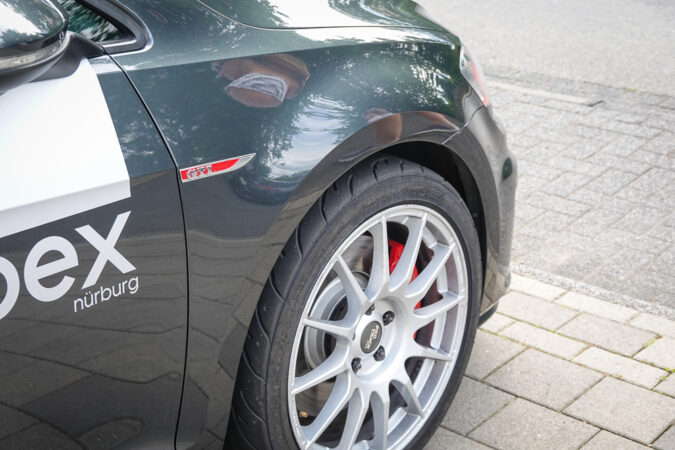 Although, if these 4 aren't fast enough for you, Apex Nürburg has the BMW M2. It's one of the best sports cars that money can buy today, pairing its meaty 370PS straight-6 engine with a deft and agile chassis, as well as it being rear-wheel drive. For those who want to know what a "proper" sports car is like, the M2 is the best gateway that you could ask for. Finally, Apex Nürburg's flagship rental car is the M2's big brother…
This is the final boss in their fleet that you'll have to tame; the fire-breathing BMW M4 Coupe. While it weighs a tiny bit more than the M2, the M4 Coupe has 61PS more power. On top of that, with BMW's learnings on having raced the BMW M4 in GT3 championships around the world, the M4 Coupe, even for drivers who've survived the Green Hell before, eking out all 100% of its capability will still be a great challenge.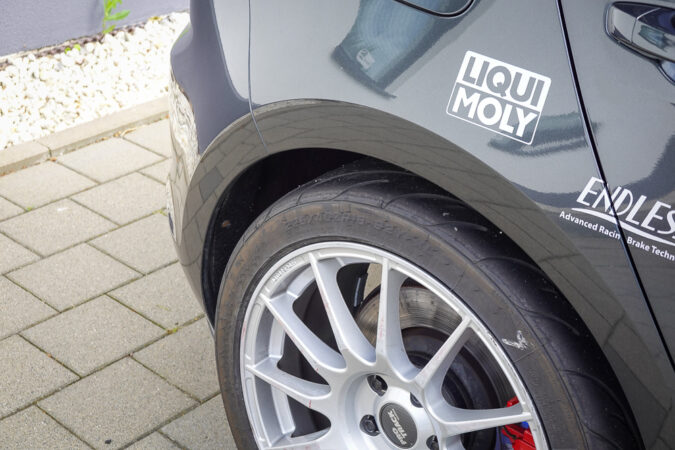 The Right Set-Up Makes All The Difference
One interesting thing to note is that not one of these 6 rental cars from Apex Nürburg is fully stock. They've all had track-ready modifications done to them. Most of these seem rather minor or simple on paper. But, when it comes to tackling the typically tough bends and bitumen of the Nürburgring, these upgrades make all the difference in the world. Not only are they safer and more optimised for track driving, they behave better when you're going full 10/10ths, too.
All of the aforementioned 6 rental cars in Apex Nürburg's fleet have, at the very least, uprated and track-focused brakes, suspension, and tyres… The holy trinity of, what I think, is the most vital 'first' upgrades that you should always consider when building a proper track car. Crucially, this is also the philosophy that Apex Nürburg stands by and builds their cars for. In particular, the Golf GTI that I drove had sticky Nankang NS2R tyres, surrounding a set of Protrack One wheels, in addition to Endless brake pads, and brake cooling from an Audi RS3.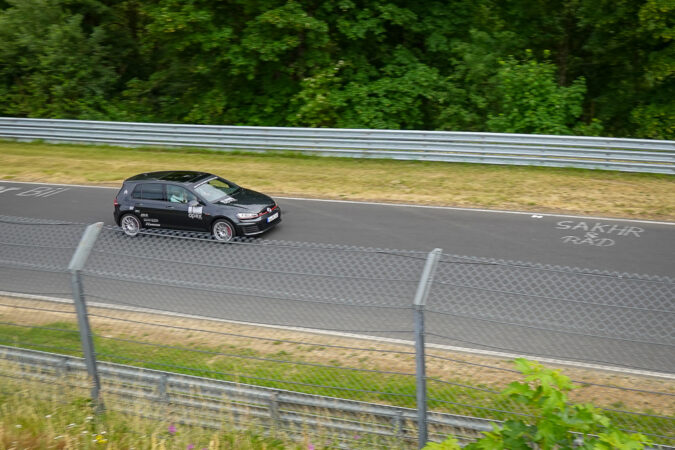 For those of you with deeper pockets or a greater thirst for speed, the higher-tier and higher-spec cars on the rental fleet come with more racy goodies. The Golf GTI CS, BMW M2, and BMW M4 Coupe, all feature sports bucket seats, racing harnesses, and a bespoke roll bar for each one… Except, the SEAT Leon Cupra 300, which featured a fixed roll cage. So, even when you're just sitting idle inside of it, you won't miss the SEAT's racing pedigree.
From my perspective, the Golf GTI that I had was exceptionally well-configured and tuned by those folks at the Apex Nürburg workshop. The shiny and upgraded Endless brakes stopped on a dime and didn't suffer from fading all too quickly. Then, there's the JZR Pro 3-way suspension, hardy yet poised given how handily it tackled my 2 laps on the Green Hell. Moreover, those Nankang tyres were also superb around the track.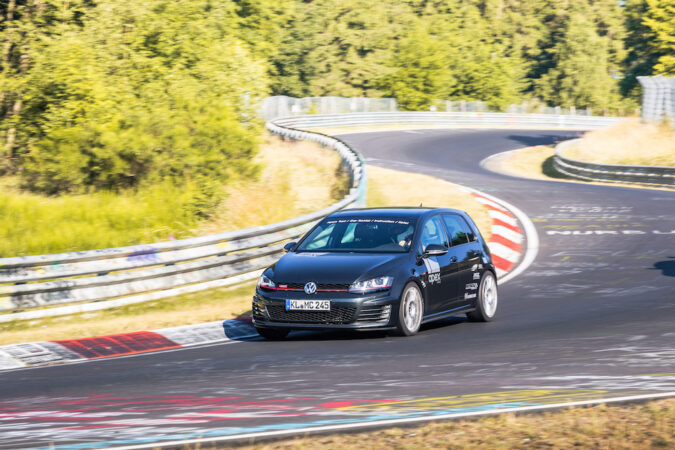 How Expensive Are These Rental Cars?
One key factor that I've yet to discuss is the price… How much does it cost to rent one of these cars for a go around the Nürburgring? Well, the final rental cost will vary depending on how many laps you choose to do. Apex Nürburg bundles in anywhere from renting the car for just 2 laps (like I did), to as many as 12 laps and even more. Of course, the more laps you've booked it for and clocked in, the more you'll have to pay. But, the more laps you do, the cheaper the price-per-lap gets.
To get a better idea of how much this actually costs you, I'd recommend checking out Apex Nürburg's price list. (We'll discuss in more detail about the proper rental process further below). In this price list, you can preview, for instance, the cost of renting any car for 2, 4, 6, 8, 10, 12, or more laps… 2 being the minimum number of laps. As well as, the insurance coverage for each car, and the cost of hiring an instructor, and so on.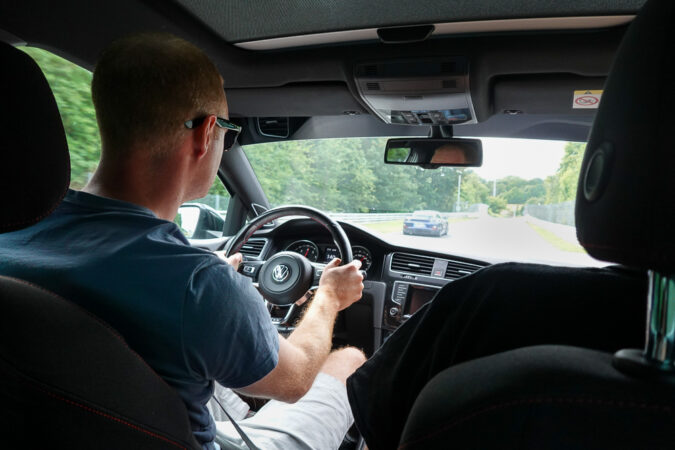 If you're looking for the same experiences as me… 2 laps in the Golf GTI, with a tutor on hand, plus the cost of the entry fee… It's close to around 400€. This might sound expensive at first, but when you consider how much a single public session typically costs anyway, it's actually a good deal. More so when you factor in the fact that the Nürburgring is a pretty long track, with each lap taking you at least 9 to 10 minutes in the Golf GTI.
That's not to mention the wear and tear that these cars go through, even for just a single lap. Those tyres are going to take some wear, given how challenging and demanding the Nürburgring is by default. In essence, you're paying Apex Nürburg to put all those hard miles and component wear on their car, not your own. So, that's a major service and maintenance bill that you don't have to worry about on your own car.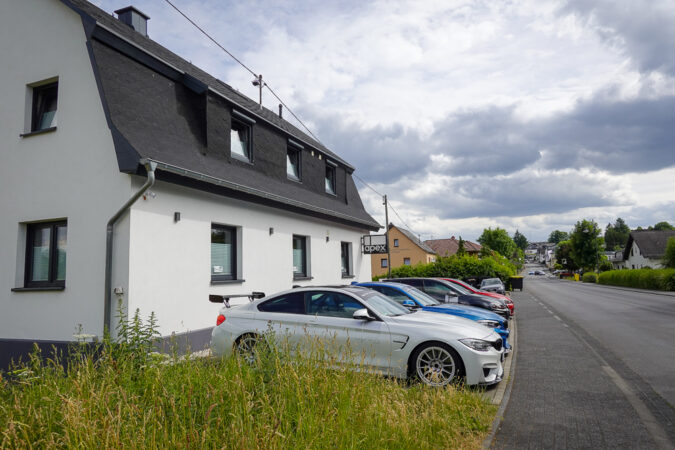 Aside from that, even if you're not looking at wearing down the car, there's certainly a lot of wear done to yourself. With each lap being so long, and with the Nürburgring being as bonkers as it is, it's very physically exhausting to finish even the basic 2 laps, let alone any more. In other words, just those 2 laps are worth a lifetime on the Nürburgring. I dare say that if you can afford it, what they're offering is great value.
Who Are These Instructors That You Can Hire?
Besides those cars, Apex Nürburg's other key offering is the ability for you to hire pro driving instructors to teach you how to properly tackle an otherworldly circuit like the Nürburgring Nordschleife. What's equally as awesome is that these instructors are more than just simple tour guides. Depending on what you want to get out of your trip to the Nürburgring, each instructor can offer you different sorts of tuition.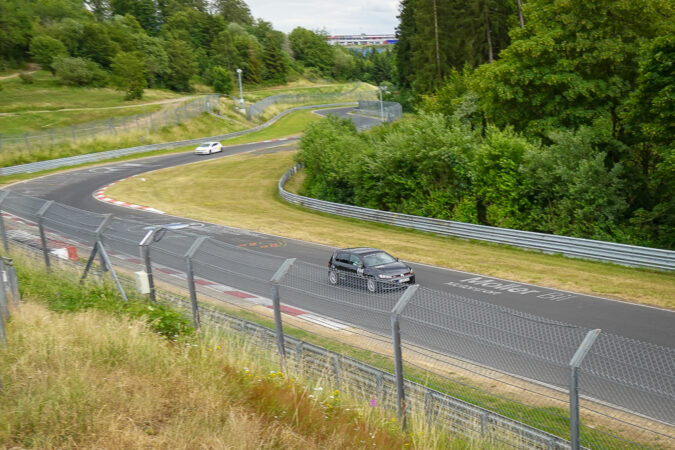 For more casual drivers, they're there to guide you on the proper safety protocols, regulations, and those unspoken rules of the track. Alternatively, for those of you who want to further sharpen or fine-tune your driving skills, these instructors could also provide advanced training. In short, evaluating each of your laps, and providing you with critical feedback and additional tips on how to go even faster, lap after lap.
Apex Nürburg has 5 primary instructors that you can hire to help you… Tamara, Hendrik, Alex, Laurin, and Thomas, with vastly diverse backgrounds, from passionate car enthusiasts for some, all the way to seasoned racing drivers for others. During my brief session with Apex Nürburg, I had Thomas by my side. He's had 9 years of racing around the Nürburgring around his belt. On top of that, he's a test driver for Jaguar and Land Rover. And, he's as good of a teacher as you could want. Besides these 5 instructors, Apex Nürburg also has other instructors.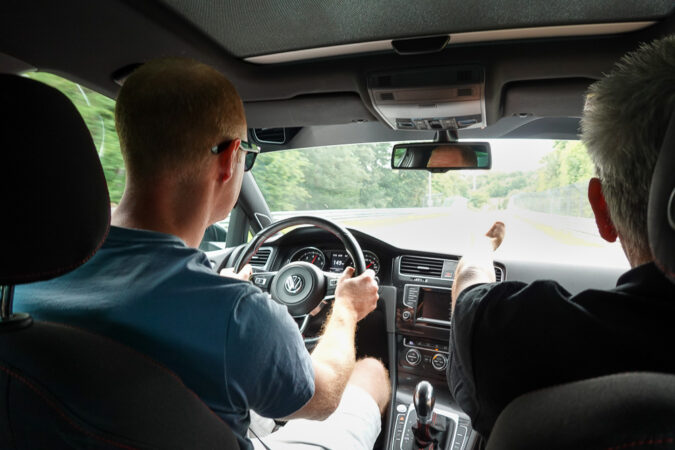 Throughout my entire time on the track, Thomas was constantly feeding me an invaluable amount of guidance, leaning on his wealth of experience and time spent around the Nordschleife. As it was my first time around the Nürburgring, I was doing as best as I could to catch up to what he was saying. While it wasn't really what I'd consider to be the best lap anyone's done here, having Thomas around brought a marked improvement.
What Do These Instructors Provide?
If I was left all alone without an instructor next to me, I'd honestly be petrified. Without wanting to sound like a broken record, let's remember once again just how complicated and taxing the Nürburgring is, as a race circuit. Even in a video game, it's more than a mere handful to drive on. No matter which instructor you hire from Apex Nürburg though, there's no doubt that the on-the-fly tuition you get is worth it.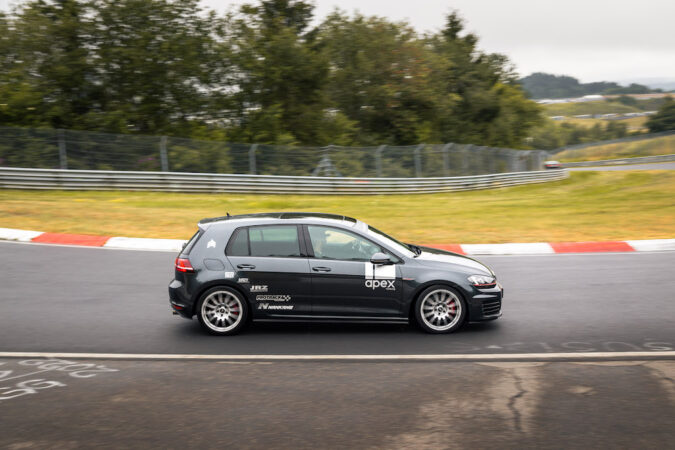 Granted, it can be tough to follow along with what they're telling you. After all, your brain can only process so many things at once… Driving the car, focusing on what's ahead, and having to take in all that advice, all at once. Still, they make a massive difference in teaching you how to drive quickly and safely. My instructor for the day, Thomas, even asked if I was okay with him gently correcting my steering input from time to time.
Yet, this seemingly minute interaction was more than sufficient to give me some pointers on how to best guide the car into and out of a corner. I've since learned, in those brief moments, how to better optimise my entry and exit speeds, as well as where to best place the car on the track. There's a whole treasure trove of other valuable tips, such as how to best use the kerbs to my advantage, or picking out the best racing lines.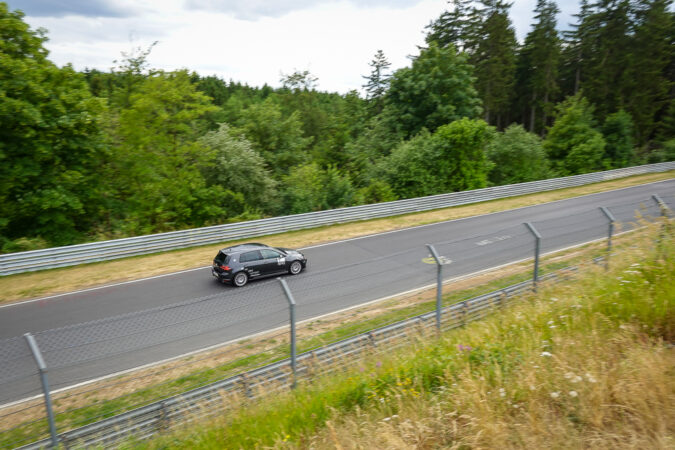 This made me (and the car) that much smoother and faster around the track, alongside being able to keep my speed more consistently from sector to sector. This is where having an instructor be with you physically is far superior to mere spoken words alone. I've seen how those small but effective inputs on the wheel can impact the car, or having Thomas point out where on the track I should position the car and brake at.
It's truly incredible, as Thomas kept pushing me harder and harder, when I thought I couldn't have made it this far, otherwise. With the instructors being so experienced, folks like Thomas knows exactly what these cars can do, and acknowledge their limits more so than most other people. If not, I'd reckon that without Thomas and his invaluable teachings, I'd easily be at least a couple of minutes slower each lap.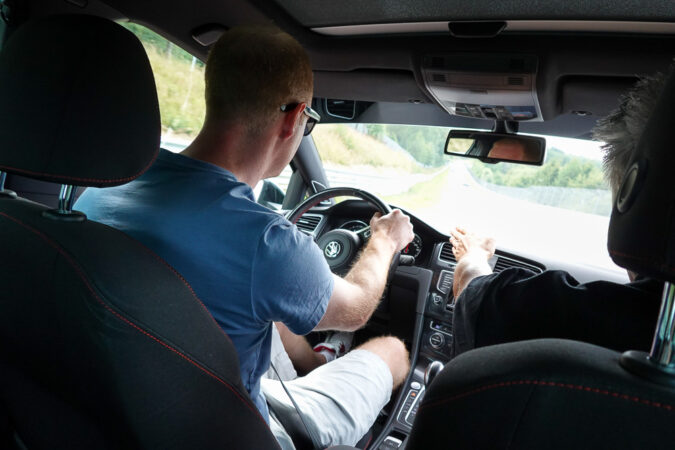 How's The Rental Process With Apex Nürburg?
So, if you're planning a trip over to the Nürburgring Nordschleife anytime soon and want to book the help of Apex Nürburg for their services, what do you need to do? Well, I'd certainly recommend that you go through their website to get a grasp on the full and in-depth car rental and instructor hiring process. And maybe, a bit of time going through their terms and conditions page might give you more insight, as well.
But in summary, here's some of the due process that you have to go through… First off, you should give the folks over at Apex Nürburg a phone call or email enquiry as far in advance as possible. Don't be hesitant to ring them up weeks or even months before you're planning to make your excursion. It's not uncommon that they're all booked out.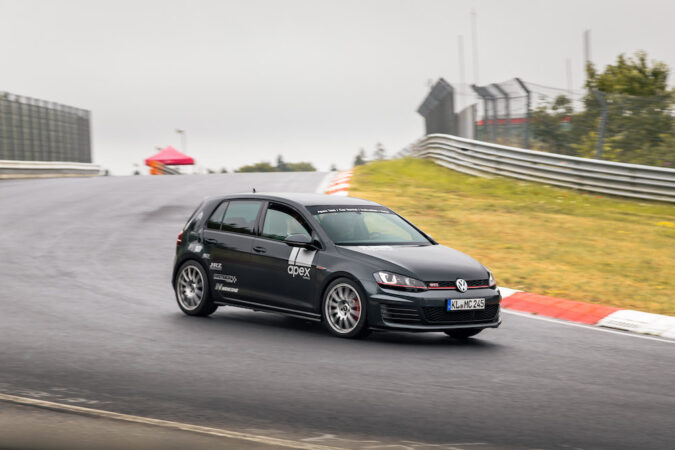 While you're there, be sure to consult the Nürburgring's website to get acquainted with what time you're allowed to drive on the track. As a general rule of thumb, on weekdays, the track is open for 2 hours in the evenings per day. So, make sure you're aware of when public driving is allowed.
Besides that, there's the usual documentation and paperwork stuff, like needing a valid driver's license and a valid credit card. Once you have everything sorted and you're at the Nürburgring, but before you head out to the track, Apex Nürburg recommends that you present yourself at their offices at least 30 minutes before you're set to go out. This will give you and them just enough time to sort out the rental contract, and for you to go through the safety briefing.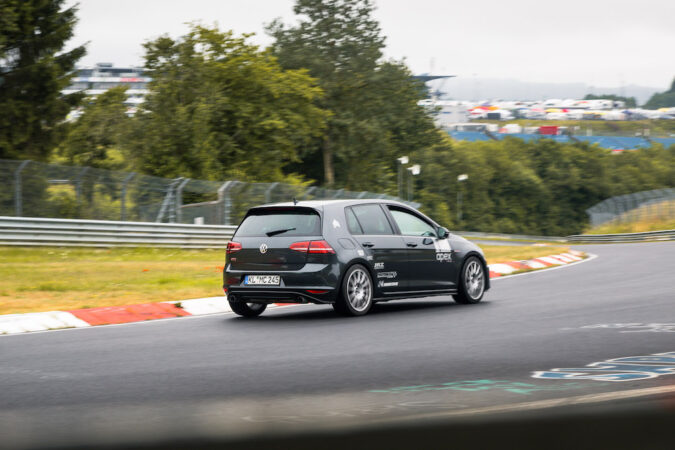 In Conclusion… Is Apex Nürburg Worth A Try?
Open driving sessions and tourist drives around the Nürburgring aren't new. On most days, there are countless people doing that, as long as the track's not closed for races, at least. However, I do believe that services like Apex Nürburg are the best way to enjoy the Nürburgring Nordschleife… Especially for folks who are new to circuit driving, and for folks who are new to the Nürburgring itself. Even amongst the pros, it's a hellish track to drive on.
If you don't know what you're doing, it can be properly scary. In an alternate scenario, I would've brought my own car to the Nürburgring, keenly aware that it might not be the best set-up for the track. And, thereafter responsible for any wear or damage done to my car, settling for what hefty bills come next. Moreover, I'd probably not have an instructor with me in such an alternate reality, left to fend for my own.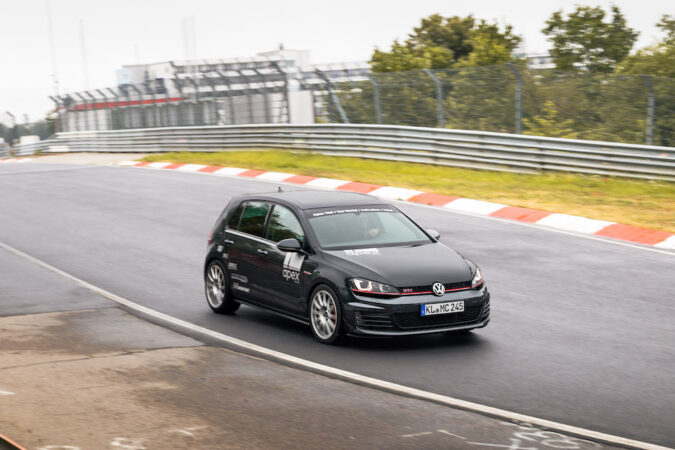 In that case, I wouldn't have known exactly when to brake, which apex to hit, or how fast to speed through every corner. I'd be absolutely terrified, not just of the circuit, but also having to weave about plenty of other cars sharing the track, navigating through all that traffic, and still having to focus on driving. Combined, all the sensations there can be dangerously overwhelming if you're going at it blind, with no help at all.
When you put that into perspective, that's where you realise the value that companies like Apex Nürburg can offer. They make even the most daunting of race tracks approachable for everyone, regardless of their skill or experience. With the right car under you, and with a good instructor next to you, I not only survived the Nürburgring, but managed to live through the very best bits of it, and enjoyed every moment.