As much as I enjoy spending time on my project cars, one of the things that will always give me pause is shopping around for aftermarket parts. So, are SKP parts any good, and should you buy them?
There are plenty of budget aftermarket parts that you can find for your custom build, and SKP is among the key players in this space. However, SKP hasn't garnered a spotless reputation thus far.
There have been folks who complained of poor build quality and spotty reliability, even if they were originally surprised by how affordable SKP's auto parts are, compared to most other brands.
SKP Auto Parts
With that in mind, we're here to give you our definitive answer on whether or not SKP parts are any good, or whether you should consider saving up for more premium, competing brands, instead…
But first, just who and what are SKP parts? While they don't have the legacy brand cachet of its top rivals – such as Moog, among others – they've quickly made its name for offering auto parts at a low cost.
SKP's auto parts are typically more affordable than most of the market. Primarily, they dabble in a diverse array of auto parts, from suspension assemblies to steering components, as well as engine parts.
What really sets SKP auto parts apart is their super-competitive pricing. SKP provides an option for those looking to repair, modify, or upgrade their vehicles without breaking the bank.
SKP Auto Parts Review
While SKP offers affordability, the debate on their quality and longevity is ongoing, as seen from various forums and user testimonials, not to mention seeing some of my own mates having issues with them.
SKP's auto parts may not always be the best choice for long-term reliability, even if you may save money in the short term; owing to countless mixed reviews and first-hand accounts of SKP parts breaking after a short amount of time.
As someone who's made plenty of missteps in the past when it comes to gambling on cheap auto parts or aftermarket components, I always tell folk to prioritize quality and reliability over cost savings.
If anything, cutting corners – like saving a buck on cheap auto parts today – can often lead to much more significant expenses in the future, like having to shell out for replacement auto parts down the line.
However, just to give you a better idea, here are some user testimonials that I've found which echoed my own, mixed reception and experience with SKP auto parts:
Are SKP Parts Any Good – Testimonial #1: Cheap, But They Didn't Last Long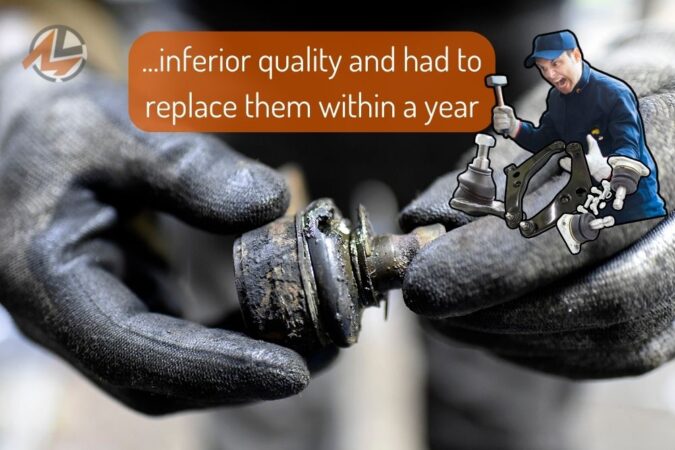 Given that Saab went out of production years ago and finding official spare parts is getting harder, our friends over at the SaabCentral forum opted for third-party auto parts from SKP.
However, they're finding that SKP's auto parts might not have been the best choice…
Are SKP Parts Any Good – Testimonial #2: Suspension Parts Failed Within A Year
Meanwhile, for folks after my own heart, I was dismayed to see fellow BMW fans have their own share of poor first-hand accounts with SKP's auto parts. This time, it's courtesy of the E46 Fanatics forums.
Most of them seemed to advise steering clear of SKP's auto parts altogether…
Are SKP Parts Any Good – Testimonial #3: Thoughts On RockAuto's Offerings
Elsewhere, our friends at the Bob Is The Oil Guy forum, when discussing SKP's auto parts, also made some mentions of RockAuto and their product line-up; the primary marketplace for SKP's auto parts (alongside Amazon).
While some had positive comments, the sentiment was still rather mixed…
Are SKP Parts Any Good – Testimonial #4: Doing Due Diligence With Auto Parts
When hopping over to the Honda Odyssey forum, many users there also had some (pretty poorly) things to say about the RockAuto auto parts marketplace and SKP's auto parts, in particular.
In fact, most of them would prefer paying a premium for genuine Honda OEM parts rather than SKP…
Are SKP Parts Any Good – Testimonial #5: Be Wary When Shopping For Cheap Auto Parts
Finally, I ended my search at the GMC Terrain, Equinox, and SRX community forums, where, once more, a lot of users there had critical comments about SKP, and cautioned against cheap auto parts.
A lot of them mentioned that affordable auto parts are often quite inferior and don't last as long…