We had the Audi A7 Black Edition on test and knowing that this car was a bit of a comfortable cruiser I was keen that we did our best to test the car out long-range. We arranged a trip from Birmingham over to Snowdonia and back in one morning for a nice photo shoot with the car.
Early Start
The trip took a 3 AM start with a hundred miles to go for a 5 AM sunrise. Without a doubt the Audi proved to be super comfortable on the motorway using its adaptive cruise control and lane assist technology. Yet to mention its Matrix LED headlights which really lit up the road in front of you. Let's not forget that integrated night vision system that is incredible.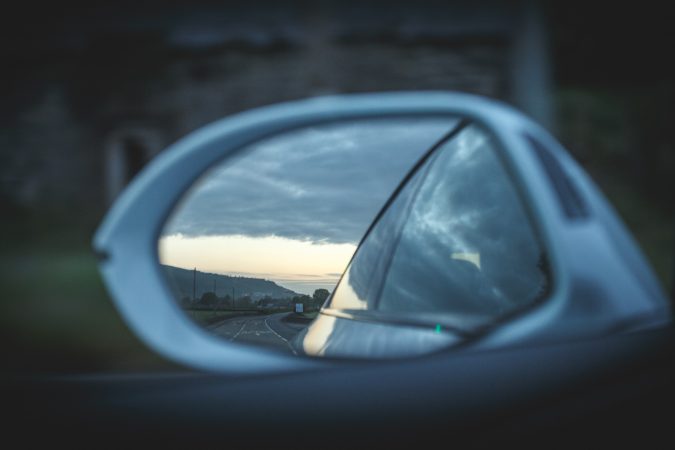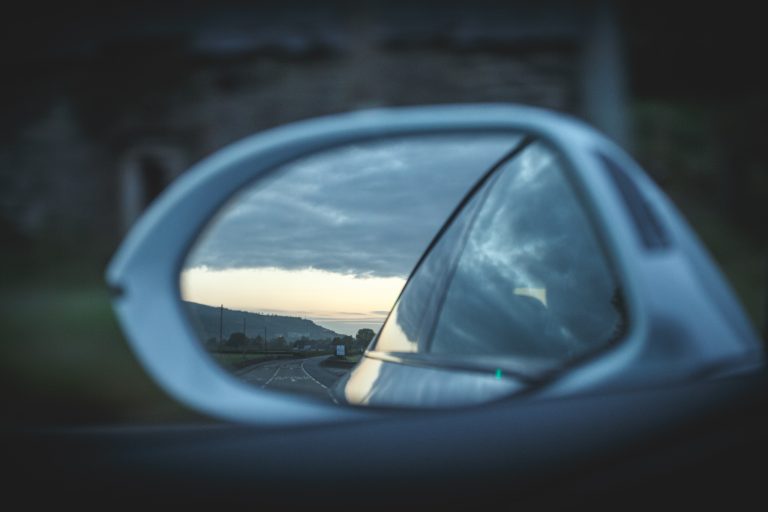 Sunrise In Snowdonia
As soon as we got to our location in Snowdonia the sun started to come up and our photo shoot began. With the support of Harry Roberts taking pictures, you can see that the soft lights, perfect roads and surroundings make this A7 Sportback look very impressive. I wasn't sure about the design of the car before driving but now spending some time with it I am actually really starting to like it. The spoiler on the back is really up for debate. I think that little flick makes a car a little bit more attractive.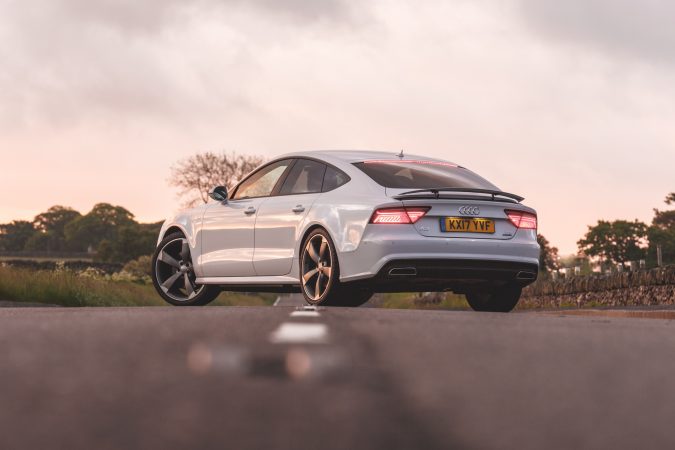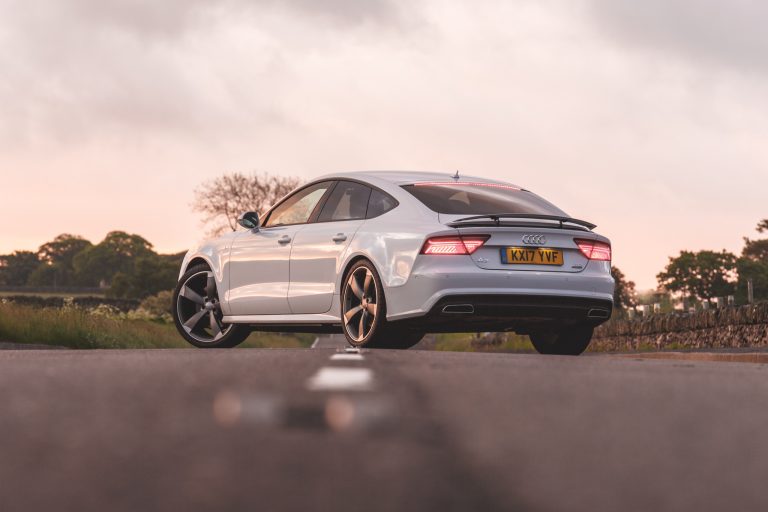 A Moment to Contrast
Moving on in the early hours of the morning we were looking for a different location to show off this modern and sharp car. We came across nothing other than a large selection of freshly cut logs. With a car pulled up along side, the white car perfectly contrasts against the amber and red logs and it does give you a bit of an idea of the length of this car as well.  The Audi A7 is no small car whatsoever. It offers very large passenger room in the front and back and has the most perfect long boot which when the panel opens up pretty much works as a work surface.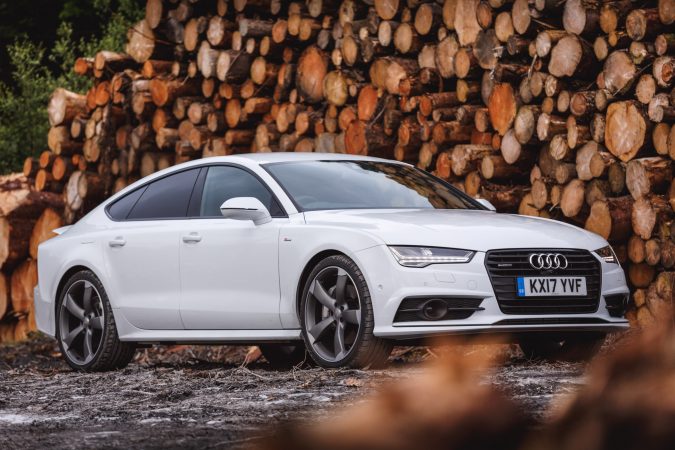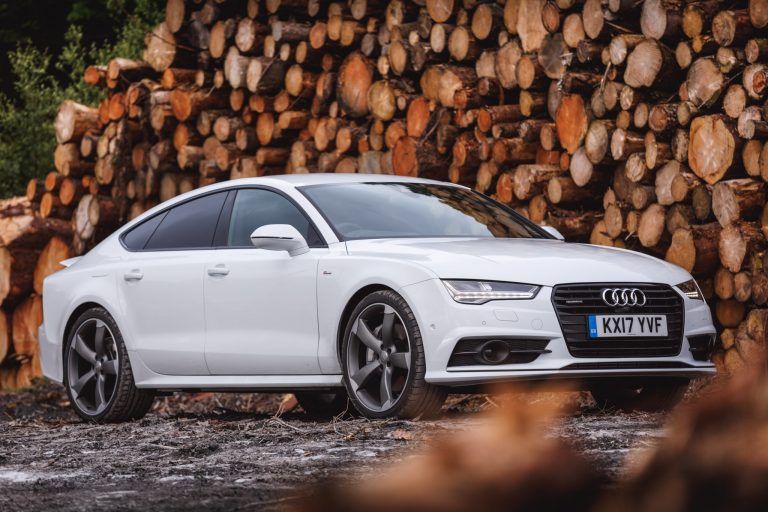 Long Sweeping Roads With The A7
Moving on from there we worked our way further into Snowdonia where we could enjoy the long sweeping roads with the car. This is where that 3.0-litre bi-turbo diesel engine with 320 PS started to show just how good it is. It has 650 Newton metres of torque which is an incredible amount of power and on the inclines and hills you could really use this power to cast this car around. This is a big car and was huge amounts of fun. To me, one of the biggest surprises about the car was how smooth the ride was on these super large 21 inch alloy wheels. In dynamic mode the noise of this diesel is highly attractive. I never thought I would consider hearing this kind of sound from a diesel engine but I like it.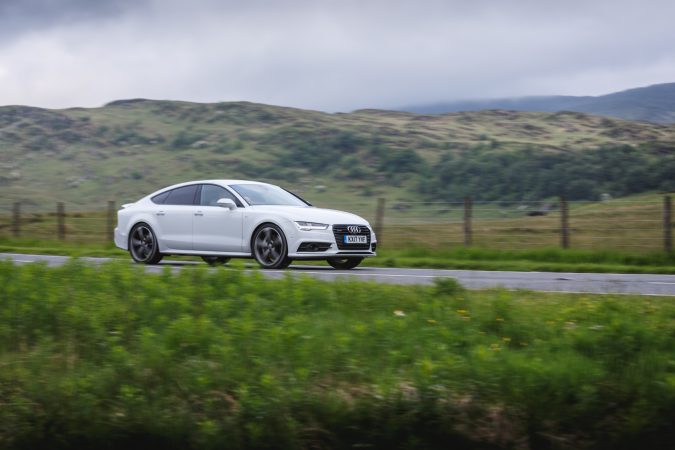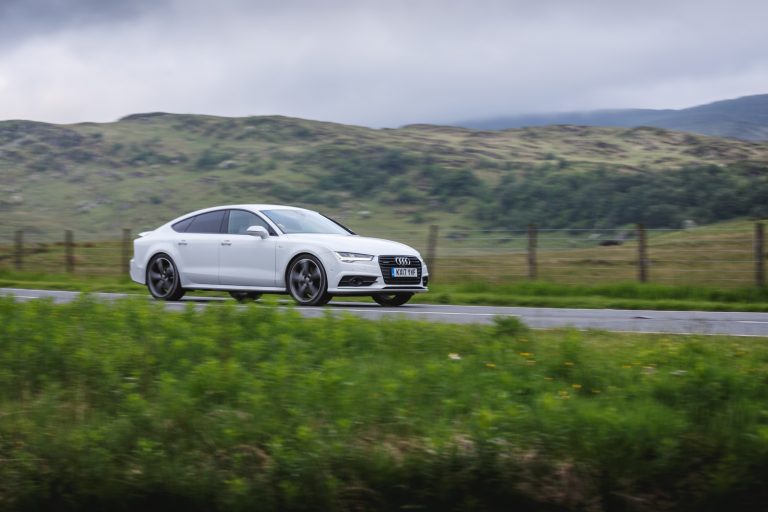 What Wales Has To Offer
We stopped the car to capture this shot to show you just what Wales has to offer when it comes to real fun driving roads. Beautiful scenery and long sweeping ribbon like roads stretch over the mountains. The Audi A7 Black Edition was a perfect car for this trip. We were able to have fun driving the car around the bends and up the hills. The MPG was actually still really efficient, with averaging around 30 mpg. This means that going many miles away won't cost you too much money in fuel.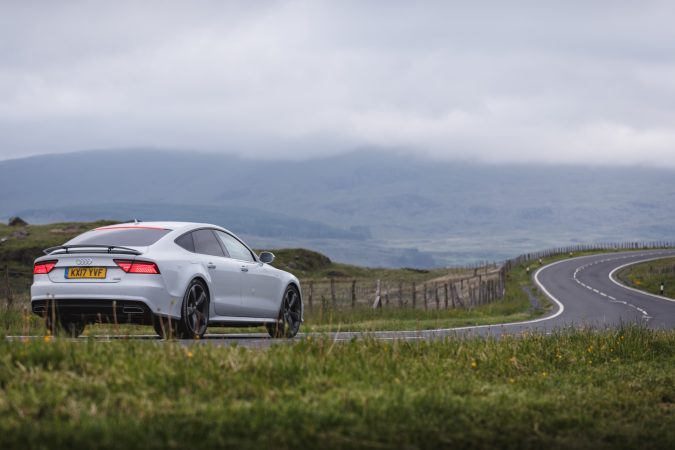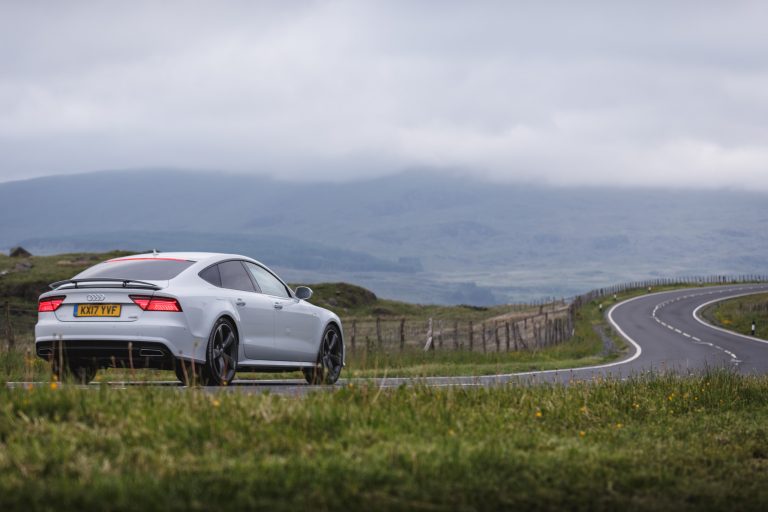 I Really Bonded With It
After a while driving on these roads and really enjoying the car and exploring the grip levels, the four-wheel-drive system makes the most of distributing the power and taking in the steering feel, I learned a lot about this car and really bonded with it. I was overwhelmed how good it was for its size, and I was impressed with the engineering from Audi and how they managed to make a large car so nimble and so enjoyable to drive.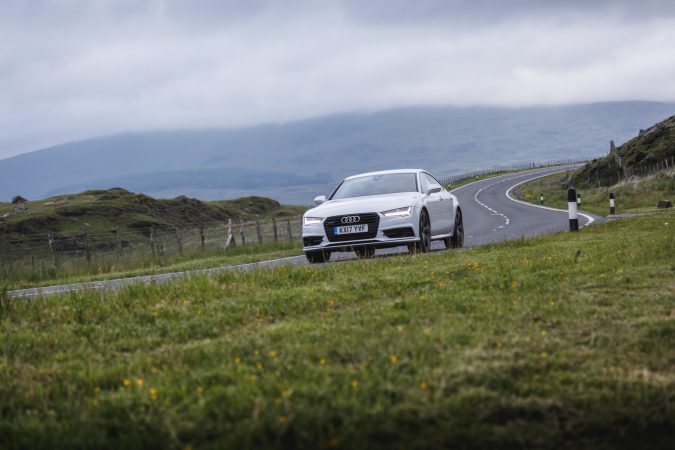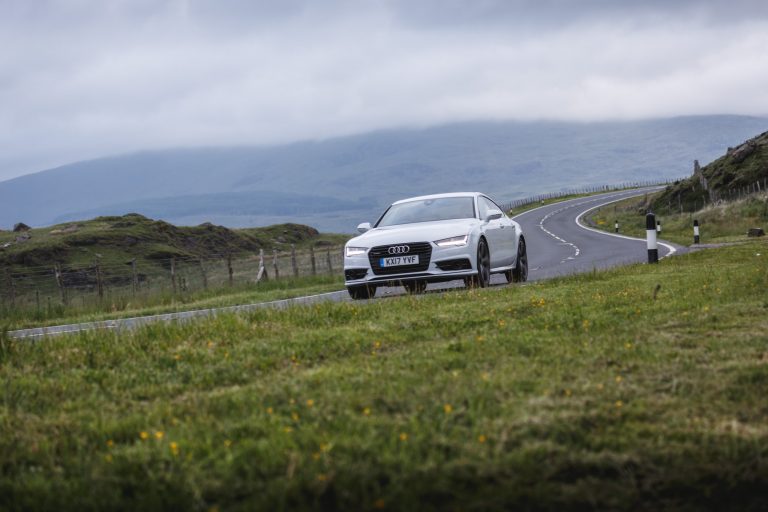 I Really Bonded With It
We started to head back from Snowdonia and of course we selected the scenic route to hunt down some of the fast and sweeping roads along the way back. The Audi A7 was ridiculously comfy and perfect for a cold day with heated seats, four zone climate control, a smooth ride, low cabin noise, and plenty of space to move around. For long distance, this car is an absolute winner.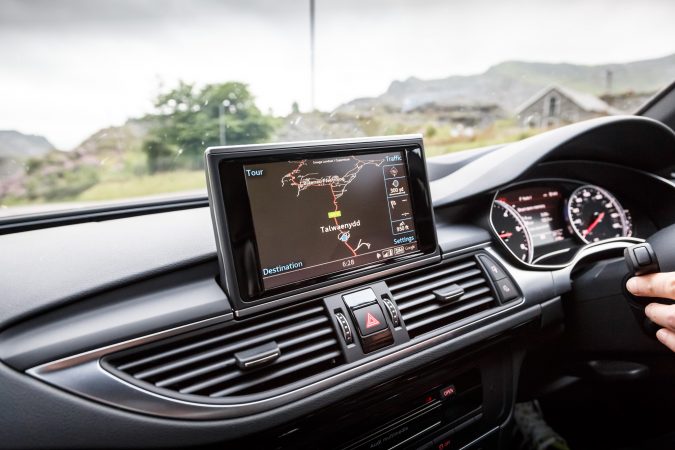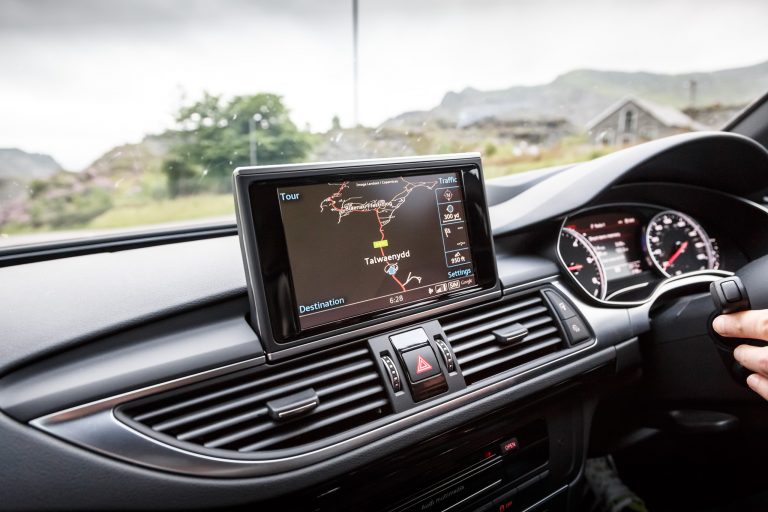 The Welsh Landscape Really Suckered Us
Being interested in photography was a difficult one as everywhere we turned we saw some very nice soft light or some beautiful scenery to grab a few pics of the car. So as we went on we literally couldn't resist stopping as the Welsh landscape really suckered us in and didn't make us want to go home.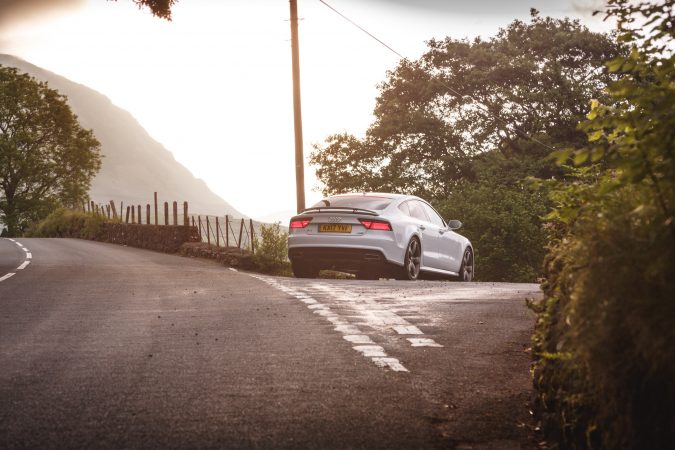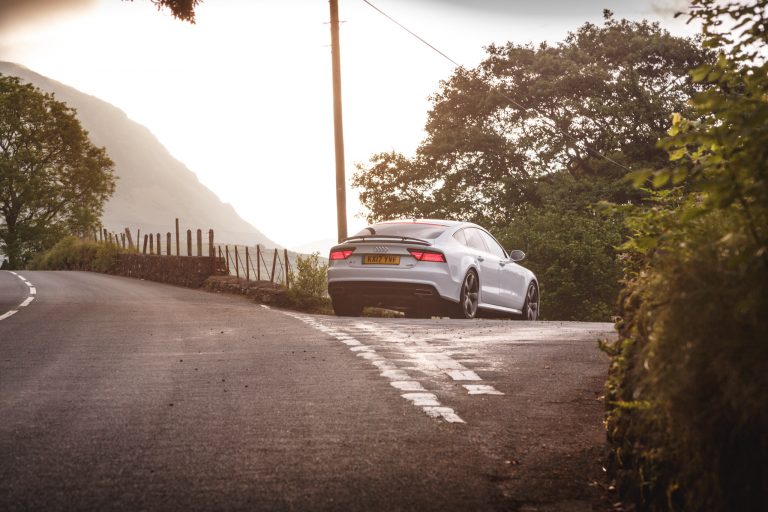 The Audi A7 Got Better and Better
As you can see, as we kept driving the scenery got better and better and seemingly so did the Audi. There is literally nothing not to like about it and its driving dynamics showed nothing but promise on the journey.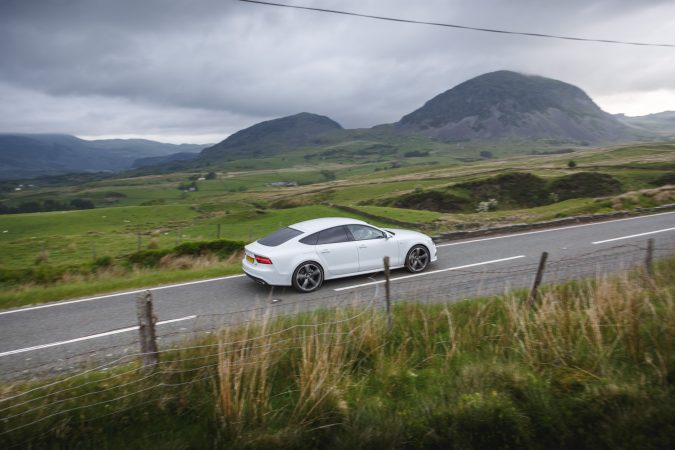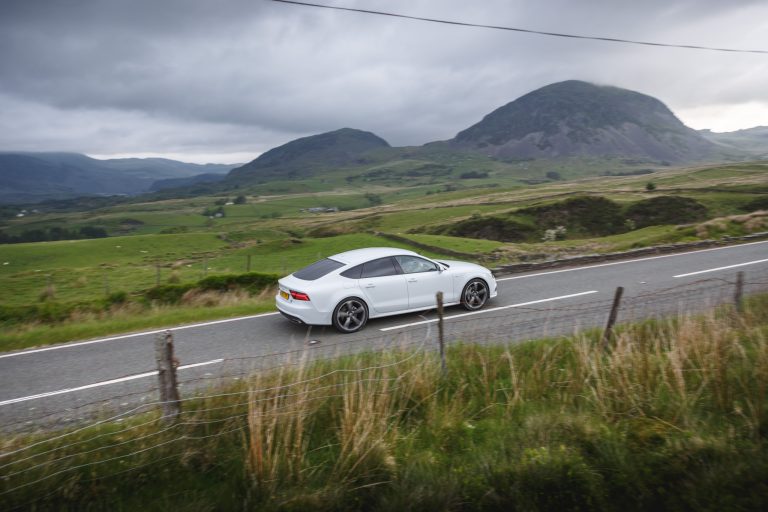 Overall I Was Impressed In Every Way
I was very glad that I took the time and effort to take the car on a long and engaging drive. It really gave me a good amount of time to understand how the car operates in many different environments and really appreciate the innovative technology that goes into creating this Audi A7 Sportback. I got to test out the 3.o-litre engine with regards to both efficiency and power delivery. Overall I was impressed in every way. What a car this is.