Apparently, at least 50% of European drivers have strongly considered getting an electric vehicle of some kind. Yet, 37% of them are still sceptical about range anxiety. The good news here is that at least one company has succeeded in squeezing every little bit of mileage from an EV. This is thanks to Lightyear, with their Lightyear One being able to travel 725km in a single charge. This is a huge leap forward.
Moreover, the Lightyear One 3x-more energy efficient compared to most other fully electric vehicles on the market. If that's not enough, then feel free to drive along while the large solar-panelled roof reduces the need from charging, as it gets topped up by the sun. Combined with a design reminiscent of the Volkswagen XL1, the Lightyear One is among the slipperiest cars ever made. Although, that low aerodynamic coefficient figure isn't enough to justify that substantial range alone.
A Clever Set Of Tyres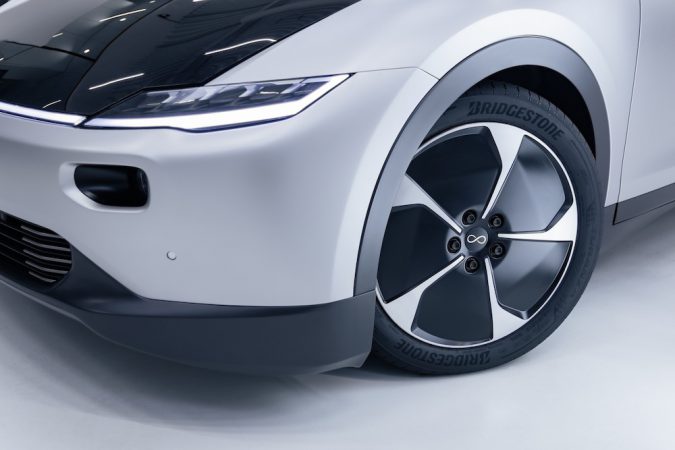 That's where Bridgestone comes in. They've now combined the very latest in tyre technology to build a special set of rubber for Lightyear. Brigestone's new tyres now come with very low rolling resistance and reduced weight. Not to mention, it's also being more sustainably developed. In fact, this isn't the first time Bridgestone and Lightyear have worked together. It all began with the Bridgestone World Solar Challenge, which is a 3,000km jaunt across the Australian Outback to show off solar mobility.
Built by the Eindhoven Technical University and refined over 8 years, Lightyear was then born to tackle the challenge. It won the race for 4 years on the trot, between 2016 and 2019. Now, Bridgestone is working hand-in-hand with Lightyear to push the capability of tyres that bit farther. With this venture, Bridgestone is combining their innovative ENLITEN and ologic technologies together for the first time. Bridgestone's answer is a set of new Turanza Eco tyres.
Sustainable Innovation At The Forefront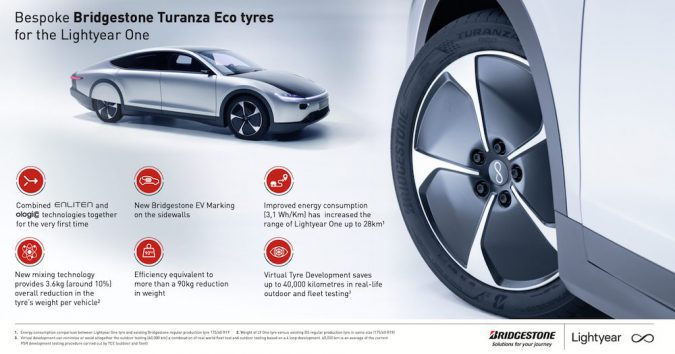 Speaking on this new tie-up, Emilio Tiberio, COO & CTO of Bridgestone EMIA, said:
"Lightyear have impressed with their approach to sustainable mobility ever since we saw the team take on the Bridgestone World Solar Challenge, and so we're excited to play a part in the Lightyear One project. Bridgestone is committed to a 50% reduction in CO2 emissions by 2030 and 100% sustainable materials by 2050 and strategic partnerships are fundamental to achieving these goals."
Following 90 years of experience, this marks a new chapter for Bridgestone. These new tyres have a few tricks up their sleeves, too. First, it's been designed to reduce rolling resistance, which also benefits Lightyear as it could fit smaller and lighter batteries. The end result is a weight saving of more than 90kg. The tyres themselves are lighter as well, thanks to a new silica dispersion mix. This has allowed Bridgestone to reduce the weight of the tyres by 3.6kg (around 10%) for each vehicle.
All this, without a single compromise made to tread wear or traction. Even better than that, the actual manufacturing of the tyres themselves requires fewer raw materials. Bridgestone will then be testing all that new rubber with its shiny Virtual Tyre Development tech. The use of this allows for accurate modelling of a tyre's performance without having to physically manufacture and test it. The move towards digital simulation could save up to 40,000km in real-world testing.
Readying Up For Production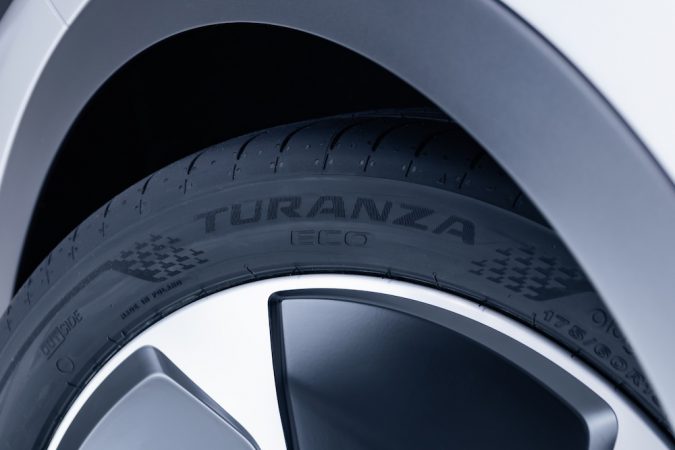 This couldn't have come at a better time, too. The Lightyear One is slated to continue testing in Q1 2021. Later, it will be made available for sale by the end of Q4. But the Lightyear One won't just be the only benefactor of these developments. The Turanza Eco tyres will wear Bridgestone's new 'Bridgestone EV' marking. This highlights that the tyres are being tailor-made for EVs, and that they worked closely with the carmakers. So, you can certainly expect to see quite a few of these soon.
As for this venture with Bridgestone, Lex Hoefsloot, CEO of Lightyear, added:
"We're particularly happy to see this collaboration between Bridgestone and Lightyear, with two companies that share a vision for future sustainable mobility coming together. The world is already experiencing unprecedented change and challenges, and through innovation and cutting-edge technologies we can work together to grasp the opportunities head on and create a more sustainable world."