There are only a handful of American car companies that are as iconic or as well-known as Chevrolet, or as most would like to call them, Chevy. However, while the vast majority out there associate this classically homegrown Detroit brand with cars, we'd sometimes forget they're a maker of engines, as well. Hence, why do some wonder as to how one can perform a Chevy engine serial number lookup?
It's a much bigger deal than it might seem. For starters, Chevy builds a tonne of engines that can suit all manner of movable transportation. These days, Chevy's pop culture status among car enthusiasts has recognized their contribution to creating some of the best crate engines out there. When has an LS swap ever gone out of fashion? Everybody loves a hearty, throaty V8, with ample grunt to spare.
Yet, Chevy also makes robust SUV and truck engines that could, at times, outlast its owner, let alone putting 1,000,000+ problem-free miles on the clock. I've just learned that Chevy even makes engines for boats and other watercraft. With such a wide range and abundant variety of powerplants made throughout all of Chevy's long history, how can you undertake a Chevy engine serial number lookup?
Engine Serial Number
I'm sure most of you have heard of a VIN before, right? Otherwise known as a 'Vehicle Identification Number', a VIN is sort of your car's birth certificate. It's a valid stamp of approval signifying that this particular car was created, and is permitted to drive on public roads. The VIN is a 17-digit scrambled code that includes details of how, where, and when your car was built, among other information.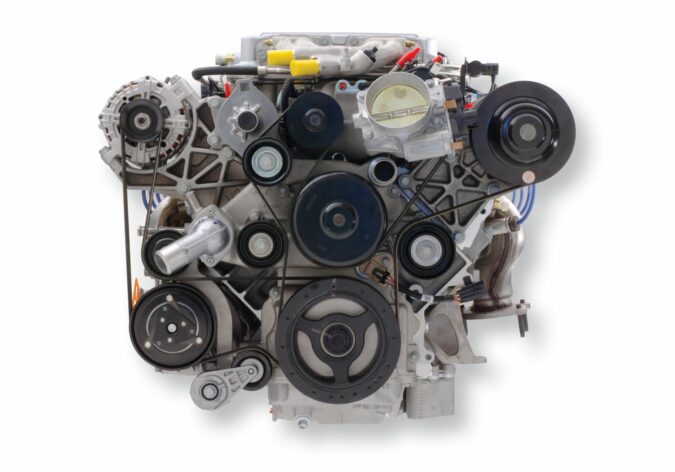 It's a good way to track your car down or certify that it's legitimate. Or, perhaps even use it as some proof of ownership, alongside your car's title and registration papers (to find out more, check out our vehicle registration renewal WV). Using that analogy, an 'engine serial number', or just 'engine number' to some, is similar to how a VIN works. Your car's ESN (engine serial number) is a more detailed identification system, but just for your engine, and nothing else.
Unlike a VIN, which mostly inscribes a car's construction and a few highlights on its specifications, an ESN can expand upon that. Typically, engine serial numbers could entertain their configuration. For example, using the letters and numbers in your ESN, you could figure out if it's turbocharged or naturally aspirated. Or, perhaps discern as to what model year or generation of engine it belongs to.
In some cars, you can even determine how my cylinders it has, the displacement, additional features, and so on. Just like a VIN, mind you, engine serial numbers are commonly used to learn more about how, when, and where it was produced. Note, that the 'engine number' is specific to the engine block, and it's different from the 'chassis number'. The latter is reserved for your car's frame.
Why Figure Out What Engine You Have
For what I assume to be 95% of your ownership period of a car, you're likely to never care or have to worry about needing a Chevy engine serial number lookup. The ESN is one of those things that gets buried under a mountain of other things that you have to worry about in a car. Plus, you're never going to be prompted about the engine number in most circumstances. So, why bother with it?
Ah, but it's that 5% of the time when you'll need to remember what its ESN was. While it's mostly trivial, it can come in handy for those few, specific occasions. That's because running a Chevy engine serial number lookup yields some benefits, such as:
Being able to identify if a car you're planning to buy was stolen, or had stolen components, such as an engine lifted from an as-of-yet unrecovered vehicle.
Allows the authorities another avenue to identify your car, and increase its chances of recovery if it's been stolen. Or at least, help them prosecute the thieves.
Enabling you to know if your engine is a part of a recall campaign by the manufacturer since they're privy to using the ESN to determine which vehicles in a production batch are affected.
Understanding the configuration of the engine and its components, which is useful for tracking down compatible spare parts, either for repairs or modifications (like comparing long blocks vs short blocks).
Makes maintenance easier, as technicians and mechanics can easily run your ESN through say, a Chevy engine serial number lookup tool, and know what needs to be done.
In some cases, you could use the ESN to know if the engine's gone through serious water or flood damage, or maybe if it's been totaled and written off before.
Chevy Engine Serial Number
When you buy any vehicle, be it a muscle car or a boat, fitted with a Chevy engine, it'll come with an ESN distinct to Chevrolet. Unlike VIN, which follows a standardized 17-digit pattern, engine numbers are unique to each manufacturer. In the case of Chevrolet, its engines have a 7 to 8-digit serial code stamped onto the engine block. This is then recorded onto Chevrolet's own engine block registry.
Note, that the 'engine serial number' (or 'engine ID') in this case shouldn't be confused with the 'casting number'. The latter is a unique production number that's imprinted directly onto the engine block as the solid block itself was being cast. The casting number can inform us of a few key details about the engine. These include the cylinder count, displacement, model year, production year, and so forth.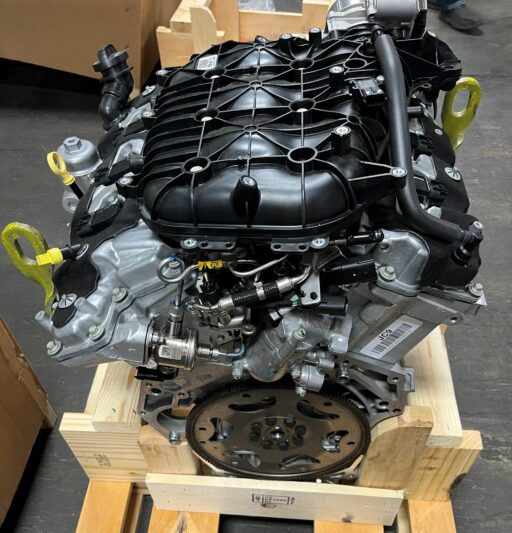 Meanwhile, an engine serial number is stamped onto a machined pad once the engine has been fully assembled. This 7 to 8-character registration, as we noted earlier, contains both a prefix and a suffix order, respectively. The prefix pertains to information regarding the assembly. On the other hand, its suffix will contain data, once decoded with a Chevy engine serial number lookup tool, on its specs.
These may include, for example, horsepower figures, engine displacement, or the make and model of the vehicle that it's powering. In that regard, the 'casting number' and 'engine serial number' aren't all too different from one another. On most Chevy engines, they'll only have the engine ID on there, but since the late 1960s and later, you'd also find the partial VIN stamped alongside it, as well.
Chevy Engine Serial Number Location
Before you can figure out how to go through a Chevy engine serial number lookup, you'll first have to figure out what your engine ID is. The simplest way to go about this is by looking through your car's registration and title. In addition, you may also use VIN lookup tools (or the best free VIN decoder), and input your car's VIN instead to let it spell out the engine serial number for you. Otherwise, you'll have to look for it manually.
Quite simply, an engine serial number for your Chevy can be found on the engine itself (and fun fact, go check out our catalytic converter code lookup). Based on the configuration of your engine, however, this may be harder or easier than it seems. Here's where you can start looking, depending on what Chevy engine you have:
Small Block V8 – Adjacent to the engine's cylinder heads on the passenger side of the vehicle (like on the 400 small block), and sits closer to the front of the core engine block. Look closer, as the alternator might block the engine ID, which is often stamped onto a metal plate.
Big Block V8 – Much easier to find this time, as the Chevy engine serial number is stamped onto the covering over the timing chain. Although, some of them may place the engine ID in a similar position to small-block V8s, as we pointed out earlier.
V6 (And Others) – Located either on or behind the distributor, which can be found on the passenger side of the vehicle. Note, the engine ID and casting number may sometimes be located next to one another.
Decoding Chevy Engine Numbers
Here's one example that we'll feed into a Chevy engine serial number lookup registry: V1015CKX
First, let's explain more about the prefix and suffix system we mentioned earlier. The prefix comes first in the engine ID and contains 5 digits relating to its production. On the flip side, the suffix caps off an engine ID with either 2 to 3 digits, detailing some noteworthy specifications of the engine. We could split it apart into its constituent alphanumeric components, and this is what you'll get…
Prefix:
V – The production plant the engine was built and assembled in.
10 – The month when the engine was put together (October).
15 – The day when this Chevy engine was assembled (15th).
Suffix:
CKX – Engine belongs to either a 1972 Corvette, a 1973 Camaro, or a 1976 Corvette. All of these have a 350 cubic-inch displacement engine, with 200hp, 145hp, and 180hp, respectively.
As you can see, running your engine ID through a Chevy engine serial number lookup should be fairly straightforward. The middle 4 digits denote the date the engine was built, with its month and day of production. The first character is used to determine which assembly plant built that engine. Here's a quick list of the engine plants where your motor may have been built at:
F – Flint (Chevrolet)
H – Hydramatic
K – St. Catherines, Ontario (McKinnon Industries, Canada)
M – General Motors of Mexico (Hecho en Mexico)
S – Saginaw Service
T – Tonawanda
V – Flint (Pontiac and GMC)
Chevy Engine Suffix Codes
Now, it's worth explaining that the prefix is the simplest part of a Chevy engine serial number lookup. The suffix is where it gets tricky, as it can vary across thousands of variations throughout Chevrolet's history. There are even times when, as we demonstrated, a single suffix could be used on more than a single make or model, spanning several model years. It's hard to find a complete catalog.
However, there are plentiful sources online, such as NastyZ28.com, which has compiled together the most thorough list of Chevy engine serial numbers. In short, their registry contains most of the 2 or 3-digit suffixes, to vehicles as late as 1991. They've also gone ahead and sorted them for either small- or big-block V8 engines. To make things easier, they've also split these suffixes into separate pages.
Here are some quick links to direct you to those sources. All you need to do is pick a page where your suffix might appear in. For example, our previous example (CKX) can be found within the 'CE – CMJ' page, corresponding alphabetically…
Chevy Engine Serial Number Lookup, Small Block (SBC) V8 Engines
Chevy Engine Serial Number Lookup, Big Block (BBC) V8 Engines
Click on any one of those menus, and you'll find information concerning the:
Model year
Cubic-inch displacement (CID)
Application (contains details around the powertrain, such as whether it has carburetors or fuel injection, type of fuel used, type and variation of transmission, and so on)
Engine VIN (this is to specify the generation of engine it belongs to)
Horsepower output
BBL (barrels, otherwise how many barrels within the carburetor it has or might denote if it's fuel-injected instead with TBI for 'throttle body injection' or TPI for 'tuned port injection' – which is helpful if you need to learn how to tune a carburetor)
Vehicle it was fitted on (the model name, and it might also include comments on what type of vehicle it may have alternatively been powered by it)
How To Find Out What Engine I Have
Just to help you get in tune with grasping how to decode a Chevy engine serial number lookup result, we've prepared some examples. These are based on sample engine IDs from Chevys that we've pulled from the web, and let's see what we can learn from them: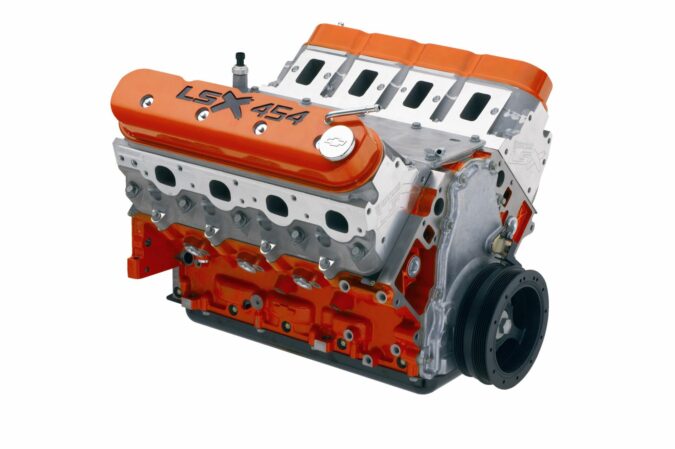 K0616DE
K – Assembled at GM's engine plant in St. Catherines, Ontario.
0616 – Production or model year is June 16th.
DE – Fitted on a 1958 Malibu (283 cubic-inch), or is either a 1962 AX (283 cubic-inch) or 1968 AFX-series (307 cubic-inch) engine.
T0922CTW
T – Produced at GM's Tonawanda engine plant.
0922 – Engine's production or model year is September 22nd.
CTW – It was either a 1975 B-series (400 cubic-inch) or a 1978 G-series (305 cubic-inch) engine.
F0604RF
F – Put together at GM's Flint engine assembly plant.
0604 – The date it was built was June 4th.
RF – Installed on a 1962 Corvette (327 cubic-inch, 360 horsepower, manual transmission, fuel injection)
F0326EC
F – Built at GM's Flint engine plant.
0326 – The engine was born on March 26th.
EC – Was originally a 1957 B-series (283 cubic-inch) engine, or found fitted on either a 1965 Chevelle (327 cubic-inch), or a 1966 Chevelle (also 327 cubic-inch).
S1029CTY
S – Built at GM's Saginaw Service plant.
1029 – This engine was bolted together on October 29th.
CTY – It was a 1976 B-series engine (400 cubic-inch, with 175hp under the LT4 family of motors)
Remember that as you're trying to figure out the Chevy engine serial number, some models will have a partial VIN stamped next to the engine ID. This partial VIN is, as the name suggests, not the entire sequence. Nonetheless, it still carries important data, most likely concerning the engine's production. It may tell you who built the engine, at what year, through which plant, and its batch information.
Chevy Engine Serial Number Lookup For CE Codes
Chevy engine serial number lookup should only concern you with the aforementioned format we've discussed thus far. However, you might also find many engines with an ID starting with 'CE'. If we'd have to give you an example, it would appear something like 'CE067997'. The term 'CE' can also be referred to as 'Chevrolet Engine'. Although, it might also be stamped on replacement engines.
'CE' can otherwise be translated as 'counter engine', 'counter exchange', or 'crate engine'. All three of which used to be considered warranty replacement motors. Let's say a particular owner had some difficulties with their engine and needed heavy repairs. Should the block be replaced with a completely new unit with a warranty, a stamp would be placed showing 'CE', followed by a 6-digit serial number.
This CE serial number system started in 1968, and each serial is specially generated to display what engine that car came with originally. Unfortunately, this CE-type code uses generic sequencing for stamping the engines. In other words, you can't easily decode these serial numbers without having to go through Chevy's own engine registry. If they'd run out of numbers, the letter 'A' is added.
Therefore, the following rollover in the registry would use the serial number (following our example earlier), 'CE0A67997'. With or without the A, the specific engine ID would be the 6 digits after CE. In this case, that would be '067997'. The first one, '0' would show off what year it was assembled in, as '67997' is its serial number. It would contain all the necessary details that we've gone through so far.
Chevy Block Casting Numbers
Much, much earlier, we made mentions of 'block casting'. While it shouldn't be confused with engine serial numbers, block casting is a great source of supplementary information about an engine. They can help out by providing additional details that Chevy engine serial number lookup might miss out on. Just like engine ID, block casting numbers are alphanumeric and found in similar locations.
There are two separate casting-related markings that you need to be wary of. The first is the block casting date, which can inform you of when the engine block was cast. They're either a 4 to 5-digit code, with the first letter showing you the month. It's then followed by one to two digits for the day, and another one to two digits for the year. One example would be: A1160
That would translate to a date of January (A), the 11th day of the month, in the year 1960. When it comes to the month:
A – January
B – February
C – March
D – April
E – May
F – June
G – July
H – August
I – September
J – October
K – November
L – December
Elsewhere, the block casting date will be accompanied by a sequenced casting number. Given all the millions of small- and big-block V8s made by Chevy over the years, the list of casting numbers is far too long to divulge here. Thankfully, sources such as outintheshop.com have a nearly complete list. It also expands that list for IDs on your crankshaft, engine head, intake manifolds, and other parts.
Chevy Small Block V8 Engine Identification – Facts
Two essential pieces of information you need to decode are the Engine Code and Partial VIN.
The Casting Date for Small blocks can be found on the driver's side rear of the block on flange forward of the bellhousing, while that for big blocks can be found on the right side of the engine above the oil pan rails.
All engines are stamped with an engine ID code consisting of assembly plant code, production date, and suffix code.
The VIN code format consists of divisional identification number, model year, assembly plant designation, and vehicle serial or sequence number.
The term "numbers matching" refers to an engine that can be matched to the vehicle it was originally used in, done via the partial VIN stamp on the component.
Numbers matching is important when decoding a Z28 or Super Sport where the VIN won't identify the vehicle as such.
Suffix codes are either alphabetical or alphanumeric, and some suffix codes are reused twice or more over time.
Counter or crate engine code was used from 1968 to the current year, and it represents any CID and is used to indicate that the engine was replaced under warranty.
Four-bolt main blocks are desirable in high-performance applications because the additional strength of the bolts keeps the bottom end rigid and less prone to failure.
Starting in 1970, the serial number is stamped either above the oil filter, somewhere on the block pad, or on the transmission flange.
Chevy Engine Serial Number Lookup: In Conclusion…
Well, that just about does it for this guide on how to perform a Chevy engine serial number lookup. Is this really a thing that you should be concerned about? Most would likely not have to, since every new Chevy car follows a different standard in registering its engine serial codes. That said, and if you own a 1991 or earlier classic Chevrolet, it might prove quite useful for you to have on hand.
In all, the only thing you need to worry about is the 7 to 8-digit engine serial number, which can be found stamped on a plate onto the engine block. Once you have that, you can decode it to determine the location and date it was assembled on. In addition, that 2 to 3-digit suffix is more than enough to let you in on that particular engine's specifications, such as its displacement or horsepower output.
There is an abundance of sources online that have tirelessly cataloged every Chevy engine serial number lookup there is, which you can use as a reference. On top of that, you could also scour about to find your Chevy's engine block casting number. While not as descriptive as the serial number itself, the block-casting info can narrow your search down to precisely what engine you're working on.
Let's remind ourselves that the suffix on the engine's serial number may be repeated and reused for several different models at one time. Thus, you can pair the block casting number to determine if this engine here is one made for a Camaro or a very similar Corvette. From there, you'll be well-equipped to find spare parts or would merely want to prove the authenticity of your oh-so-rare old Chevy.
FAQs On Chevy Engine Serial Number Lookup
If you're still curious to learn more about Chevy engine serial number lookup, our FAQs here might help…
How To Tell What Engine I Have
There are numerous ways to tell what specific engine you have in your car. The easiest method is by finding your car's VIN number. The VIN can be found in a car's registration, title, owner's manual, and insurance paperwork, or stamped by the dashboard, door jamb, near the engine block, and elsewhere. Once you've located the 17-digit VIN, look at the 8th digit. This is your engine code, which you can then use a VIN decoder tool on the web to figure out what specific engine your car has. Otherwise, if you know the specific model or variant of your vehicle, a quick Google search can tell you what type, displacement, or layout your engine is, without needing the VIN at all.
How To Read Chevy VIN Numbers
Before you can read your Chevy's VIN numbers, you'll first have to locate them. On Chevrolet trucks, for example, the VIN code is printed on a tag that you can find either by the dashboard (under the windshield), or it's found by the engine firewall or door jamb. The VIN is a 17-digit code, and each of those digits can tell you more specifics about that particular Chevy. The 1st and 2nd tell you where and who built your Chevy, while the 3rd indicates the specific division. Meanwhile, 4th tells you the GVWR, 5th informs you of its chassis type, and 6 lets you know the classification. The 7th is for the body type, the 8th is the engine code, the 9th is a check digit, the 10th notes the year, the 11th is for plant location, and the final 6 characters are for the production sequence.
How To Find Engine Size On Engine Block
If you want to figure out your engine size, you could do so by checking the engine serial number and block casting number. With an engine serial number, you can find this by locating a metal plate near the alternator and water pump, on the engine block itself. Although, depending on the specific engine, this location might vary. Otherwise, you'll have to lift your car and get underneath it to then find the casting number, near the engine and transmission. The casting number here is at least 6 digits or longer. When you'd have both the serial number and block casting number, use online sources (like this one) to cross-reference them and figure out your engine size.
What Is A Small Block Engine
As its name implies, small block engines are physically smaller compared to big block engines. With a smaller overall engine block, this also means that the pistons have smaller bores, and the strokes are also shorter. As a result, small block engines typically have smaller displacements. Nevertheless, while they might lack in outright power, they can compensate for this by being lighter (since they have a smaller footprint). This translates to better handling and acceleration, as well as better fuel economy. However, while the humble small block engine has less power and torque by default, you can easily tune an SBC to produce far more power than most big block engines.
Are All Chevy 350 Blocks The Same
For the most part, yes, Chevy 350 blocks are (nearly) the same. Therefore, most of the holes for sensors, as well as the head bolt patterns, are shared across most 350 blocks. However, you'll want to be cautious about what particular production year you're getting it from. This will determine whether or not a specific variant of the 350 will fit easily into your car, or if some adjustments are needed. For example, older 350 blocks use mechanical pumps and don't have the same fittings for a knock sensor or crankshaft sensor. Moreover, the rear main seal in older 350s is two-piece, instead of a one-piece in some of the newer 350s, among many other smaller differences like these.
Approved Tools
These tools have been tried and tested by our team, they are ideal for fixing your car at home.
AI Car Expert Thinking 

.

.

.