The Ford Fiesta remains, in my heart, a symbol of automotive joy wrapped up in a fun little package. It's truly one of the most joyous vehicles on the road today, which is fitting for a car literally named, "party". From hopping across rally stages, or hauling the family around, it's a car that's happy to be alive. Yet, this experience is somewhat numbed by all the Ford Fiesta reliability woes popping up.
Is the Ford Fiesta the one party that's worth skipping over, fearing that it might get you trapped in an endless loop of workshop visits? Or, is this a gross exaggeration for a marque that's sold over 16 million units around the world since 1976? Well, let's dive into the would-be Ford Fiesta reliability issues, although we'll try and stick more towards the later generations.
Ford Fiesta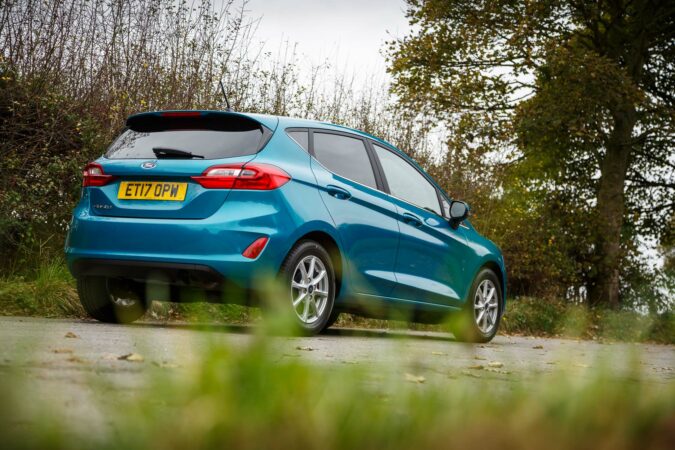 The Fiesta is one of Ford's best-selling models, placed behind only the Escort and F-Series. This front-engine, front-wheel-drive supermini has been – and is being – manufactured in various parts of the globe.
While minuscule in frame, the Fiesta has been repurposed into three or five-door hatchbacks, some hotter than others. You could get it as a sedan, or even as a (very small) commercial van.
The history of the Fiesta goes back to the 1973 oil crisis, which saw consumers shun the typically big and gas-guzzling cars of old-school Americana. This prompted the rise of smaller, and more economical cars such as the Fiat 127, Renault 5, Volkswagen Beetle, Mini, and plenty more from Europe and Japan.
As its challenger in this space, Ford decided that it too wanted an affordable compact car. It would be cheap to buy, barely sips on fuel, but is no less aspiring or practical. The Fiesta was thus born, as the smallest car ever made by Ford at the time. Initially, Ford estimated they'd be able to see 500,000 Fiestas in a year.
Yet, even with numerous plants building the Fiesta at the same time, it was a massive success. In the UK alone, Ford could easily sell 100,000 Fiestas or more. Since then, the Fiesta underwent gradual evolution in its design and engineering. It won countless awards and had spent more than its fair share in racing, too.
The first Fiestas to enter rallying was back in 1979. In that season, the pair of Fiestas showed how capable the plucky Ford could be, and helped to spawn sportier hot hatch variants later on. Today, the Fiesta still races in the WRC.
Sixth-Generation Ford Fiesta (2008-2019)
We'll start our guide here on Ford Fiesta reliability with the sixth generation. That's because back in 2008, this became the first Fiesta to be sold in the US since the first-generation – or Mark I Fiesta – was discontinued in 1980.
Otherwise referred to as the Mark VI (or Mark VII in some markets), the sixth-generation Fiesta was sold worldwide. It was all part of Ford's 'One Ford' strategy. The design was radically different from earlier Fiestas, inspired by the Ford Verve concept of 2007.
It was made entirely to fit the idea of small, and fuel-efficient cars. It can be had as a sedan, van, or a more conventional hatchback configuration. Being a car made for the world, it had engine options aplenty, ranging from a 1.0-liter Duratec motor to a (relatively large) 1.6-litre EcoBoost.
So popular was the Mark VI Fiesta, that it was facelifted twice – first in 2013, and again in 2017. A hotter Fiesta ST was unveiled for the 2013 model year, where it received a retuned 1.6L EcoBoost.
Now, it can pump out 180hp – or up to 197hp in 'overboost' – along with major reworkings of the suspension, chassis, transmission, and electronics to make it a truly sporty hatch for the road.
Seventh-Generation Ford Fiesta (2017-Present)
The lovely little Fiesta was overhauled for its seventh generation. Sadly, however, small cars such as the Fiesta lost their popularity in the US market to SUVs and pickup trucks. This prompted Ford USA to end production of the Fiesta following the 2019 model year.
Although, it remains to be a best-seller in many other regions, especially in Europe. The Mark VII (or Mark VIII in the UK) was far more upscale. This Fiesta has grown up and is roomier, cushier, safer, and more fuel-efficient. It also spawned a crossover-type variant, the Fiesta Active X.
This time, you could opt to have the Fiesta in a 1.0-liter EcoBoost, and ramp it all the way up to a 1.5L. The Fiesta ST is still around, providing attainable yet thrilling smiles since 2018, and it's even faster than before.
PowerShift Lawsuit
We can't go any further into discussing Ford Fiesta reliability without at least making mention of the infamous PowerShift lawsuit from a while back. Primarily, it concerned the Mark VI Fiesta, and those sold through the 2011 to 2016 model years. PowerShift is the name of Ford's in-house 6-speed dual-clutch automatic transmission and was fitted on numerous models such as the Fiesta.
While it worked fine performance-wise, there was no end to its reliability problems. Since 2012, Ford customers in the USA banded together to file multiple class-action lawsuits, with the Fiesta being one of the models targeted for scrutiny.
The Focus was another Ford marque, among an estimated 1.5-million vehicles in the US that was fitted with the PowerShift – or DPS6 – gearbox. Owners noted that their PowerShift transmissions would shudder, slip gears, buck, jerk, and hesitate while shifting.
Other times, it would have problems downshifting or would cause sudden or delayed acceleration. Additionally, the PowerShift gearboxes would wear out prematurely, resulting in many owners needing to rebuild or replace the entire transmission in their ownership period.
More than a few owners have had to replace clutches, output shafts, and the whole gearbox unit. Others are comparatively lucky, needing only a software update to clear the issue.
Nonetheless, this problem caused a lot of inconveniences for Fiesta owners, among other affected Ford models. Some folks noted that even after a repair, issues with the PowerShift gearbox would reappear again.
Ford's Response To The PowerShift Transmission Lawsuit
Ford had issued several technical service bulletins to its dealers and specialists. Clearly, they realized that something was wrong, but problems with the PowerShift gearbox couldn't be fixed.
Since its inception, Ford's engineers revised the clutch packs and transmission modules for the PowerShift at least six times. These changes made the gearbox more resistant to fluid contamination and wear.
Both of these are the source of most of the complaints filed by owners, as the seals would leak out transmission fluid over the dry clutch. Plus, the newer clutch packs enabled better performance.
Still, many owners continue to harbor concerns. It became embarrassing for Ford when an investigation in July 2019 revealed that Ford's brass was aware of this problem all along, even before production.
Despite knowing that the gearboxes had design flaws, they still went ahead with fitting them into their cars. As a consequence, owners had to spend thousands just to fix these faults out of pocket.
After this investigation aired, Ford offered an extended warranty program for 600,000 owners. It was, in fact, the second such warranty coverage extension, with the first one in 2014.
Finally, in January 2020, Ford made a settlement with the owners of affected PowerShift transmissions. It offered a minimum of $30 million for the aforementioned class-action lawsuit.
Claims have been processed and were disbursed after April 7th, 2020. Depending on the issues faced, owners could get $20,000 apiece as part of the settlement from Ford, which includes a buyback program.
Ford Fiesta Reliability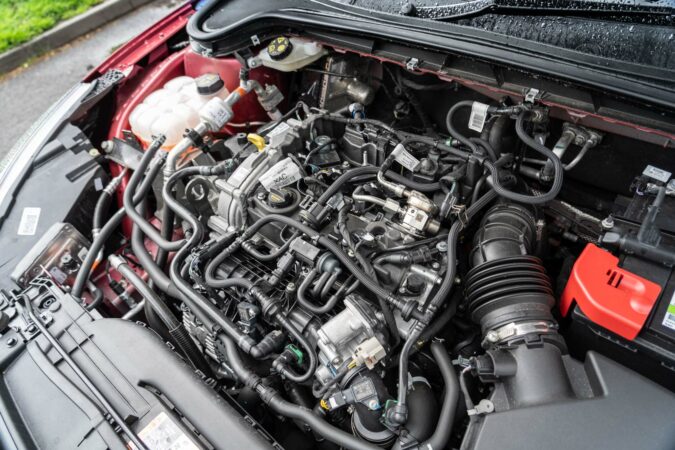 To get a clearer picture of how bad the Ford Fiesta reliability is, we're going to reference data compiled by CarComplaints.com. They've gathered reports and complaints filed on their own database, and those filed to the NTHSA.
Across the entire Ford family – which is massive, by the way – there are a total of 46,085 complaints. Among them, the Fiesta captures "only" 672 complaints. This number may seem good on paper. However, its sparkle loses shine immediately after it's been put through CarComplaints.com's PainRank scoring system.
This is an aggregate leaderboard that analyses not only how significant a problem is, but also how costly it will be to fix. Additionally, it looks at the mileage when the issue occurred, and the complexity of any repairs, among other factors.
Taking all of this into account, the Fiesta was awarded a PainRank score of 30.22. This would rank the Fiesta in 32nd place for reliability among 42 Ford models. Compared by generation, the Mark VI Fiesta ranks 64th out of 94 individual Ford model generations sold in the USA.
In a nutshell, this isn't a good start when looking at the Ford Fiesta reliability, and it's in no small part due to the gearbox.
Ford Fiesta Problems
Speaking of transmission, it takes the lion's share of all the many Ford Fiesta reliability concerns that owners have had over the years. So much so, that the 2011 model year Fiesta was named the worst of the bunch, thanks to its woefully unreliable gearbox.
The 2013 and 2014 model year Fiestas are not far behind, with their transmission troubles causing plenty of heartache for their owners. This is despite Ford having released over 177 technical service bulletins that impacted Fiestas in its lifetime, most of it went to gearbox-related problems.
There have also been eight recalls involving the Ford Fiesta in its sixth generation. So, let's dive deeper into all the Ford Fiesta reliability worries, especially those common issues that tend to reappear, or are a pain in the backside.
Here, you may also learn some of its symptoms, the source of the issue, and what owners have done to fix them…
1. Transmission – Complete Gearbox Failure; Needed A Rebuild Or Replacement
We may as well start with the most serious Ford Fiesta reliability complaint. While Ford's $30-million settlement may have dulled the pain somewhat, it hasn't been able to completely erase the nightmarish experiences that owners have had with the PowerShift gearbox.
In the 2011 model year Fiesta especially, gearbox problems were most prevalent. Owners experienced gear slippage, jerking, shuddering, and horrific grinding noises. As a result, the engine might stall, or the car would hesitate a lot under acceleration.
Worst of all, these gearbox issues could appear with mileage as low as 40,000 miles. For some cars, such mileage would barely have any impact on the transmission's wear, should it be serviced appropriately.
As owners sent their Fiestas to the dealership, they would be treated with a plethora of replacement parts. They replaced the clutch, transmission module, and TCM (transmission control module), among others.
In the end, only a brand-new transmission would suffice, setting owners back around $3,500. However, several owners have been charged by dealerships for more than $6,500!
2. Transmission – Jerking, Shuddering, Or Hesitation While Accelerating
This is an extension of the transmission pains earlier when it comes to Ford Fiesta reliability. But we may as well try to look deeper into this issue, in understanding what owners went through.
This is quite a prominent tell-tale sign among many Fiesta owners, mostly for those who bought the 2011 model year. However, this problem persisted all the way up to the 2016 model year.
Owners would sometimes experience intense jerking, shuddering, or hesitation from the powertrain. It can appear at slow speeds or while the car is at a full stop. That said, it's most noticeable under acceleration.
One owner described the sensation as akin to getting whiplash. The gearbox could sometimes rattle the car, refuse to shift, or relegate it to drive no faster than 20 or 30mph.
It's quite hazardous, as owners would have trouble overtaking or getting out of junctions safely. Yet, Ford only offered some software updates to try and fix this. Elsewhere, owners have had to shell out upwards of $5,000 on some occasions.
Often, numerous trips had to be made, as mechanics would replace parts here and there in the gearbox. In all, a new transmission is the best way out. A few Ford dealers have tried to pass on these faults as "normal", which was unconvincing at best.
Having the gears fail to up and downshift isn't normal, and neither is overheating, grinding, and its failure to operate smoothly. One of The Drive's writers, who owned a Focus with similar gearbox issues, talked about how these systemic defects destroyed any potential resale value.
3. Engine – Sudden Or Intermittent Stalling While Driving
If you look through CarComplaints.com, the registry of complaints concerning the Ford Fiesta is filled with transmission issues. A lot of them are repetitions of what we've mentioned earlier.
Mainly, you can feel shuddering, jerking, gear slippage, hesitancy, and so on. These are the major pain points, so it's not worth repeating them for the hundredth time. So, let's move on to the engine.
While not the most significant issue, Ford Fiestas have had some engine troubles. Namely, the 2011 model year is once again the most problematic. Granted, some of this is attributed to the gearbox.
One particular owner had their Fiesta engine stall repeatedly, even though their mileage is less than 10,000 miles. The engine may stall when you're driving at low speeds, or while at standstill.
Imagine then, trying to navigate through traffic! An owner of a 2011 Fiesta visited the workshop six times for repairs and an explanation, but to no avail. A different owner solved this issue with a new replacement airbox, which had choked the engine of oxygen, and a new throttle body sensor.
While the airbox was covered under warranty, they had to spend $1,000 on that new throttle body sensor. So, that answers the question of how much does a throttle body replacement cost.
4. Exterior – Faulty Door Latch Could Pop Open While Driving
Here's something equally terrifying among these other Ford Fiesta reliability quirks. The Fiesta had faulty door latches, among several other Ford models. These included the Fusion, F-150, and the Lincoln MKZ.
First, let's talk about the 'pawl', which is a mechanical device inside your door handles. This unit basically latches onto the door sills along the bodywork and prevents it from opening.
Within the pawl, there is the pawl spring. This helps to bring the door handle back into place when you let go of it. Although a system this simple shouldn't cause too many headaches, this isn't the case with certain Fords.
It looks like a factory defect was discovered with the pawl springs. What may seem like a small flaw could prevent the pawl from latching the door shut. Owners have reported that their doors would open randomly, or would spring back when folks tried to shut them.
Others, meanwhile, had their 'door-ajar' warning light be a permanent fixture on their dash, as the doors could never remain closed. When it's cold out, the latches would either freeze or allow the doors to fly open. In 2016, Ford finally recalled over 2.3-million cars with faulty latches.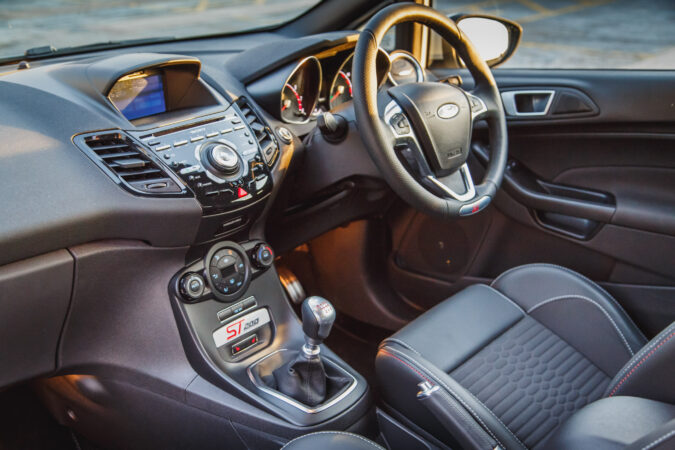 5. Interior – MyFord Touch Infotainment System Is Difficult To Use
Although this is more of a general complaint rather than a clear Ford Fiesta reliability fault, it's still worth mentioning anyways. The MyFord Touch was one of Ford's first attempts at a touch-capable and thoroughly modern infotainment system.
While it might seem like a huge step forward at the time, its implementation was less than ideal and led to an uproar among Ford's customers. So much so, that Ford's overall customer satisfaction rankings have dropped consistently since the MyFord Touch system was introduced in 2011.
Owners have reported the system being difficult to use, unresponsive, and needlessly complicated. Sometimes, the system would freeze and crash, or would fade to black without warning. It would routinely fail to sync up with your phone.
There have been numerous annoyances, such as the system randomly skipping over music tracks, or the backup camera turning off while actually reversing. At the peak of it all, the touchscreen was rather rubbish, needing multiple presses to do anything.
Press too hard, and the screen cracks. Yet, while Ford had released iterative improvements, updating the system was a chore in itself. Prior to MyFord Touch's release in 2010, Ford was ranked in 5th place for customer satisfaction. In 2011, following the system's launch, Ford dropped all the way down to 23rd out of 32 carmakers.
Owners could only try to solve any freezing or crashes by restarting their cars. If that didn't work, then they'd have to unplug the battery to properly reboot the system. Some lawsuits came, too.
Ford Fiesta Reliability: In Conclusion…
In summary, what can we conclude about issues pertaining to the Ford Fiesta reliability? In all, we think the Fiesta isn't the most unreliable car ever made in the world. That honor goes to lemons like the Chrysler 200.
Generally, its problems can be narrowed down to the gearbox. For the most part, the by-design faulty transmission is the only sore point for many owners of the Fiesta. It will cost you thousands of dollars to fix, although this is made ever so slightly better following Ford's settlement.
Nevertheless, the only workable end-all solution is to replace the PowerShift gearbox with a brand-new unit. If you're thinking of buying second-hand, it may be worth avoiding those Fiestas that were built with the PowerShift transmission between 2011 and 2016.
For reliability concerns overall, 2011, 2012, 2013, and 2014 remain the most troublesome of all the Ford Fiesta model years. Lingering reports over problematic gearboxes take the majority as far as dissatisfaction goes.
Apart from that, be mindful of the engine, which can spring up issues every now and then such as stalling. This isn't in the recall notices too, so you'll have to fix this yourself. Then, take care of those faulty doors. It should've been fixed through recall by Ford dealers by now.
So, it's likely that most Fiestas today aren't driving around with doors that could fly open. The infotainment is still mostly a mess, unfortunately. That then rounds off our look at all the Ford Fiesta reliability concerns. Alas, this happy little car is more than capable of putting a frown on your face.
FAQs On Ford Fiesta Reliability
If you're still curious to learn more about the Ford Fiesta reliability, our FAQs here might help…
Is Ford Fiesta A Good Car
Though the Fiesta is no longer on sale here in the US, it's still worth considering if you need an affordable, and fun little used car. Sure, being a budget hatchback, it will lack the luxuries and nice-to-haves that costlier vehicles feature. But, that does make the Fiesta a pretty attainable vehicle if you're on a strict budget. Moreover, it won't cost you an arm and a leg to insure, either. Yet, you get in return a down-to-earth, simple, easy-going, and practical hatchback. Given its tiny size, it won't consume a lot of fuel, making it a great daily driver for those long commutes. Yet, it's plucky enough that you could toss it around and have a bit of fun with it if you want to.
Are Ford Fiestas Reliable
As cheap as they might be to buy, the Ford Fiesta isn't necessarily cheap to run. In its later model years (prior to it leaving the US market), the Fiesta was recalled several times. Moreover, there's the infamous lawsuit a while back concerning its PowerShift transmissions (for Fiestas between the 2011 to the 2016 model year). That particular dual-clutch transmission is known for premature failure, often necessitating you to replace the entire gearbox. Besides numerous transmission-related problems, the Fiesta suffers from a myriad of other issues, including engine, electrical, and bodywork-related concerns. While they're generally pretty okay reliability-wise, be wary when buying one.
How Long Do Ford Fiestas Last
While they might suffer from a bout of reliability concerns during your ownership period, the Ford Fiesta is decently long-lasting. On average, a Fiesta should be able to clear the 150,000-mile threshold easily. With good care and diligent servicing, you could handily make a Fiesta go beyond 200,000 miles or more. Given that the average American drives their car around 15,000 miles per year, that equates to between 10 to 13 years worth of ownership. Regular maintenance is a must to keep it going smoothly. And, once you reach that 150,000/200,000-mile mark, you'll have to restore or rebuild key components such as the engine and transmission to keep it going even further.
Where Is The Ford Fiesta Made
Although it wears the badge of an American automaker, the Ford Fiesta has always been more European than American. It was conceptualized within Ford's European branches, with much of its design, engineering, and manufacturing taking place there. From the very beginning to this day, the Fiesta (while not as favored in the North American market) has been massively popular in the UK, the rest of Europe, and elsewhere (such as Asia), too. It makes sense then, that the Fiesta is made exclusively in Europe. Specifically, at the Ford Body And Assembly Plant in Cologne, Germany. Fiestas have been put together at Ford's German manufacturing complex since 1976.
Do Ford Fiestas Have Transmission Problems
One of the Ford Fiesta's most prevalent reliability issues concerns its transmission. In particular, the Ford Fiestas built between 2011 and 2016, which came fitted with Ford's PowerShift 6-speed dual-clutch automatic transmission. The PowerShift gearbox was known to shudder, slip gears, jerk, and hesitate – all early signs of total failure. It might also exhibit difficulties in changing gears while decelerating, or even cause random acceleration. For some, the only solution is rebuilding or replacing the entire unit. This alone is supplemented with constant clutch pack, output shaft, and transmission module replacements, which can cost you thousands of dollars to undertake.