There are those who say that the winner of a championship contested over a series of events is invariably the person who deserves it most. I hold a different view, consider Gilles Villeneuve.
In a sport such as motor racing, where skill is often of less importance than the quality of one's equipment and one's luck, the champion for any given season may be little more than the product of happenstance. In other words, the best driver isn't necessarily the one who takes home the trophy at season's end.
And that brings me to another thorny issue: greatness. In a sporting context, what is it and how does one define it?
The trite answer is, of course, that greatness is determined by that most modern of gods: statistics. To my mind, however, bare statistics are but the wrapping on the parcel of truth. All too often, they're little more than a haven for the lazy and dull-witted. To see the truth, you need to look behind the statistics.
Gilles Villeneuve is a case in point. Regarded by many as the greatest driver of his era (and by some as the greatest of all), Gilles won a grand total of six Grands Prix. Six. Mark Webber and Felipe Massa have both won more than that, yet Gilles is spoken about in reverential tones over 30 years since his untimely death. There's a reason for that, and it's nothing to do with statistics.
So what is that reason? Simply put, it's because greatness is defined not by mere numbers, but by what one does with the material at one's disposal and the manner in which one does it. Gilles's genius in inferior machinery was plain for all to see – like Tazio Nuvolari, he didn't push the envelope so much as charge at it with a battering ram. And he did it cleanly and fairly. As Keke Rosberg put it: "To race against, he was the hardest bastard I ever knew, but absolutely fair. He was a giant of a driver."
But talent, even genius, isn't enough if you don't have the equipment or the luck to allow you to do justice to it. And that's how it was with Gilles. In only one of his four full seasons of Grand Prix racing did he have a car that was truly competitive. In that year, 1979, he should have won the championship. Should have, but didn't. We'll return to that, but first let's spin the clock back to 1977.
Gilles Villeneuve Fast Impressions…
Having spent almost all of his career in North America, Gilles made his Formula 1 debut at the 1977 British Grand Prix. McLaren, acting on a recommendation by James Hunt (the team's lead driver and reigning world champion), offered to run a third factory car for Gilles that weekend. However, the steed they provided him with wasn't the latest M26 as driven by Hunt and team-mate Jochen Mass, but an obsolescent M23.
It mattered not. Driving on a circuit that he'd never seen before and in an unfamiliar car, Gilles qualified ninth, two places ahead of Mass in the M26. His race pace was good, too. A top-six finish seemed certain until he pitted with what he thought was an overheating engine. It turned out that the problem was nothing more than a faulty temperature gauge, but it cost him two laps in the pits and any chance of points.
It was an auspicious debut, but McLaren decided not to offer him a contract. Ferrari, however, wasted little time in signing him to partner the brilliant but enigmatic Argentinian, Carlos Reutemann, for the 1978 season.
Rising Star – Gilles Villeneuve
Gilles's debut season showed flashes of brilliance. Stunning drives at Long Beach, where he led comfortably until a collision with a backmarker, and Belgium, where he alone was able to keep Andretti's flying Lotus 79 in sight before a puncture dropped him down the order, vindicated Ferrari's faith in him. There were mistakes, too, but as the end of the season approached, the little French-Canadian had developed into a formidable driver.
At Monza, he delighted the tifosi by planting his Ferrari on the front row. His performance in the race was no less impressive, but was understandably overlooked in the aftermath of the start-line pile up that ultimately claimed the life of the brilliant Swedish driver, Ronnie Peterson, a man cut from much the same cloth as Gilles.
In a shortened race – it wasn't re-started until 6.00 p.m. – Gilles led pole-sitter Mario Andretti for all but the last five laps. However, both men were adjudged to have jumped the start and each received a sixty-second time penalty. The result was that first and second on the road became sixth and seventh in the standings: Gilles and Mario had raced their hearts out in a fight over a solitary championship point. It was a twisted joke served up on a hideous day.
Modern F1 is an unsentimental beast, and it was the same back in 1978. Ronnie Peterson, a very popular figure with drivers and fans alike, was mourned but the show nonetheless went on, crossing the Atlantic for the final two races of the season.
In the US Grand Prix (East) at Watkins Glen, Gilles ran second, right in the wheeltracks of team-mate Reutemann, before engine problems intervened. But in the season closing Canadian Grand Prix on a track that would one day bear his name, Gilles took his first victory after Jarier's leading Lotus was sidelined by an oil leak. His celebrations at winning his maiden Grand Prix in his home country were, however, rather more muted than one might have expected.  Why? Because to Gilles the manner of victory mattered as much as victory itself, and he knew that he had won only because of Jarier's misfortune.
New Cars, New Rules
When Carlos Reutemann left the Ferrari team at the end of 1978, a new man arrived at Maranello: Jody Scheckter. Once regarded as the wild man of Formula 1, Scheckter had matured into a fine driver. He was fast, motivated and very experienced – an excellent yardstick by which to measure Gilles's progress.
For reasons best known to FISA, the scoring system was changed for 1979. The 15 race season would be split into two unequal segments – the first seven races and the second eight. Each driver would be allowed to count his best four scores from each of those two segments and the aggregate would make up his tally for the season. This method was unique to the 1979 season – it was replaced for the 1980 season and would never again be implemented.
As has oft been their wont, Ferrari imposed team orders in 1979, but these would only come in to play after the first seven races. Whichever of their drivers was ahead at that point could count upon the support of his team-mate for the second eight.
When the season started in South America, Ferrari's new car – the 312 T4 – was not ready. Until then, Gilles and Jody had to eke out whatever results they could in the previous year's car, which by now had been left behind by the new ground-effect cars fielded by many teams in the light of Lotus's success. It was a tall order, and the two South American races yielded a grand total of three points for Ferrari.
At The Double
Come the third race, the South African Grand Prix, it was a different story. The 312 T4 made its debut and was immediately on the pace. It wasn't a proper ground-effect car – the width of the flat-12 engine prevented that – but it was nonetheless a significant step up from the T3.
Gilles took full advantage of his new mount, winning in South Africa and again in the next race, at Long Beach in California. In mixed conditions at Kyalami, he led Scheckter home for a Ferrari 1-2, thanks in no small part to a clever choice of tyres. At Long Beach, he put his T4 on pole and was never headed in the race. He was leading the championship and the omens looked good.
Slings and Arrows – Gilles Villeneuve
But Grand Prix racing is never that simple. The next three races yielded nothing in the way of points for Gilles. His team-mate, however, won two of them and finished fourth in the other.
In Spain, Gilles spun whilst challenging Reutemann for second. After pitting for tyres, he spun again. Another pitstop ensued and he wound up seventh, albeit with a spectacular fastest lap time.
Worse was to follow in Belgium. Hit on the first lap by Reggazoni's errant Williams, Gilles was forced to pit for a new nosecone, dropping him to last place. What followed thereafter was one of the great recovery drives. Towards the end of the race – and in spite of having spent ten frustrating laps stuck behind Patrese's Arrows (which, said Gilles, had been weaving on the straights in order to keep him behind) – he was up to third and closing on Laffite's second placed Ligier.
It looked for a time like second place might still be within his reach, but when his tyres said otherwise he took the sensible option and backed off. As he entered the last lap, third place and a hard won four points seemed to be in the bag. Fate, however, decreed otherwise and the Ferrari ground to halt on the final lap, its fuel exhausted. For the want of a litre of Agip, third place became seventh.
Scheckter, meantime, enjoyed an untroubled race, going on to take the win and, for the first time, overtake his team-mate in the race for the championship
Monaco failed to bring better fortune for Gilles. Pipped to the pole by Scheckter right at the end of qualifying, he ran second in the race, right on Scheckter's tail, until his gearbox failed after 54 laps. Jody took the win and thereby ensured that he would go into the final 8 Grands Prix as Ferrari's number one driver.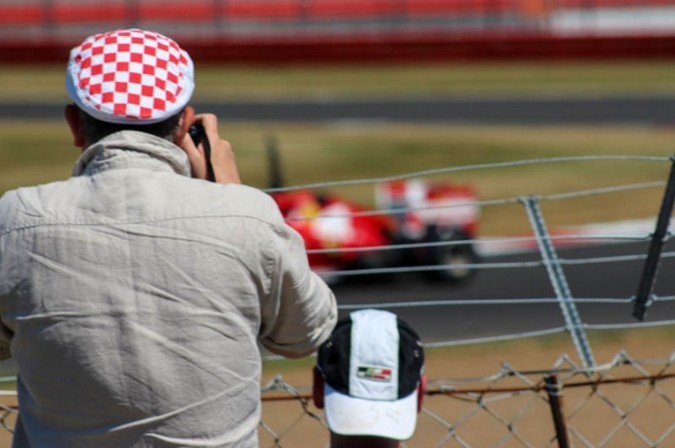 A Mustard Drive at Dijon
The second half of the championship kicked off at Dijon in France. Here, in front of their home crowd, the turbocharged Renaults of Jabouille and Arnoux locked out the front row. They would not have it all their own way in the race, however. The driver of the number 12 Ferrari would see to that.
Starting from the third row of the grid, Gilles rocketed into the lead. He stayed there for forty-six laps until, his tyres well past their best, he was picked off by Jabouille. He remained in second place until, with three laps to go, René Arnoux in the second Renault blasted past him on the pit straight. And that, thought most onlookers, was that. Except that it wasn't.
When Arnoux passed Gilles, it seemed certain that he would pull away. However, his Renault's engine was starting to suffer from fuel pick-up problems. When Villeneuve saw the Renault stutter under acceleration, he realised that second place might yet be his. On the following lap, he asked for one last favour from his battered Michelins and dived past the Renault into the first corner.
But René Arnoux was not the sort of man to give in, especially not in front of his home crowd, and he returned the favour at the start of the final lap. Over the next half lap, the two cars bumped wheels, left the track, rejoined it and bumped wheels again until, finally, René ran slightly wide on the approach to an uphill right-hander. Gilles accepted the invitation, slipped through and managed to hang on to the chequered flag.
At the end of the race, Gilles and René jumped out of their cars and warmly embraced each other – a suitably sporting end to an epic battle. As for Scheckter, he finished seventh, a lap down after a stop to change tyres.
Three Wheels On My Wagon
After that, Britain and Germany were more than slightly anti-climactic for Gilles Villeneuve. Neither race went well for him: fuel system problems at Silverstone and a curiously off-colour performance at Hockenheim saw to that.
Austria brought better fortune. Having qualified fifth, Gilles made a blistering start (described by one contemporary F1 commentator as the greatest start he'd ever seen) and took an immediate lead. By now, however, the Ferrari T4 had been outclassed not only by the Renaults but also by the ground-effect Williams FW07. Introduced in Spain, the FW07 had won at both Silverstone and Hockenheim. And it would win again in Austria, Alan Jones passing Gilles after three laps and strolling to a comfortable win. Gilles, however, stuck at it with his by-now customary fortitude and was rewarded with second, two places ahead of Scheckter.
In many ways, the next race, the Dutch Grand Prix at Zandvoort, defined not only Gilles's season but also his very essence as a racing driver. In the early laps, he hunted down Jones, passing him on lap 11 round the outside of the 180 degree Tarzan hairpin. And with rather more than the proverbial 'dab of oppo'. It was a staggeringly brilliant piece of driving against a worthy opponent in a superior car.
Gilles remained in the lead until lap 47, when a spin demoted him to second place. Thinking that he'd simply overcooked it on worn tyres in his efforts to keep Jones at bay, Gilles continued. What he didn't know was that the spin had been caused by a slow puncture in his left rear tyre. He made it as far as Tarzan on lap 49 before the tyre gave way in spectacular fashion, causing the Ferrari to spear off into the catch fencing.
But Gilles's race wasn't yet over. He rejoined the track and, left wheel trailing behind him, drove his three wheeled T4 back to the pits at speeds of up to 130 mph. It was a magnificently Quixotic gesture that inevitably attracted as much criticism as admiration. Scheckter, meantime, had superbly worked his way up to second place after a disastrous start. The world championship now seemed to be his to lose.
A Matter of Honour For Gilles Villeneuve
The tifosi knew as much, and Monza was a sea of red when the Grand Prix circus rolled into town. The Renaults of Jabouille and Arnoux occupied the front row with the Williamses and Ferraris just behind them. The two Renaults were tardy off the line, but were more fortunate than Jones, who fell to the back of the field courtesy of a battery problem. By the end of lap two, Arnoux led from Scheckter and Villeneuve, with Jabouille and Laffite also in attendance. Arnoux's lead was not to last, however, and the two Ferraris found themselves running first and second by quarter distance. And that's how it stayed for the whole race, with Villeneuve dutifully following Scheckter home. Gilles could have kept his own world championship hopes alive by passing his team-mate, but he was true to his word and made no attempt to do so. To him, it was a matter of honour.
The final two races of the season took place in North America. The championship may have been decided, but there were still victories to race for. At Montreal, Gilles and Alan Jones treated the crowd to a race long battle for victory. Gilles led for 50 laps until Jones slipped by at the hairpin. Although Jones briefly opened a gap, Villeneuve came back at him and the two cars circulated in close proximity until the end. Jones won, but Gilles was nonetheless delighted with his performance. He knew that no-one could have got more out of his car than he had. To him, that was what being a racing driver was all about.
The Raining Champion…
The final Grand Prix of the 1979 season was held at Watkins Glen in New York State. Dry weather isn't guaranteed at the Glen in October, and 1979 proved to be no exception. It rained hard on the Friday, so hard that only half a dozen cars, including both Ferraris, came out to play in practice. What happened next has passed into legend. Jody Scheckter, having scared himself silly by his own admission, returned to the pits convinced that he'd set the fastest time. To his surprise, he found that his team-mate had gone faster. No big deal, you may think. But consider this: Gilles hadn't just gone faster than Jody – he had gone nearly ten seconds faster. That was the margin of his superiority that day, and with a misfire that robbed him of about 600 rpm…
It rained on the Sunday, too. On a drying track, Gilles and Alan Jones again battled for the lead, the two of them having left the rest of the field far behind. Their scrap ended when Jones lost a wheel after a botched pit stop to change to slick tyres. Having lapped the rest of the field, Gilles had the luxury of coasting home. Which was just as well, as he had to nurse his car for the last twenty-five laps with failing oil pressure, slackening his pace by as much as five seconds a lap. Even at that, he still won by nearly fifty seconds.
And that was that for the season. Three wins, some epic performances and second place in the World Championship. A fine season, then, but one that could – and should – have seen him take the championship.
Indeed, it would have required very little to have changed for Gilles to have taken the title.
Here's how he might have done it.
Change One Thing, Change Everything
If any one of the following had happened then Gilles would have won the 1979 championship:
His gearbox doesn't fail in Monaco. The six points that he would have got for second would have made him champion.
Reggazoni doesn't hit him in Belgium. Consequently, he doesn't burn off his fuel in a charge through the field. Chances are that he'd have won the race, but even second place would have been enough to take the title.
His tyre remains intact at Zandvoort and he wins the race. He picks up three extra points and Scheckter loses two. That makes him champion by a point.
He disobeys team orders and passes Scheckter at Monza. He gains three points and Scheckter loses three. That's enough to make him champion.
And there's one more option, perhaps the most poignant of all:
He still has to make a first-lap stop for a new nosecone in Belgium. He charges back to third but doesn't run out of fuel. The four points he scores put him in a tie for the championship. He's won the same number of races as Scheckter but, crucially, he has four second places to Scheckter's three. That makes him the champion on countback.
Gilles Villeneuve – No Second Chances
In 1979, Gilles probably thought that he'd have other opportunities to win the championship. And he should have. However, Ferrari's 1980 contender, the T5, was a development of the T4 and, as such, wasn't a proper ground-effect car. Against a grid full of ground-effect cars, it was hopelessly outclassed. Gilles drove the wheels off it anyway.
Ferrari moved to turbo power in 1981, but their new car, the 126C, still lagged behind the competition in terms of downforce. Gilles nonetheless punched above his weight, bagging two race wins and briefly threatening to challenge for the title. With Ferrari promising to deliver a better car for 1982, the prospects looked good for him.
That's not how it turned out, though. 1982 was possibly the most tempestuous season in the history of Formula 1, one in which tragedy walked hand-in-hand with strife and political machinations. It's a story for another day, though. Suffice it for now to say that, for me at least, much of what was great about the sport died at Zolder, Belgium, on 8th May, 1982.
Forza Gilles.