In the ye olden times, diagnosing faults requires you to fold up your sleeves, grab a torch, and peer straight into the depths of the engine bay to find the roots of any problems. Thankfully, the work can be done a lot easier these days, with less grease on your hands. But of all the diagnostics tools and OBD readers out there, could the iCarsoft CR MAX be the very best of them?
On the surface of it, the CR MAX looks like an ultra-rugged tablet you'd see at a construction site or a military barracks. But dig beneath into its 7-inch touchscreen and somewhat outdated Android OS, you'll find the magic of the CR MAX. iCarsoft's latest device is a multi-brand diagnostics tool. Thus, it could be plugged into vehicles made across more than 40 makes.
Anything from big American pickups, exotic European sports cars, or Japanese economy cars, the CR MAX can diagnose them all. Well, most of them, anyway. On top of that, it makes reading all the technical jargon of engineers an easy thing to understand…
Data, Demystified
Its operating system enables you quick and easy access to all of the CR MAX's functions and is no harder to use than your phone. A quick tap here, or a swipe there is all it takes. As with any OBDII diagnostics tool, you can read and clear out codes with ease. Best of all, you can choose how you'd like to be presented with the data. Thus, you have options of how to review them.
The live information streamed from the car could be displayed in simple text, as graphs, or through an analogue fashion. You even have the choice of using a built-in recording tool to record the live diagnostics data. Moving onwards, you can use the CR MAX to access some of the vehicle-specific subsystems and directories, as well as component tests.
Imagine, for example, being able to pull in a particular vehicle's service or MOT history. A technician could better understand the vehicle's condition, and what's been done to it before. All of this data syncs automatically too, with the ability to keep records of it for easier review. There's a VIN reader, letting the CR MAX tell you everything you need to know about the vehicle.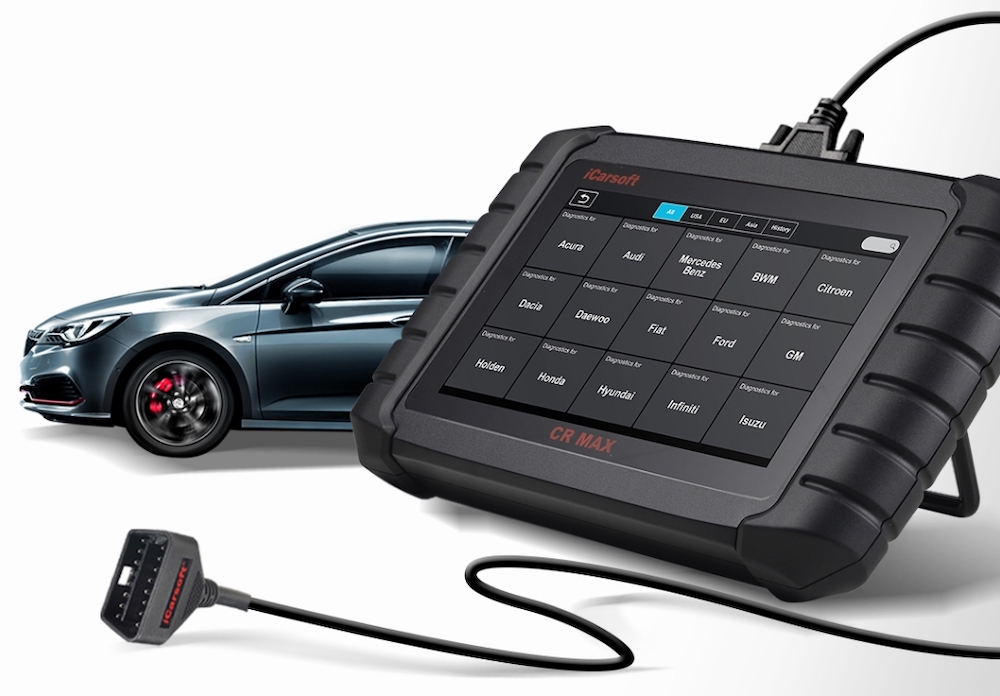 A Few Of The Things That It Can Do
Since the iCarsoft CR MAX can plug into so many makes and models at once, it helps to guide you along the way. There are comprehensive OBD relearn coverages on the device, including detailed on-screen relearn procedures to aid you. Just so we can cover our bases, here are some of the (many) things that the iCarsoft CR MAX can do…
Steering Angle Sensor (SAS) calibration
Oil Warning Light or Check Engine Light reset, including a reset of the service mileage
Electronic Parking Brake (EPB) deactivation and reactivation for servicing
Diesel Particulate Filter (DPF) regeneration control to clear soot
Battery Management System (BMS) to register a new battery
Electronic Throttle Control (ETC) system to relearn the throttle control valve values
ABS Bleeding that releases air from the ABS braking system to restore performance
Injector coding which relearns the injector control parameters
Tyre Pressure Monitoring System (TPMS) programming for testing and replacement
AFS Head Lamp reset to rotate or recalibrate the adaptive front lighting, or to keep it in place
Air Suspension systems to reset electronic air-ride suspensions
Gearbox Reset to relearn the ECU (Engine Control Unit) and TCU (Transmission Control Unit) of how to better monitor the way you drive
A/C Service for recalibrating air-conditioning control units, such as the mass airflow
Air Filter tools for relearning the filtration system after a replacement
Fuel Pump activation function for if you get a new one
It's The Little Details That Count
Being an OBDII-compatible device, the iCarsoft CR MAX can work on most vehicles dating back 20 years. So, underneath its crisp, clear, and responsive display, you have all the OBD functions that you'd recognise elsewhere. You could check – using the I/M Readiness tool – whether the emissions systems on your car are working properly.
The Freeze-Frame system, meanwhile, enables you to take a snapshot of the vehicle's operating parameters when emissions controls fail, allowing you to point out the cause. There are built-in tests for the O2 sensors and Evap system. Plus, all of the data and diagnostics could be updated in a flash, as the CR MAX supports automatic over-the-air software updates.
The only thing iCarsoft's CR MAX can't do, magically fixes a car for you. But otherwise, there's practically everything you need in an OBD diagnostics tool – including many more that we've not had the chance to mention – cramped into one beautifully presented package.