Salon Privé, which is to be hosted on the grounds of Blenheim Palace, often hosts some of the most drool-worthy cars that anyone could ever dream of. Well, it looks like some extra napkins should be in order, as a new Italian hypercar is keen to make its way onto British shores soon. Prepare to say Ciao to the Automobili Estrema Fulminea, a new all-electric road racer from the land of the Latins.
This will be its first UK debut, as the Salon Privé opens between the 1st and 5th of September. Automobili Estrema was founded by Gianfranco Pizzuto in 2020, with the Fulminea being its first model. There's certainly a lot of provenance to it too, as Mr. Pizzuto's new upstart carmaker is based in the Italian automotive heartlands of Modena.
Cutting-Edge Tech Comes Standard
That's sitting right on the doorstep of big brands like Ferrari, Lamborghini, Pagani, and Maserati. No pressure then, as the Fulminea was made to be the "fastest technology lab on wheels". So, what goes under it, you might ask? How about a ground-breaking hybrid battery pack that uses lithium-ion cells, with solid-state electrolytes and ultracapacitors all in one?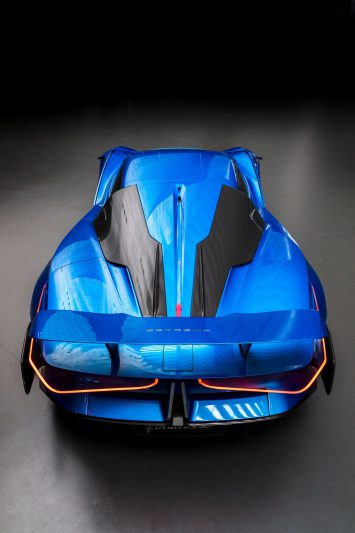 Adding a bit more on the thinking behind this, Mr. Gianfranco Pizzuto had this to say:
The Fulminea marks the beginning of a new generation of electric cars – it has all the characteristics of a racing car, but features a fully electric powertrain and innovative solutions. Our philosophy is based on four main concepts – romance, elegance, purity and balance – and we can think of nowhere better than Salon Privé at which to give the Fulminea its UK debut.
This would make the Fulminea the first car in the world to use such a concept. With more than 100kWh available, you'll be feeding power to four electric motors. The total output is a terrifying 2,040 horsepower. Once you stamp on the go-fast pedal, you better hold on for dear life, as the Fulminea rockets from standstill to 200mph in less than 10 seconds.
A Gem Among Gems
Most impressively, it's not even a heavy car, sitting at around 1,500kg in total. This is likely thanks to that bleeding edge battery tech, weighing a comparatively featherweight 300kg. The predicted range, as is a de rigueur topic of discussion with EVs, is around 520km. Aside from what's underneath the skin, the Fulminea has a very pretty body to go on top, too.
Aerodynamics is a focal point, as are the weight-saving composites used in its construction. Active aero elements will make their appearance along the front air intakes and retractable rear wing. Plans are drawn up for the Fulminea to go on sale in the latter half of 2023. Later this year, it shall be one of just ten cars being featured in Salon Privé Concours d'Elégance's 'Concepts & Prototypes' class.
The director of the Salon Privé, David Bagley added:
Salon Privé has a long tradition of attracting the most unique, radical and exhilarating automotive designs, many of which have been unveiled for the first time at the event. With the kind permission of His Grace The Duke of Marlborough, we are delighted to launch the new Concepts & Prototypes Lawn, and look forward to welcoming Automobili Estrema to Blenheim Palace.