Kimi Räikkönen and Antonio Giovinazzi team up with Alfa Romeo Racing ORLEN for the 2021 season in celebration of Alfa Romeo's 110th anniversary. These two outstanding Formula One drivers were featured driving the C39 race car at the Imola Grand Prix.
The Italian Ace: Antonio Giovinazzi
Antonio has shown consistent progress in his performance since his first two seasons and is a huge significance to the team. Therefore, he has rightfully earned this opportunity to ride alongside Kimi Räikkönen and join the Alfa Romeo Racing ORLEN team in 2021.
Furthermore, Antonio is honoured that his relationship to the Alfa Romeo Racing ORLEN team can continue for one more year where he has worked hard, committed and achieved excellent results.
Prepped and ready to take on the next season, Antonio Giovinazzi: "everything we work on between now and the end of the year will already count for next, and we are ready to give it all we have."
Mike Manley, CEO of Fiat Chrysler Automobiles announced Antonio's renewal of contract with compliments: "Antonio has played a crucial role in maintaining fans' enthusiasm and has contributed to make the Alfa Romeo Racing ORLEN team a fine ambassador for the tradition of European technical excellence and Italian spirit."
Motorsport Legend: Kimi Räikkönen
41-year old Kimi Räikkönen brings his world renowned experience to this line-up. Formula One's most popular driver will bring fans from around the globe to view this once-in-a-lifetime celebratory event. Since his F1 debut in 2001, Kimi has consistently demonstrated his dedication and loyalty to the Alfa Romeo Racing team. Moreover, his involvement in the engineering office brings a valuable contribution of technical knowledge to the team.
Kimi describes the team as a "second family", a team which helped him grow as a sportsman and watched him succeed. Kimi has come a long way with the motivation and "unique atmosphere" of the Alfa Romeo Racing team and is excited for the next year which will be his 19th season in the sport.
Frédéric Vasseur, Team Principal Alfa Romeo Racing ORLEN: "Kimi… can be trusted to deliver 100% of what the car can produce and he is a true leader for the people working around him" and for Antonio, "His work ethic, commitment to the team and contagious enthusiasm are a huge asset for Alfa Romeo Racing ORLEN."
C39 Livery
The 119th celebration will feature exclusive livery on the C39 car at the proud venue of Imola Grand Prix.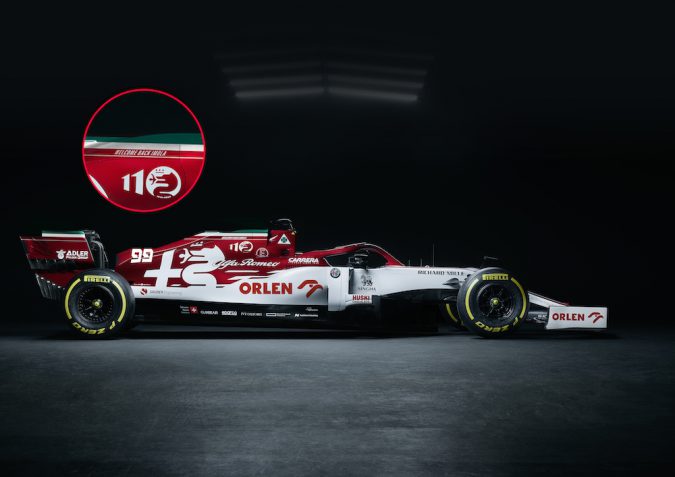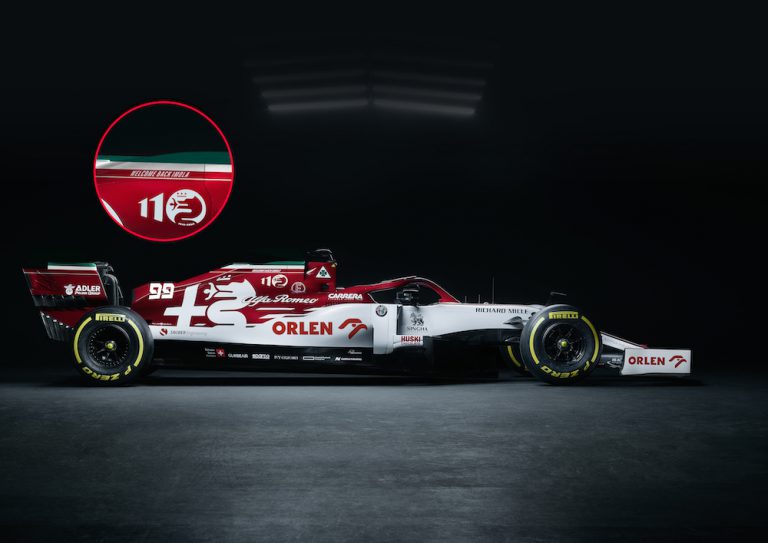 Centro Sile has exclusively designed the Italian flag to be in a straight flash on the upper section of the engine cover and on the rear wing endplate. This will blend effortlessly into the theme of the 2020 "speed pixel" livery with its linear and dynamic graphic treatment. In addition, the wording "Welcome Imola" will also be presented on the engine cover, showcasing Imola as a venue that has made great victories in the history of Formula One.
Antonio's enthusiasm and Kimi's experience combine to create a complementary line up and we look forward to seeing them in the 2021 season at the Grand Prix representing the Alfa Romeo Racing ORLEN team.