The LOKITHOR ApartX Jump Starter arrives with all you need to tackle roadside emergencies. Inside the robust packaging, you'll find the ApartX unit, a pair of starting clamps, an inflatable hose, various nozzle adapters, two types of USB cables, a large storage bag, a smaller bag for accessories, and a user manual to guide you through its features. Everything feels premium, and the unit's build quality assures you that it's made to last.
Design and Build Quality
At first glance, the LOKITHOR ApartX impresses with its sleek, yet rugged design. It's compact enough to fit inside your car's glovebox but powerful enough to jump-start a range of vehicles. The 3.75-inch display is a standout, offering clarity and ease of use. At just over 3 pounds, it's the perfect balance between portability and robustness.
Performance and Capabilities
The LIPO battery's 1500A peak current stands out, confidently starting 7.0L gasoline and 4.0L diesel engines. It's the heart of the unit, with a 12,000mAh capacity, promising multiple jump starts on a single charge. The 12V compatibility with a multitude of vehicles, from motorcycles to tractors, makes it a versatile gadget.
Inflation with Precision
The air inflator function is a game-changer. The ability to detect tire pressure, pre-set inflation values, and switch units is convenient for maintaining optimal tire pressure. The 150 PSI and 40L/min airflow rate ensure that your tires are inflated quickly and efficiently.
Charging on the Go
The PD 60W two-way fast charging capability is another highlight. It's not just for jump-starting your vehicle; it can also bring your smart devices back to life in a flash.
Environmental Impact and Cost Efficiency
The detachable jump starter battery not only means enhanced longevity of the jump starter but also contributes to environmental sustainability. By allowing battery replacement, the ApartX promotes a greener approach to roadside emergencies.
A Wallet-Friendly Investment
With up to 70% savings on subsequent battery purchases, the ApartX jump starter doesn't just solve your immediate needs; it's a long-term investment in your vehicle's emergency kit.
Safety Features
The ApartX doesn't compromise on safety. With reverse polarity protection and intelligent clamp design, it offers peace of mind, ensuring that accidents are avoided. The LED flashlight with multiple modes adds an extra layer of security for those dark, unforeseen moments.
User Experience
The large display and user-friendly interface make the ApartX a pleasure to use. Real-time status updates ensure you're always informed about the jump starter's condition.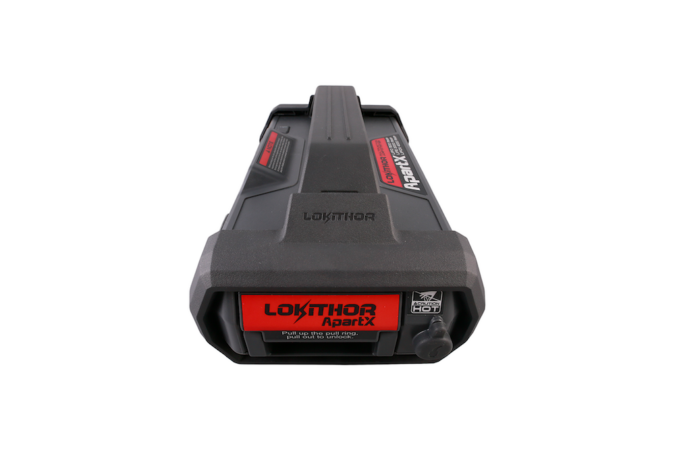 Error Detection and Self-Repair
With over 21 error detection codes, the ApartX's intelligent recognition system proactively prevents issues before they occur, emphasizing reliability and convenience.
Final Thoughts
The LOKITHOR ApartX Jump Starter is more than just a tool—it's a comprehensive safety device for any motorist. With its multi-functional capabilities, it provides a sense of security every time you hit the road.
The unit is a hefty investment at $183.99, but its robust suite of features justifies the price tag. Whether you're driving a small car or handling a large RV, the LOKITHOR ApartX Jump Starter with Detachable Battery is a must-have for any vehicle owner. With this in your trunk, you're ready for almost anything the road throws at you.