There are many, many wonderful cars in the world, some that other manufacturers shamelessly copy to turn into a hit of their own. However, of all the cars in world to copy the one to avoid would probably be the ugly coupe come SUV mash up that is the BMW X6. A shame no one told Mercedes Benz this.  If you thought the GLA was a niche filling exercise that didn't need to be done prepare to be morally offended, may I introduce to you the Mercedes Benz GLE Coupe, oh dear…
Mercedes Benz GLE Coupe AMG – Polarizing Appearances
Now I'm sure much market research and development went into the GLE and I am in no way criticising Merc for wanting a slice of the X6's market. The show offy types who buy the X6 have a lot of cash. The problem is that for such a big, clever, advanced company did Mercedes really have to make a car that looks exactly like the much ridiculed BMW opposition?  No doubt the GLE Coupe will be beautifully engineered but I think it's clear to anyone with eyes that no matter how much PR nonsense you write, the GLE has not been a "successful design synthesis of Coupé and SUV elements". More like bits of existing Merc cars melted together on a 4×4 chassis, I don't know about you but I can spot traces of AMG GT, E-Class, CLS and M-Class in the car. And no amount of LED headlights, quad tailpipes or 22inch alloys can distract you from the fact that it hasn't worked. Coupes should not be crossed with SUVs.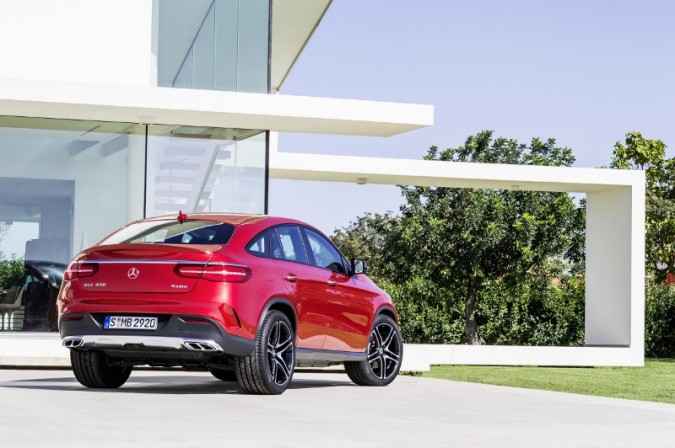 New Naming Strategy
The new GLE is the latest car to adopt Merc's new deeply confusing SUV naming strategy. You see the GL denotes SUV. Taking the chiselled A-class and raising it up made the GLA, which for the record I like. However this car with its "E" means it is a raised E-class, but not a normal E-Class, no, instead a jacked up E-class Coupe, simple enough for you? I thought not, all you need to know is its pug ugly and you'd be better off buying an M Class, which coincidentally will no longer exist under the new naming strategy, it will become the plain old GLE. There, easy as GL,A, B, C and E!
Performance
Anyway enough of the naming, the question is does that faux AMG GT rump denote actual sporting intent? On paper yes, the range topping GLE 450 AMG Coupe gets a twin turbo V6 developing 367bhp and 520Nm of torque. It also gets a 40:60 drive split through its 4Matic all-wheel drive system, meaning it should behave like a rear drive car on the road. The other models in the range, a lesser powered V6 petrol and a V6 diesel, get a more traditional SUV 50:50 drive split. Naturally though to keep such a high riding Coupe thing on the road Mercedes has had to throw the electronic stability text book at the GLE.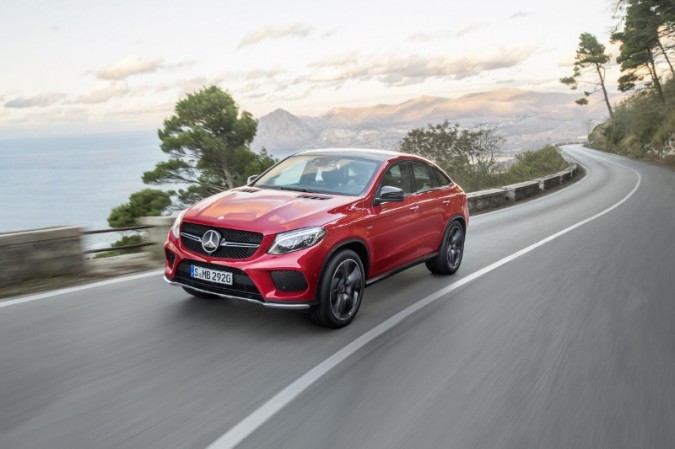 Driving Aids
Tech includes Dynamic Select which fiddles with the steering, suspension, powertrain and even changes the sound of the engine note piped into the cabin depending on what mode you opt for. Modes for the car range from Comfort to Sport+ and there is also a Slippery mode, just in case you find yourself on an Alp. Buyers can also opt for Air Matic suspension, like the system used on the S-class Coupe, it keeps the car level through corners. Other acronyms that come with the car include ASR, ESP, 4ETS, ADS Plus, Pedestrian Monitoring, Cross Traffic Assist, Active Parking assist and Active Braking. I'd love to tell you what all these do but the press release fails to elaborate. So just be rest assured that the GLE Coupe will be supremely comfortable and almost uncrashable. I've had experience of the Merc systems in a CLA AMG and can confirm how good they are at keeping a car on the road.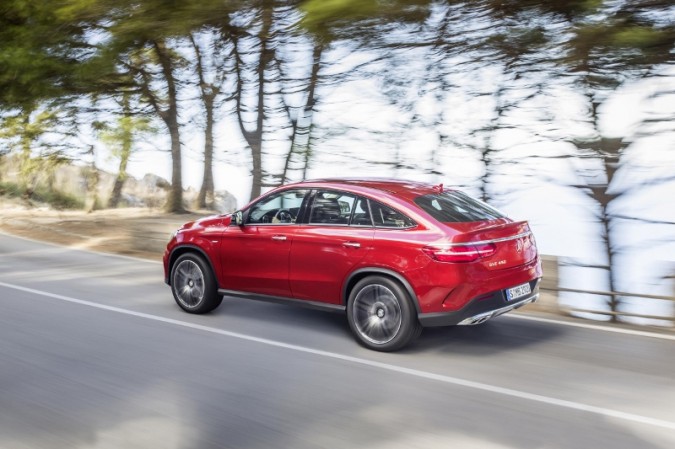 Get Online
From inside the GLE Coupe will be a class act, if any other new Mercedes is to go by then expect beautiful materials, a fit and finish better than a designer kitchen and an ergonomic layout which is both intuitive and a joy to touch. Entertainment is well catered for too. If you opt for the Command system the GLE Coupe offers an 8 inch screen, traffic sign recognition, 6 disc DVD changer, TV receiver, Bang and Olsen speakers and the ability to get online. But the best part about the interior of the GLE Coupe is that when you're sitting there you don't have to see the outside of it.
Consider Your Options
The GLE Coupe, a wonderfully built technical exercise it might be, but a damn ugly one. If you only take one thing from this please remember that Mercedes Benz build so many prettier cars, so consider one of them before deciding on this. Despite my words though, I'm sure the GLE Coupe will probably sell faster than a cure for old age. The coupe come SUV is a stupid idea but I doubt that manufacturers will take notice. No pricing for the GLE has been announced at the moment.
If you liked this article you might also like our wallpaper of Mercedes Benz, take a look.