DS has long been known as the world's foremost maker of quirky, left-field, and oft-inventive luxury cars. Sure, you could buy a Mercedes, Audi, or BMW, and you'd probably get a better and more well-rounded vehicle, objectively speaking. Yet, they're so typically buttoned up, as is their Germanic DNA demands, that they don't share the same flair or colourful nature as cars like the new DS7.
This is a big deal for DS, given that the original DS7 from back in 2017 was their first fully DS-penned car, inside and out. At the time, the outgoing DS7 was famed for its avant-garde interior look as well as its general design ethos. It certainly caught a lot of attention. This time around, DS is taking those same elements that made the previous DS7 unique and ramping it up to 11 on the new DS7.
Bolder, Sharper, And More Futuristic
The first thing that'll strike you is how the brand-new DS7 looks. Even compared to the old DS7, it's a huge leap forward in evolving DS's design language. It's bolder, sharper, and more futuristic than it's looked before, and it all comes together at the front. A noteworthy highlight is their inclusion of DS's new Light Veil daytime running lights, which flow and curve seamlessly down the front fascia.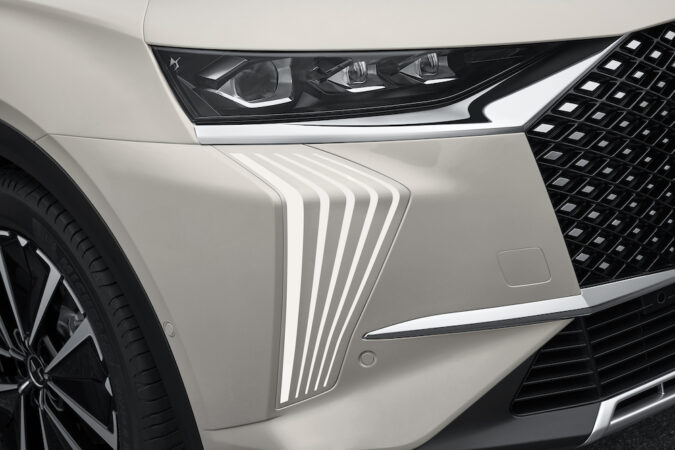 It alone echoes the jewel-like nature of the lighting signature throughout the new DS7. Both its head- and tail-lights are dominated by tiny prisms that not only make it beautiful to look at. But, it's also functional, making them more visible and brighter at night. Going back to the front, the cyberpunk-y lights flank a larger grille, as the rest of the bodywork is sharpened ever so slightly from the old DS7.
Also new on the DS7 are redesigned wheels. The entry-level models will come with a selection of 19-inch wheels. Meanwhile, the top-end DS7 could be specified with whopping great 21-inch alloys. An eagle-eyed observer may notice some other subtle changes in this new DS7. Such as, the presence of the DS Automobiles lettering across the rear lightbar, but the rest is otherwise pretty similar.
Parisian Fashion In A Motorcar
While the new DS7 looks handsome from the outside, it's that interior where you could really feel the craftsmanship and work that's gone into it. Typical of Parisian haute couture and luxury, the DS7 will feature high-end Nappa leather, with lovely stiching and embossing details. There's also Alcantara, if you prefer that, instead.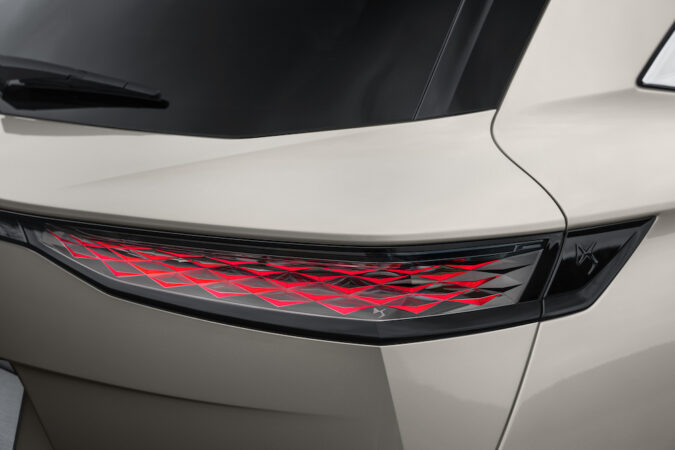 Besides the materials, the fish scale-esque patterns, Clous de Paris inserts, and minimalistic style is what hammers home DS's attention to detail when designing this interior. Of course, the cabin is not merely a place to gush over all the minuscule touches. The new DS7 also takes a huge step forward in the tech department. In particular, there's the redesigned and smarter infotainment system.
The user interface has been overhauled, and DS wants to make it more configurable. Just like how a customer is able to personalise the leather, too. Moreover, this 12-inch central display will be accompanied by another 12-inch instrument cluster. It's a top-down refresh of the graphics. Plus, seeing that the new DS7 features hybridisation, it'll be clever about displaying energy usage.
Hybrid Powertrains Galore
Speaking of, the new DS7 will come with a plethora of changes under the hood. Take this as a gentle reminder that DS is a constructor in Formula E, too. Alongside their expertise, the new DS7 range will start with the E-TENSE 225. This will come with a petrol engine and an electric motor, with a healthy combined output of 225hp. Plus, it'll be mated to a re-tuned 8-speed automatic transmission.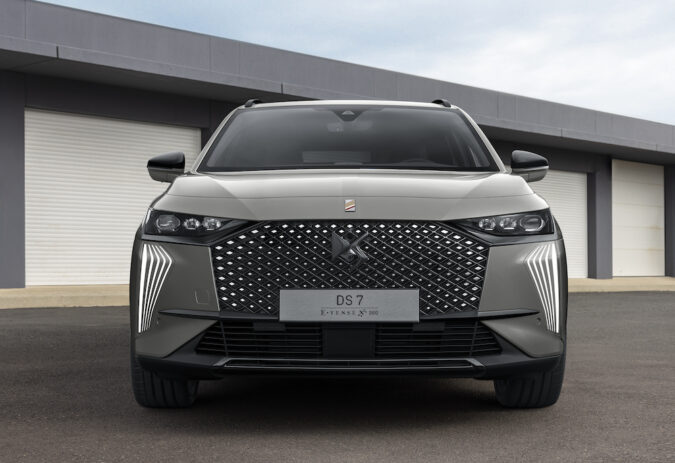 Better still, the DS7 will come with 4×4 drivetrains, as well. To get this, you'll have to upgrade to their meatier E-TENSE 4×4 300 or E-TENSE 4×4 360 variants. These will feature four-wheel drive, as well as a combination of a petrol engine. And, a 110hp and 112hp electric motor, respectively. As their name suggests, you'll get a much more potent 300hp and 360hp, the latter of which was tuned by DS Performance.
Soon, you'll also be able to get the DS7 with a 130 BlueHDi diesel, if you prefer. But going back to the hybrids, they'll all be paired with a 14.2kWh battery pack. Being a plug-in hybrid, you're able to drive in all-electric mode too, without a squirt from the combustion engine.
You likely won't have to worry too much about the battery, thanks to some clever management tech going on underneath. This is then aided by DS Performance's regenerative braking system, on top of the many other changes that they made on the E-TENSE 4×4 360. Compared to the other trims, you get a lower chassis, widened track, larger brakes, and a cool set of special 21-inch alloys.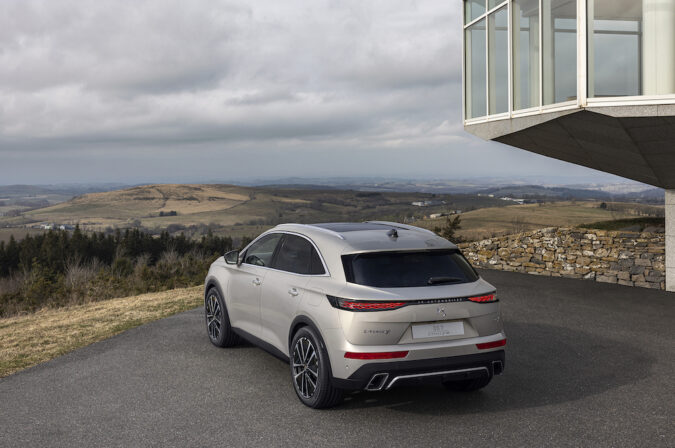 Safety By Design
Being a contemporary car, you could of course expect an abundance of safety tech built into the new DS7. There's a night vision camera that'll sweep your forward view by up to 100 metres to more easily pick out pedestrians, animals, cyclists, and other motorists. You then get a driver attention monitoring kit to make doubly sure that you're paying close attention to what's ahead, and not nodding off.
DS took a step further with this, as their driver attention monitoring system not only looks at you, as there's another camera looking outwards to scan your surroundings. Another great addition to their new DS7 is DS's driver aids. Which, mind you, offers Level 2 semi-autonomous driving. It features an advanced adaptive cruise control that can start and stop without needing your input.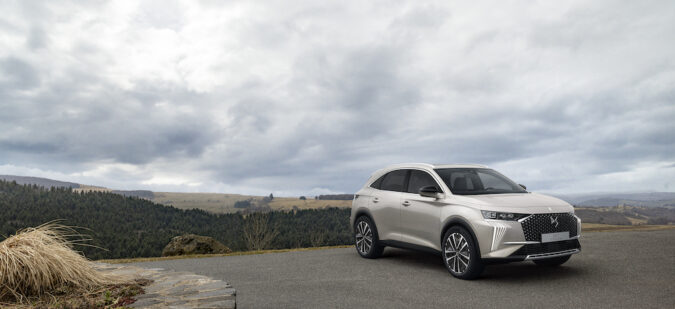 All the while, ensuring that you're safely within your lane, and scanning what's around you. If you're really keen on getting one, DS will be offering the E-TENSE 4×4 360 LA PREMIÈRE as a limited edition trim for the DS7 at launch. Mostly, it'll come with loads of gloss black accents. Primarily, on the front bumper blades, badging, monograms, grille, window surrounds, as well as roof bars. Additionally, four colours will be available – Lacquered Grey, Perla Nera Black, Platinum Grey, and Crystal Pear.