The MY17 Nissan GT-R was unveiled at the New York International Auto Show last month and took the show by storm! Highlights include:
Exterior Makeover
Premium Interior
Mature Character
Upgraded Engine
Performance Enhancements
Record-Breaking Success
Words such as "elegancy", "civility" and "smoother" were used to explain the new Godzilla MY17. Is this going to be the car we all know and love or is it going to be something entirely different?
MY17 Nissan GT-R- Pure-Bred Racecar Looks
The face of the MY17 Nissan GT-R boasts a new chrome matte finish "V-motion" grille – Nissan's new recognisable design signature. A new bonnet effortlessly flows from the grille, reinforced to withstand the forces of high-speed driving.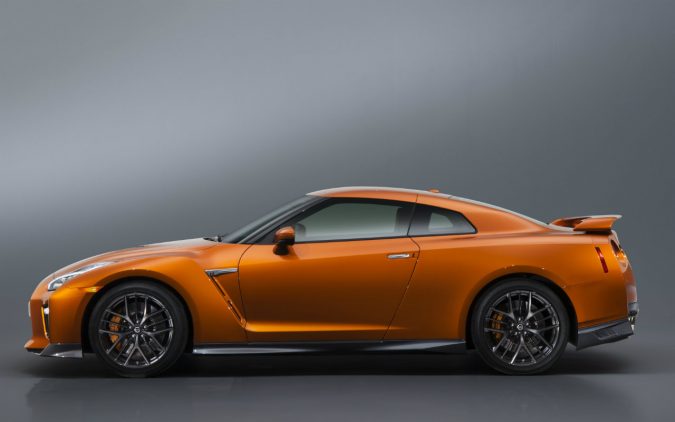 Overall Nissan has given MY17 GT-R the look of a pure-bred racecar, with a fresh new front spoiler lip and front bumper finishers situated underneath the headlights generates downforce, keeping you stuck to the road. The car's side profile is aggressive, achieved by a higher beltline and pushed out side sills which also improves air flow.
Of course, the trademark GT-R 4 ring rear lights have remained! Around the rear new bodywork improves airflow, as well as side vents next to the eye-catching quad exhaust, just humming those amazing GT-R notes.
All these exterior improvements have given the MY17 Nissan GT-R a sportier look, and better aerodynamic performance without compromising downforce, therefore any driver will feel confident driving at high-speeds.
Jaw-Dropping Interior
As soon as the driver steps into the cabin they're greeted by premium luxury interior, with an entirely new dashboard and instrument panel covered with high-quality leather. Nissan have designed the dashboard to create a "horizontal flow" that delivers a sense of increased stability for the front seat occupants.
The central dashboard has been decluttered and simplified to mould around an integrated enlarged 8 inch touchscreen monitor reducing the amount of buttons from 27 in the previous model to a tidy 11 in the MY17 model.
Changing gear has never been so easy with the new paddle shifts that are now mounted to the new steering wheel, allowing drivers to change gear in mid-turn. Nissan have made improvements to the feel and sound of the paddles and ventilation controls when engaging or adjusting them.
As the icon of Nissan's driving performance, the GT-R continues to evolve. With the signature V-Motion grille, the GT-R now possesses the latest Nissan design language. Its exceptional aerodynamic performance and upgraded interior have given the GT-R a more mature character, which will continue into the future.

– Nissan's Executive Design Director, Mamoru Aoki.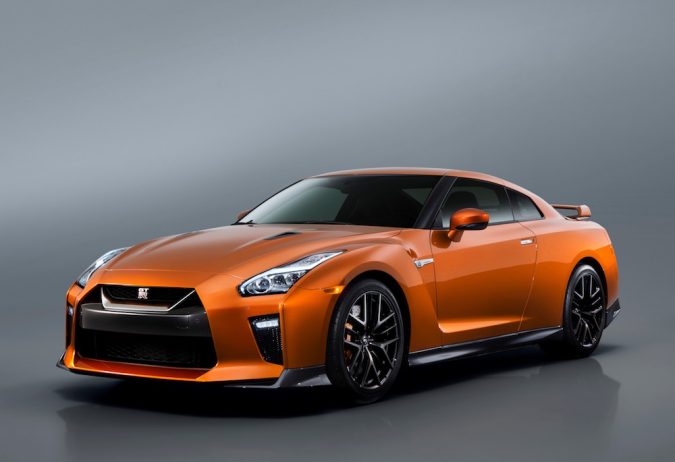 The MY17 Nissan GT-R has been designed to be the most comfortable model to date despite all of the performance upgrades. Its driver and passengers are welcomed with a certain sense of elegance and civility that is rare in such a high-performance supercar. The sound inside the cabin is more peaceful, even at high speeds thanks to new sound absorption materials.
Unbelievable performance   
Each handcrafted by its own TAKUMI technician, the GT-R's award-winning 3.8-litre 24-valve twin-turbocharged V6 engine is one of a kind. It now delivers 570 PS at 6,800 rpm and 637Nm of torque. Performance figures are to be released at a later date, which will be extremely exciting considering the previous model can hit 0-60 mph in only 2.7 seconds!
This output is achieved by individual ignition-timing control of the cylinders and extra boost from the turbochargers which results in acceleration in the mid to high ranges (3,200 rpm and above).
A smooth, thoroughly refined 6-speed dual-clutch transmission is mated with this powerful engine, you might say it's a match made in heaven. The recognisable GT-R signature tone has been upgraded with an engine that has never sounded better.
"The new GT-R delivers a heart-pounding driving experience at all times and on any road for whoever sits in the driver's seat. We have continued to push its performance boundaries to the outer limits – it's even more potent than before. At the same time, more refinement has been added to take the entire driving experience to an entirely new level. We're proud to bring you what we feel is the ultimate GT that possesses amazing performance, newfound civility and a rich racing history," Hiroshi Tamura, the Chief Product Specialist of the GT-R.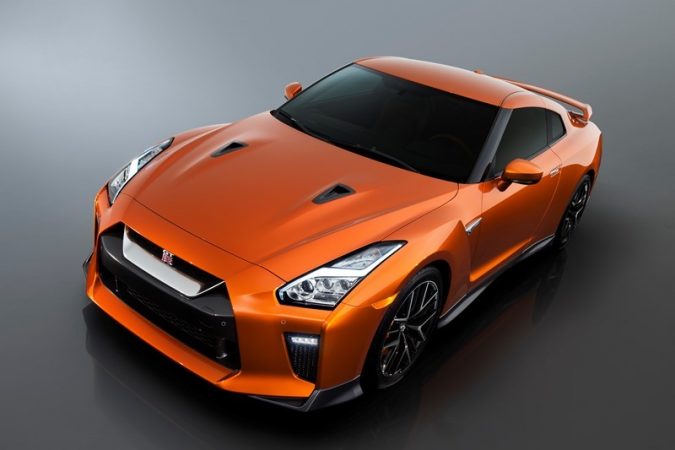 This car is well-known for being one of the world's best handling machines and the cornering abilities have become even better in the MY17 model. A new suspension package combined with a more rigid body structure has resulted in better stability, so the driver has more control and higher overall cornering speed.
Outstanding Record
The GT-R (nicknamed Godzilla) has won more than 50 top awards in various categories including 'Sports Car of the Year' in 2007's Top Gear Awards and 'Driver's Car of the Year' from Autocar in 2008!
Not only is the Nissan GT-R award-winning but this magnificent car is also a record-breaker. It broke the Guinness World Record for 'Fastest 0-60 mph acceleration by a four-seater production car' in 2011.
On 3rd March 2016 a Nissan GT-R Nismo tuned to 1361 bhp shattered the world record for the 'Fastest vehicle drift' with a 30 degree drift at an incredible speed of 189.49 mph! This beast of a car was driven by Masato Kawabata (Japan) who carried out the drift at Fujairah International Airport in Fujairah, UAE.
See the New MY17 GT-R at West Way Nissan
Yes that's right! At West Way Nissan's High Performance Centres you could be one of the first to see the exciting new MY17 GT-R during its tour of the UK. West Way Nissan are the largest Nissan dealer group in the UK, and are extremely proud to be one of the first places in the country to see the new GT-R.
This amazing car's next destination will be:
Wednesday 4th – Thursday 5th May 2016
Tel: 0208 203 8899
Google "West Way Nissan GT-R" to contact their High Performance Specialists to book an appointment today, this is an opportunity not to be missed!