In the ever-evolving world of electric vehicles, we're on the brink of witnessing the debut of a revolutionary sports car set to break new ground in EV technology – the Nyobolt EV.
Making Waves with a Six-Minute Charge
A joint venture between the renowned design and engineering firm, CALLUM, and the trailblazing battery developer, Nyobolt, the Nyobolt EV is more than just a new car on the market. It's a shining beacon that signals a bright future for electric vehicles.
It boasts Nyobolt's groundbreaking battery technology that enables the car to fully charge in less than six minutes. Yes, you read that right. Six minutes. You could have your car juiced up and ready to go in less time than it takes to drink a cup of coffee.
Classic Heritage, Modern Spirit
The talent behind the design is none other than Julian Thomson, a revered figure in the car designing world.
Inspired by his early conception, the Lotus Elise, Thomson's design is brought to life by CALLUM, resulting in an aggressive, low-slung sports car boasting the perfect blend of nostalgia and innovation. A feat made possible by the exquisite collaboration between Nyobolt and CALLUM.
Sitting on 19" wheels, the body of the Nyobolt EV is 100mm wider and 150mm longer than the original Lotus Elise, maintaining an aggressive stance yet creating a striking hourglass shape. This car truly embodies a modern reimagination of a classic. Plus, with a contrasting rigid composite roof panel, the Nyobolt EV can be transformed into an open-top marvel for those sunny day drives.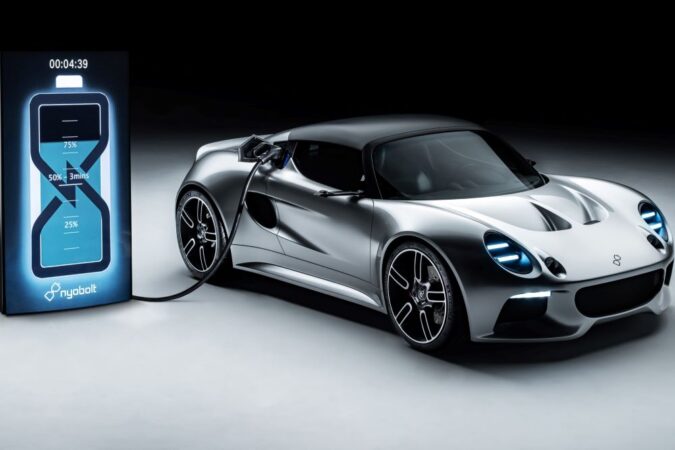 Beauty is in the Details
Careful attention to detail is evident in the Nyobolt EV's design. Bold proportions, lightweight composite panels, bespoke front and rear LED lamps, and a discreetly located charging port all contribute to its overall appeal. The Nyobolt EV doesn't just excel in performance; it is a work of art that is beautiful to behold.
A Battery Revolution
But the star of the show is without a doubt the innovative battery technology by Nyobolt. Weighing in at close to one tonne, the Nyobolt EV features a 35kWh battery, capable of delivering up to 250km range on a full charge, whilst maintaining over 2,000 fast charging cycles without significant performance loss.
Not only does this herald a significant reduction in charging time, but it also promises a smaller, lighter and more efficient EV experience with lower up-front costs and decreased usage of scarce raw materials.
Set for production in early 2024, this game-changing technology could potentially unlock new avenues in EV adoption, making electric vehicles more accessible to those without overnight home charging facilities.
The Nyobolt EV is an example of the astounding progress we are making in electric vehicle technology, all wrapped up in a stylish, sophisticated package. This is the future of EVs, and it promises to be nothing short of exhilarating. Watch this space.