There was a time when the cars produced by Skoda were cheap, poorly built and as undesirable as every other car coming out of the Eastern bloc.
But since VW took over the helm in 1991, this historic Czech brand has undergone a much-documented renaissance.
First came the Felicia in 1994, swiftly followed by the Octavia in 1996 and the Fabia in 1999. These cars changed the way buyers saw the brand. Skoda became less Trabant and more VW.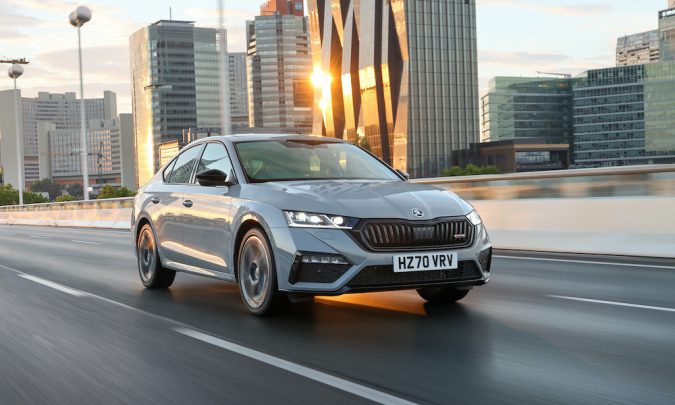 Almost thirty years after VW first took over Skoda, the modernising instinct is still there. And nothing exemplifies this more this year than the new Skoda Octavia vRS iV – a hybrid electric and petrol variant of the popular big hatch.
Up to now the extra power provided by the Octavia vRS (Victory Rally Sport if you're wondering) has only been available in petrol or diesel form. This has never been an issue. Buyers were happy that the vRS was able to inject a little extra performance into their sensible and practical Octavia.
But no longer. With automobile manufacturers going electric, the Octavia vRS's hydrocarbon diet is looking much less sensible and practical. Feeding your car fossil fuels is not only bad news for the environment, it's bad news for your wallet too.
Enter the iV. It looks just the same as the old Octavia vRS but benefits from an electric plug-in drive train and a 1.4 TSI petrol engine. This gives 245bhp and 400Nm of torque – 30Nm more than previous Octavia vRS. 0-62mph will take you 7.3 seconds and the top speed comes in at 139mph.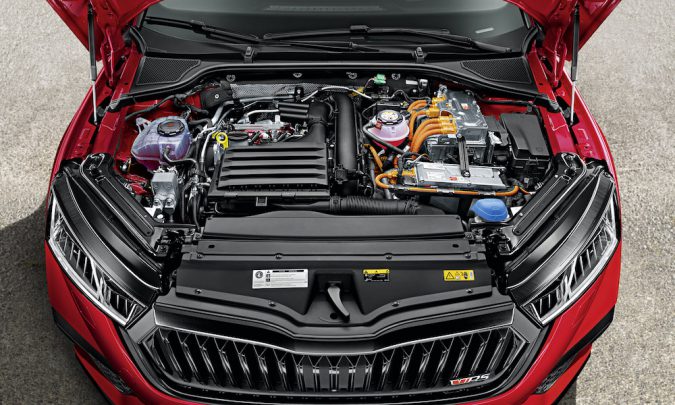 If you're feeling especially conscious about your carbon footprint, the Octavia vRS iV's 13kWh lithium-ion battery pack can keep you going guilt-free for up to 39 miles on pure electric drive. But if you need to travel that bit further, Skoda claims the estate variant has a fuel consumption of 235.4 -176.6mpg while the hatch version is said to come in marginally better at between 256.8 – 176.6mpg. Charging your Czech motor will take 5 hours from a domestic three-pin 2.3kW power source or 3.5 hours from a 3.6kW charger.
Outside the car bears all the hallmarks of its hydrocarbon-only predecessor. This includes a double-slat radiator grille, low air diffuser and air curtains above the fog lights. Window frames and door mirrors are also finished in gloss black.
Inside the car boasts heated front sports seats, a multifunction three-spoke leather steering wheel with DSG paddles and an Alcantara-padded instrument panel. All bear the vRS's logo and distinctive red stitching.
A Virtual Cockpit instrument panel and an infotainment screen with driving data related to the car's hybrid functions head up the car's electronic offering while LED ambient lighting and carbon optic strips provide a sporty decorative touch. Cruise control, parking sensors and LED headlights all come as standard.
The price for this Octavia? £35,020 for the hatch and £36,220 for the estate. Skodas may still be cheap but now they're well-built and desirable too.