Peugeot has begun taking orders for their brand new 2008 SUV and its fully electric counterpart the e-2008.
Pricing has also been revealed at £20,150 for a base spec 2008 and £28,150 for an e-2008.
The new 2008 will be eligible for delivery in February 2020, with the e-2008 appearing on roads slightly later in April 2020.
e-2008
The e-2008 is the second fully electric model produced by Peugeot as part of their long-term plan to provide an electric derivate of every production model by 2023.
The new 2008 is similar in size to other crossovers such as the Nissan Qashqai and Vauxhall Mokka, measuring 4.3m long, 1.77m wide, and 1.55m tall. Its boot space is as large as its competitors boasting a practical 1,767litre capacity. These dimensions are identical to those of the e-2008 as only the powertrain differs between the two models.
Feature Packed
Both variants of the 2008 come with Peugeot 3D i-Cockpit featuring a multi-functional steering wheel, and 3D instrument panel. Apple CarPlay and Android Auto functionality come as standard with all models but features such as 3D navigation and parking assist only with top-spec 'GT Line' models.
The new 2008 also comes fitted with some impressive safety tech for certain models including; speed limit recognition & recommendation, driver attention warning, lane-keeping technologies, and cruise control.
Managing Director of Peugeot UK, David Peel, said: "The inclusion of an electric variant in our all-new Peugeot 2008 SUV range marks a huge milestone in our electrification strategy. We are all immensely proud of the new models we have coming up in the next few years. The SUV market is incredibly popular, but we have full confidence in our all-new 2008 range and extremely excited to see driver's reactions to all powertrain variants, especially the e-2008, once they hit the roads of the UK."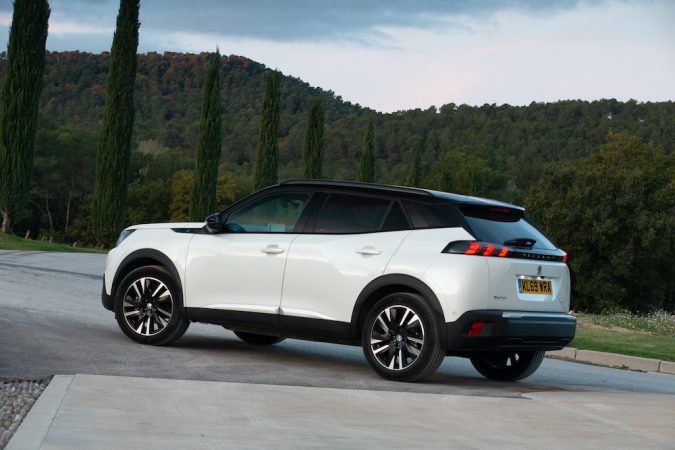 Engine Options
Four 1.2L 'PureTech' petrol options are available to buyers, two of which are mated to a 6-speed manual and two to an 8-speed automatic.
Only one diesel option is on offer – a 1.5L 'BlueHDi' with a 6-speed manual gearbox.
Then of course there is the greener alternative of a slightly more expensive but all-electric e-2008.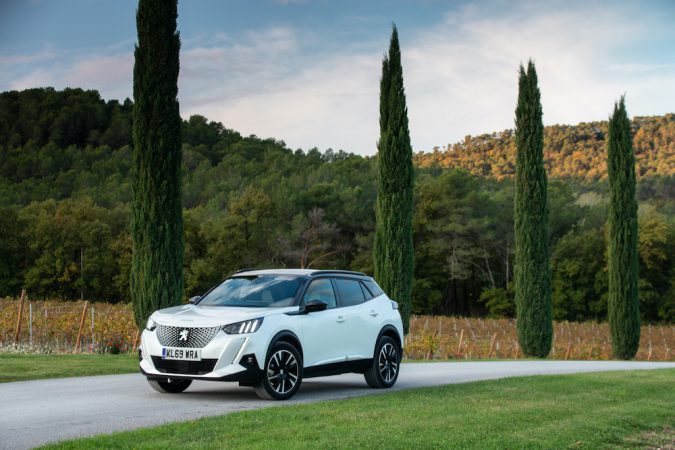 The E-2008 Details
The e-2008 is the brand's first fully electric SUV. It is powered by a 50kWh battery and 136hp motor, providing up to 206 miles or range from a full charge.
Charging the battery can be done via three modes; 'Domestic' which uses a conventional plug socket and takes 24hrs to fully charge, 'Accelerated' which uses an AC charging point and takes 7.5hrs, and 'Rapid' which requires a dedicated DC charging station and can charge 80% of the battery in 30 minutes.
Using the MYPEUGEOT app, drivers can start, stop, and monitor their e-2008s charging status remotely.
Customers will receive a free home charging point supplied by Peugeot partner PodPoint, and a six-month subscription to POLAR – the UKs largest public charging network.
The e-2008 can be driven in three different driving modes; 'sport', 'normal', and 'eco', with sport prioritising performance, eco battery longevity, and normal a balance of the two.
Two regenerative braking modes are also selectable with 'moderate' activated as standard and 'increased' used to maximise range.
The e-2008 is identifiable by its body-coloured chequered grille, 'e' monograms on the side panels and tailgate, and dichroic Lion emblem which changes colour when viewed from different angles.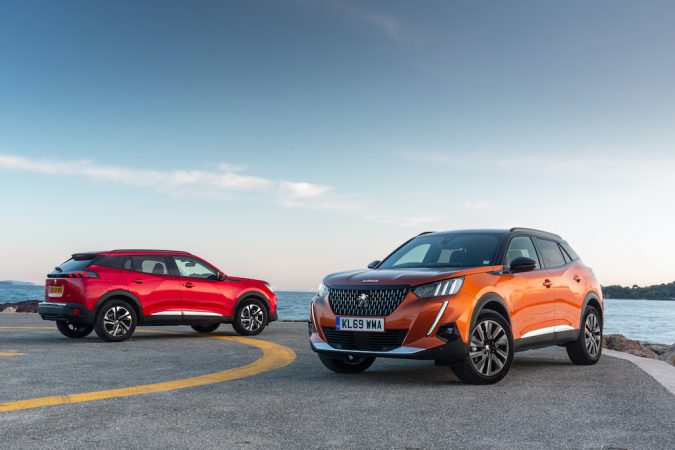 Trim Options
The 'Active' trim is the entry-level spec which starts at £20,150 for the new 2008, and £28,150 for the e-2008.
These models come with 16" alloy wheels, Peugeot 3D i-Cockpit, and a myriad of safety features previously mentioned, such as active safety braking, which comes as standard on all trim variants regardless of powertrain.
The 'Allure' trim is the mid-range option with 17" diamond cut alloy wheels, gloss black detailing on the exterior trim (such as the B-pillars, roof bars, and bumpers), and a choice of 'Curitiba' leather or 'Isabella' cloth interior. This model also comes with a modular boot floor for extra luggage space.
The Allure is available from £22,350 for the 2008 SUV, and £30,300 for the electric alternative.
The 'GT Line' is Peugeot's most expensive and well-equipped models as seen here on the 508. This variant of the new 2008 and is priced from £31,575, or £34,275 for the e-2008.
GT Line 2008s come with all available safety features and driver aid technology such as a 180° colour reversing camera, 3D TomTom navigation system, and active blind spot monitoring.
The interior comes with eight-colour ambient lighting, heated front seats, and is finished in a 'Tri-material Alcantara' and Isabella cloth trim combination.
The GT Line is distinguishable from other models by it's 18" two-tone alloys, LED headlights, and 'tooth' design grille.
Trim
Engine
On the Road MRRP
Active
1.2L PureTech 100 S&S 6-speed manual
£20,150
1.2L PureTech 130 EAT8 S&S 8-speed Efficient Automatic Transmission
£22,900
1.5L BlueHDi 100 S&S 6-speed manual
£21,750
Electric 50 kWh 136
£28,150*
Allure
1.2L PureTech 100 S&S 6-speed manual
£22,350
1.2L PureTech 130 S&S 6-speed manual
£23,550
1.2L PureTech 130 EAT8 S&S 8-speed Efficient Automatic Transmission
£25,100
1.5L BlueHDi 100 S&S 6-speed manual
£23,950
Electric 50 kWh 136
£30,300*
GT Line
1.2L PureTech 130 S&S 6-speed manual
£26,100
1.2L PureTech 130 EAT8 S&S 8-speed Efficient Automatic Transmission
£27,650
1.5L BlueHDi 100 S&S 6-speed manual
£26,500
Electric 50 kWh 136
£32,000*
GT
1.2L PureTech 155 EAT8 S&S 8-speed Efficient Automatic Transmission
£31,575
Electric 50 kWh 136
£34,275*
To find out more about the all-new PEUGEOT 2008 or e-2008 SUV, visit: https://www.peugeot.co.uk/showroom/new-2008-SUV/