Driven: 2017 Mercedes-AMG E43 Estate Review
I had the chance to get myself into the new sensible Mercedes-AMG E43 Estate, and here are my thoughts on it.
What is the Mercedes-AMG E43 Estate all About?
If there's one E-Class AMG that everyone remembers, it's the full-on Mercedes-AMG E63. Despite being a victim of emissions downsizing, it never compromised on brawn.
Even with just a 4.0 litre V8, it made over 500 horses and 700 Nm of torque. It'll push from 0-62 mph in less than 4 seconds, it'll pin you to the seats, and it'll go faster than your eyes can see.
With that said, even the AMG division understands that the E63 is not a sensible choice for many. For most buyers, the E63 makes more power than they'll ever need. So there will always be the smaller, slower AMGs to satisfy the realistic crowd.
For this year, that'll be the Mercedes-AMG E43, and in our case, the Estate variant.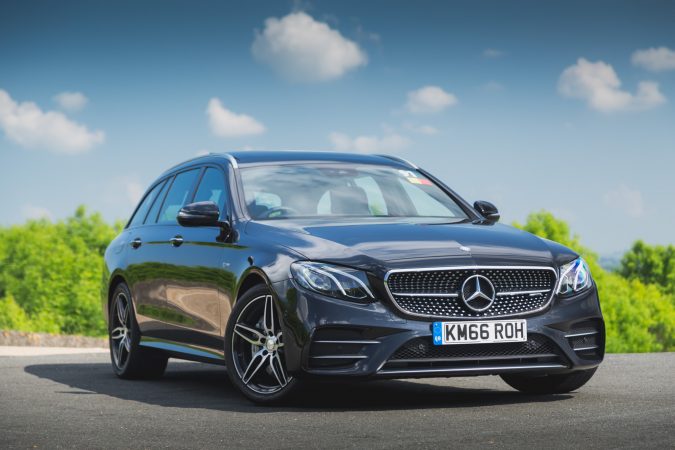 From the outside, everything looks very Mercedes. In fact, there's very little AMG in the equation. Other than the wheels, the Mercedes-AMG E43 Estate boasts a business look with a top hat.
The Mercedes-AMG E43 Estate has a very sleek and rounded body with smooth curves and lines. Ours had an 'Obsidian Black' metallic paint with 19 inch AMG 5-twin spoke alloys. This is basically one of the safest configurations you can go with.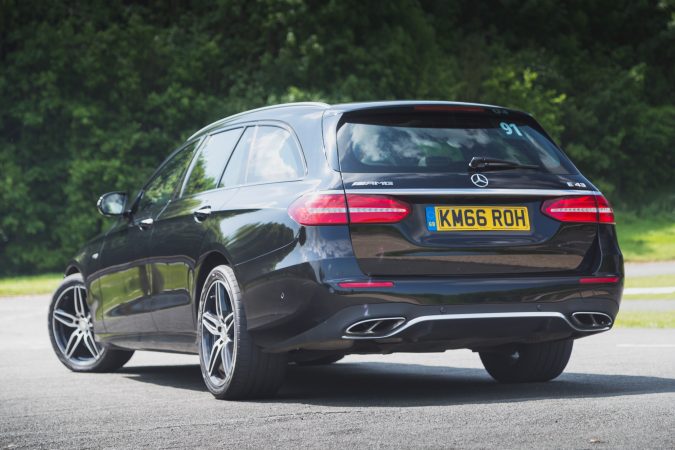 With Mercedes's new styling language, it's no surprise that the Mercedes-AMG E43 Estate looks good, albeit the estate body style may throw some off.
The bulk of the difference between the 43 and 63 will be in the powertrain. Instead of a V8, you'll find a 3.0 litre twin turbocharged V6 that puts out 396 bhp and 521 Nm of torque, still very decent, but nothing crazy.
Mated to that engine is a 9G-TRONIC plus 9-speed automatic, a transmission we're all familiar with now. Being a 4MATIC, the transmission sends power to all 4 wheels, propelling the Mercedes-AMG E43 Estate from 0-62 mph in 4.7 seconds onto a top speed of 155 mph.
With emissions getting tighter everyday, turbocharging is a godsend for the folks at Mercedes-AMG. The Mercedes-AMG E43 Estate achieves 32.8 mpg and puts out just 197 g/km of CO2, pretty good figures for a car weighing nearly 1.8 tonnes.
How Does It Drive?
On paper, the Mercedes-AMG E43 Estate shapes up to be a rather relaxing drive, which isn't far off from the reality.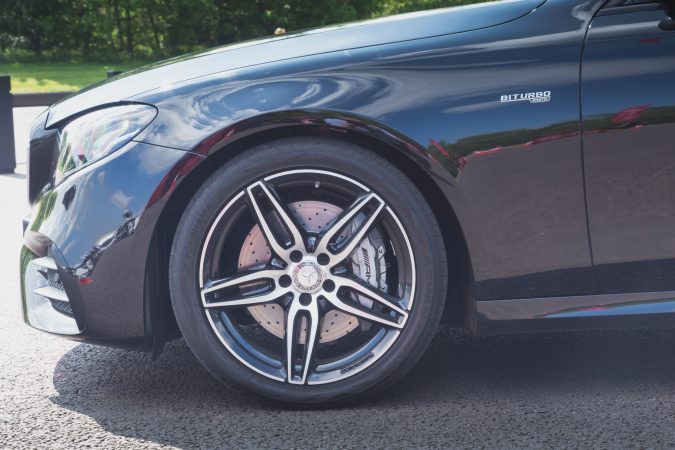 For the most part, the V6 biturbo is whisper quiet. It's a smooth engine with a flat torque band, making peak torque from 2,500 rpm to 5,000 rpm. While there is a hint of turbo lag, the engine picks up pretty quickly and accelerates rapidly.
With 4-wheel drive and an automatic gearbox with a dozen gears, launching the car is very anti-climatic. It'll pick up traction and gladly rev through the tachometer until you let off. The V6 is actually very audible when you push it, it sounds great.
The shifts are crisp and relatively quick. It'll sort out everything pretty nicely in Comfort or Eco mode, but if you're feeling enthusiastic, you'll really want to take things to your own hands.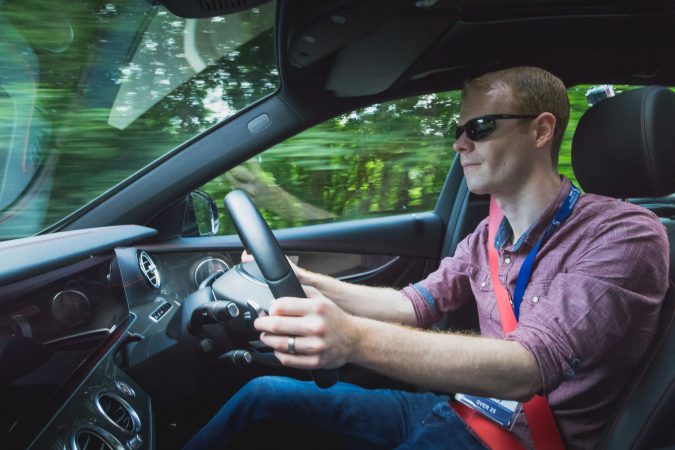 It's not a slippery car, nor does it intend to be. This is an AMG that never scares you, even if you poke it hard with a stick. It's heavily rear-biased with two-thirds the power sent to the rear, but it felt stuck to the tarmac.
In the corners, despite riding on air bags, it remains composed. Body roll is minimal, even in this estate body. Of course, the dynamic driving modes are there to fit your mood. And in comfort, Mercedes's 'AIR BODY CONTROL' works its magic.
Even in this estate body, the chassis seems to hold up stupendously by being balanced and rigid. The steering is nicely weighted with good road feedback. Drift mode is omitted from the E63 though, which wouldn't be trouble anyway for the E43's target audience.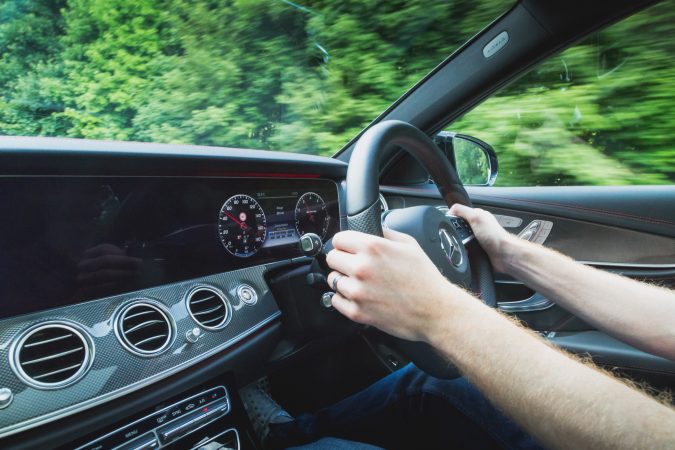 Overall, Mercedes adopted a very 'no frills' route with the E43. While it isn't as enthralling as the E63, the E43 will be incredibly road-friendly. It'll munch thousands of miles while remaining zestful on the B-roads should you do some spirited driving.
What Is It Like Inside?
The interior might not be what you'd expect from a Mercedes though; it's very rounded, integrated, surprisingly exciting, and quite enticing to look at.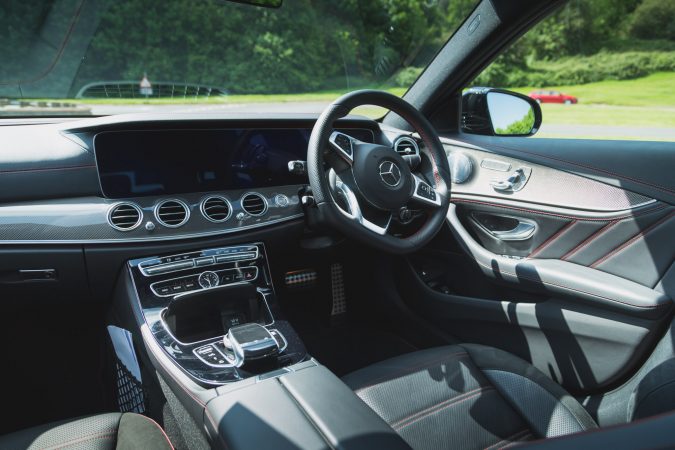 This is sort of a new look for the W213 E-class. Of course, the seats are still normal, with all the lovely leather to fulfill your Mercedes needs. It's all nappa leather, with contrasting red stitching to liven things up. That's an AMG touch.
The steering wheel is also pretty normal. It's simple with some buttons on it. The seat controls are directly next to the steering wheel on the doors, and you can see the optional Burmester speakers right there.
For the instrument cluster though, Mercedes went full digital. It still displays all your normal meters, but you can configure it endlessly to suit your needs. A lot of information can be fed to the driver this way. It reminds me a lot of Audi's Virtual Cockpit.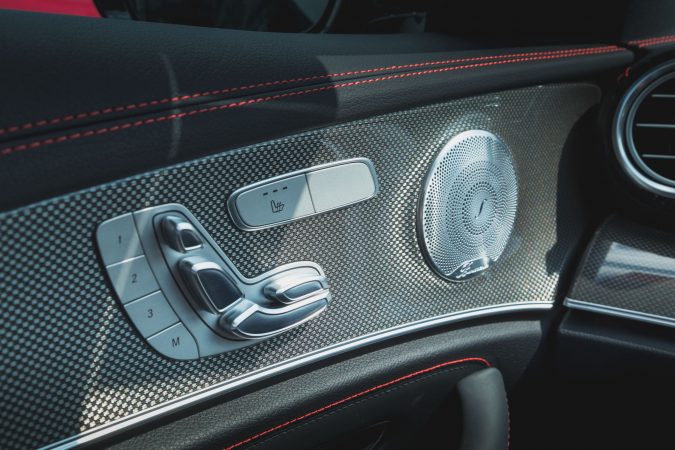 The 'instrument cluster' is connected to the center console in a way. The giant 12.3 inch infotainment system handles all your entertainment needs, and surprisingly, the centre console is pretty minimalist. It even comes with an analogue clock in the middle.
Being an estate, you can expect the entire car to feel very roomy. And it is. Everyone has plenty of breathing space and headroom, and the driver can expect excellent visibility. A panoramic glass sunroof is also available for those wishing to bathe in warm sunlight.
Luggage capacity is excellent, as anticipated from an estate car. It'll hold 640 litres of cargo, and it goes up to 1,820 litres if you fold the rear seats down.
The Experience
Driving the Mercedes-AMG E43 Estate was truly a thrill. It did everything I asked it to do, and excellently. It drove well, it was pretty quiet, and was very comfy to ride in. Even though I believe AMG's tuning has stiffened up the suspension a bit, it still felt great.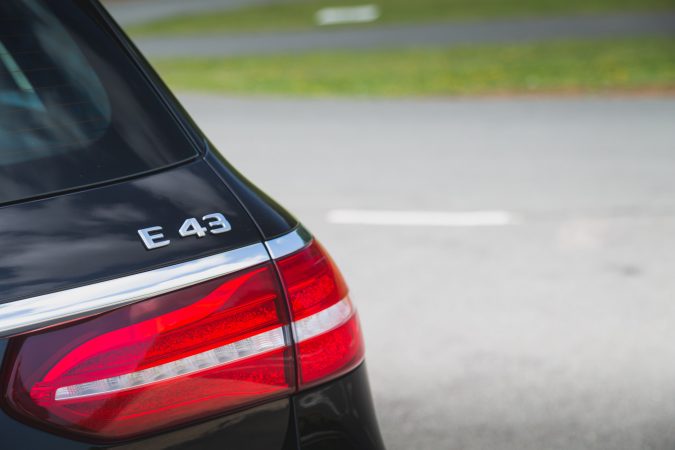 While the E43 now rides on air bags, there's no sense of waft and vagueness that often comes with air suspension. In addition, the V6's sound will quickly fill your ears, and it is always audible. Not a bad thing though, as the more you push it, the louder it sings. And it's a very characterful and playfully smooth V6 treble.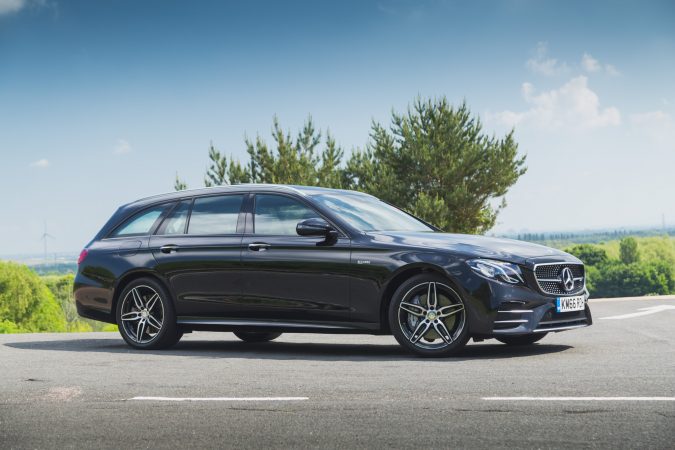 Verdict
Being frank, the Mercedes-AMG E43 Estate is the jack of all trades. It'll do everything well, and buyers will be more than satisfied. It's practical, economical, yet at the same time, rapid. German efficiency is rather shocking, and the E43 is an example of that.
Perhaps it's not as colourful and dramatic as the E63, but that's perfectly fine. The E43 accomplishes everything Mercedes wanted it to do, and more.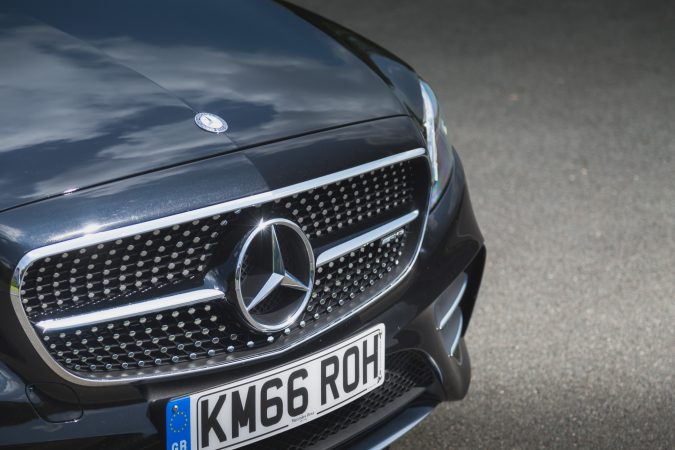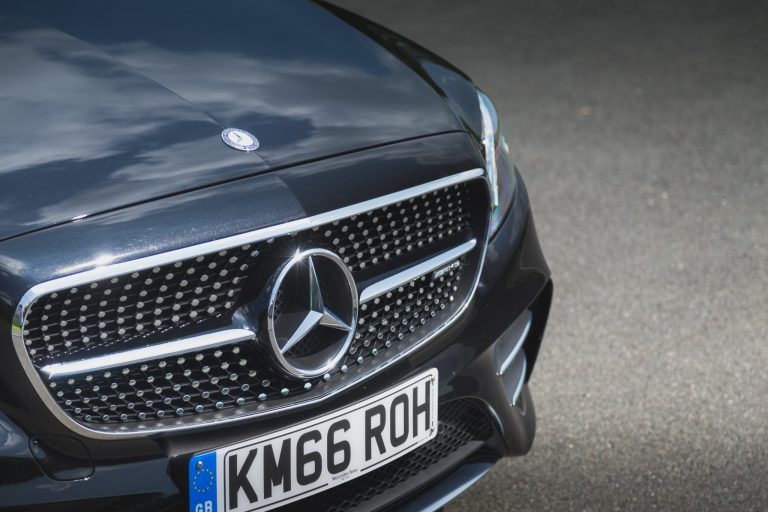 In my mind, sporty estates are frozen cool. They can do everything, just look at the legendary Volvo 850R. And when your sporty estate bears the AMG badge, I think it's what Jeremy calls sub-zero. I'd love to see another shooting brake from Mercedes-AMG though, but the E43 Estate will do me nicely.
Highlight Video

Specification
Mercedes-AMG E43 Estate
Price: £58,290
Engine: 3.0-litre biturbo V6
Power: 396 bhp
Torque: 521 Nm
Transmission: 9G-TRONIC 9-speed automatic transmission
0-62mph: 4.7 seconds
Top speed: 155 mph
Weight: 1,780 kg
Economy combined: 32.8 mpg
Author: Paul Hadley