Driven: Aston Martin V12 Vantage S Review
On an extremely fortunate occasion, I got myself behind the wheel of an Aston Martin V12 Vantage S. Here are my thoughts on this British beauty.
What's The Aston Martin V12 Vantage S All About?
At the moment Aston Martin isn't just putting out likeable cars. I think they're on fire. Look at the list, the clinically insane Vulcan, the beautiful Vanquish, and the latest, gorgeous DB11.
Today however, I got myself behind possibly one of the greatest driver's cars to grace the decade, the Aston Martin V12 Vantage S.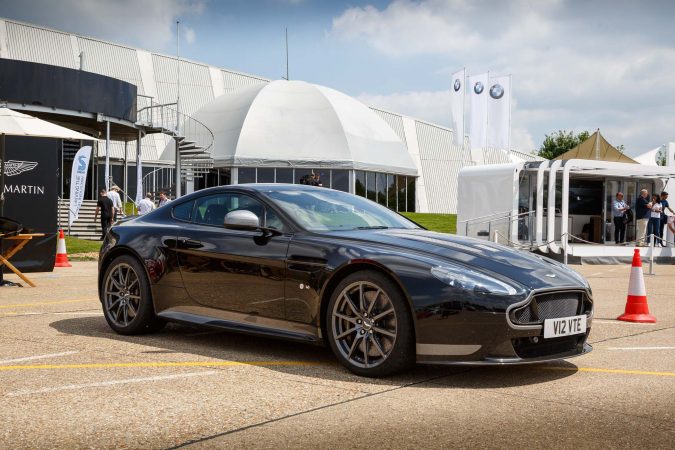 Aesthetics is a department that I don't think Aston Martin has ever compromised on. The V12 Vantage S is no exception. I mean, just look at this thing. Long, swooping bonnet; wide, low stance and compact tail.
It's a look we're familiar with, yes. Aston Martin has played with this design for roughly a decade by now, but don't fix what ain't broke, right? It's the classic coupe formula, and there's a reason why it's still in play.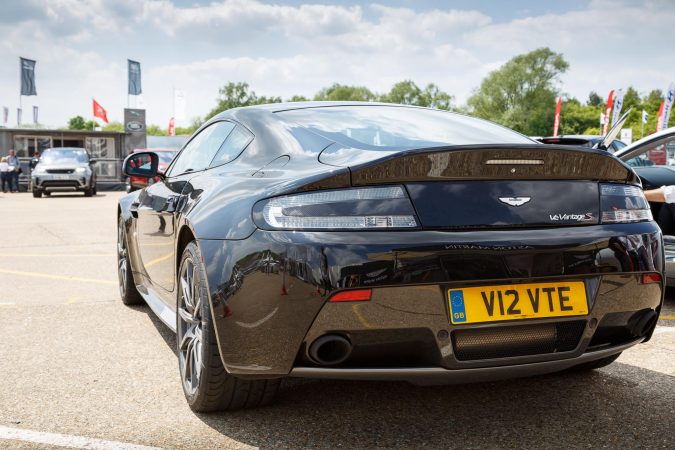 On our 'Jet Black' V12 Vantage S, we had 19″ 10-spoke AM wheels painted in Liquid Silver wrapped in beefy Pirelli P Zeroes. Inside those, other than the massive carbon ceramic discs, you can see the equally impressive 6-pot AM calipers painted in anodized black. The rear has 4-pot calipers instead.
What's better than these looks? Look underneath the bonnet. As the name of the car implies, to power this car, AM went with a 6.0-litre naturally aspirated V12, the rarest of its kind. It puts out a solid 563 bhp and 620 Nm of torque. Nothing crazy in today's world of thousand horsepower hypercars, but perfectly adequate.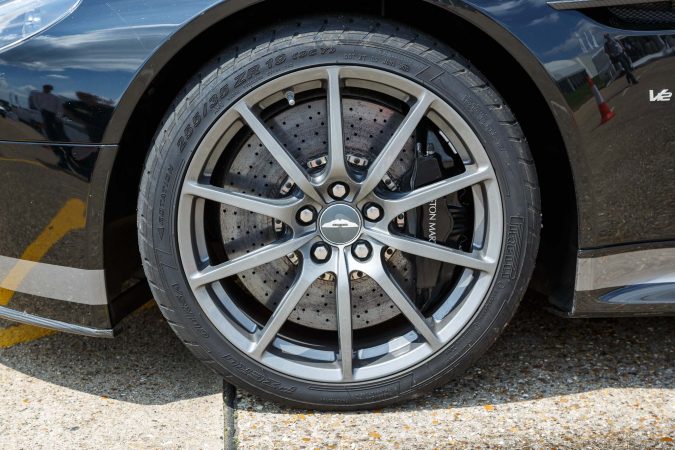 This is the real intriguing part. Aiming to be a proper enthusiast performance car, AM is offering a manual 'Sportshift III' 7-speed manual transmission. Power is delivered to the rear wheels, bringing the V12 Vantage S from 0-62 mph in 3.9 seconds, and onto a top speed of 205 mph.
Economy is definitely bottom of the priority list. But the V12 Vantage S manages 19.2 mpg and puts out 343 g/km, proper performance figures.
How Does It Drive?
Aston Martin has always been a company about the driving experience. The V12 Vantage S is the rawest, purest road-going offering from them yet.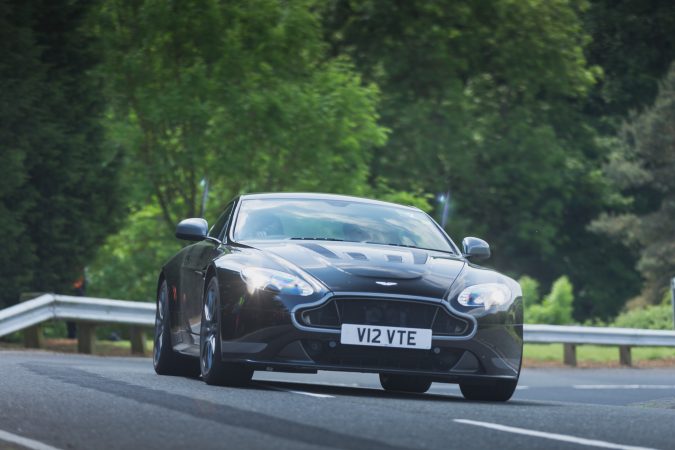 The V12 Vantage S is quite surprising for those who are unfamiliar with the whole Aston Martin range. The Vantage has always been AM's 'compact coupe', yet it hides a gigantic engine within. The result?
Insert the key fob into the center slot and hear the V12 roar. It's all familiar AM procedure, and the V12 makes a sound that'll properly frighten children. And then, take the time to realise the fact that all those sweet, sweet 12 cylinders are under your foot, all 6.0-litres of them.
The engine is smooth and linear as can be. It delivers all the goods only if you push it, and you'll want to. Not to gain speed, but to hear a classic V12 engine sing and orchestrate. This V12 will send a low-frequency shock throughout your body, but boy did I love sitting right behind 563 bellowing horses.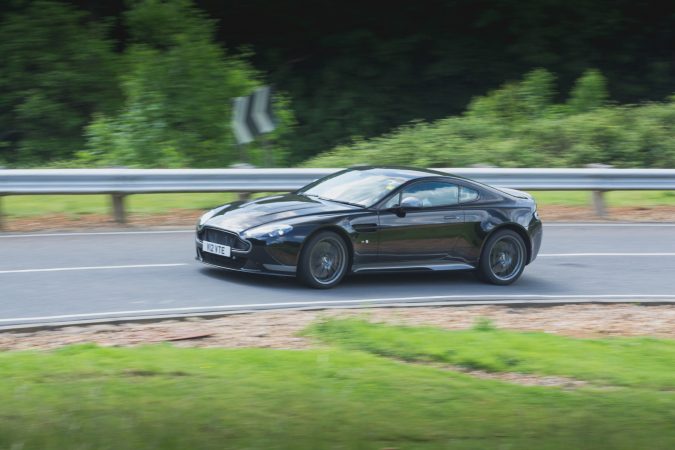 The gearbox is stupendous, it's a dog-leg first gear. Which means that reverse is where 1st gear is normally located, and 1st gear is where second gear used to be. This is ideal and widely used for racing back then where the 1st gear is normally used only for launching, so all the other gears go in order.
While you still have a manually-operated clutch, you don't have to come off the throttle, the car manages this for you. Sportshift III will pretty much nail every shift, even full-throttle upshifts. You'll really want to lift off on upshifts though to keep it smooth and professional.
This is as fast as you can get with a manual. It'll also blip on downshifts emulating perfect heel and toe. You'll really appreciate this on Sport mode, where louder exhaust and sharper throttle response comes in. Then, you can really hear the exhaust crackling away. As a bonus, it's a lighter box too.
But if you don't want any sort of automation, and prefer a properly visceral experience, a normal manual is available.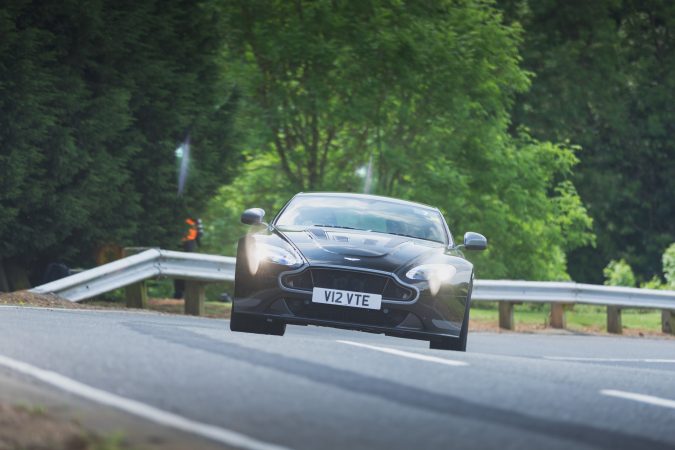 The steering is quick and concise, just what you need on the twisties. Brakes are remarkable too, representative of AM's continuous excellence in balance. They're unlikely to fade or warp anytime soon, and will gladly liberate your stomach content when asked to.
Handling is pleasing. On Sport or Track mode, the suspension is tight and will respond to road surface promptly. The V12 Vantage S is rear biased, so it'll oversteer. Also, the spirited modes will stiffen up the suspension.
On Normal mode though, the V12 Vantage S still corners pretty well while also being able to compensate for rougher roads without destroying your back.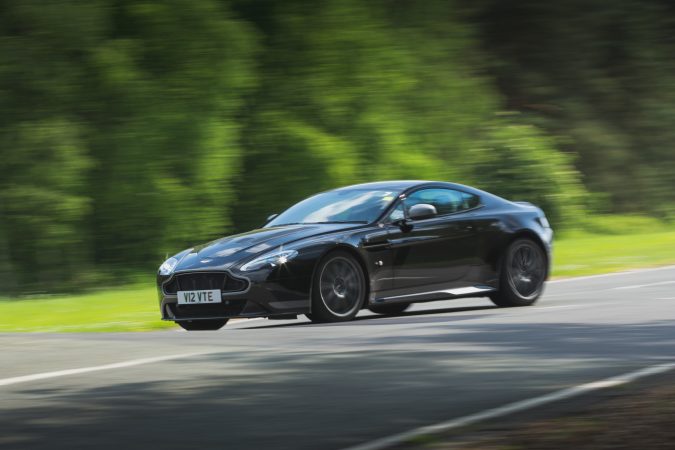 The Vantage chassis is well proven. It's rigid, stiff, and confidence inspiring. It shrugs off tricky corners effortlessly, you'll be the one to run out of talent first before the V12 Vantage S does.
All in all, the V12 Vantage S is a dream to drive. If you find the right road with the right mood, you'll be one happy person. The power band is easy to predict, and all the electronics will keep you in check. Of course, you can turn them off, then the fun really comes.
What's It Like Inside?
Weirdly, while the Vantage has received multiple facelifts over the years, the interior is not something AM has concerned themselves with just yet.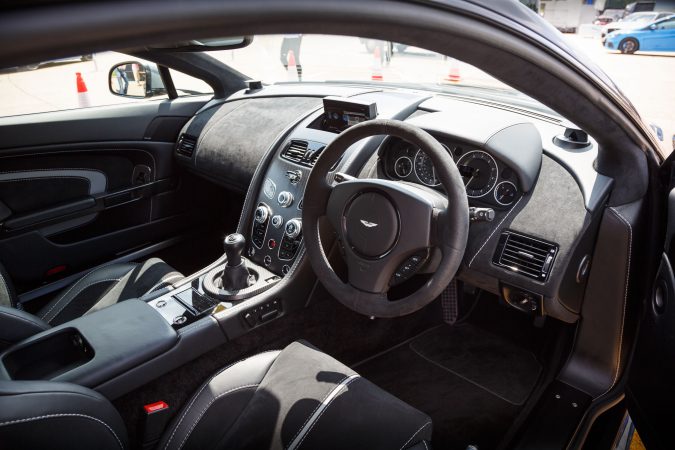 If you open the door expecting exuberant leather, you'd be hard-pressed. Instead of leather, Alcantara is the main interest here, blending in with all that leather. The seats are semi-buckets with good support and comfort, something you'll need for grand touring.
The instrument cluster is simple and classy. It's everything you've seen before in any other AM of the same generation. The steering wheel is also pleasantly uncluttered, unlike many other cars of similar price bracket nowadays.
With an unorthodox look, the centre console has all the buttons you'll need while being unusually rounded and curvaceous. On top of that you'll find a retracting infotainment system AM calls AMi III.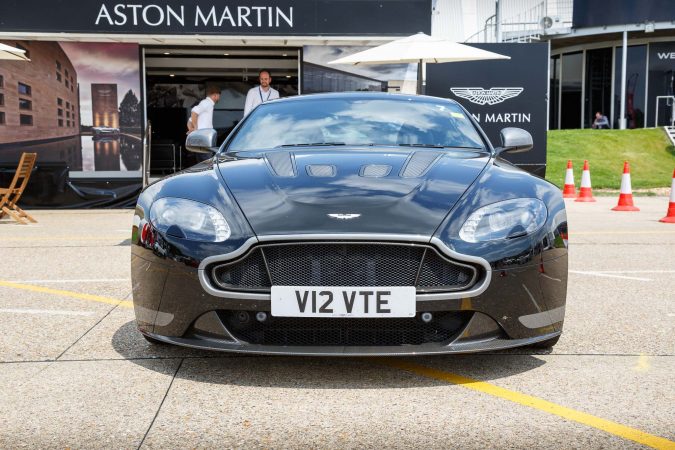 While the standard specifications may be surprisingly generous to some, AM still offers an extensive options list for those interested. Be wary though, the price can rack up easily once you tick those boxes, just like many other premium cars out there.
Because it has a normal coupe shape, the V12 Vantage S is quite accommodating in its trunk, with 300 litres of capacity. It's enough to carry luggage and groceries, should you find the need.
The Experience
The AM V12 Vantage S is a driver's car in its purest form, especially in an electronics-infested world that today is. Many people wouldn't be able to justify spending this much money for an enthusiast car, but you need to drive one to know why.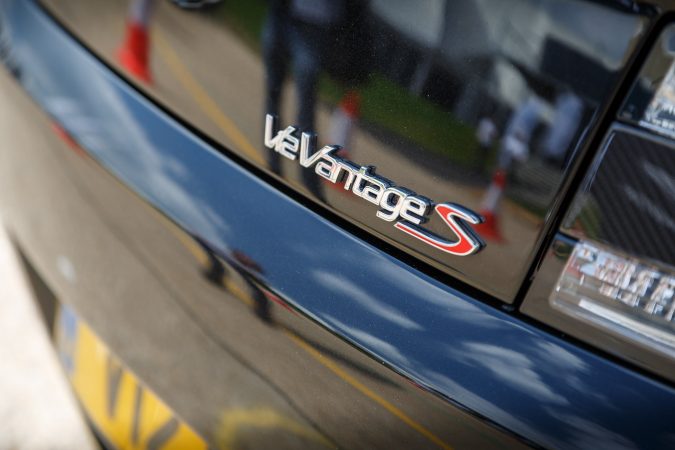 Nothing quite compares to shifting a 6.0-litre naturally aspirated V12. The V12 Vantage S feeds you with all the information you need, and you will be the judge on how to respond to those information. In a modern world, it's a feeling that sadly, I feel the need to cherish and preserve.
Verdict
Really, if you're someone who wants a V12 Vantage S, you'd probably already have one. But the V12 Vantage S is an extinct kind, there are no rivals for it out there. At least, none with a massive 6.0-litre V12.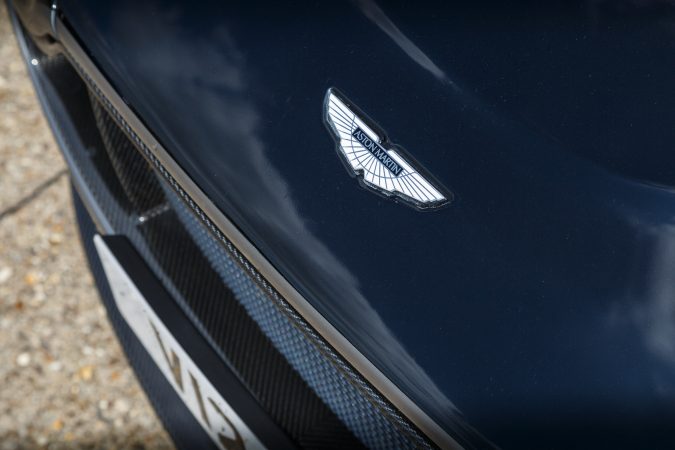 To put it into context, this is a grand tourer that you'll find excuses for to drive on the B-roads, and will excuse you for motorway crunching afterwards. You'll sit happily in one of these on pretty much any road you can find, and that's not something every manufacturer has achieved.
Of course, while doing so, you may occasionally see your reflection, and realise that you're in this. An Aston Martin.
Highlight Video

Specification
Aston Martin V12 Vantage S
Price: From £138,000
Engine: AM28 6.0-litre naturally aspirated V12
Power: 563 bhp 
Torque: 620 Nm
Transmission: 7-speed Sportshift III automated manual
0-62mph: 3.9 Seconds
Top speed: 205 mph
Weight: 1,665 kg
Economy combined: 19 mpg
CO2: 343 g/km
Author: Paul Hadley