Driven: 2017 Porsche 718 Boxster S Review
I was lucky enough to hop on board into the all-new Porsche 718 Boxster S. Here are my thoughts on the latest mid-engined sports car from Stuttgart.
What is the Porsche 718 Boxster S all about?
If you remember back in the 90s, Porsche was in dire straits. Losing out on sales, they needed something more mainstream and appealing to the masses. A sporty something to mark Porsche back on the map.
Cue the Porsche Boxster. Upon positive reception for the Boxster Concept back at the 1993 North American International Auto Show, it received the green light. Thus, the 986 Boxster was born. With a 2.5-litre mid-mounted flat-6 and nearly 50-50 weight distribution, it handled like a dream.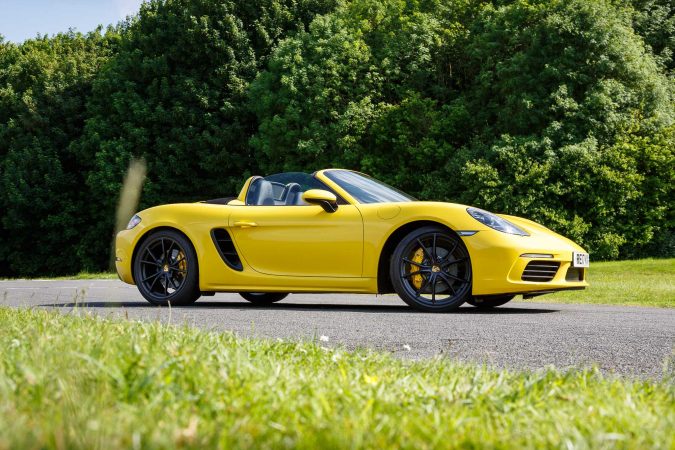 The 986 ran circles around its competitors, the SLK, Z3 or even TVRs. Quick revisions in 1999 brought the 986 additional engine options.
It bears the Porsche badge, a retractable roof and an affordable price tag.  It had a problem. The image of being driven by people experiencing midlife crisis. With that, attempts have been made to refocus the Boxster. This includes the extremely bare Boxster Spyder, and the Cayman. And now, the aptly named 718 Boxster S.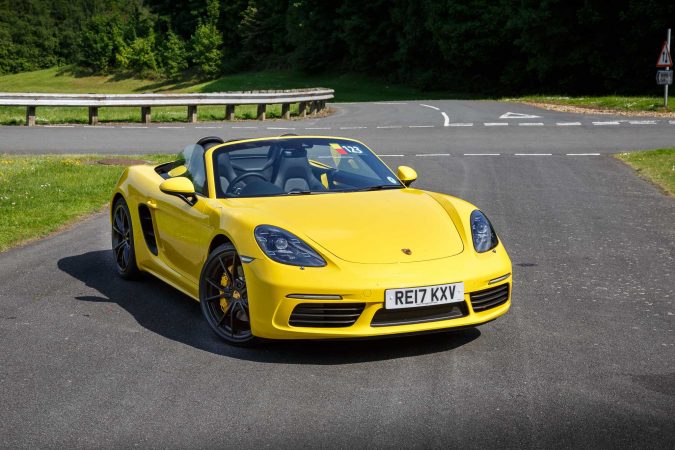 It's a running joke that Porsche has the laziest designers in the business. But I think the latest 718 Boxster S looks better than ever. The front hasn't changed a whole lot from the 981. Though, its sharp, aggressive lines along with a departure from round headlights still menace the road.
Porsche has worked on the rear of the car more though, with revised taillights and black trims. Our Boxster S was painted in Racing Yellow and had 20″ Carrera S wheels in satin black with PASM sports suspension. So, it rides 20 mm lower.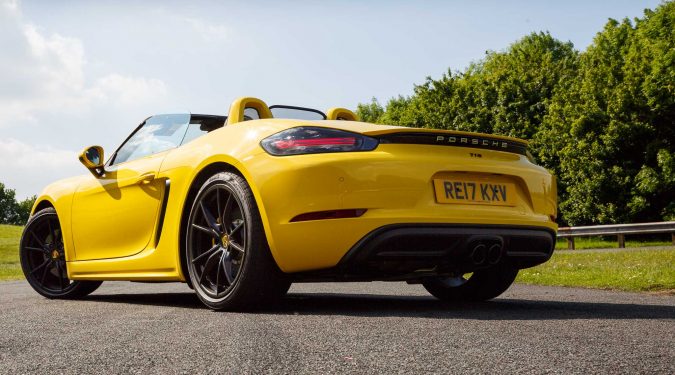 The engine choice in the 718 Boxster S was a controversial move for Porsche. They decided to start offering flat-4s for the 718.
Is it really a bad decision though? The 718 Boxster S has a 2.5-litre turbocharged flat-4 that pushes out 350 bhp and 420 Nm of torque. That's actually more power than the previous 3.4-litre flat-6 Boxster had.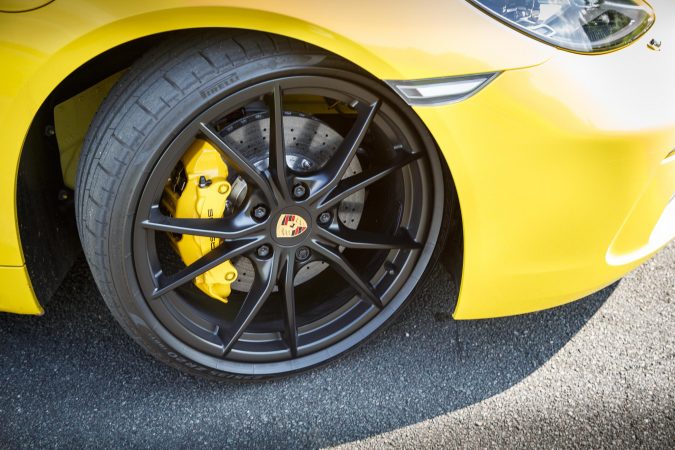 Porsche says that they won't be ditching the flat-6 just yet though and will offer them on their top dogs, the Boxster Spyder and Cayman GT4. Meanwhile, they've capitalised on the chance by naming it the 718 Boxster S, after Porsche's successful flat-4 powered 718 racing car.
Additionally, we had Porsche's £2,000 PDK 7-speed dual-clutch automatic transmission delivering power to the rear wheels. With that, the 718 Boxster S is capable of a 4.4 seconds 0-62 mph time onto a top speed of 177 mph.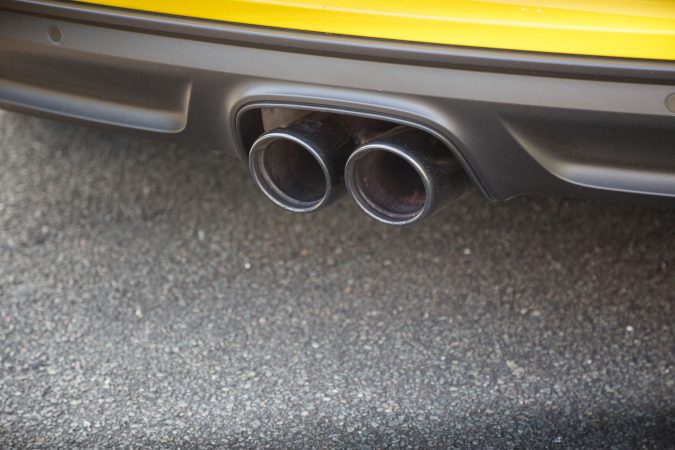 The best fact about this engine is that it gets 38.7 mpg combined and puts out just 167 g/km of CO2, while being faster than before. A 6-speed manual also still available, kudos to Porsche.
How Does It Drive?
Firstly, the engine's sound rings of Subaru. But the 2.5-litre is more muted and mature sounding compared to the raspier and aurally more playful 2.0-litre. It crackles quite a bit, so you can definitely hear the turbo whistling away.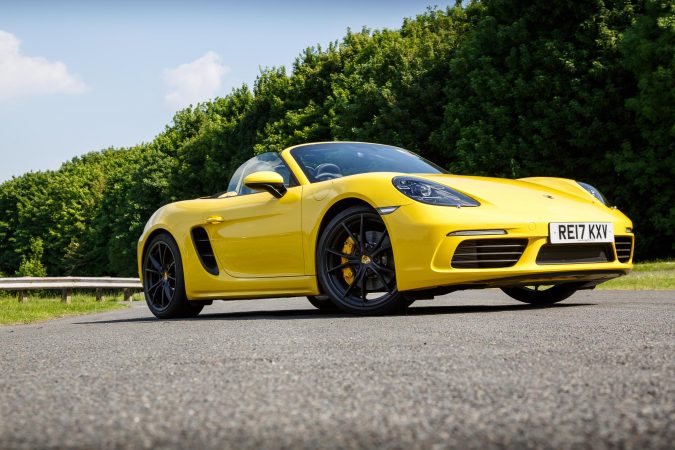 For the Boxster S, Porsche opted for a variable geometry turbo. That's not a new thing. It's commonly used by diesel engines. On this engine however, it worked its magic in maintaining a very flat torque curve. In fact, it makes peak torque at just 2,000 rpm. It's just staggering.
With that characteristic, you don't even really need to switch gears. You almost always have enough torque to accelerate rapidly. The amount of turbo lag is negligible, making it a lax driving style.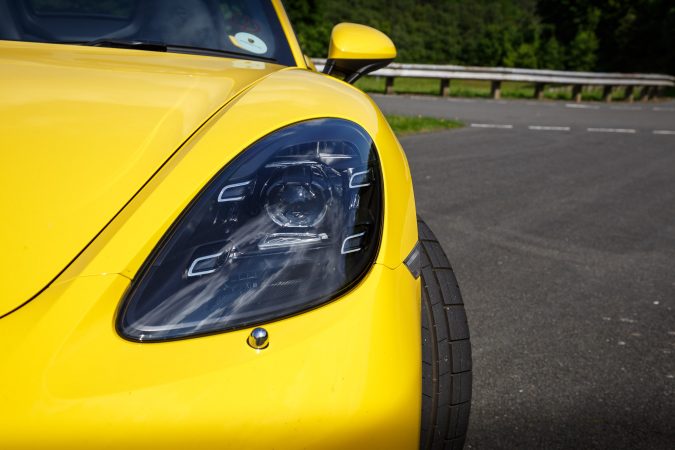 But should you open it up, the 2.5-litre's modest bassy burble will flood your ears with the roof down. I mean, in no time at all you'll be breaking the speed limit. This engine is one of the finest examples of a turbocharged four cylinder. It gives a great response and huge explosiveness when you put your foot down.
When it comes to handling, we all know what to expect from Porsche. If they can perfect the handling of the rear-engined, rear-wheel driven 911s, imagine what they can do with a mid-engined sports car.
The suspension is top notch. The entire car weighs in at 1.4 tonnes. But the steering tells you a different story. It's an incredibly lively and nimble car. With the 911 Turbo's faster and direct steering rack, imagine the results. The 718 Boxster S responds to steering inputs so amenably, and at the same time it asks for more.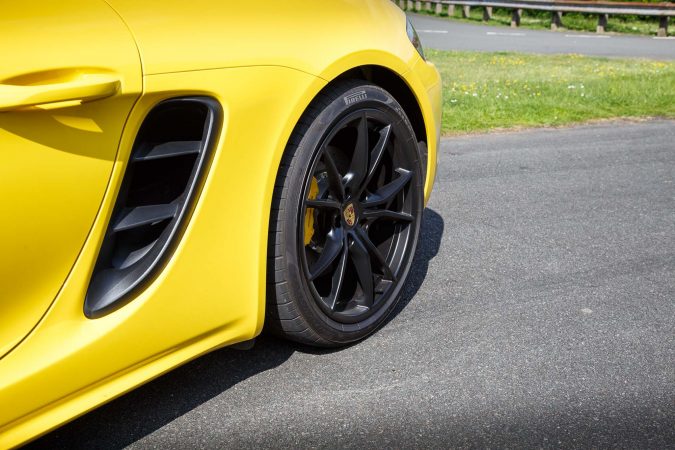 It's a very well balanced car, but ever so slightly rear biased with hints of slight oversteer that can be corrected with ease. Additionally, its 4-piston brakes provide aggressive and healthy amounts of stopping power. Put simply, the 718 Boxster S darts around corners like a fly. You might be surprised to know that it only lags behind the Cayman GT4 by milliseconds.
Our 718 Boxster S also had optional ceramic brakes. They're very resistant to fading, deformation or warping. They also don't corrode, and weigh very little compared to normal steel rotors. At the same time, it's a £5,177 option. If you are someone who really tracks their car often, it's a worthwhile consideration. Otherwise, it'd be quite difficult to overwhelm the Boxster's standard discs.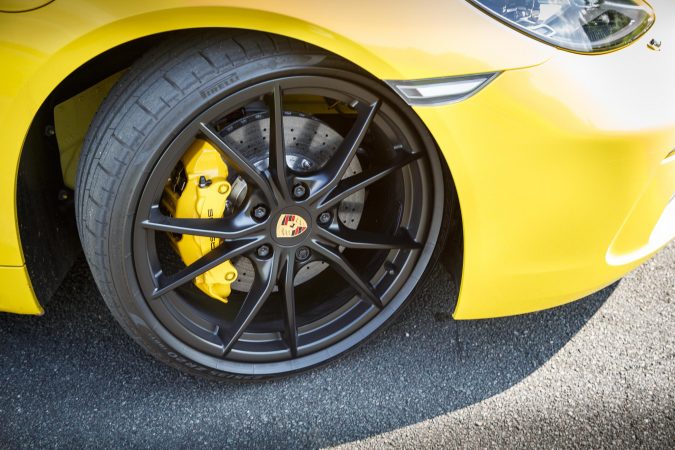 The PDK is, as expected, clairvoyant. It reacts to shifting inputs like snapping your finger. Still, in a car like the 718 Boxster S, I think the 6-speed manual will close out the deal neatly. The PASM is remarkably supple and gentle in Normal mode, but put it to Sport, and it'll devour corners and shatter your bones.
When you've had enough fun and kick back, the 718 Boxster S returns to being a civilised, cultured Sunday cruiser. It's whisper quiet with zero drone at low rpms. I can't help but feel the 19″ wheels will ride better than the 20″ Carrera ones though, but I haven't tested them.
What Is It Like Inside?
The interior of the 718 Boxster S is undoubtedly a great place to sit in. We get Porsche's sports seats with their crest on the headrests, having all leather seats though is an optional extra, but a worthwhile one. The driving position is excellent, as it should be.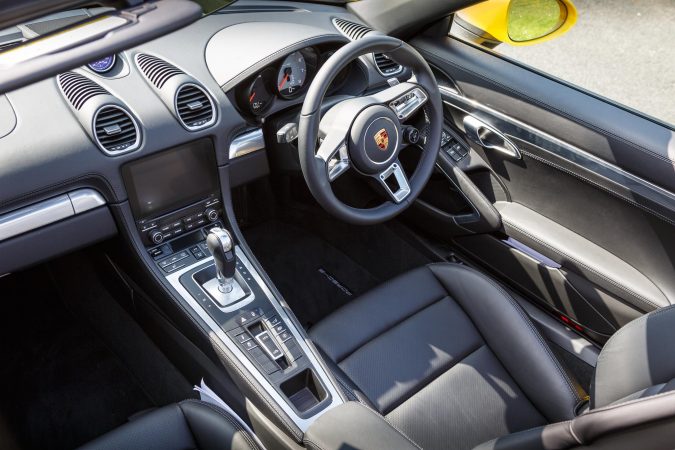 Pretty much everything is covered in leather or soft-touch materials. Our GT sport steering wheel is also an optional extra, but a superb one that really fits the 718 Boxster S. It's a no-nonsense driving focused steering wheel. Good move by Porsche.
The instrument cluster is typically Porsche with multiple binnacles and a central tachometer with big clear numbers. The driver can see additional information displayed on the instruments.
There are a lot of buttons on the central console, but most of the entertainment controls are in the infotainment system. The driving modes are easily accessible for the driver, and well, the passenger. There are plenty of room on both sides, and it's very secluded, with both people getting their own cockpit to sit in.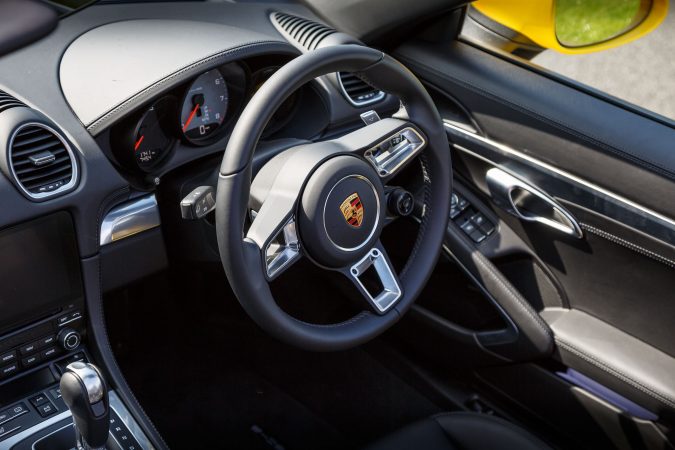 While the 718 Boxster S's interior might not be industry leading, it has one of the biggest advantages many sports cars can't even wish for. Storage capacity. There's a compartment to stuff your luggage in at both front and rear of the car, and combined, they can store up to 275 litres of cargo. That's comparable to a hatchback in some cases, and for a cabriolet, frankly, it's amazing.
The Experience
Driving the 718 Boxster S was just joyous. The car handles corners so well that I just kept going and going. Before I knew it, I ran out of tarmac to drive on. It's very efficient at just eating corners, as if they were just straight roads.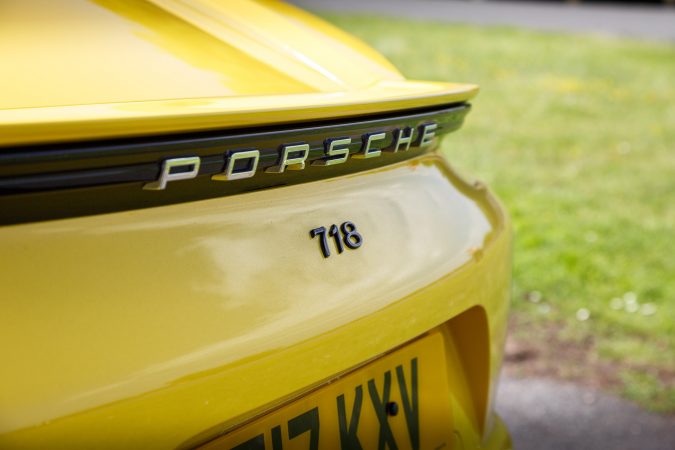 Verdict
The 718 Boxster S is impeccable. It had everything going for it. I couldn't find a single thing to fault in its handling characteristics, and even when I stopped pushing it, it continued to stagger me with its ride refinement, especially with those low profile tyres.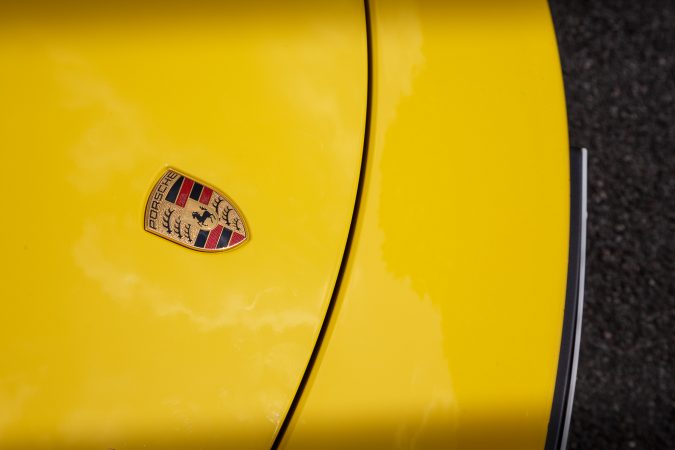 Emissions are something that every manufacturer, especially performance car manufacturers have to deal with in one way or another. And for now, cutting the cylinders and compensating with turbochargers seems like the ideal move.
Still, objectively speaking, it's better than the flat-6 it replaces. It's not like Porsche is completely shedding the flat-6 option from the Boxster and Cayman either way. The 718 Boxster S doesn't deserve the prejudice people were giving it. It's one hell of a sports car, and a purchase will undoubtedly satisfy and please any buyer.
Highlight Video

Specification
Porsche 718 Boxster S
Price: £72,270
Engine: 2.5-litre turbocharged flat-4
Power: 350 bhp
Torque: 420 Nm
Transmission: 7-speed PDK double-clutch automatic transmission
0-62mph: 4.4 seconds
Top speed: 177 mph
Weight: 1,385 kg
Economy combined: 38.7 mpg
Author: Paul Hadley