Driven: 2018 Aston Martin DB11 Volante Review
Today we've borrowed the keys to what may possibly be one of the most jaw-dropping piece of production automobile ever conceived: the Aston Martin DB11 Volante.
What's the Aston Martin DB11 Volante all about?
If you have even the slightest bit of clue about cars, you'll know that Aston Martin is quite a venerated marque in the automotive industry. And amongst its astonishing lineup of luxury grand tourers, the David Brown – 'DB' family is arguably the best-known thanks in part to its illustrious movie tie-in.
However, it goes further than that. The DB bloodline is expansive and by now it's 70-years of age. That's a lengthier heritage than the Ford Mustang, Toyota Land Cruiser and as old as the Land Rover moniker itself. Aston Martin is revered for its remarkable design language, and the DB models are at the forefront for their portfolio.
The latest iteration, known as DB11, is one such example. It adopted the DB9's mature styling ethos and modernised it, gracing us with yet another breathtaking wallpaper-material. Nevertheless, I know Aston can one-up itself, and they have, with the Aston Martin DB11 Volante.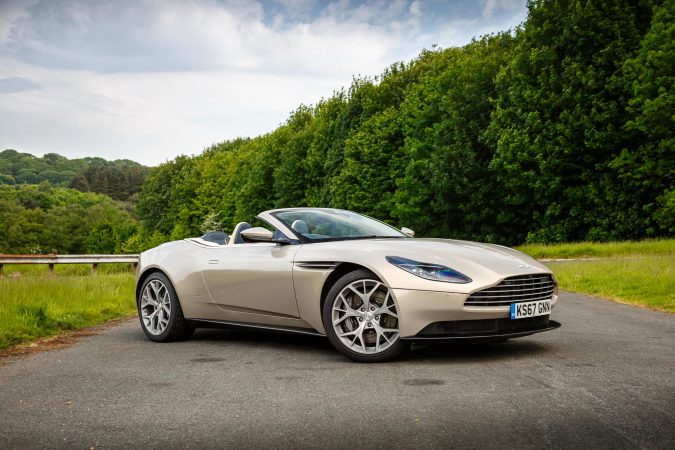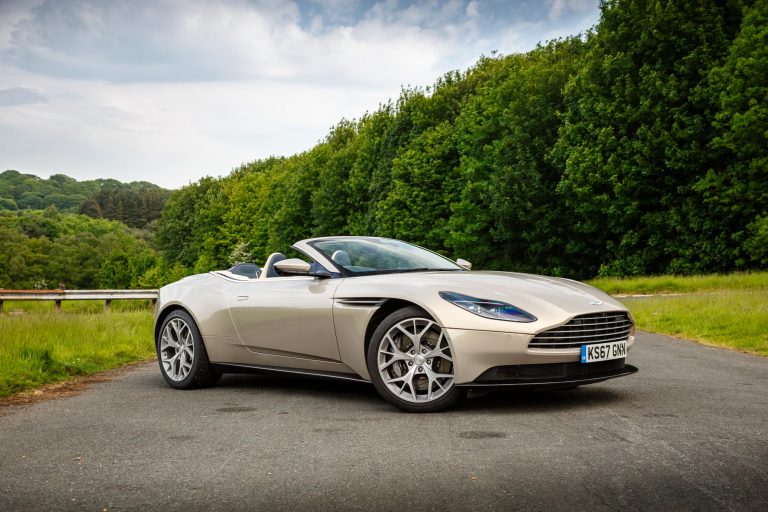 Volante is the appellation Aston Martin bestow upon its convertibles, and in my opinion, never has a car archetypically represent 'drophead grand tourer' so well. Aston essentially followed all the guidelines in the rulebook of designing a proper front-engine drop-top coupe and the DB11 Volante is just immaculately-proportioned.
While I think that the wing vent is a tad overdone, perhaps borderline garish, there's no denying that the DB11 Volante is an absolute stunner. For me, the front 3/4 angle and aft 3/4 angle are both equally spectacular. Either way, it's tricky to find an angle that fails to flatter the DB11.
To complement the magnificent side profile, our test Aston Martin DB11 Volante rides on a set of distinctive and ostentatious 20″ Y-spoke Forged Champagne Diamond Turned wheels. Finishing off the svelte, drop-dead gorgeous DB11 Volante we have here is a delightfully understated yet opulent £3,495 paint, 'Pearl Blonde'. It's further contrasted with Gloss Black splitters, diffusers and sills.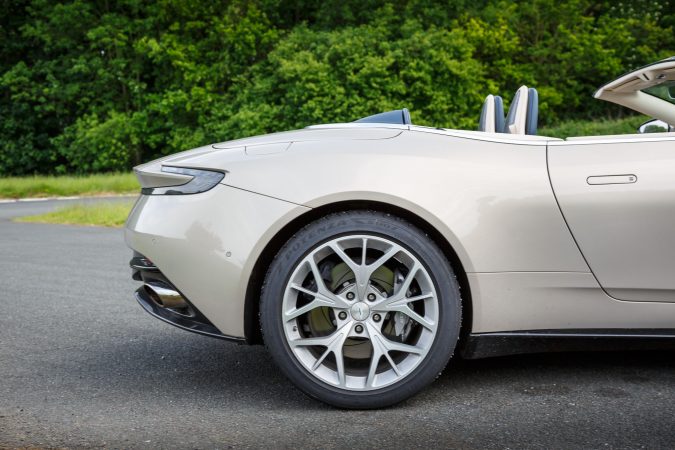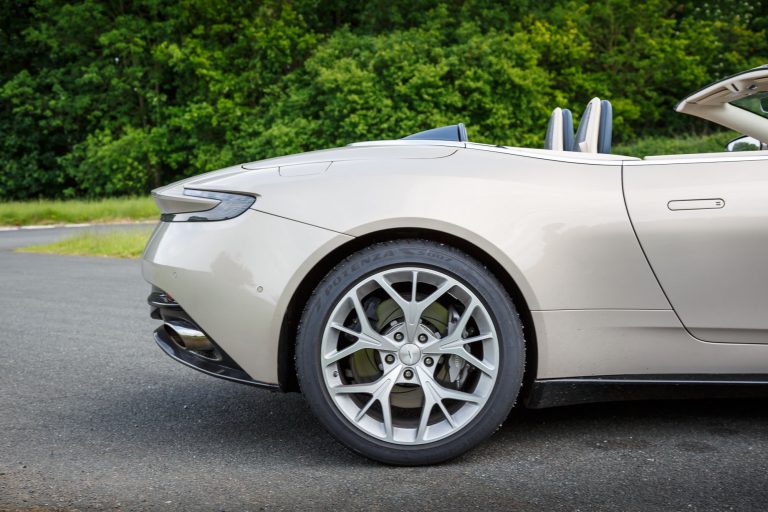 Unlatch the long, swooping bonnet however and you'll discover influences from a manufacturer that scarcely demonstrates restraint. A 4.0-litre AMG-sourced M177 twin-turbocharged crossplane V8. It's an engine frequently shared amongst the Mercedes-AMG siblings – S63, E63, C63, etc. It develops 503 horsepower and 675 Nm of torque.
To deliver that power the engine at the front links to a rear mid-mounted 8-speed ZF 8HP75 automatic transmission that spins the rear wheels via a limited-slip differential. Through this equal weight-distribution motivation effort, the DB11 Volante completes a 0-62mph time in 4.1 seconds, onto a top speed of 187 mph.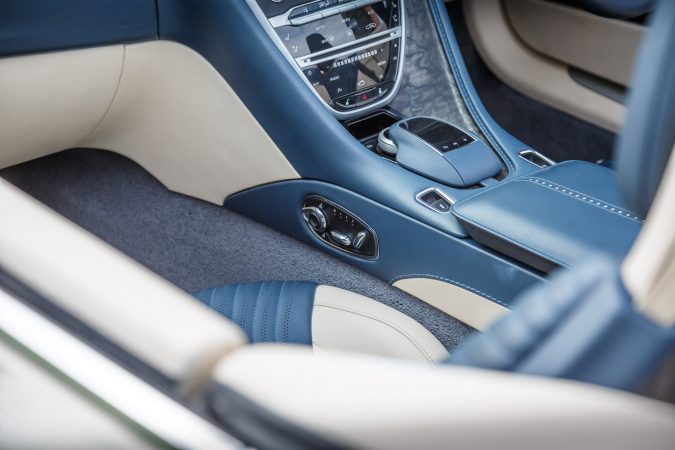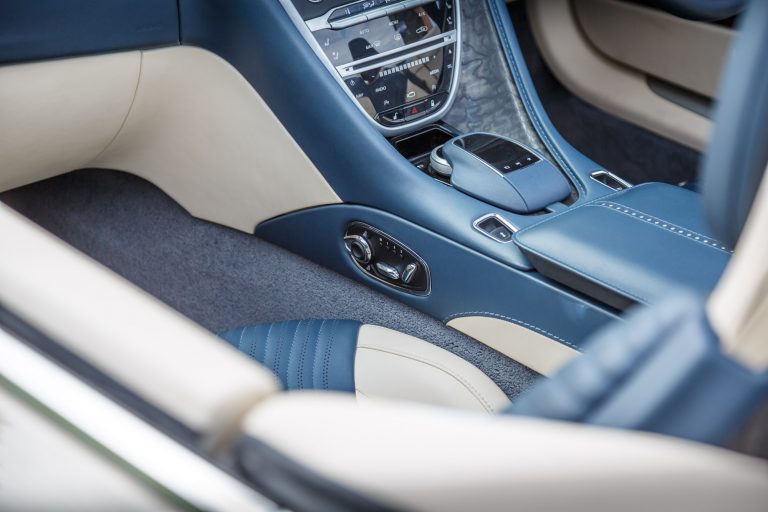 While some may yearn for the larger V12 instead, this AMG-derived V8 should return better fuel economy at 28.3 mpg combined while putting out 230 g/km of CO2.
How does it drive?
Truthfully, the Aston Martin DB11 Volante isn't a trailblazer. You won't be blitzing most comparably priced supercars anytime soon, but that'd be entirely missing the point of something like this. That said, it's no secret that the M177 is a marvel engine of its own, with its clever hot V twin-turbos layout.
Make no mistake, the DB11 Volante is plenty rapid. You won't be longing for pace, as the immediacy of the engine is very palpable. Somehow they've managed to maintain that 675 Nm of torque throughout the entire midrange, meaning that this luxury convertible has explosive torque delivery whenever you request it. The drivetrain truly shifts this 1.8 tonnes hunk along with urgency that's unbefitting of its size.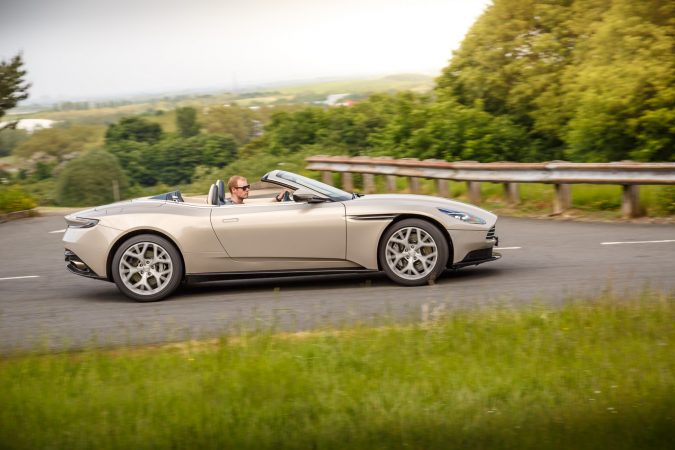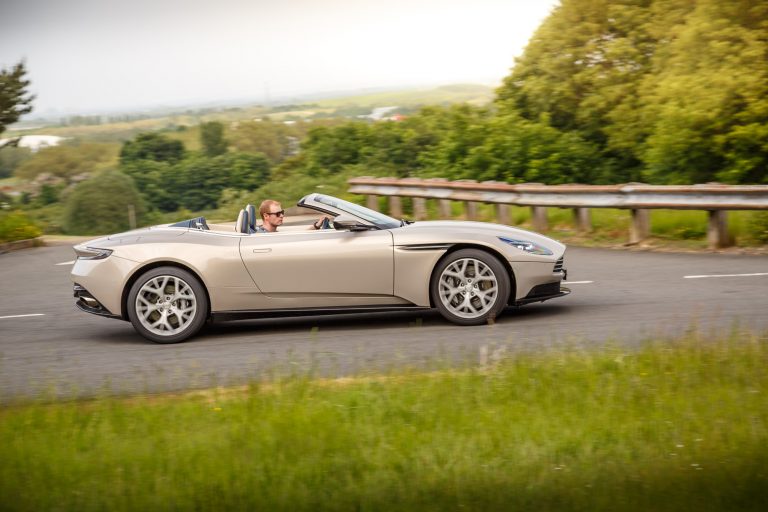 While its an engine essentially directly borrowed from Mercedes-AMG, Aston Martin has done their due diligence in revising the intake and exhaust to emulate acoustics appropriate of the Aston Martin badge. And boy does it ever, let the roof down to truly amplify the muscular exhaust note that the exhausts emanate. It slowly escalates from a bassy thrum towards an orchestral crescendo as you rev it out, unlike the typical brash, hoarse grunt from V8 AMGs.
The transmission shifts are predictably smooth and civilised while turning it to Sport+ does suitably imbue haste into the shifts. Because of the whole grand tourer aspect, it has a pretty long final drive, but the engine has plenty of firepower to make up for it.
While Aston Martin isn't exactly known for creating road cars that thrive around B-roads, they've recently shifted their emphasis on fostering the dynamics of their lineup. The effort certainly manifests in the Aston Martin DB11 Volante. It behaves exactly like how a proper GT car should, predictable and versatile.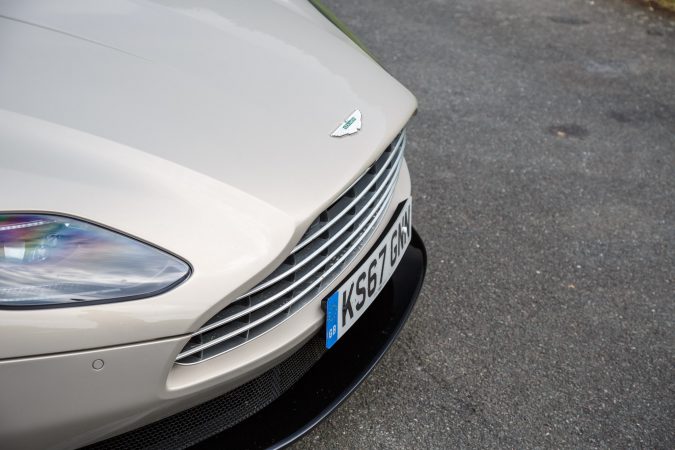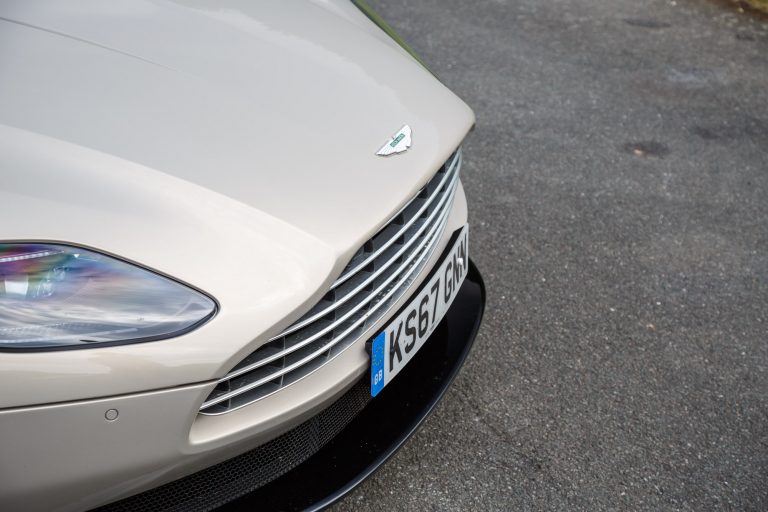 For a cabriolet the DB11 Volante is startlingly dignified around a corner. It's assertive, although not entirely rewarding and communicative. The steering is accurate and after spending some time with the car is has dependable and consistent brakes.
The drivetrain and suspension have their driving modes segregated. While spirited drivetrain modes just intensify the theatre, the variable suspension modes do noticeably modify the car's demeanour. Regardless, the chassis, with the roof down, is incredible in its cornering behaviour.
It can be surprisingly agile, with a responsive nose that controllably prowls into corners, maintaining remarkable decorum throughout the bend before catapulting you out of corners rapidly using its punchy engine. While traction isn't a particular concern, you'll definitely notice the traction control light blinking even without harsh throttle movements.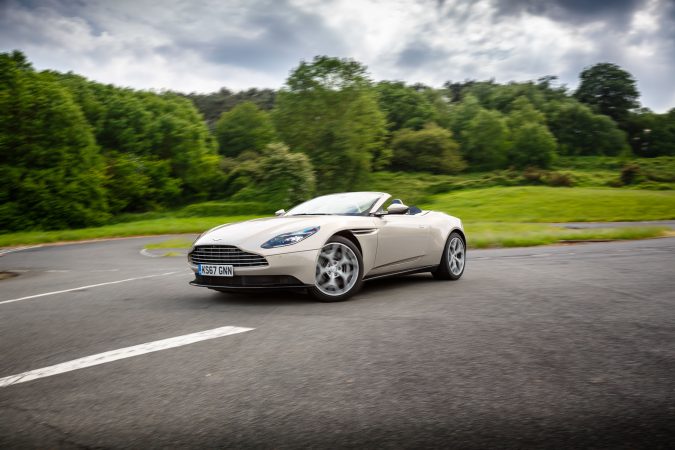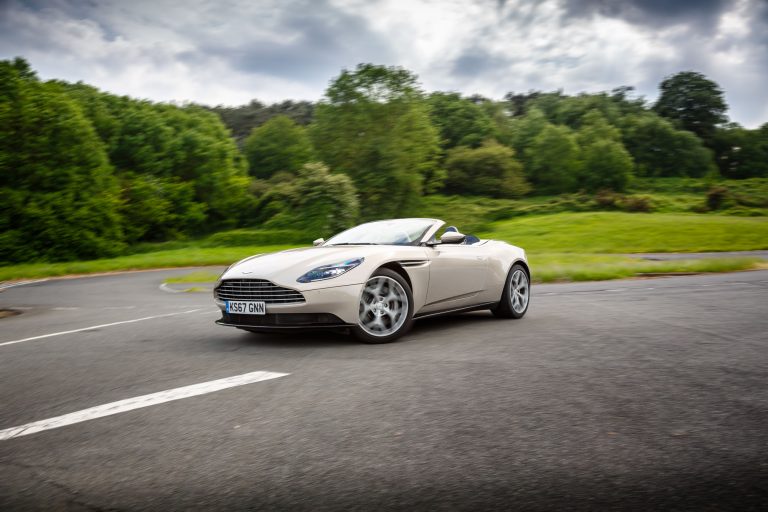 That said, while it feels rather inert without enthusiastic motivation from behind the wheel, the Aston Martin DB11 Volante always feels raring to go when you need it. The car is responsive towards even the smallest driver inputs, and there's always a sense of urgency within its taut chassis. It's a poised cruiser even around the twistiest B-roads, certainly distant from drop-tops of yesteryear.
When you begin to relax, the DB11 Volante also enjoys being driven leisurely. In Aston Martin's pursuit for cornering prowess, the graceful road manner isn't lost, as the car maintains a pleasing threshold of suppleness that makes it enjoyable around coarse roads. It absorbs most bumps agreeably while coping with undulations well. It also thrives on motorways, with a muted engine, massive torque reserve and minimal wind noise with the roof up.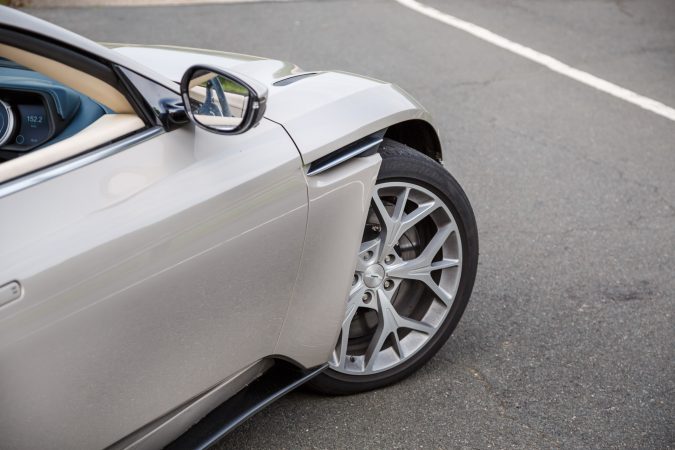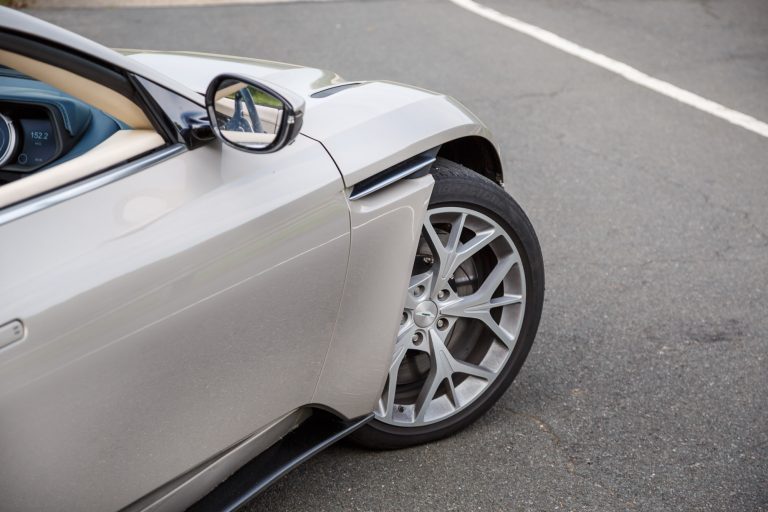 Such stupendous body control is praiseworthy. When the weather seems dubious, it takes 16 seconds to deploy the folding fabric roof with over 600 parts with a 6-cylinder hydraulic actuator. The entire action is smooth and continuous with no halts or hesitation, an issue that Aston Martin addressed from the DB9 Volante. With the roof up, it feels just like a hardtop without any hints of shudder or wind noise. That said, the rear window is more akin to a porthole than an actual window.
What is it like inside?
As you may expect, everything is wrapped in leather. The seats are upholstered in £3,495 'Blue Haze Metallic' AML special leather adorned with AM's 'brogue' embroidery, stitched with contrast 'Sandstorm Coarse' stitching. The Aston Martin emblem is embossed into the headrests, which is a £295 option. It's plenty plush for longer journeys while providing sufficient bolster support for thrill rides.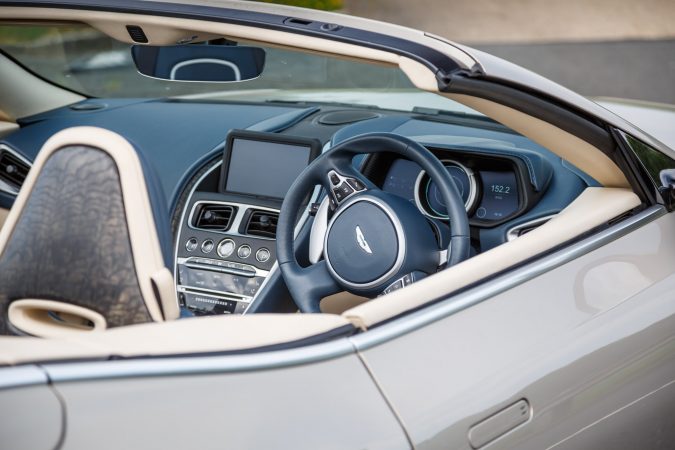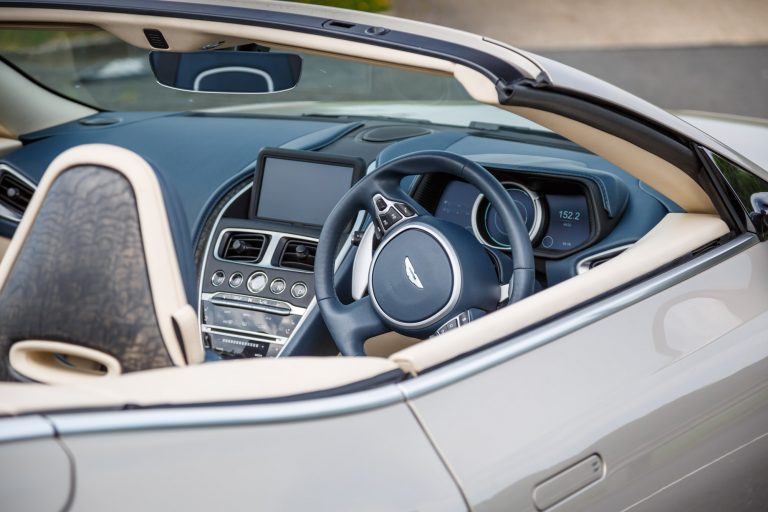 The material choices here are truly exquisite, and there's a lot embellishing to distinguish the Aston Martin DB11 Volante from others. The centre console is inserted with 'Tamo Ash' wood trim, and it perfectly complements the muted blue leather in our test DB11 Volante's cabin. Build quality is generally excellent as well.
At the centre, you'll find an 8″ infotainment system with satnav, a unit with familiar controls seemingly borrowed from Mercedes-Benz. Our loaner also comes with a £5,495 Bang & Olufsen BeoSound system which definitely sounds grand.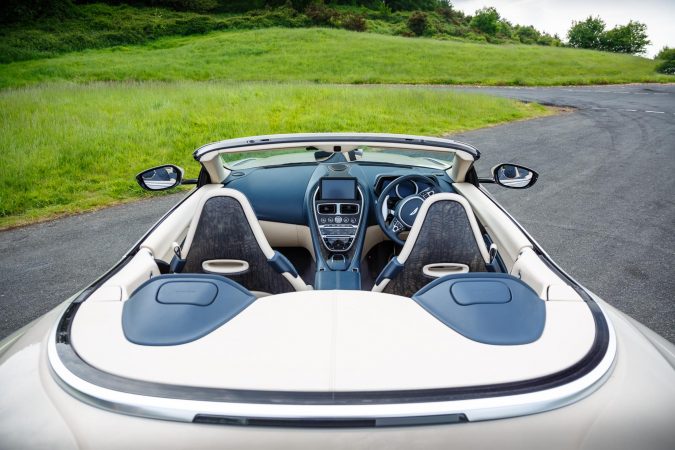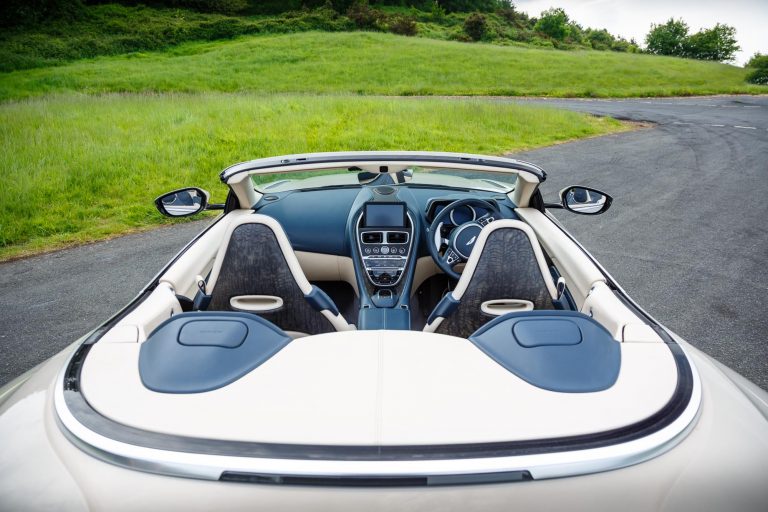 There are a few small item storages scattered around the cabin, but your best bet would be to throw everything behind the seats. They're less than stellar in the normal DB11, and the Volante further encroaches upon its already diminutive capacity by 23mm, so realistically only small children will fit back there.
The roof has a compartment of its own that can be retracted when the roof's up to make for more boot room. Nevertheless, you'll have enough room for some bags in there for a holiday getaway. It's also worth noting that there is a whole lot of customisation options available for the DB11 Volante, so you can spend a lot of time in the configurator.
The Experience
Driving the Aston Martin DB11 Volante is just a very likeable car. It drives well, has a great engine and is sufficiently luxurious for thousand mile trips. It's a grand tourer that you can't go wrong with, and that's ignoring the stunning looks and the gratifying moment whenever you see the car's reflection. While rolling on the road, it's even more of a showstopper.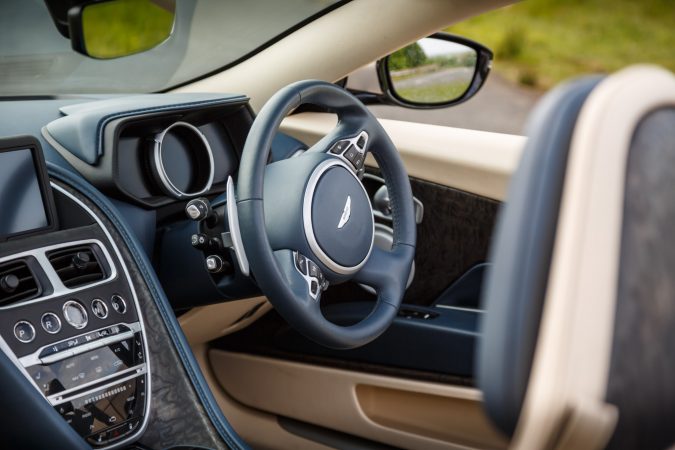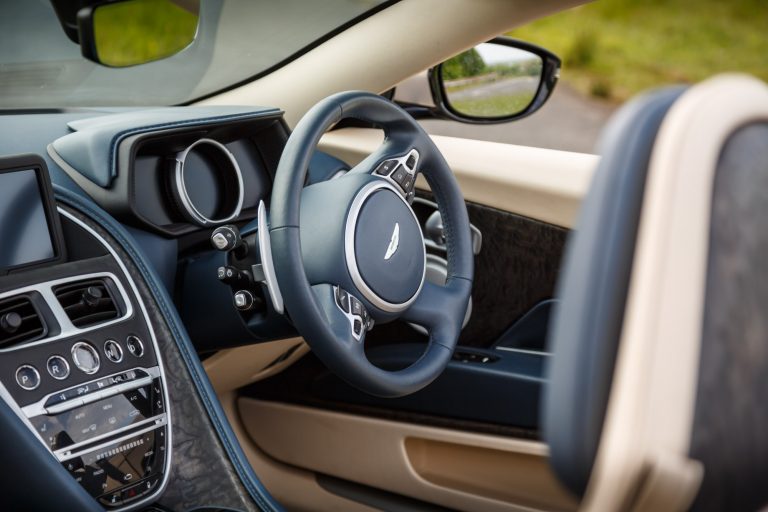 Verdict
So, is the Aston Martin DB11 Volante worth it? It's not that much more expensive than the normal DB11, although it's likely more inert around bends and on a straight line. However, for me, I do genuinely like the Volante, and would prefer it over the DB11, simply because I think it just looks breathtaking with the roof down and has a properly dramatic exhaust note to supplement the style.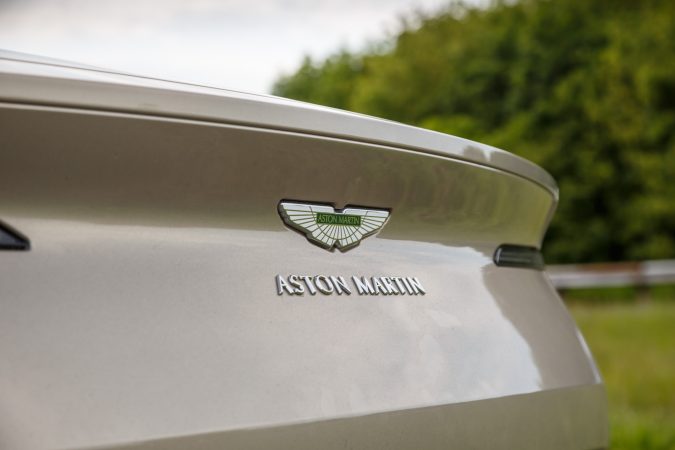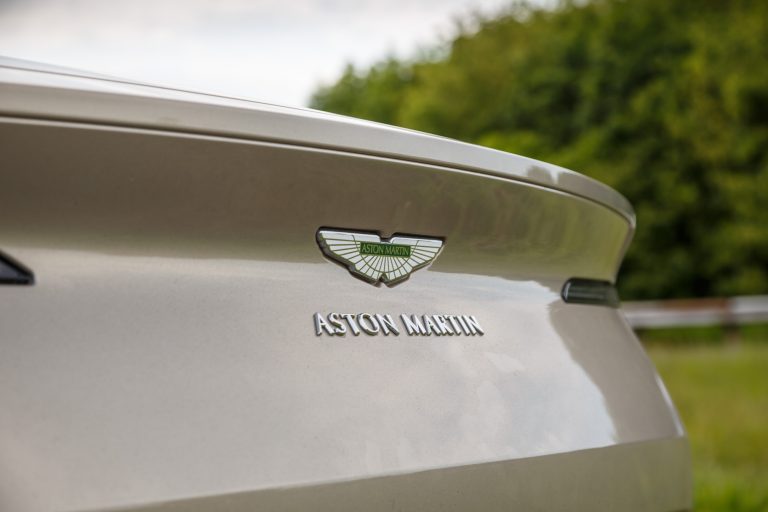 I reckon it's in a market of its own. Intrigued buyers would have already put down a deposit on it. Of course, some will prefer something like a Ferrari California T or a Porsche 911 Turbo S Cabriolet, as both will definitely outpace it with keener dynamics. But then, you won't be able to say: "Shall we take the Aston?"
2018 Aston Martin DB11 Volante Specs
Price: Startin at £159,900
Engine: 4.0-litre V8
Power: 503 hp
Torque: 675 Nm
Transmission: 8-speed automatic gearbox
0-62mph: 4.1 Seconds
Top speed: 187 mph
Weight: 1,870 kg
Economy combined: 28.3 mpg
CO2: 230 g/km