Topping off the range of BYD's sea-themed line-up, the Seal is the flagship of this new to the UK brand. Previously, I've driven and reviewed the BYD Seal's cheaper and smaller siblings; the compelling and competitive ATTO 3 and Dolphin. However, while BYD does have a knack for making excellent value-for-money EVs, do they really have what it takes to create a premium, luxurious, flagship super saloon that's worth looking into? Having had the chance to drive BYD's new flagship, I try to find that out…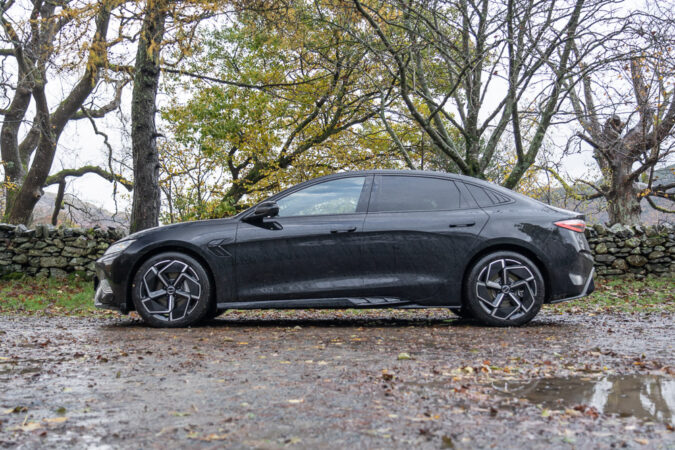 What Is The BYD Seal Excellence AWD About?
Well, from the get-go, the BYD Seal certainly looks the part. Design-wise, the Seal looks really sharp, with a muscular, sporting, and athletic silhouette, which has no trouble standing out from the crowd. Though, this is as much in part due to BYD being an unfamiliar, new, and young brand to most of us here in the UK and throughout the rest of Europe. Elsewhere around the Seal, there are a handful of unique aesthetic touches, too.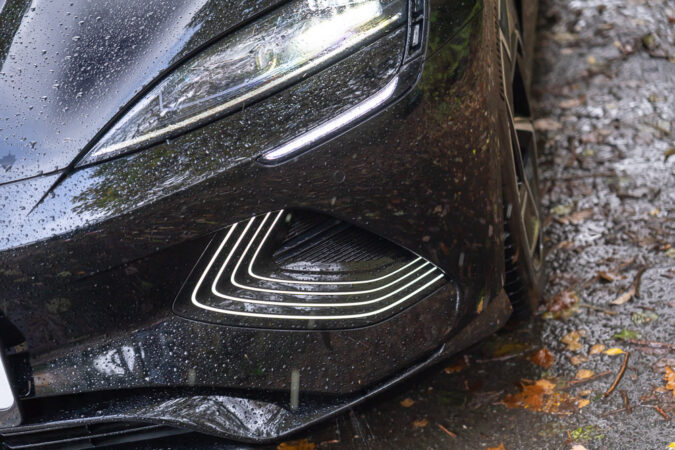 The door handles sit flush against the Seal's bodywork, and neatly tuck themselves until you're ready to open the doors. This minute detail does help to maximise the aerodynamics around the BYD Seal to make it as streamlined as possible to cut through the air with minimal effort. Given that the Seal's drag coefficient is a superbly low and ultra-slippery 0.219Cd, it does seem to be working, putting it within striking range of the Tesla Model 3.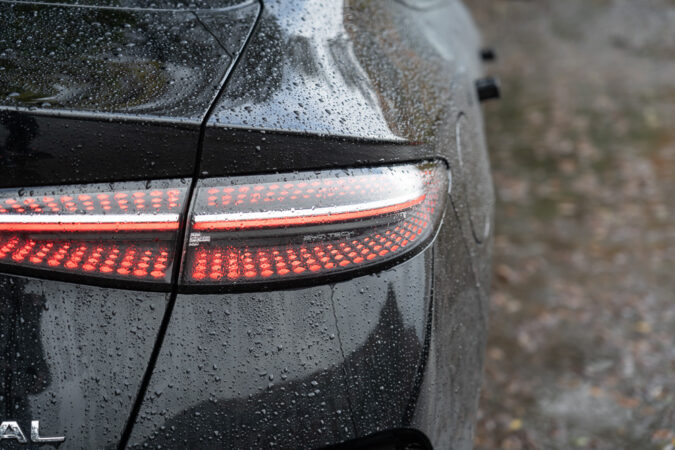 The lighting signature on the Seal, front and rear, looks rather neat. Along the front, I like how they've been able to integrate vertical lightbars running into the front bumper. Meanwhile, the slim rear lightbar on the rear echo BYD's 'water droplet' design philosophy. Equally as fetching and aerodynamic is the BYD Seal's 19-inch bi-colour aero-disc wheels, as well as the aggressive rear splitter, further maximising aero.
How Does It Drive?
While the BYD Seal isn't marketed strictly as a performance car, it definitely has enough spice under the bonnet to compete against some of the hottest sports saloons on the market. Bear in mind, there are two variants of the Seal… 1) the Design trim, which features a single, rear-mounted electric motor, which can readily output 312PS (or around 307bhp) and an equally respectable 360Nm of torque.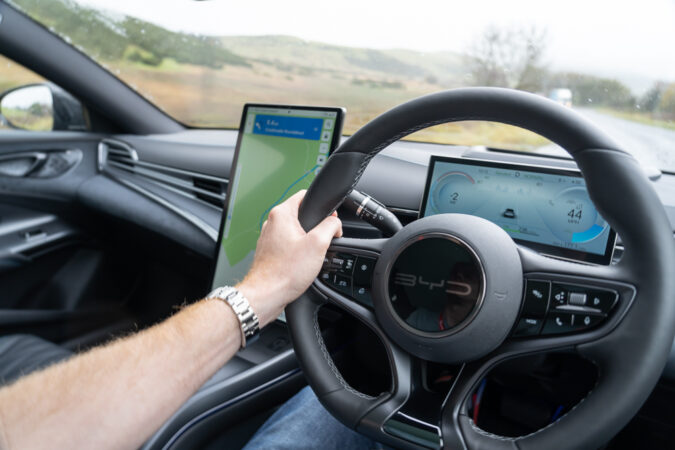 Or, you could otherwise opt for, 2) the Excellence trim that I have here, with its dual electric motors front and rear (therefore, it's all-wheel drive), with an insane 530PS (or about 523bhp), and a face-melting 670Nm of torque. Between them, while the speedy Design model could sprint from 0-62mph in a pretty good 5.9 seconds, the Excellence (and its AWD drivetrain) will manage that same 0-62mph jaunt in a whopping 3.8 seconds.
Still, give it a runway long enough, and both models will top out at the same 111mph. Even though I did this test under the most unideal conditions possible, while the heavens have opened and it's raining cats and dogs, thanks to the BYD Seal's launch control system working wonders to shove it along off the line, I did get pretty close to that figure; 3.9 seconds.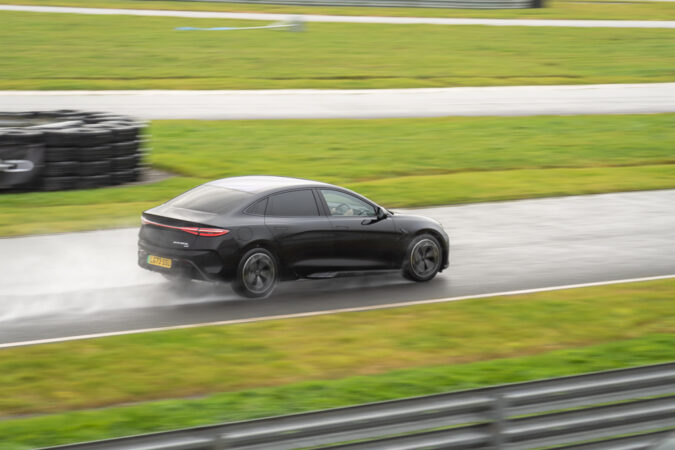 The BYD Seal doesn't just manage lightning-fast straight-line acceleration either, as it could handily keep up in the corners! During my test drive, I had the opportunity to drive the Seal around M-Sport's test track and proving grounds in Cumbria. While it doesn't have a lot of super-long straights where I'd be able to maximise the Seal's top speed all too often, it was a challenging enough set of tarmac that could make or break any car's handling and dynamics.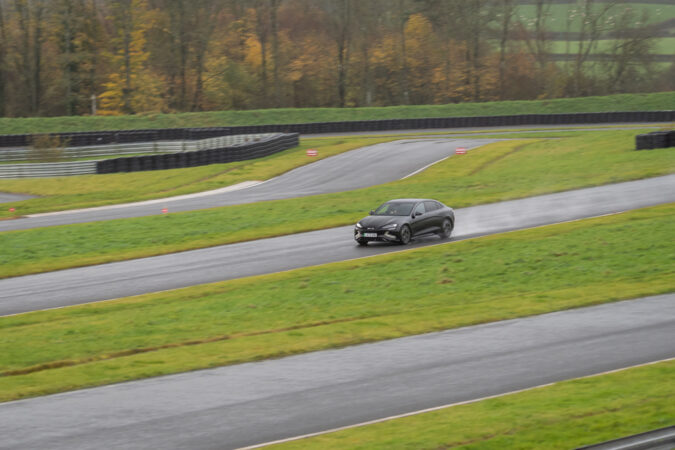 Yet, despite a relatively tough set of sharp corners, each lining up one after the other in pretty quick succession, the Seal fared rather well. Even in the dampest and most extremely wet weather, I've seen in a while, the BYD Seal had no issues putting all that electric horsepower down onto the asphalt. When trying to navigate the many bends and corners of M-Sport's testing grounds, the BYD Seal would easily power into and out of every corner with relative ease.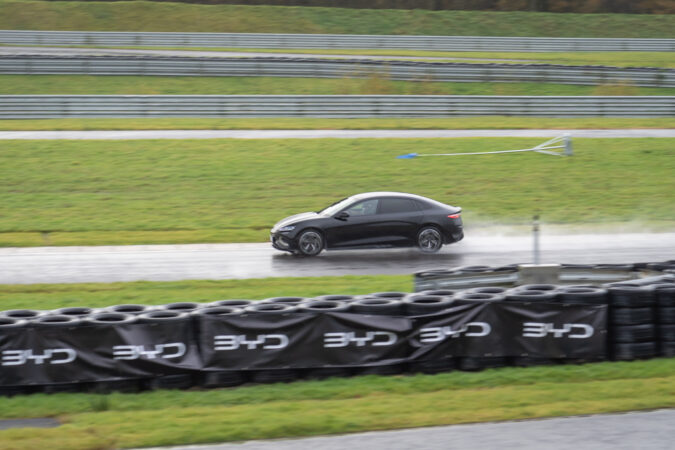 The BYD Seal, by virtue of being an EV, and having to lug around a bunch of dense batteries, the Seal is a certified heavyweight, that's for sure. This entire thing, in this Excellence trim (coupled with those twin electric motors), weighed just under 2.2 tonnes. Nonetheless, whoever engineered the Seal has clearly dabbled in some dark magic to help disguise that weight.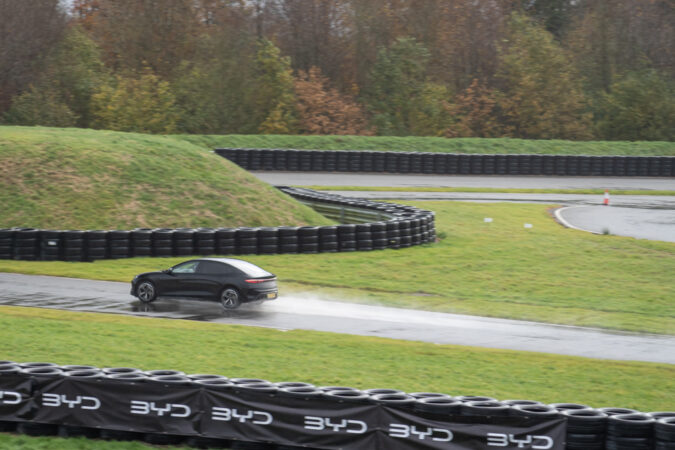 Throughout my track time with the BYD Seal, there was a good amount of feel and feedback through the steering wheel. All the while, the myriad of suspension and chassis tuning also ensured that this really heavy car was kept pretty poised, even when I chucked it hard into a corner. The brakes were set up quite well too, making sure that it brakes way better than putting on the anchors on a 2.2-tonne car ought to otherwise feel.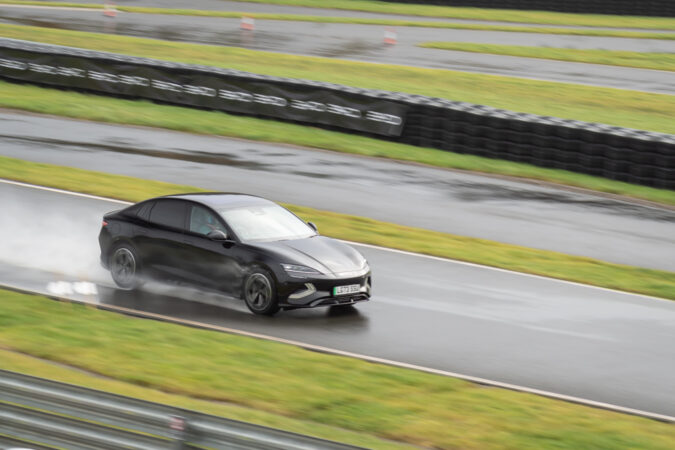 As a whole, at no point did the BYD Seal try to spit me off the track, or lose control, nor was I able to easily upset the handling. Additionally, it could impeccably manage the amount of traction and grip underneath the car, to an unexpected degree (in a good way). You can further fine-tune this to your liking through one of three drive modes – Sport, Normal and Eco. With each of these settings, you could also configure the respective steering feel, as well as the brake feel.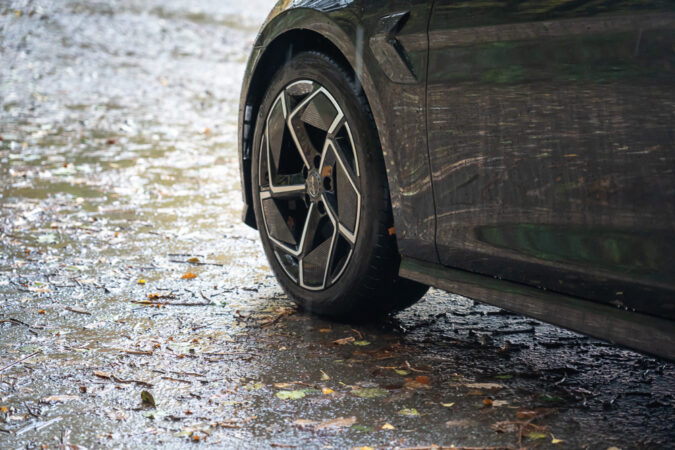 On the other hand, to further drive home the multi-faceted nature of the BYD Seal, it's even more at home when you're driving it normally, as I'd expect most people to do, out on the open road. Just like every other EV, when you're on the move, the Seal is stunningly quiet and serene. All you really need to do is just click the drive selector into Comfort mode, and it's enjoyable and effortless to get going and drive.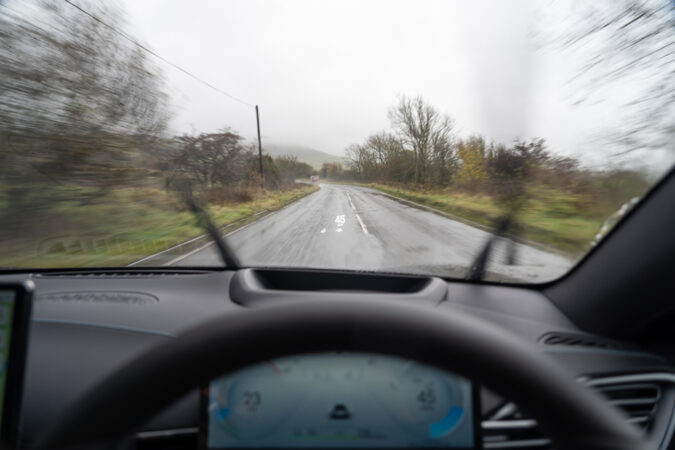 What Is It Like Inside?
While the BYD Seal may have a sporting silhouette, at its core, it's still an uber-practical four-door saloon. As such, BYD has done a really great job with maximising its use of space, once you step inside. Despite its sloping roofline, tapering at the rear, there's still an abundance of legroom and headroom for folks in the rear. Even when the front seats have been pushed as far back as is necessary to fit my taller frame, I'd have no complaints about sitting in the back, even on longer journeys.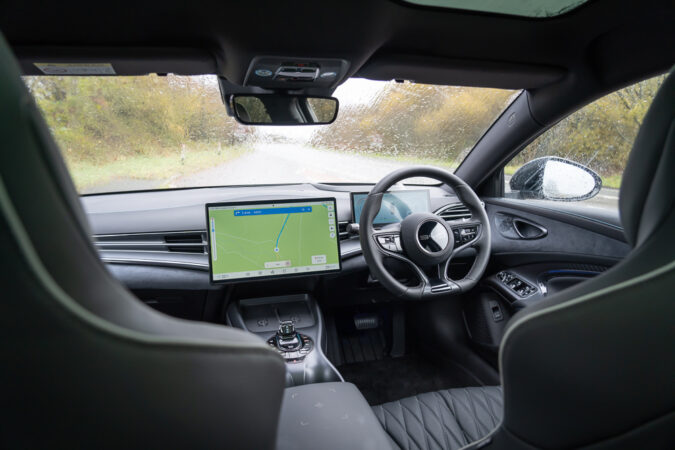 The cabin is made even more spacious and airy, thanks to the full panoramic glass roof, opening up the Seal's interior that much more. Better still, when you need to stow something away, both the rear and front boots are pretty roomy. Yes, it does have a front boot – a handy upside of being an engine-less EV. Although, the front boot on the Seal is mostly constrained to smaller items, such as storing the charging cables. At the front, the boot is a fraction of the size of the rear boot; 53L vs 400L.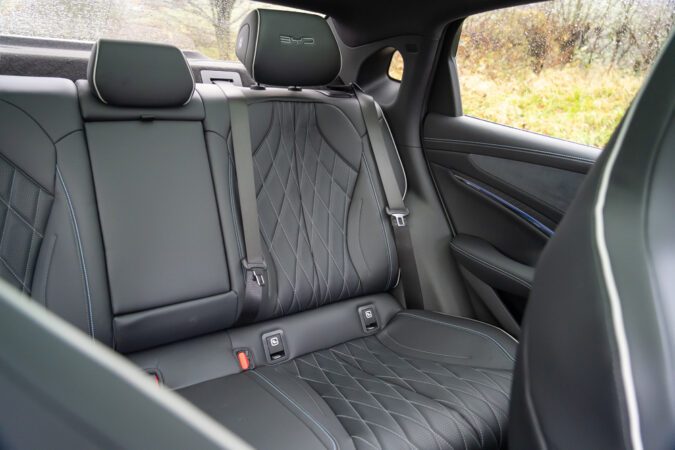 Technology is another notable highlight of the recent BYDs that I've driven recently, like the ATTO 3 and the Dolphin. First off, the Seal carries over BYD's unique rotating central infotainment display. Therefore, you can rotate that gigantic 15.65-inch screen (it's larger than some laptop displays!). You can thus have it oriented in landscape or portrait; handy for different scenarios. For example, you could keep it in portrait mode to see more of what's ahead when you're using your satnav… Or, rotating it back to landscape to tuck it away while you're just listening to music.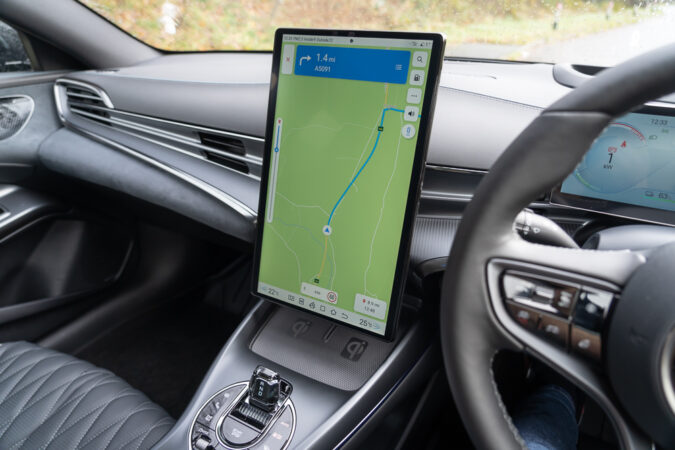 Similarly, just as BYD has upsized the Seal's infotainment system display compared to its smaller siblings, the ATTO 3 and Dolphin, the Seal now features a generous and large 10.25-inch digital instrument cluster. This is a welcomed bonus, given that BYD's user interface can be a bit more cluttered than some of its rivals. Though, once you get used to it, it's easy enough to read it at a glance. Having a larger screen does help, too.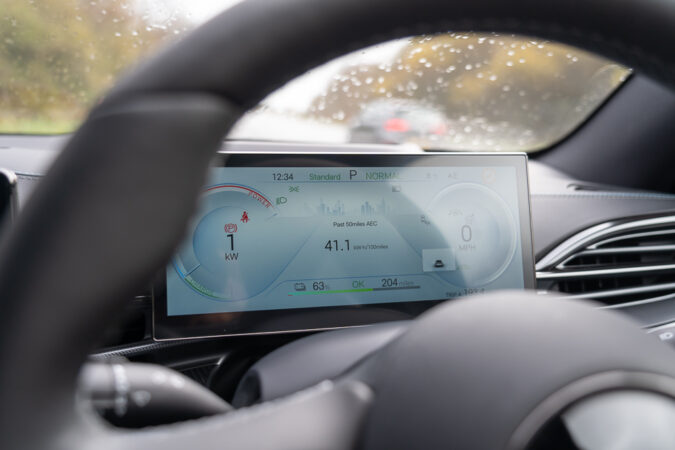 But, besides the more practical side of things, the BYD Seal continues to excel in general fit and finish, as well as the general build quality and poshness throughout the interior. It's exceptional, with a plethora of nice materials everywhere you touch and see in the cabin. There's a nice mixture of soft suede and squishy leather, with elegant quilted leather switching, and a crystal gear lever.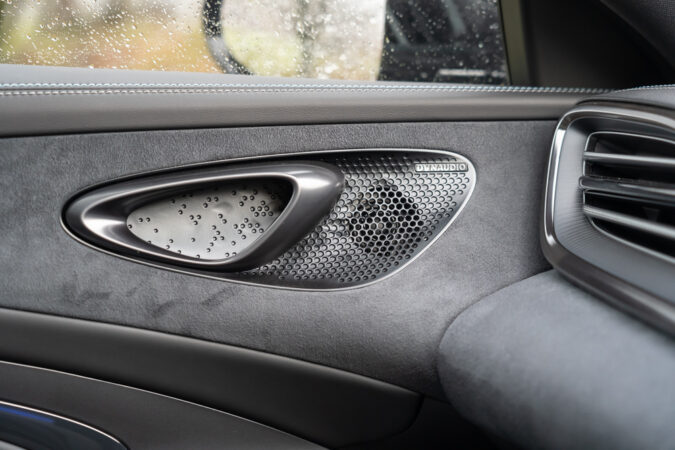 The seats are also really comfortable, with extremely thick padding and robust bolstering. Another point of commendation that I'd award the BYD Seal with is its 12-speaker Dynaudio surround-sound audio system. They sound pretty awesome, with a great amount of immersion and sound stage for one of the best in-car listening experiences that you can get for the money. And, for added convenience, there's not just one, but two wireless charging pads for your phone. Alternatively, there are 4x USB ports for charging them the old-school way.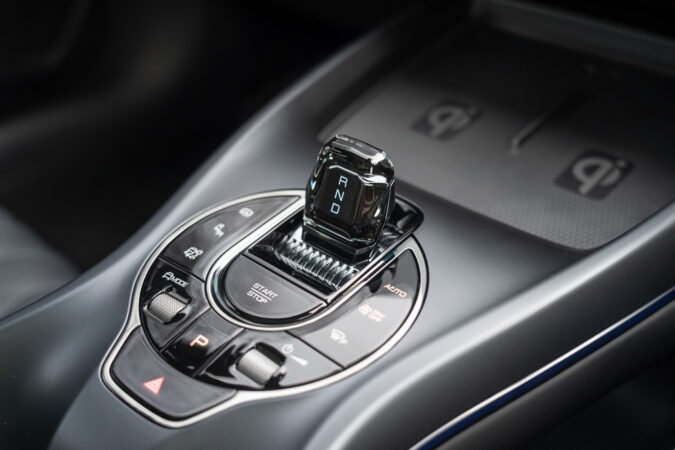 The Experience
As with most modern cars, the BYD Seal comes fitted with a large number of ADAS systems. I do like that BYD includes all of these as standard fitment, rather than pay-walling them behind optional extras. In so doing, regardless of which trim you get – Design or Excellence – you'll still get access to clever systems like a 360-degree camera, blind-spot detection, as well as front and rear parking radars.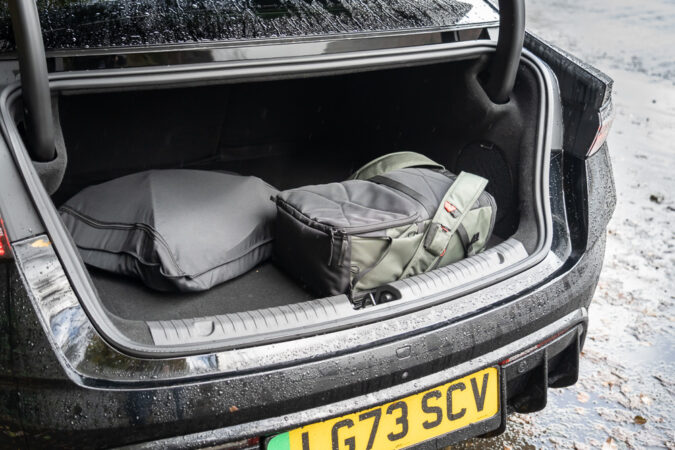 On top of that, the BYD Seal has an adaptive cruise control system, predictive collision warning, forward collision warning, automated emergency braking, rear collision warning, front and rear cross-traffic alerts, as well as front and rear cross-traffic braking. Moreover, there's the lane departure warning, lane-keep assist, and a traffic sign recognition system… Just to name a few of the more noteworthy ones.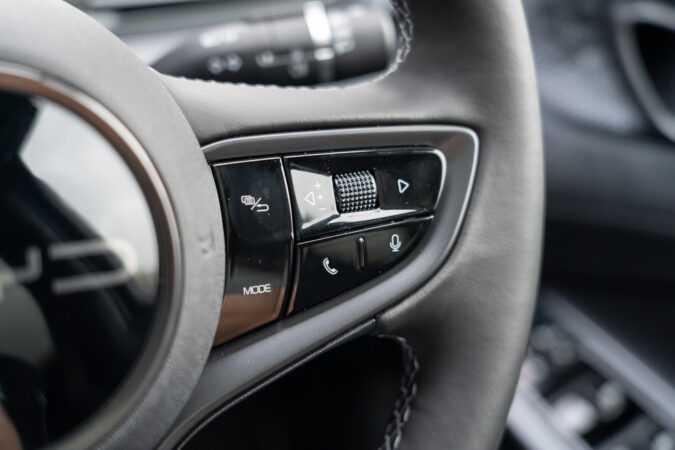 Safety appears to be something that BYD takes great pride in. The new Seal, just like other BYD-made cars, comes fitted with BYD's own LFP battery design, which it calls 'Blade'. It's a rather unique direction from where the rest of the market is going. Whether this will become the new norm, it remains to be seen, and I'm not entirely sure, but BYD's Blade batteries have proven themselves countless times before.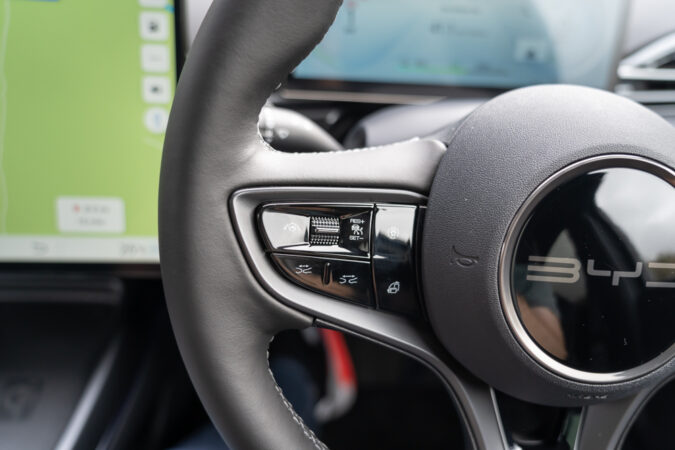 They're not only more energy-dense than a lot of other EV batteries out there… In other words, it can pack more battery capacity in a comparatively smaller form factor. On top of that, these Blade batteries are a lot more rigid and safer in the event of an accident. BYD has even crash-tested their Blade batteries being hit from both sides of the car, and yet, these batteries are still able to continue running reliably.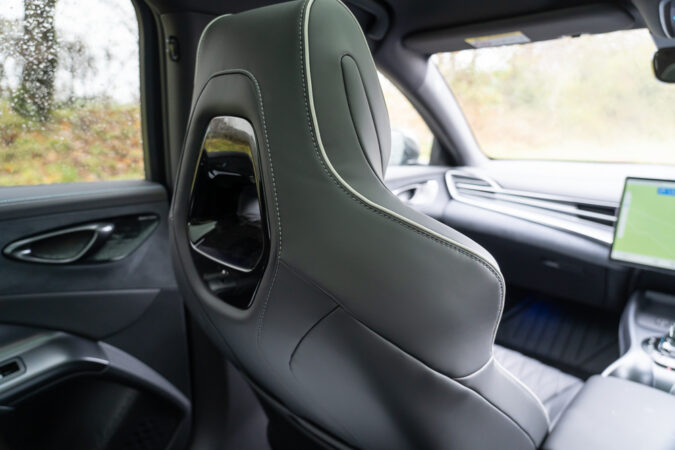 It's not just the batteries where BYD has shown some ground-breaking innovations in, as they've done a lot of work in re-engineering the powertrain, too. The Seal, as with the other BYD cars that I've driven thus far, uses what BYD calls an '8-in-1' electric powertrain. Unlike conventional EV powertrains, BYD's design sees most of the key powertrain-related components, such as the drive motor, transmission, and its numerous control modules, be packaged into a single unit. Thus, it's able to save a lot of precious space, in addition to further maximising energy efficiency.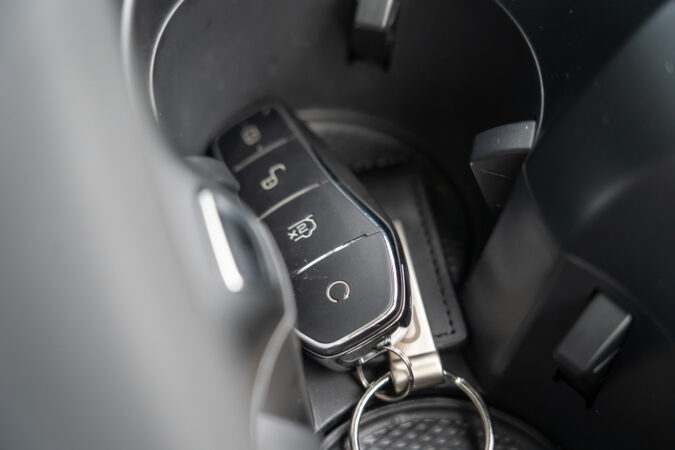 Speaking of, the Seal comes with a rather large 82.5kWh battery pack. BYD claims a total electric range of approximately 323 miles. Under realistic driving scenarios and conditions, 300+ is no doubt achievable. For folks who need a reliable and long-lasting EV to drive in the winter, the included heat pump in the Seal is a much-welcomed addition. Aside from that, charging that giant battery isn't a chore, either. When plugged into a 150kW rapid-charger, a typical 30% to 80% or so charge could be topped up in around 26 minutes.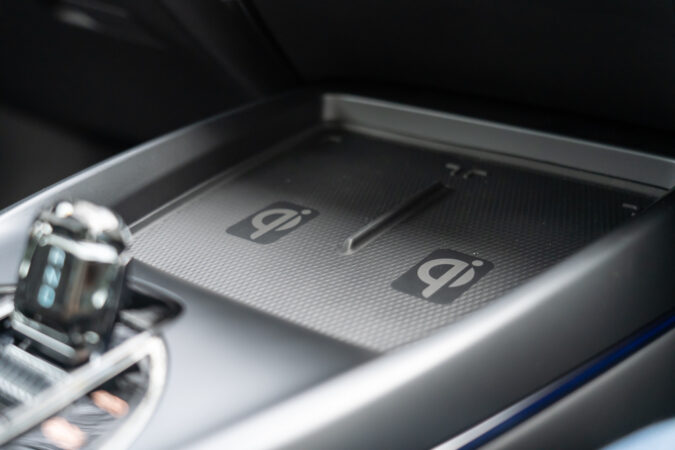 BYD Seal Excellence AWD Cost
As for pricing, the Design trim starts at £45,695, while the top-spec Excellence (AWD) trim that I have here starts at about £48,695. Honestly, this is a lot of car that you're getting for the money. Having had a bit of seat time in the Design trim as well, I will say that the entry-level Seal is more than enough for most folks. If you don't need the extra horsepower that the Excellence trim brings to the table, nor do you think you'll ever need to utilise its all-wheel drive functionality, you're not losing much by opting for the Design trim.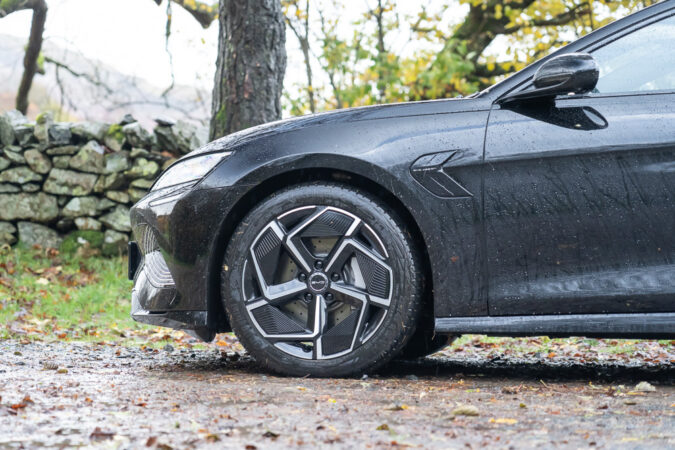 Yes, this cheaper trim level does feature less raw power. However, with its rear-wheel drive architecture, I could have just as much fun with it behind the wheel. And, the Design trim is more than sufficiently quick enough for most regular commutes and day-to-day driving, where all that extra horsepower in the higher-end Excellence AWD trim isn't really necessary. If anything, it's pretty overkill.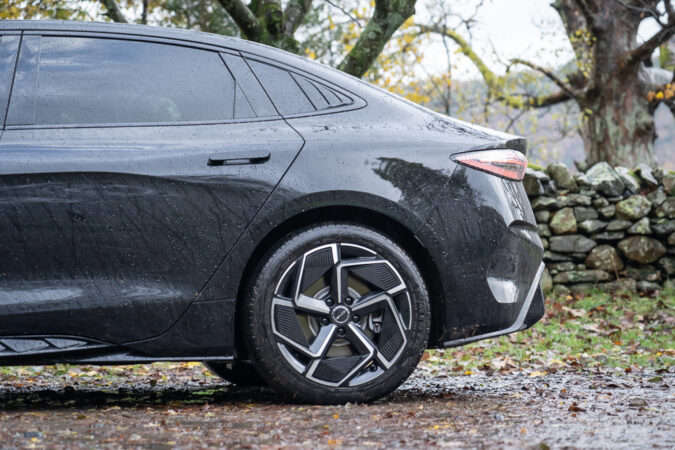 Additionally, it's not like BYD's skimped on features for either the Design or Excellence trim. Both versions come feature-packed by default, from the factory. In fact, the only available optional extras being offered are varying paint options. It's also worth bearing in mind that the Excellence trim has a heads-up display, whereas the Design trim doesn't. But, that's pretty much it for all the accessory and equipment-related differences between them.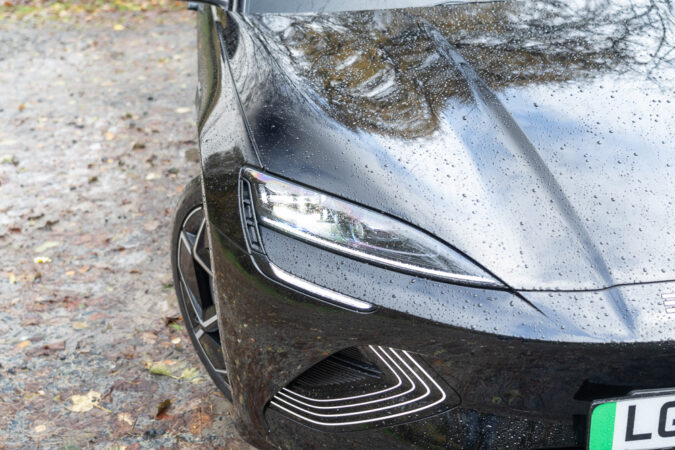 Verdict
When it comes down to what BYD's done with the Seal, and what it offers in return to prospective buyers and drivers, there's a lot to like about it. It drives super well, with a level of intuitiveness and ease of use that makes the art of driving far less of a chore. Even better, if you're ever thinking about taking it to a race track for a cheeky little track day it'll stack up pretty decently, even compared to more performant focused sports cars.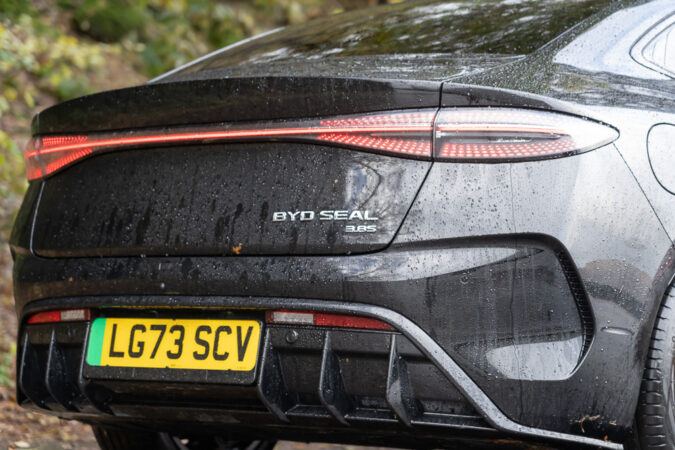 Even when you're just sitting inside the Seal, and for those things you need to consider for long-term daily driving and ownership, there's a surprising level of refinement. At the end of the day, the Seal is a very well-thought-out EV that'll appeal to most folks out there looking for new-age electric cars in the £40,000-£50,000 price bracket. Really, the only variable that you'll have to take into account is whether or not it's worthwhile parking your cash for a new car from a brand that's yet to prove itself here in the UK and Europe, like BYD, or opt for its more established rivals.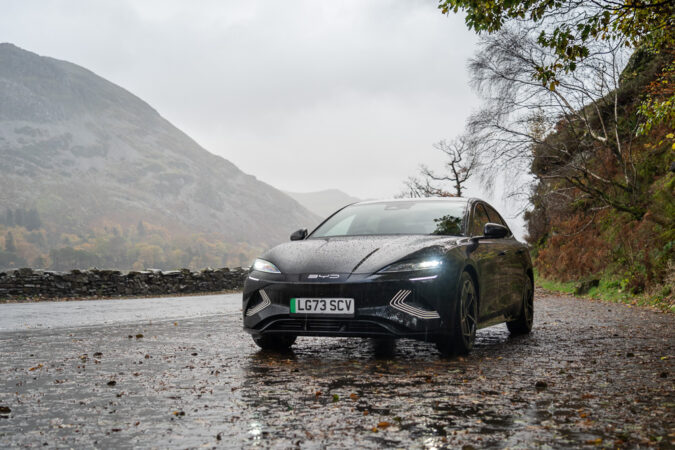 Specification
BYD Seal Excellence AWD Specs

Price: £48,695
Engine: Dual-motor EV, AWD
Power: 523bhp
Torque: 670Nm
0-62mph: 3.8 seconds
Top speed: 111mph
Weight: 2,185kg
Economy combined: 323 miles (WLTP)
CO2: 0g/km