Driven: 2018 Suzuki Baleno SZ5
The Suzuki Baleno SZ5 is the Japanese manufacturer's entry in the supermini market. I attempt to see if this little guy presents itself as a viable alternative.
What is the 2018 Suzuki Baleno SZ5 All About?
If you're looking for a supermini in the UK, luckily, your choice isn't too limited. There's a range of options out there, including the Ford Fiesta, Peugeot 208, Volkswagen Polo, and SEAT Ibiza, to name a few. What if you're looking for something more unorthodox though?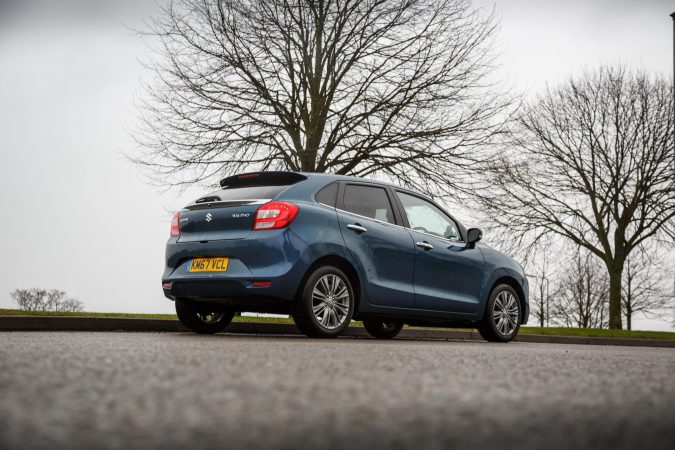 The contemporary Suzuki Baleno we have here is a supermini that was introduced only three years ago. It was sold first in India, then Japan, before finally being brought over to Europe two years ago. On the surface, it offers a simple 5-seater practical hatchback, but it'll take more than that to generate interest.
Suzuki is one of those brands that designs and manufactures vehicles with a unique look, such as the charming Swift. The Baleno sports a more conventional design, some would say more European. Perhaps it's Suzuki's attempt to become more upmarket; with a chrome accent grille, modern headlamps and a sleek body line.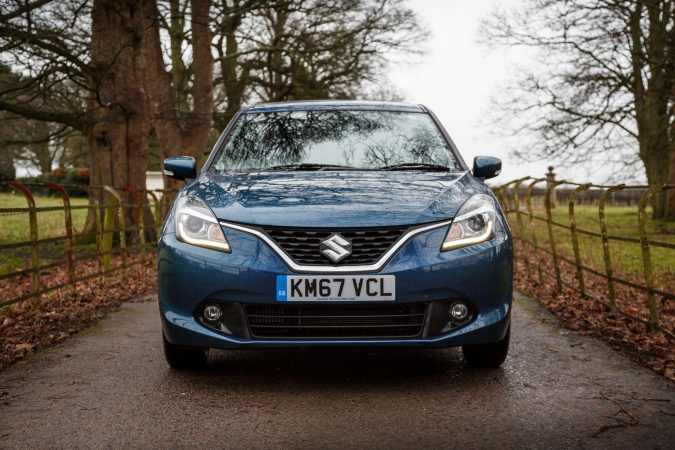 Put simply, it looks like a rounder Kia. Our model was finished in gorgeous, reflection-friendly 'Ray Blue' paint. Sitting on 16″ alloy wheels, it looks very stylish.
Suzuki tend to choose enticing names for their engines, and this Baleno was no exception. It features a 1.0-litre 'Boosterjet' 3-cylinder turbocharged inline-3 engine. It generates 110 bhp and emits 170 Nm of torque, which compares well to similar offerings.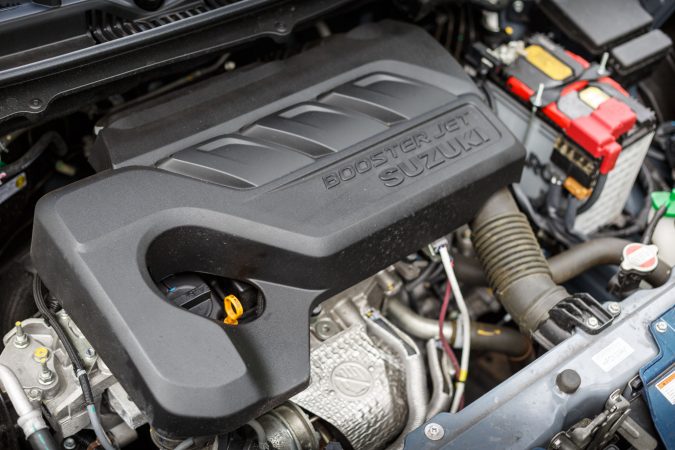 Matched to that little engine is a 5-speed manual transmission that powers the front wheels, propelling the Suzuki Baleno SZ5 from 0-62 mph in 11 seconds, with a top speed of 118 mph. Not scintillating, but perfect for a typical supermini.
Aside from the 5-speed manual, a 6-speed automatic version is also available. The Suzuki Baleno SZ5 is the top-of-the-range model, with the SZ3 being the budget variant, and the SZ-T being the intermediary. The 'Dualjet SHVS' engine is also available, which is a 1.2-litre mild hybrid variant of the SZ5.
What is it Like to Drive?
With the aid of a small turbocharger, manufacturers nowadays can add some zest into even the most mundane economy-minded engine layout. The 1.0 'Boosterjet' we have here is a fine example. It acts like a diesel engine, with the bulk of its punch coming fast and early, getting the Baleno off the line swiftly.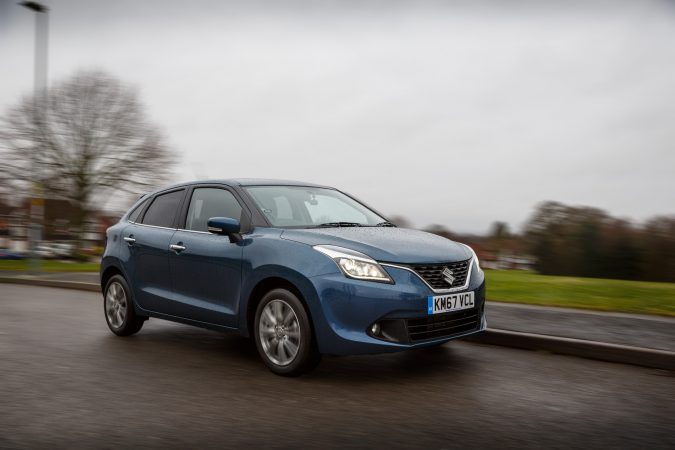 It is not a fast car, but it is perky enough for most buyers. It moves rapidly, and it wouldn't struggle on A-roads. The sweet spot is within the mid-range, and you quickly learn to utilise the best of this engine.
That said, the engine is rougher on idle, with mild but somewhat palpable vibrations. This is to be expected in an inline-3, as it can only be mitigated, and not solved completely. Once you get going, it thrums along nicely, and smooths out.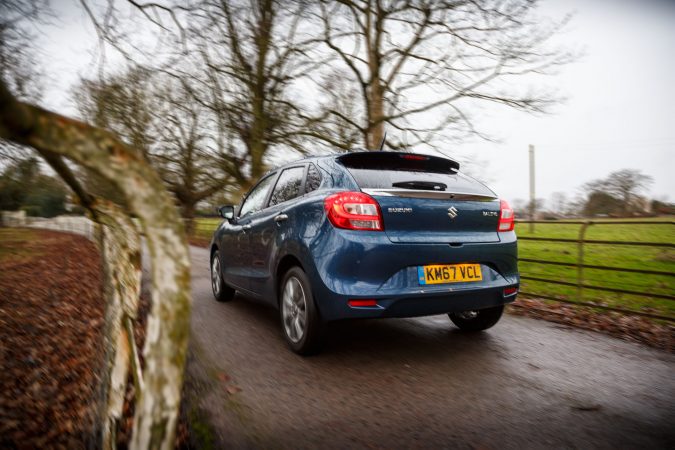 The 5-speed manual transmission is rather jaunty: the shifts are light and easy. It's more suited to city driving, but may be off-putting for the occasional B-road storming.
In terms of handling, there's one thing that plays in the Suzuki Baleno's favour, and that's the fact that it weighs less than a tonne. It's increasingly rare to see production models that make it to the sub-tonne mark nowadays, but the Baleno is one of them.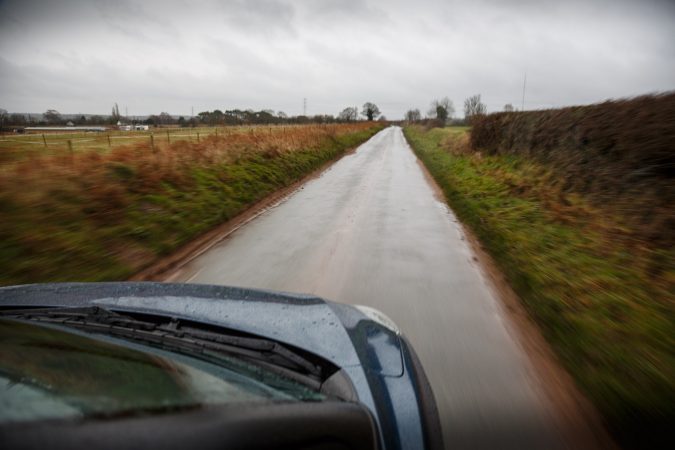 While it may not be the most gracious vehicle when cornering, it is a pretty sprightly supermini. It turns in well, and it changes direction quickly with plenty of grip to back it up. It's not as eager or gung-ho as the Suzuki Swift or Ford Fiesta, but it's not exactly inert. The steering isn't overly communicative, but it's light and easy to shift. Suzuki has struck a good balance on the braking force as well.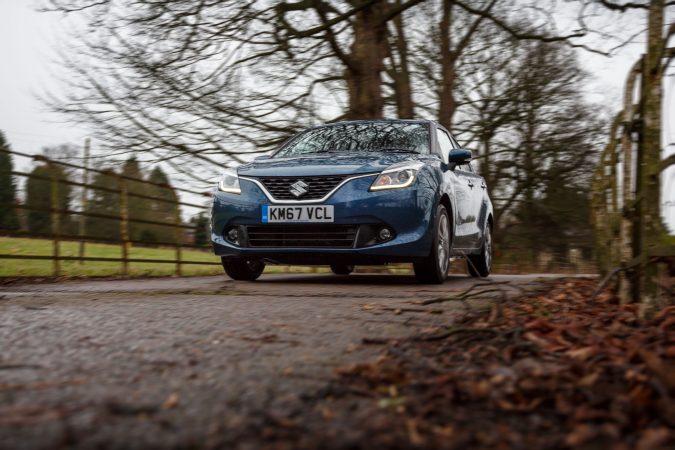 That said, while the suspension of the Baleno leans toward the soft side, it still struggles with precarious roads. It is a more unrefined drive than comparable superminis, but I suspect part of it has to do with its lack of weight.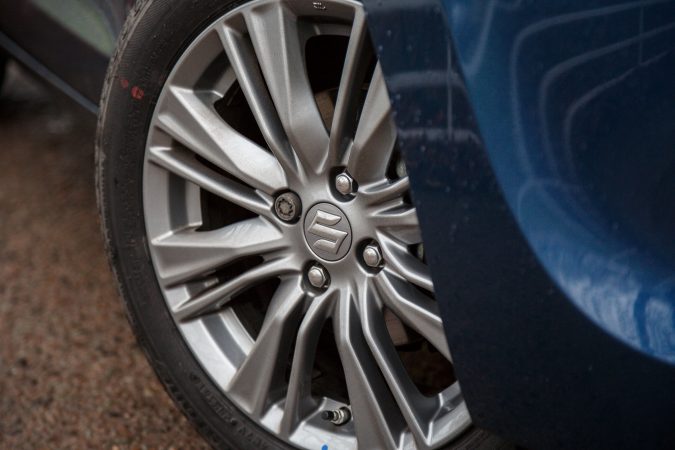 Perhaps due to that, the Suzuki Baleno SZ5 is rather rough at motorway speeds. The gear ratio is tightly packed, encouraging spirited driving, but unsuited to the odd highway cruising. You can hear the wind rustling, and the engine begins to drone. Regardless, highway refinement isn't exactly a supermini's forte.
What is it Like Inside?
The interior of the Suzuki Baleno SZ5 is very spacious, considering it is a light supermini. There is plenty of legroom and adequate headroom.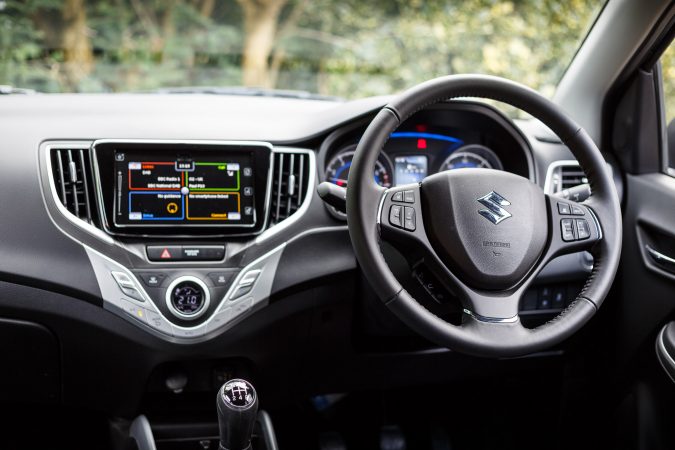 If you're expecting premium material though, you may be disappointed. The seats are upholstered in fabric, with no leather option available. However, the front seats are rather firm, providing good support, with a sporty flourish.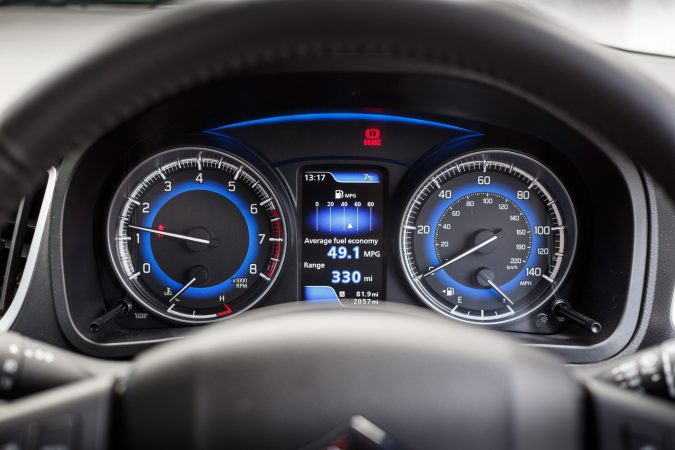 The steering wheel is wrapped in leather, but there is a shortage of soft-touch materials, with a reliance on harsher plastics. The door cards do feel hollow too, which contributes to a noisier cabin. Negotiating perilous bumps, you may feel a bit of trim rattle.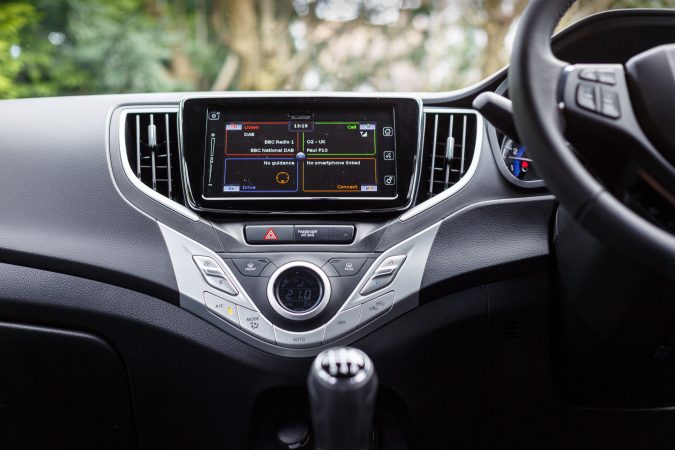 That said, with the SZ5 being the top model in the Suzuki Baleno range, it does offer a lot of standard equipment. It includes a modest but very intuitive and easy to use 4.2″ touchscreen infotainment system, automatic climate control, adaptive cruise control, keyless entry, six airbags, and radar brake Support, which means brake assist to avoid a collision.
The boot capacity is also generous at 320 litres with the seats up, which is ahead of the Fiesta.
The Experience
Overall, the Suzuki Baleno SZ5 made a good impression. I understand the core concept behind this car, and that is to offer a sensible supermini that will appeal to everyone in the market. It looks inoffensive, it drives well, and it has a spacious interior. The engine was also very efficient, burning little fuel even with me pushing it hard.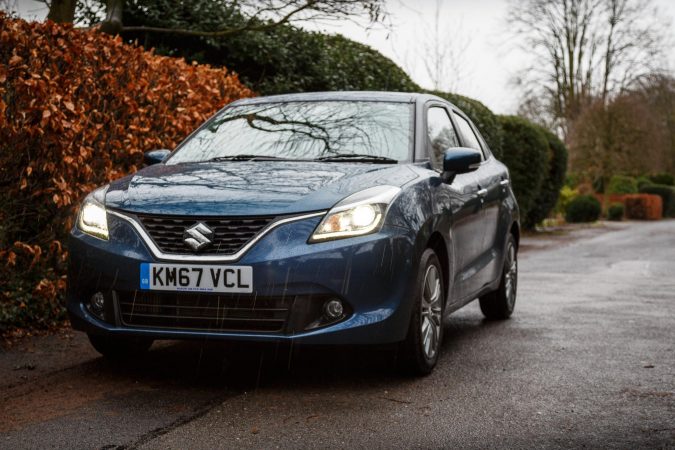 It doesn't quite offer the fit and finish from the big players, but it is strangely charming in its endeavor. What it lacks in interior quality, it makes up for in accoutrements offered, which appeals to most buyers in this market.
Verdict
Yes, the Suzuki Baleno SZ5 isn't the be all and end all of superminis. It won't steal the Ford Fiesta's crown just yet, but it has its own merits. It offers plenty of space, a bubbly yet economical turbocharged inline-3 engine and many accessories. For £15,999, it is a solid choice.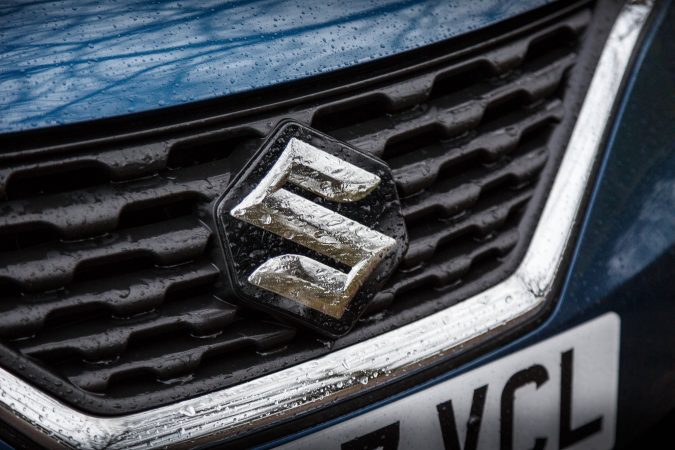 That said, it loses out on the fun factor. For that, you'd have to consider a Fiesta, Ibiza or even the Suzuki Swift. If you want something similarly quirky and spacious, the Skoda Fabia may interest you too. But if you find the Suzuki magic alluring, you can't go wrong with the Baleno.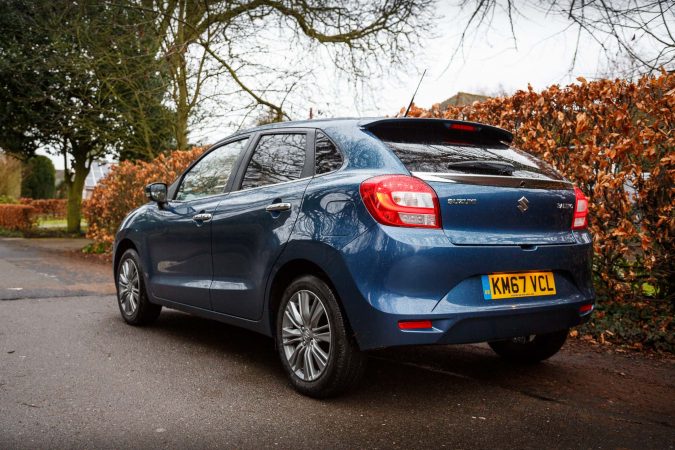 2018 Suzuki Baleno SZ5 Specs
Price: £15,999
Engine: 1.0-litre 'Boosterjet' turbocharged inline-3
Power: 110 bhp
Torque: 170 Nm
Transmission:  5-speed manual transmission
0-62mph: 11.0 Seconds
Top speed: 118 mph
Weight: 950 kg
Economy: 60.1 mpg
CO2: 103 g/km
Gallery