For generations, the CR-V has been one of Honda's best-selling vehicles and has really done well for them as a business. As we shift along from fuels to electrics, Honda has evolved with it. The CR-V – now hybridised – is set to continue that trend as the brand's bread and butter. What we have for you today is an 'EX' spec'd CR-V. This marks the top-end trim level of the entire range in the UK.
Fittingly, we once reviewed the older, non-hybrid CR-V EX two years ago. Comparatively, the design hasn't changed much at all from most of the CR-Vs that we've seen hovering about. However, it has been restyled slightly to show off a brawnier and more muscular appearance, with wide haunches and sharp contours on the bodywork. Peel all that away, and you'll find a lot more going on underneath.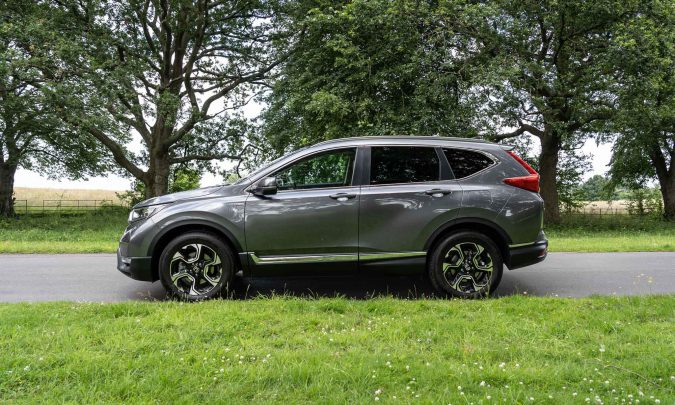 What Is The Honda CR-V Hybrid EX About?
The EX does sit at the higher end of the trim spectrum. Yet, it nonetheless is fitted with a similar hybrid powertrain as the other hybridised CR-Vs. It has a regular 2.0-litre four-cylinder engine mated to two electric motors. One is tuned to provide propulsion, while the other works as a generator. The latter is quite interesting, as Honda calls this "e:HEV" system a 'self-generating hybrid'.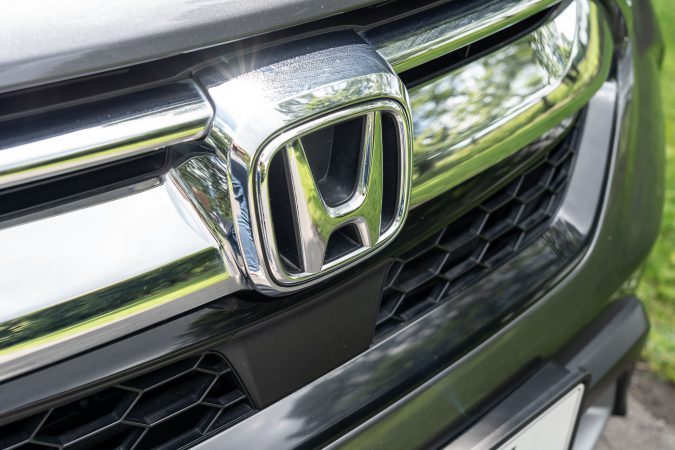 This is instead of a more ubiquitous PHEV (plug-in hybrid). The ICE basically powers the motors to keep generating electric charge as it drives along – sort of a Fisker Karma in a sense. It's then paired with an e-CVT gearbox for optimal smoothness and efficiency. The CR-V Hybrid EV has several driving modes – through the Multi-Mode Drive (i-MMD) software – to manage all this.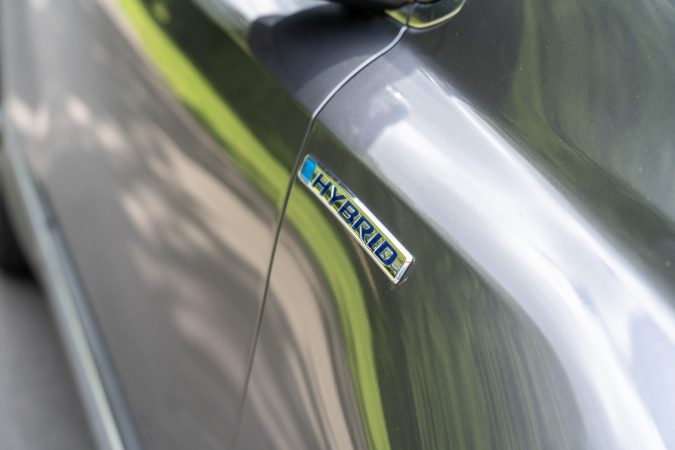 It can, for example, run the car on electric power only as a full EV for when power isn't needed. If you need a bit more performance (and at the cost of a bit less fuel efficiency), the system will ignite the engine automatically for hybrid driving. At higher speeds, such as hauling it down a motorway, the i-MMD will shut off the motors entirely to drive solely with the CR-V's four-pot engine.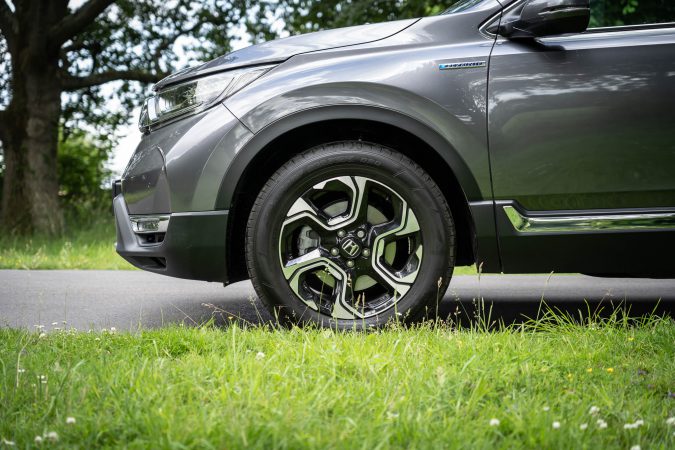 How Does It Drive?
With 107kW (or 145PS) of power and 243Nm of torque at the mercy of your right foot, the CR-V isn't sporty by any stretch of the imagination. However, the CR-V Hybrid EX – aided by the motors – can boost its performance up to 184PS and 315Nm of torque when the hybrid system kicks in. Overall, it can sprint from 0 to 60mph in 9.2 seconds, and onto a top speed of 112mph.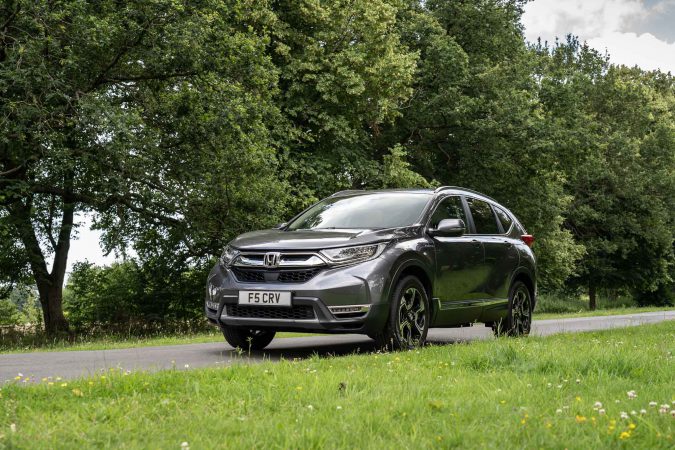 If anything, the CR-V trades away any ounce of sportiness it might've had in exchange for a smooth and refined driving experience. It's comfortable and quiet too, especially when the hybrid kicks in. This makes it a pretty great cruiser. The hybrid CR-V range as a whole can be spec'd with either a 2WD or 4WD powertrain. The EX is strictly all-wheel drive, which proves very handy.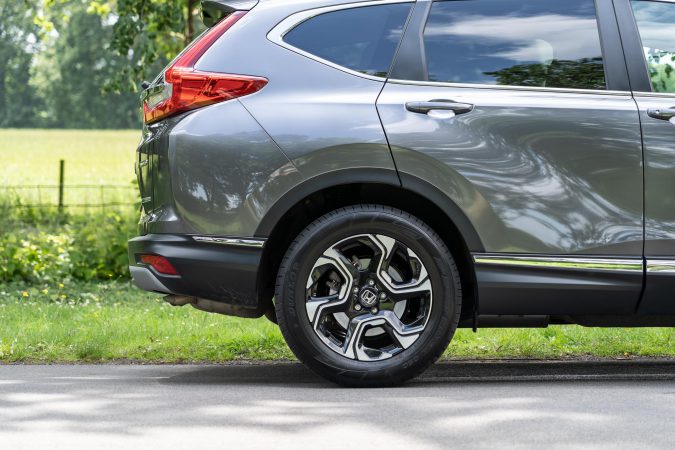 What Is It Like Inside?
One of the reasons why the CR-V is a best seller is thanks to its practicality. The Hybrid EX trim is still one of the most usable and best do-it-all sort of cars that you can buy in this price range. The cabin is reflective of that, with a hugely spacious interior for passengers, accounting for both head- and leg-room, as well as space in between the passengers. There's a very sizeable luggage space, too.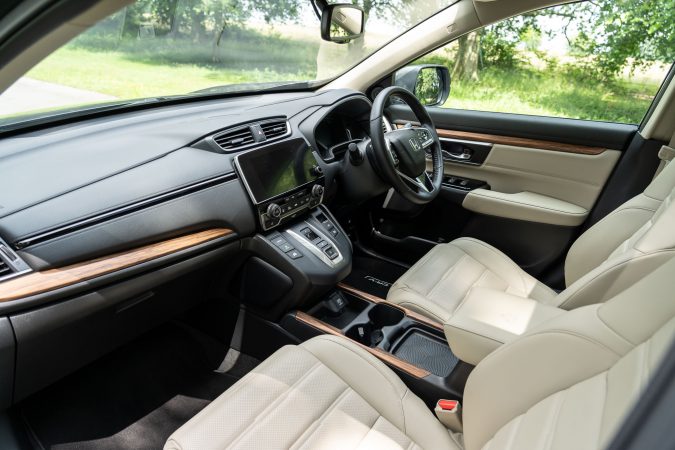 While it may be utilitarian in dimensions, the inner sanctum of the CR-V Hybrid EX certainly doesn't feel like it. In here, it's much more luxurious than its badge might suggest, with ample amounts of leather and wood-grain trim in our EX-spec CR-V. If you get the EX, you'll also get a very expansive panoramic glass roof that can be opened like a sunroof.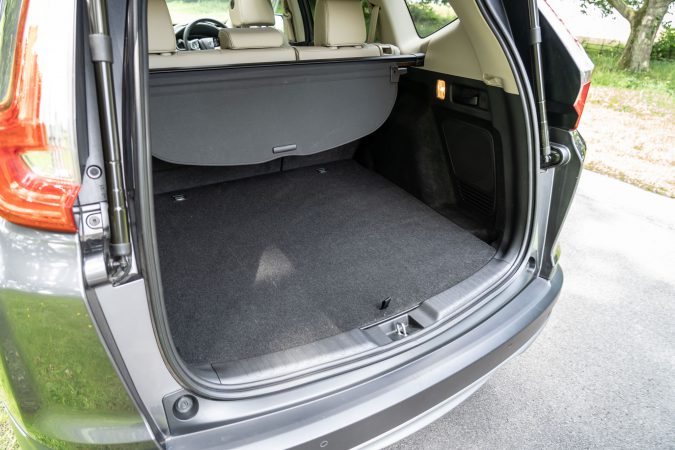 Adding a slab of glass up where the roof should be elevates the openness of the cabin by a huge degree, making the CR-V an airy and upscale place to sit in. As for tech, you have a relatively small (but very useable) 7-inch infotainment system in the middle. If you opt to get the EX trim, you can enjoy a plethora of extra gadgets, like a fancy heads-up display.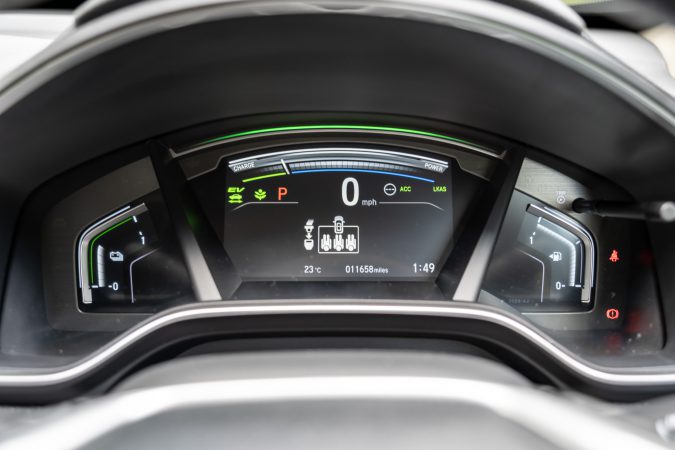 The Experience
Combined, (and tested under WLTP rules) the CR-V Hybrid EX has a fuel consumption rating of 39.2mpg, which is fairly impressive. This is given the heft and size of the CR-V. And not to mention the fact that it has to power a 4WD system working under there. It's a great thing to have for all-weather driving. That said, the 4WD works on two wheels most of the time to maintain the efficiency of the CR-V.
Overall, the CR-V truly is a great machine to drive anywhere comfortably, regardless of the climate or distance. For long-range driving, some CR-Vs (depending on the trim) can even go upwards of 500 miles easily before you'll need to think of a fuel stop. To get as much range as possible, there's also regenerative braking to help recuperate some of the lost electric charge.
Honda CR-V Hybrid EX Cost
The Honda CR-V Hybrid EX sits at the top of the line-up, and it costs just as much. The CR-V Hybrid starts at £30,880. But with the extra features tacked onto the EX, it has a base price of £39,840. As tested, ours here costs £40,390, with just one optional extra ticked – £550 for the metallic paint. It's not cheap, that's for sure, but at least you're tied down by smaller fuel bills than before.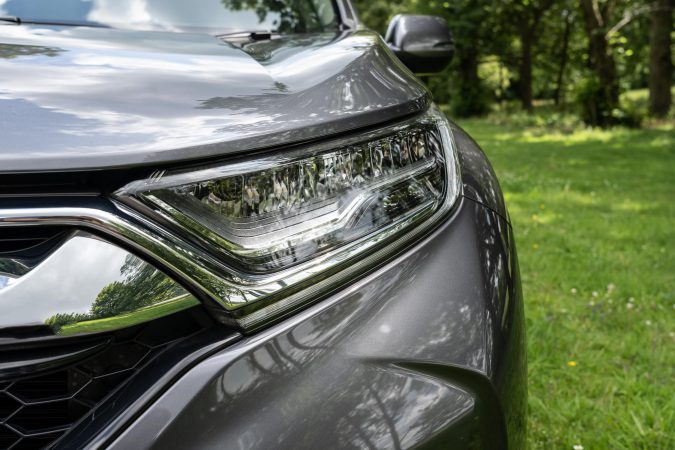 Verdict
Overall, the CR-V Hybrid EX is a great vehicle for all intents and purposes. To own and drive, it's just as endlessly practical and easy to live with as you might expect out of a CR-V. This is made all the better with a healthy addition of sumptuous materials in the cabin to make spending time with it that bit nicer. And the hybrid powertrain is a great added bonus over the last-generation of CR-V.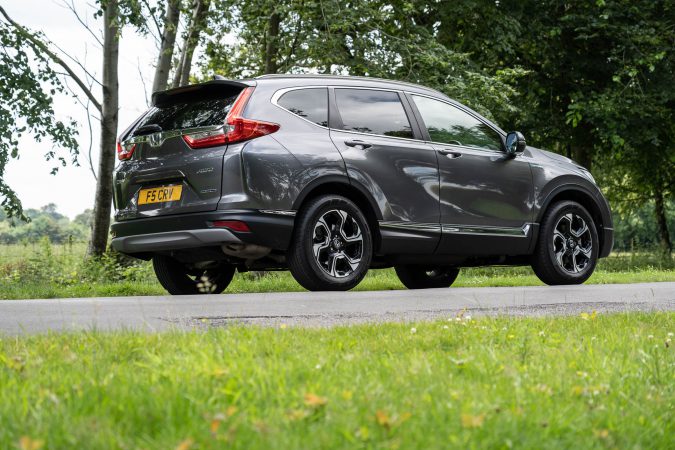 It's very fuel-efficient given the mass that it has to carry around, and could very intelligently switch between full-EV, hybrid, and all-ICE driving modes on its own to suit the conditions. It works rather well, giving you a smooth, quiet, and pleasurable – albeit not at all athletic – experience. Plus, there's that 4WD for when the roads suddenly turn snowy and slippery. It's the same old CR-V, but better than ever.

Specification
Honda CR-V Hybrid EX Specs

Price: £40,390
Engine: 2.0-Litre Hybrid 4WD
Power: 184PS
Torque: 315Nm
Transmission: e-CVT
0-62mph: 9.2 seconds
Top speed: 112mph
Weight: 1,797kg
Economy combined: 39.2mpg
CO2: 163g/km