The Renault Megane RS has become one of the most iconic hot hatches of this generation. Very few could rival it on the same playing field. A while back, we had a go in the hotter of the hot hatches – the Megane R.S. Trophy, in all its pure, raw, visceral driving pleasure. This time, though, we have the keys to a more toned-down, sensible, and liveable – but no less exciting – Megane R.S. 300.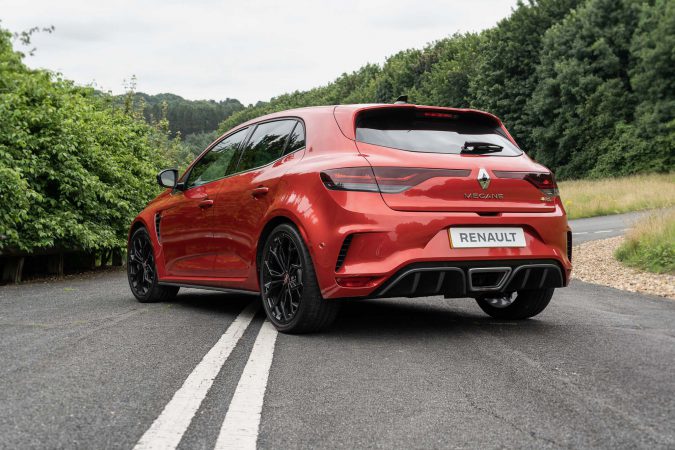 As all its rivals are slowly turning into crossovers, the Megane is among the few that remain. It's of course going up against some really tough competition still, with the likes of the Golf GTI and Civic Type R in its sights. So, has the redesigned and retuned Megane R.S. been defanged, or is it just as fun of a car to drive? For starters, its looks have changed, with fewer look-at-me bits and pieces.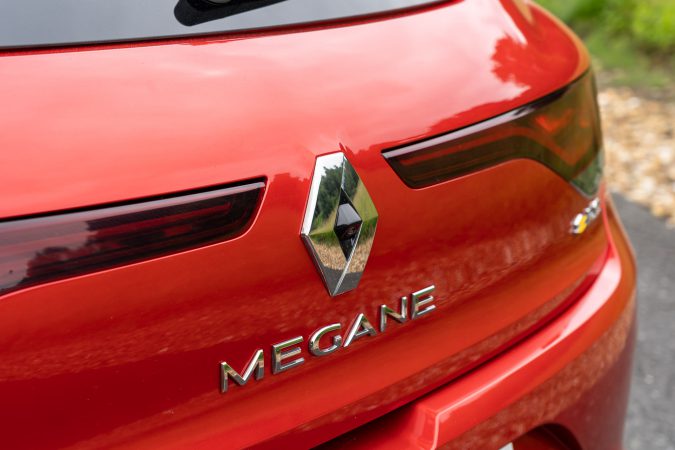 What Is The Renault Megane R.S. 300 About?
Compared to its predecessors, the new Megane R.S. 300 is more subtle and nuanced, but with no less aggression if you know where to look. The tiny yellow RS badges stick out in this Flame Red paint, and there's also that large rear diffuser. The 19-inch diamond-cut wheels on this look rather cool, too. As are the extended wheel arches, rear spoiler, and winglets or splitters here and there.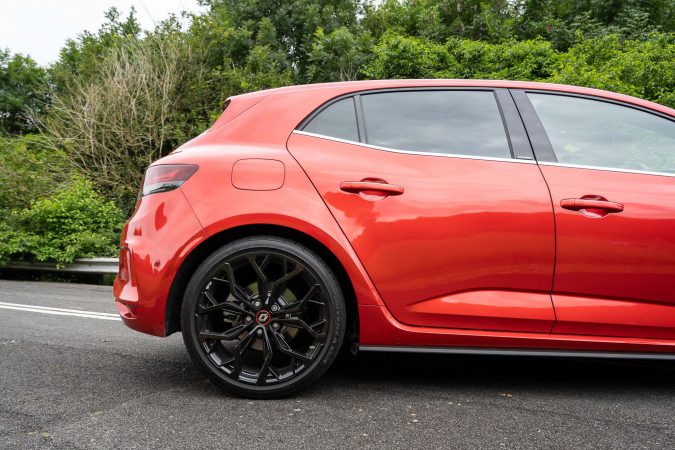 This does make it a better daily commuter, and you won't have to explain to people that no, this isn't a race car. Although, perhaps that's what you wanted out of an RS-badged Renault? There are fewer design cues to distinguish this from a more ordinary Megane. Overall, and to my eyes, this new Megane R.S. is penned beautifully. It's the sort of styling that'll age like fine wine over time.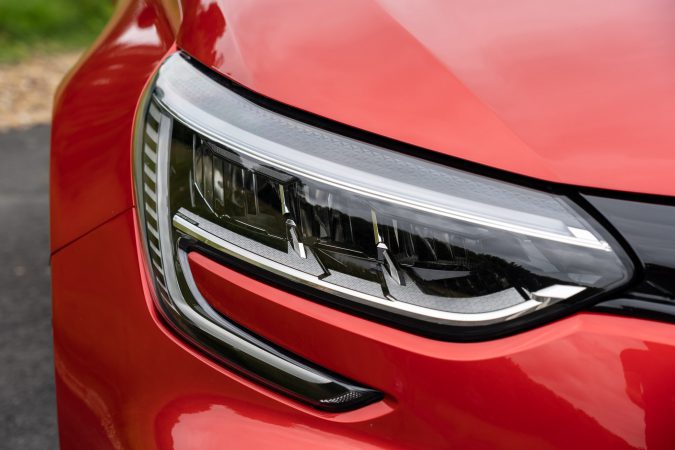 How Does It Drive?
If the looks don't get you excited, then wait until you get behind the wheel of the Megane R.S. 300. Down below, you have a 1.8-litre, four-cylinder, turbocharged engine. On its own, it can produce 300hp (if the name hasn't yet zeroed you in yet), and 420Nm of torque. As for that aforementioned torque, you get 20Nm more if you opt for this 6-speed automatic instead of a manual.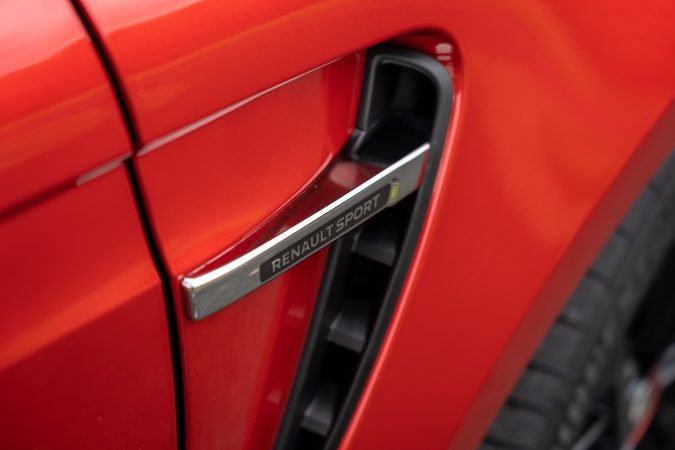 The Megane R.S. 300 can sprint from 0 to 60mph in just 5.7 seconds before it tops out at 158mph. On paper then, it's not the fastest thing in the world. But to drive, it's incredibly intuitive as a car to get going very fast, really quickly, and without much effort. It takes little to no time for you to get to grips with how it feels on the road. The six-speed auto shifts hastily and smoothly, as well.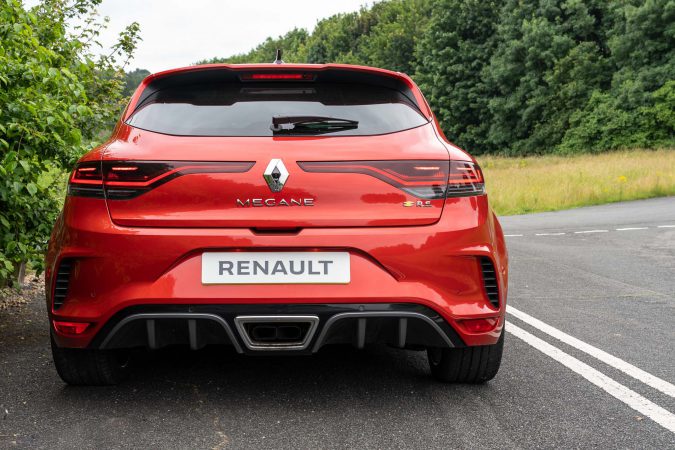 We can likely attribute a lot of its performance to Renault's extensive involvement in racing, and that heritage is palpable. The suspension dampening is spot on, the sporty chassis is rigid with four hydraulic compressions stops all-round. There are five driving modes to play around with, but as it is passively set, it's fantastic. Renault's party trick has to be its 4CONTROL four-wheel steering.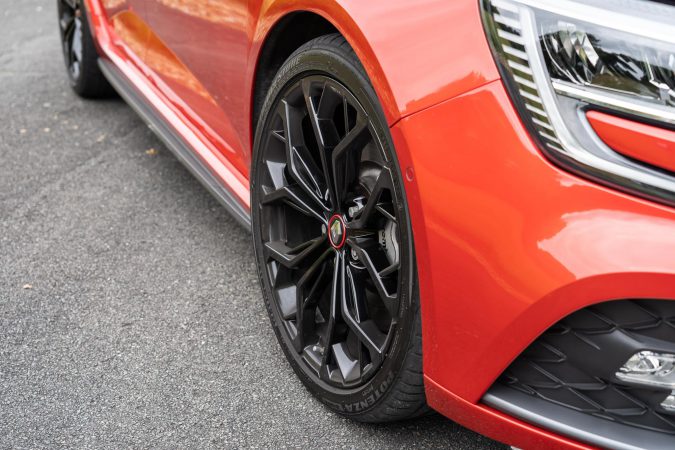 You can enter into corners faster and with confidence that the traction will be there to keep you in line. Plus, there's more stability for high-speed runs. This is then combined with a seemingly magical front-diff on the Megane R.S. 300. You can stamp the throttle 100% mid-corner, as the car figures out a way to manage all that power without overloading and upsetting the steering, not one bit.
What Is It Like Inside?
It gets better when you take a step inside, as well. The new Megane has a redesigned cabin, and they've really upped their game. Not too long ago, Renaults had comparatively poor interiors… Plasticky, cheap, old, and the electronics are more akin to a Game Boy than a PS5. It's nowhere near as good as the one you'd get in a comparable VW, but this is no longer the case.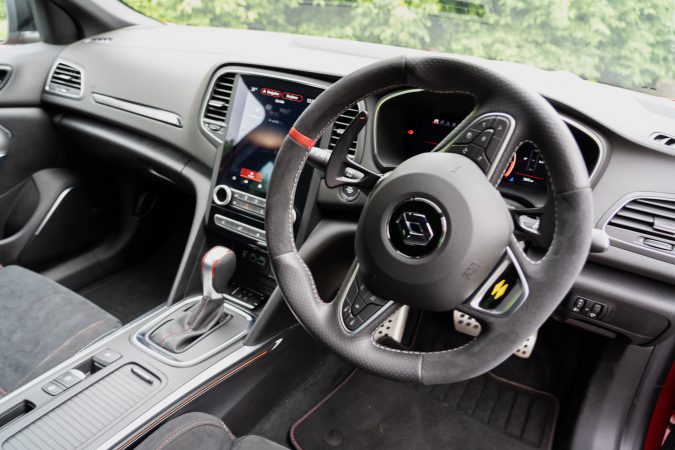 You get a massive 9.3-inch infotainment screen in the middle, with a crispy-clear display. Right in front of you, there's an even bigger 10-inch TFT digital instrument cluster. Option your Megane right, and you could have some extra performance data shown through the system. Elsewhere, this Megane R.S. 300 is less hardcore and more people-friendly, with loads of room inside for people and bags.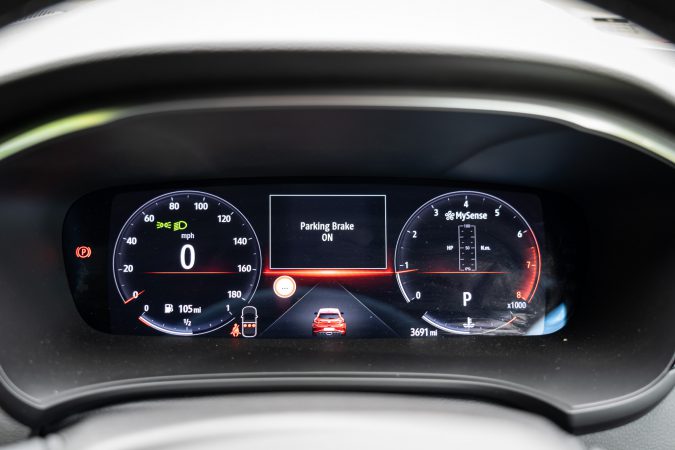 The Experience
We'll give a few extra brownie points to Renault for their attention to detail. To start, they're still sticking with fixed, big-boy shifter paddles stuck onto the column, instead of tiny plastic flaps on the back of the wheel. It's a matter of preference, for sure, it feels so much nicer to use, as it adds a hint of exoticism with every gear change. Tactile, clicky, and they always sit where you left them.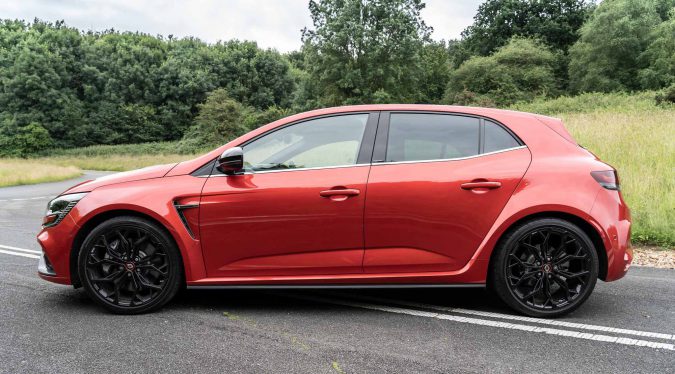 The touchpoints, where it matters most from a driver's point of view, are very good. It's evident as Renault's gone as far as sticking aluminium pedals and a footrest on the Megane R.S. 300. Moving onto the rest of the driving experience, it sounds quite good, too. There's a bit of burble and rasp from the four-pot as you're hammering it along.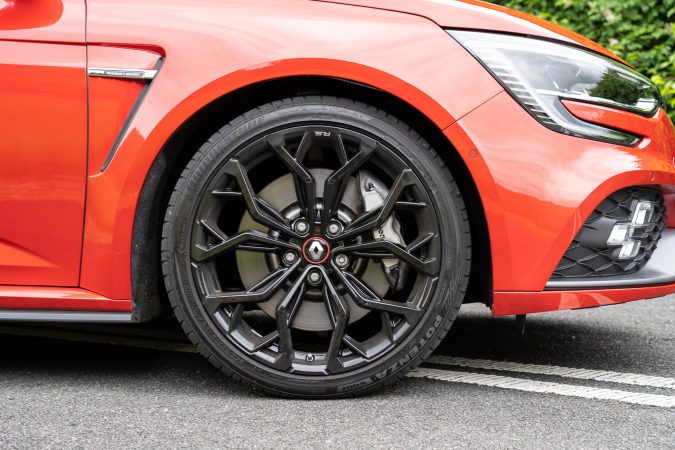 Renault Megane R.S. 300 Cost
The price is where it gets a bit tricky with the Megane R.S. 300. It has a starting OTR sticker price of £33,585. As tested, ours is at least £36,735. We had a few options, such as a steep £1,000 for some Alcantara upholstery with red stitching. Those lovely diamond cut wheels are another £800, while this beautiful metallic red paintwork that glows in the sun sets us back £750.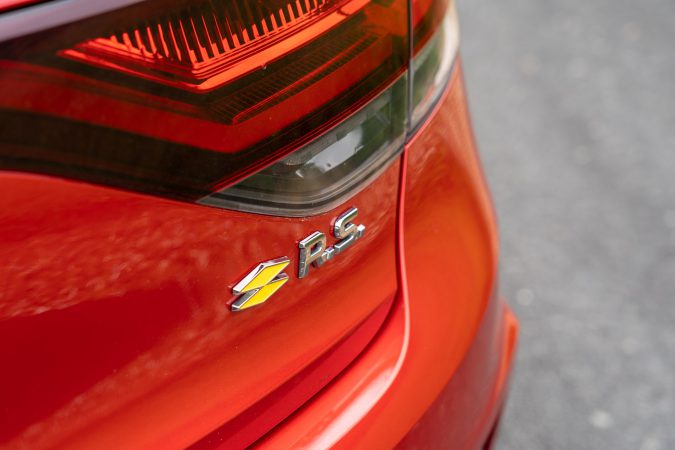 We had optional heated front seats for £350, and an RS-badged Alcantara steering wheel for £250. There's a 5-year warranty – 100,000 miles; whichever comes first – which is welcomed to ease the uncertainties of car ownership. This is perhaps the biggest problem with the Megane R.S. 300, as this price tag puts it in line with other magnificent cars, like the Golf GTI and Civic Type R.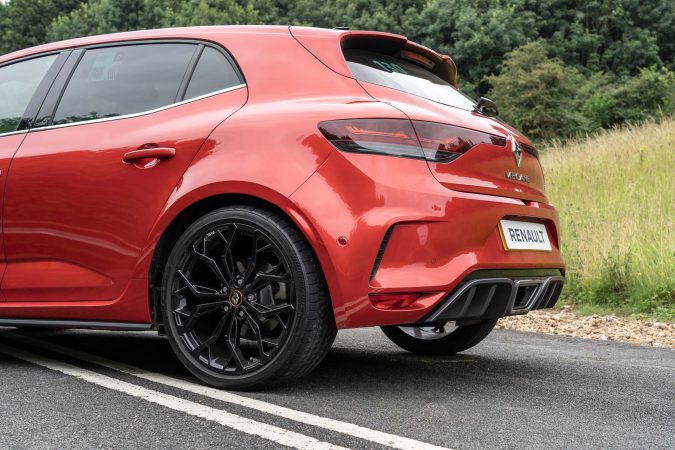 Verdict
The Renault Megane R.S. 300 is a great car. As we walked away from it, we thought "Hmm, I would like to have one of these". But then we realise that it's a lot of cash for the whole package. The Golf and Civic are honed to absolute perfection, while the Megane does have more than just a couple of compromises. It thus becomes a bit of a harder sell and justify, given the other two's credentials.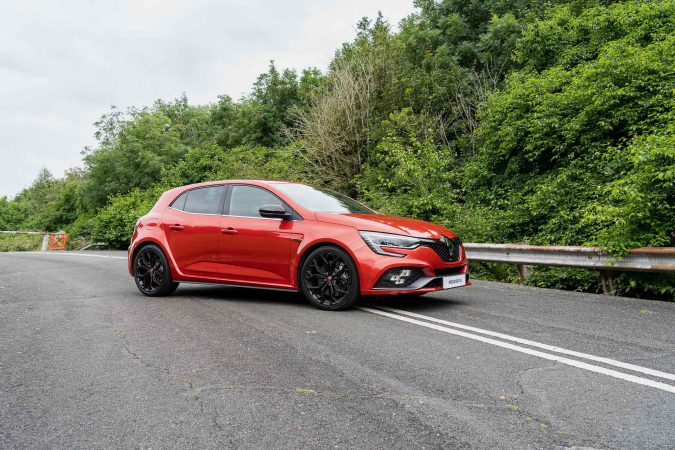 That said, the Megane here has plenty of USPs beyond the slightly quirky and elegant French-ness. The dynamics and performance may not melt your brain, but it's a threshold that's easier to reach. Wrangling it through every corner inspires more and more confidence, like the chassis, suspension, diff, and its four-wheel steer keeps you steady. All of this, and it's a nice car to live with day-to-day.

Specification
Renault Megane R.S. 300 Specs

Price: £36,735 (As Tested)
Engine: 1.8-Litre, Four-Cylinder, Turbocharged
Power: 300hp
Torque: 420Nm
Transmission: 6-Speed Auto
0-62mph: 5.7 seconds
Top speed: 158mph
Weight: 1,443kg
Economy combined: 34mpg
CO2: 187g/km