2018 Hyundai Kona Electric Review
We had a brief test drive of the new Hyundai Kona Electric, which is the brand's forward-thinking subcompact SUV.
What is the Hyundai Kona Electric all about?
A hot trend in the motoring world at the moment is subcompact SUVs and Hyundai have exploited this niche by blending it with an electric vehicle.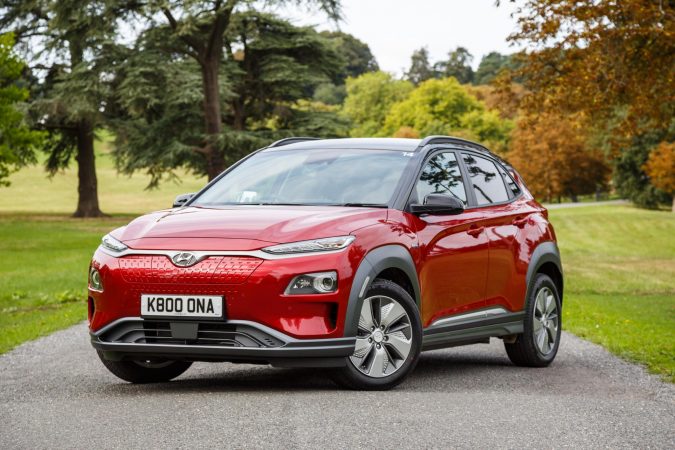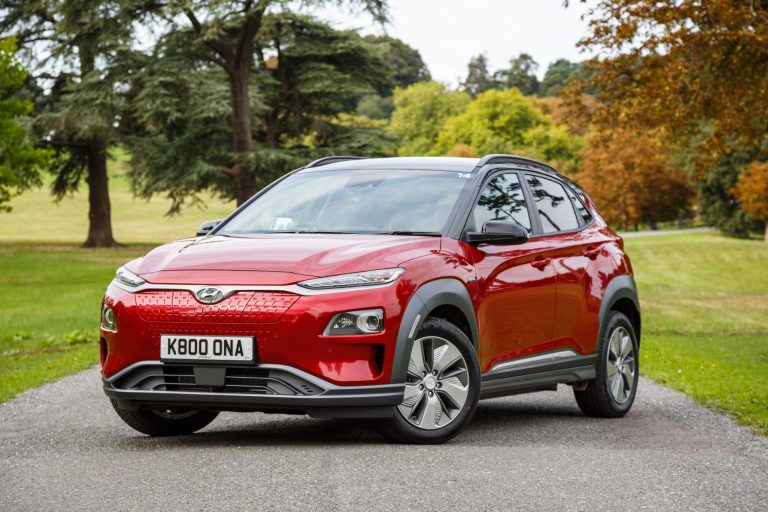 The Hyundai Kona Electric has all the desirable SUV styling to excite the buyer. It has a great mixture of paintwork hues and contrasting roof options. The vehicle is suitable for everyday use because of the durable plastic trim that borders the car. The test model here is finished in Pulse Red and will attract plenty of admirers.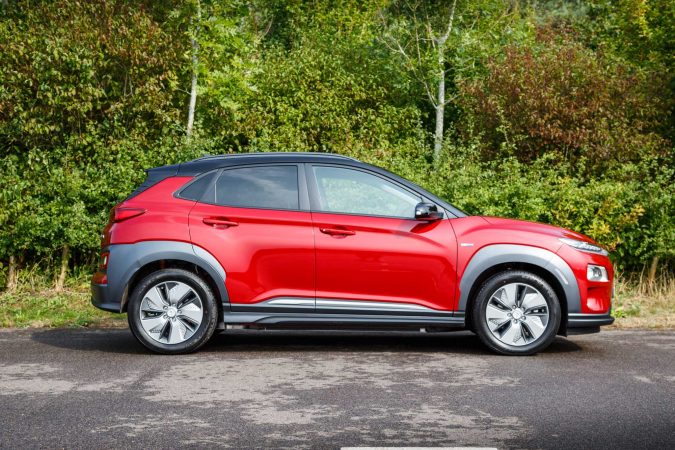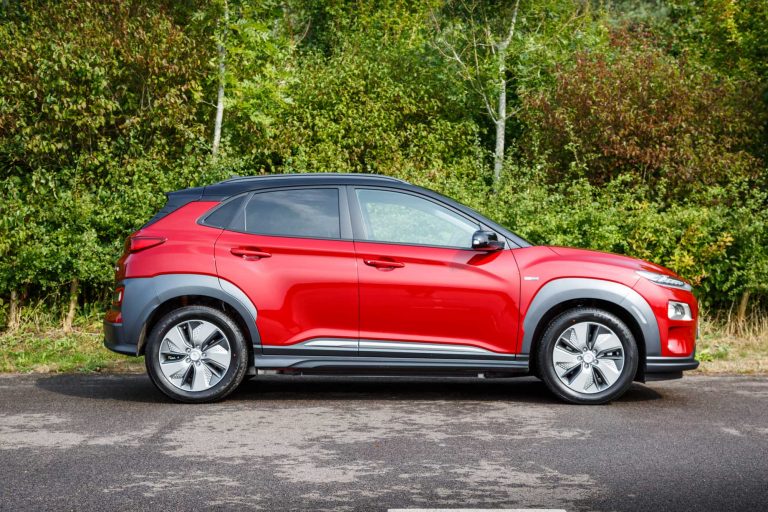 The Kona has a sharp, crisp feel. The distinctive front fascia with heavily accentuated features and the large closed grille makes the car stand out. You will notice that it has a distinctive front lighting set-up too.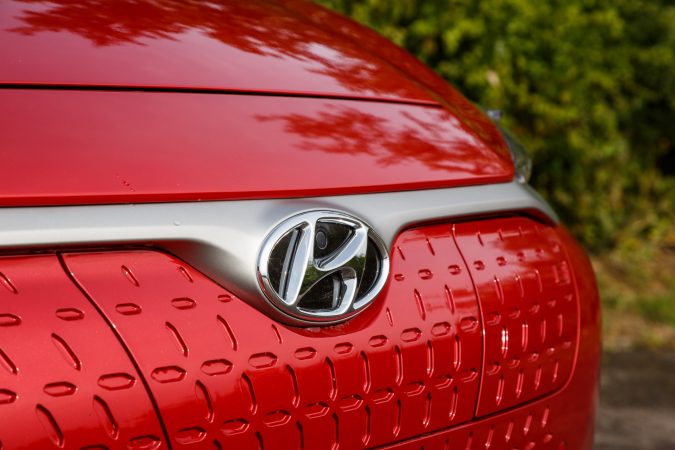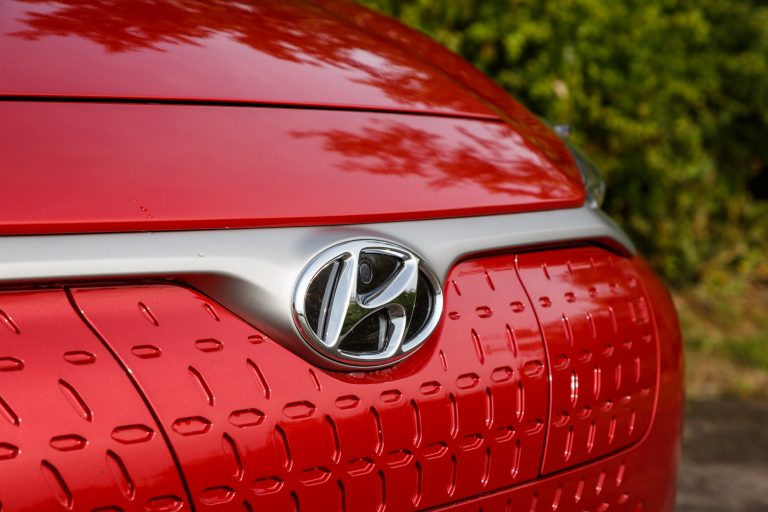 The Hyundai Kona Electric is a subcompact SUV which makes these 17″ alloy wheels look large in comparison. It should definitely get some admiring glances from fellow road users. You can tell it has been designed for minimal air resistance because of the fin-like design.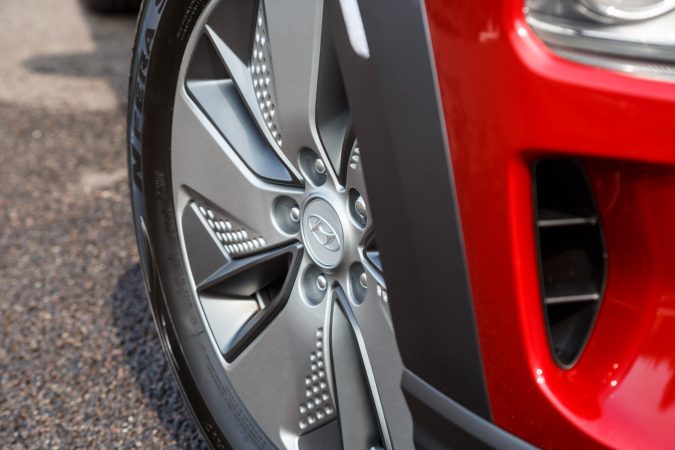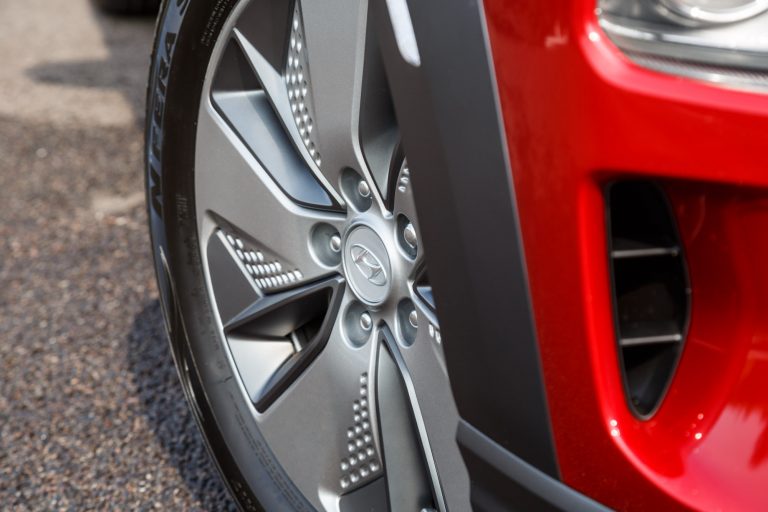 The Hyundai Kona Electric is available in two battery sizes: a 64kWh and a 39kWh battery. Here we are testing the 64kWh car. It has a range of around 300 miles (WLTP), it creates 204 PS and 395 Nm of torque and will accelerate from 0-62mph in 7.6 seconds. The 39kWh battery car will do around 200 miles and creates 135 PS.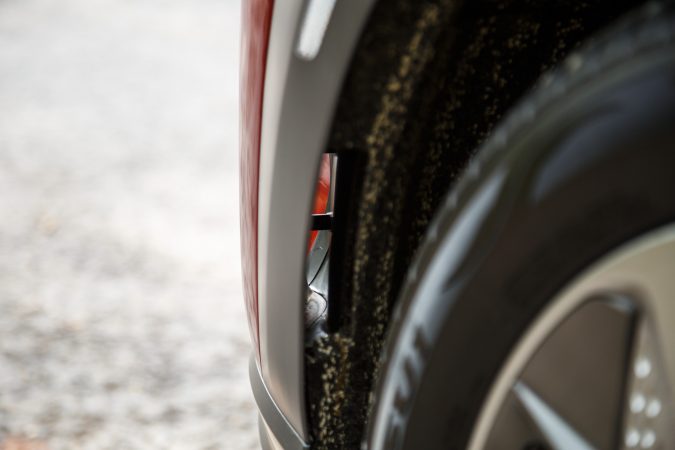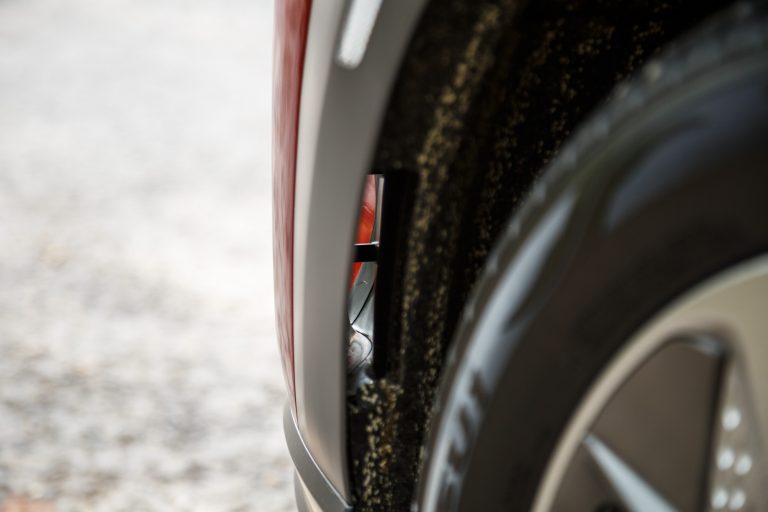 Being an EV, the Hyundai Kona has no exhaust emissions. No fossil fuel is used directly and depending on your electricity supplier, you could power the car using wave, wind and solar energy, if you choose to source your power from companies like Ecotricity.
How does it drive?
Looking at the Hyundai Kona Electric, the first thing you notice is that it isn't screaming EV, zero-emissions or green energy at you. It looks like a nice modern car, simple as that.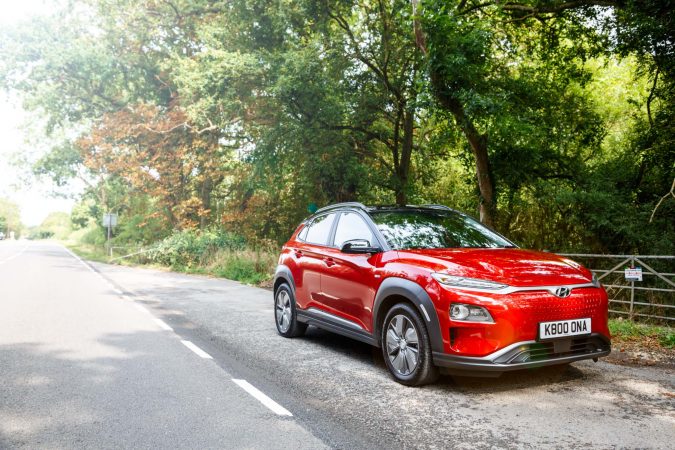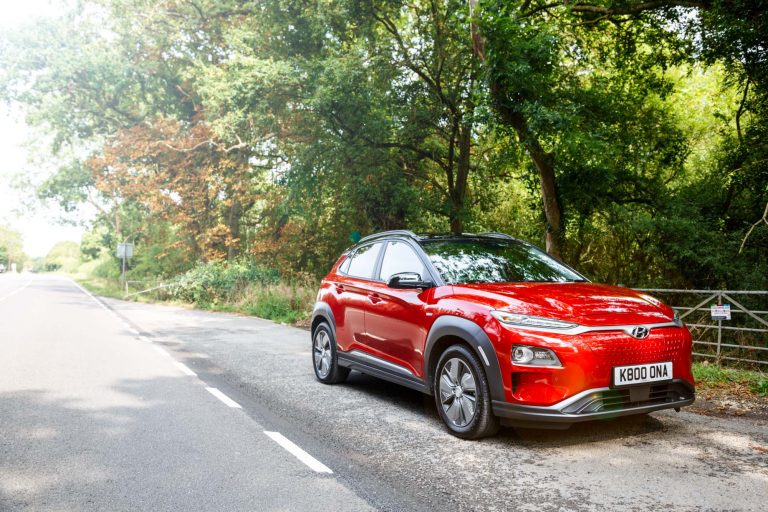 You get in, hit the start button, press another button to put the vehicle in drive and then you silently creep away. When most people first experience an EV car, they find it a little bit eerie just moving away without hearing the car startup. The car creates a virtual engine noise to alert pedestrians to its presence. I really like the sound it makes!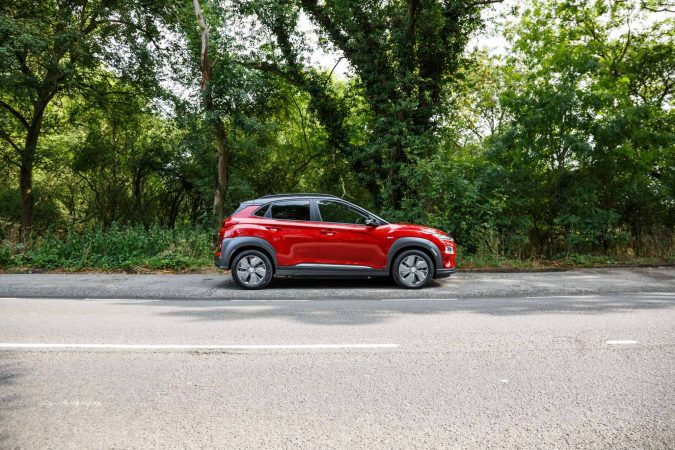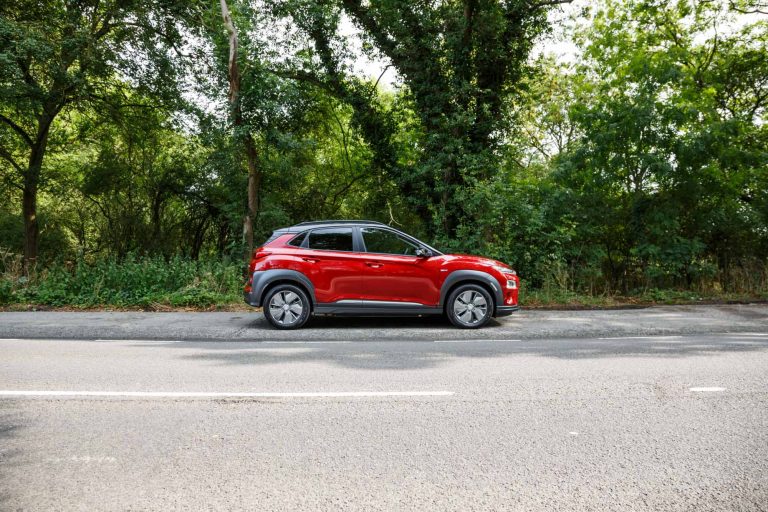 When you arrive at a junction and briskly move off, then the Hyundai Kona Electric will impress you. It has 395 Nm of torque, which is more than enough to throw you back into your seat and rocket you forward. 7.6 seconds to 62mph is almost hot hatch territory. But it definitely feels a lot faster than it looks on paper.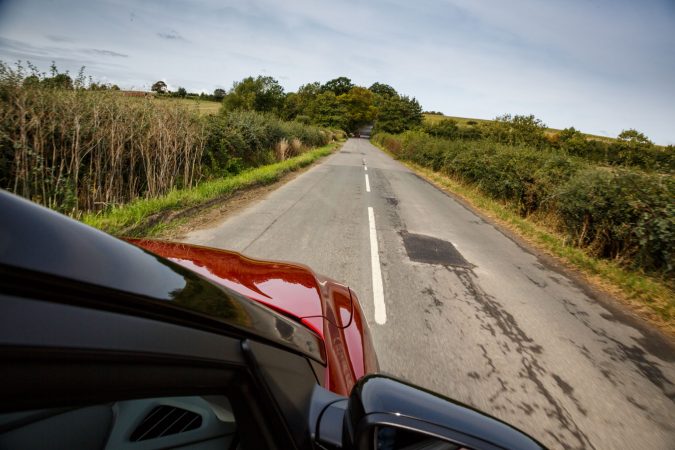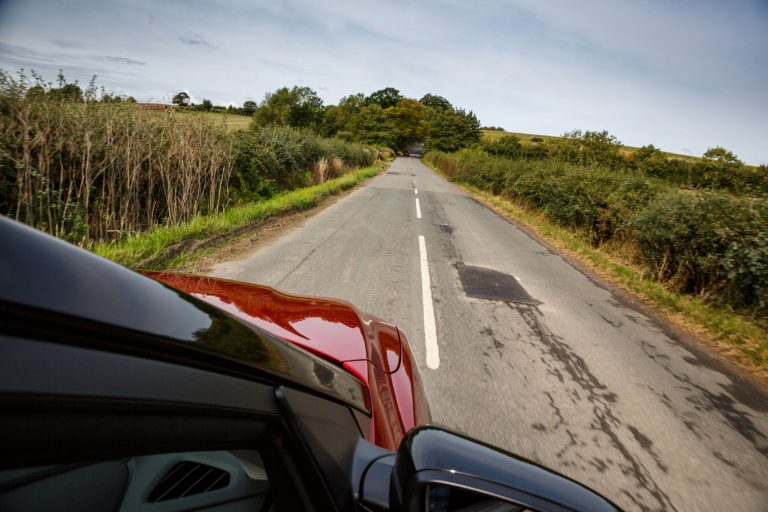 When using all the car's power, you will find the Nexen tyres searching for grip at the front, but the electronics do a good job of keeping the wheels in check.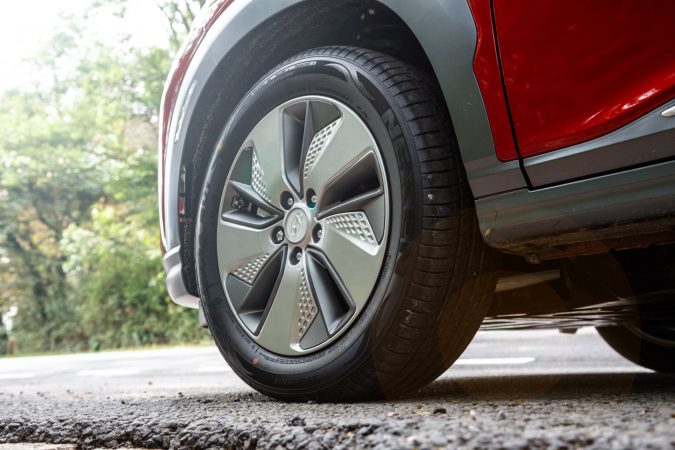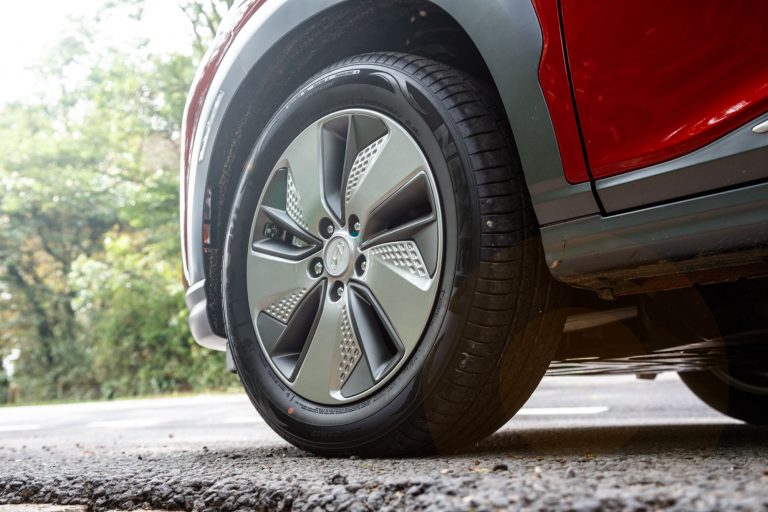 The steering feels like it has been designed for city driving and it feels effortless in tight manoeuvres. It's detached from the road and lightweight but fine for an urban runabout. The suspension is tweaked to favour comfort over sportiness, but I feel like the spring rates are perfect for this type of car.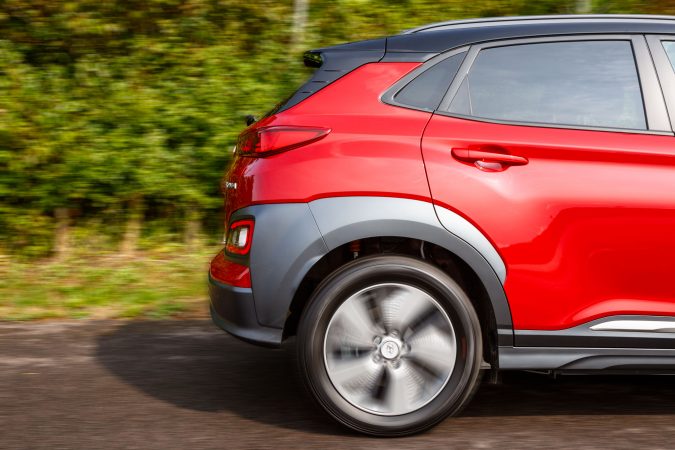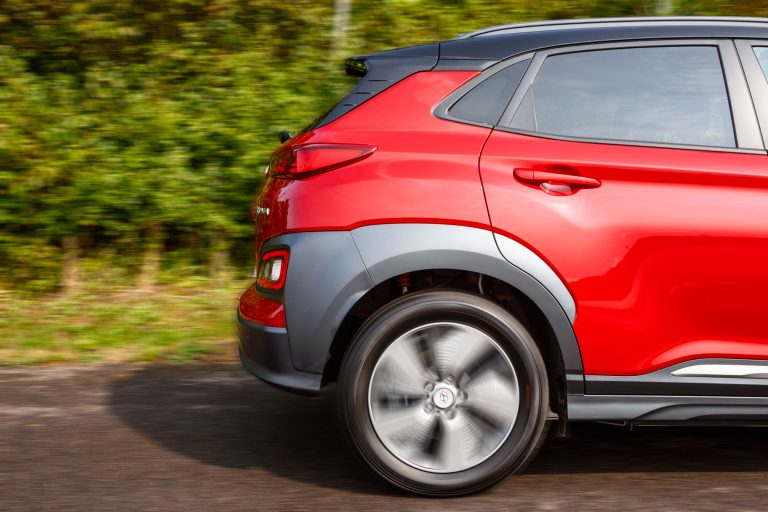 The Hyundai Kona Electric is an assertive model that corners well. Body roll is well managed and aided by having the batteries stored down low. For an EV car, it changes direction promptly, which is a desirable trait.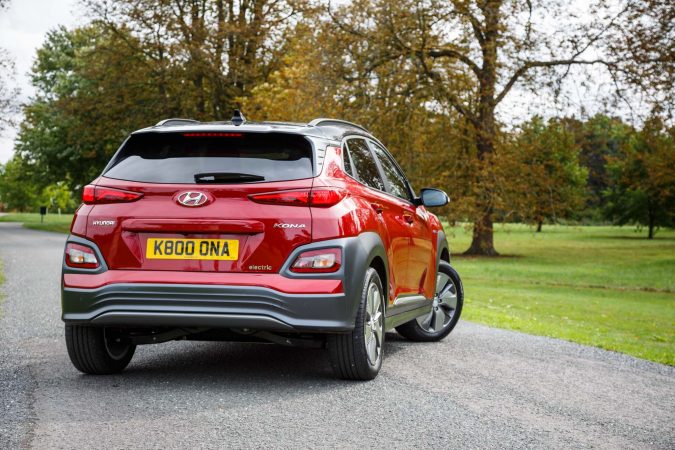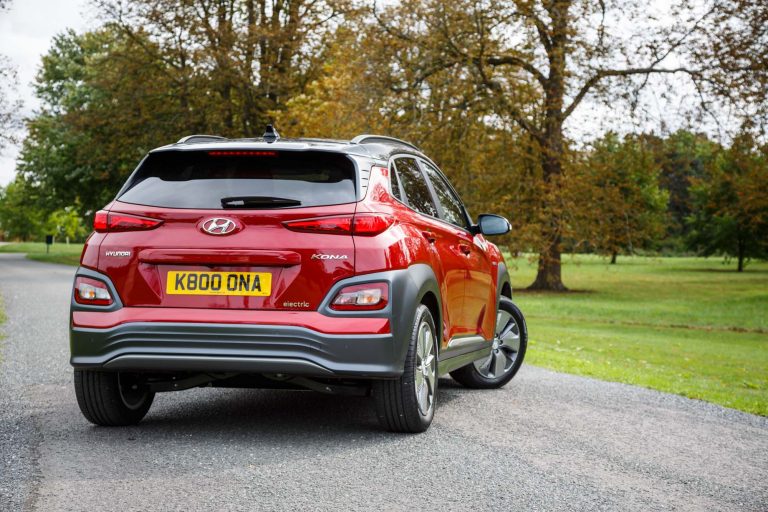 That said the 64kWh has a range of around 300 miles so is much more than just an urban runabout. In 2018, the charging infrastructure is in place to support a car with this range.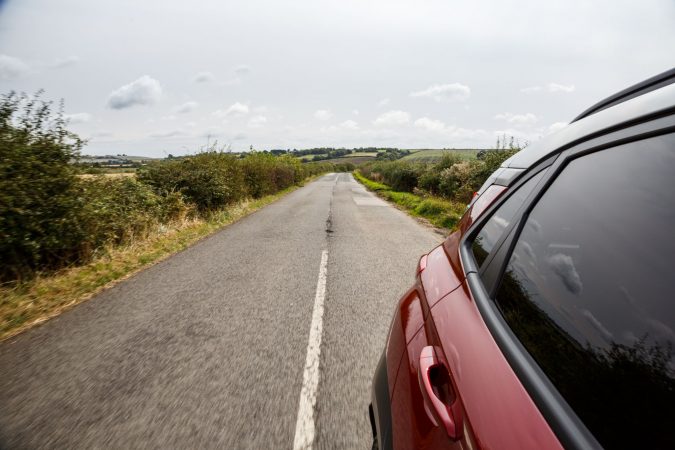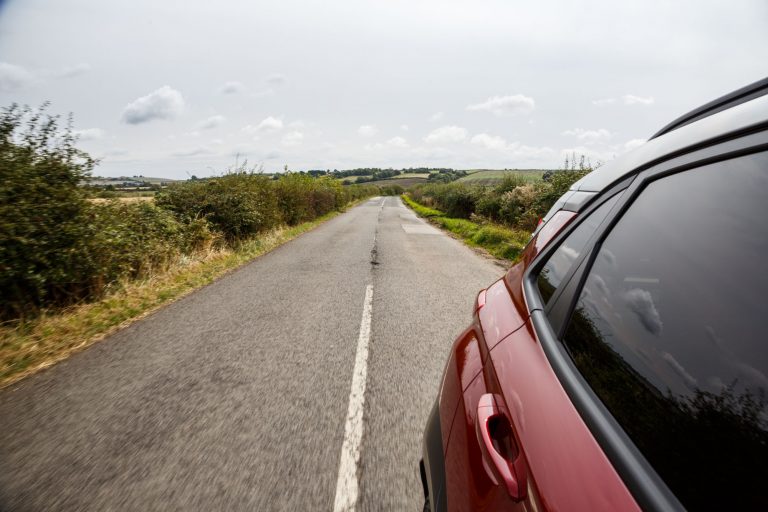 This being an EV, it uses an adjustable regenerative braking system. This means that the driver is able to change the intensity of the regenerative braking by using the paddles behind the steering wheel. It enables you to maximise your recovered energy on your journey. This clever system works alongside a radar sensor to automatically optimise for the traffic conditions ahead.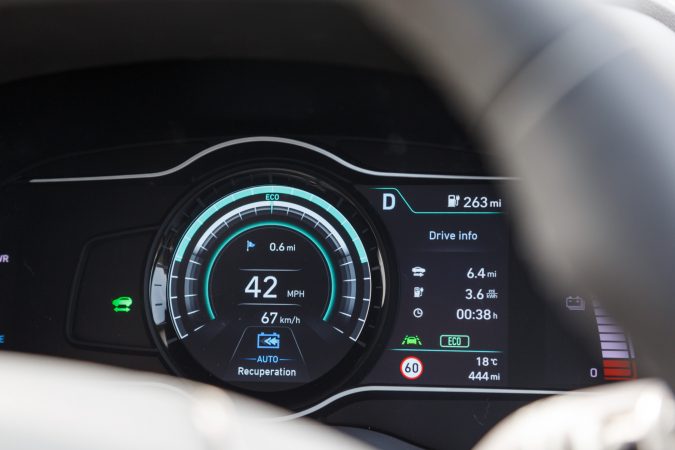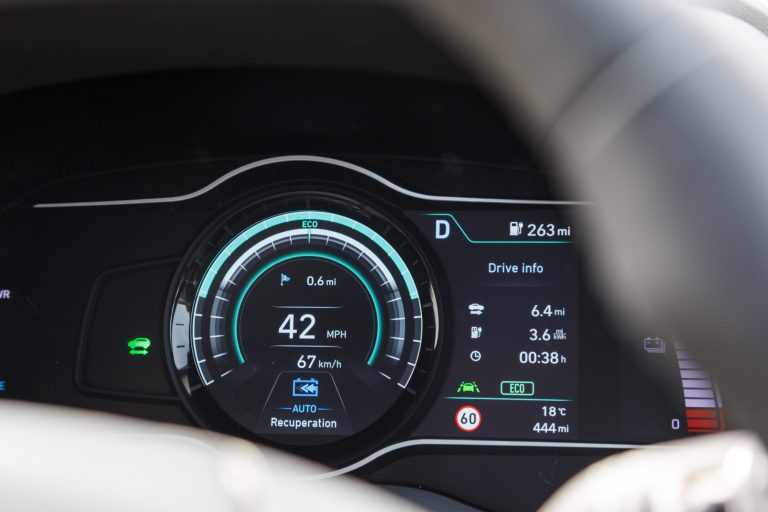 The icing on the cake with the Kona Electric is the Hyundai SmartSense safety features that are included in the car. These include: Autonomous Emergency Braking with Pedestrian Recognition, Blind Spot Detection including Rear Cross Traffic Alert, Lane Keep Assist, Driver Attention Alert, Speed Limit Indicator Function and Lane Follow Assist.
How To Charge the Hyundai Kona Electric
There is a range of ways to charge the Hyundai Kona Electric. There is a flap on the right-hand side of the front grille that opens up to reveal the charge port. Below are some of the ways you might charge your car: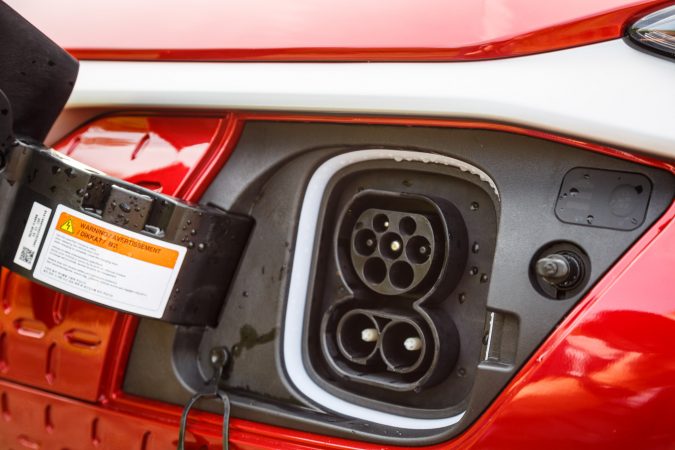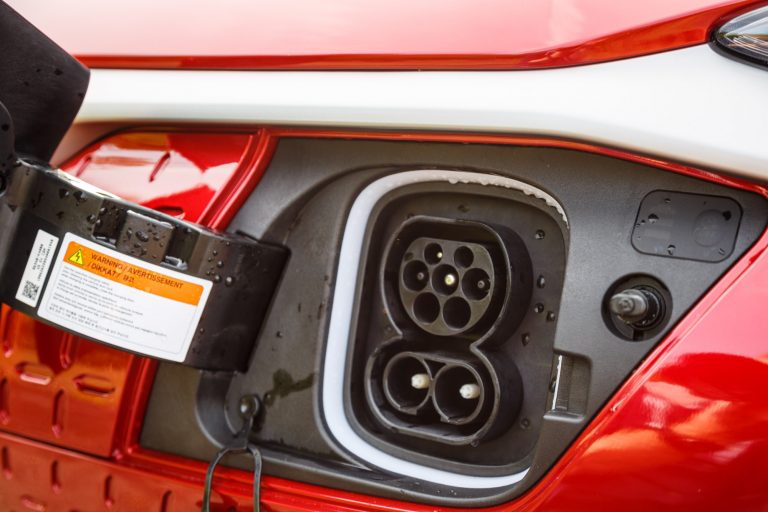 Rapid CCS Connector – This type of charging is likely to be done at motorway service stations or similar. You will find 50-80KW charging systems that should be able to take the Kona from 0-80% in under one hour, meaning that a short pit stop will get you soon topped back up again.
Type 2 Connector – This type of connector is commonly found at shopping centres, hotels and even on home charging systems. They typically range from 7 to 22kw. A 22kw charger could take around 3-4 hours to fully charge the car from flat.
3 Pin Plug – It is possible to charge the car using a 3 pin plug. However, it is slow and often only done where no other charging is possible. This could be useful if you are stopping overnight at a friend's house for example.
What is it like inside?
The Hyundai Kona Electric has a different interior look to the combustion version of the car. The central console between the driver and passenger has more space to play with as the gear stick and handbrake are not needed. So you will find a nice two-tier design with buttons and cup holders on top, allowing storage space underneath.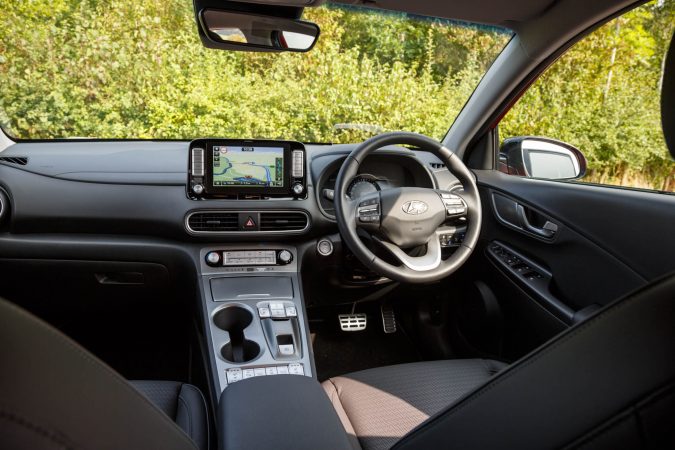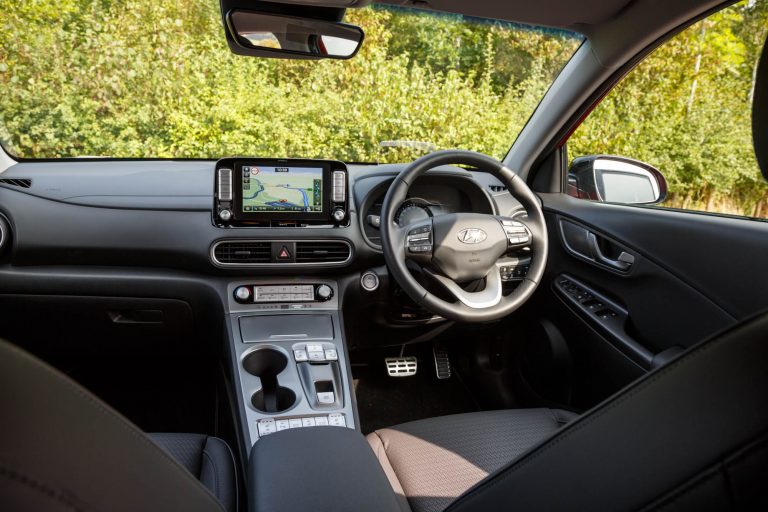 The material choices here are all hard-wearing, with mostly hard plastics found throughout the cabin. However, there is also a good use of soft plastics around the touch points of the car, and the leather-wrapped steering wheel has a stylish design. However, the build quality is high with robust switchgear, so I think it will age well over time.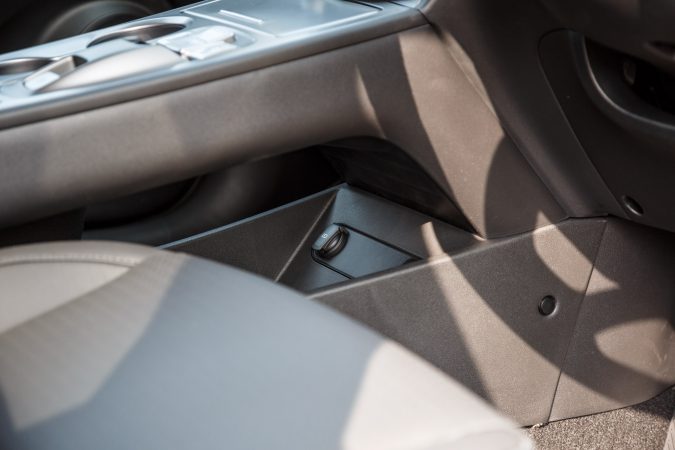 You will notice that the car comes with a very large 8″ touchscreen infotainment system, that includes DAB, satnav, Apple CarPlay and Android Auto. This is all you need in the modern day.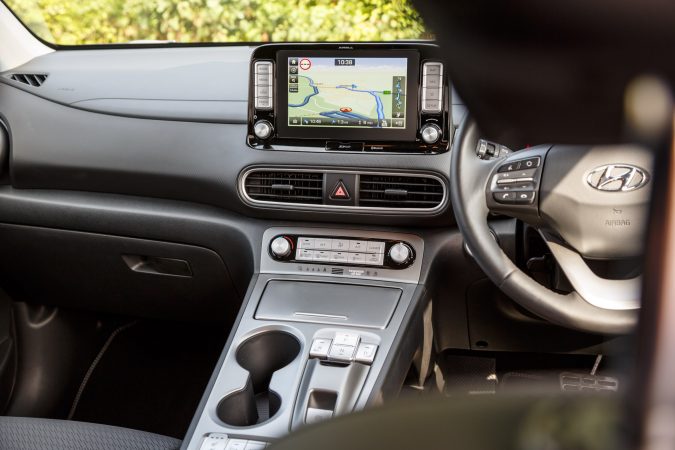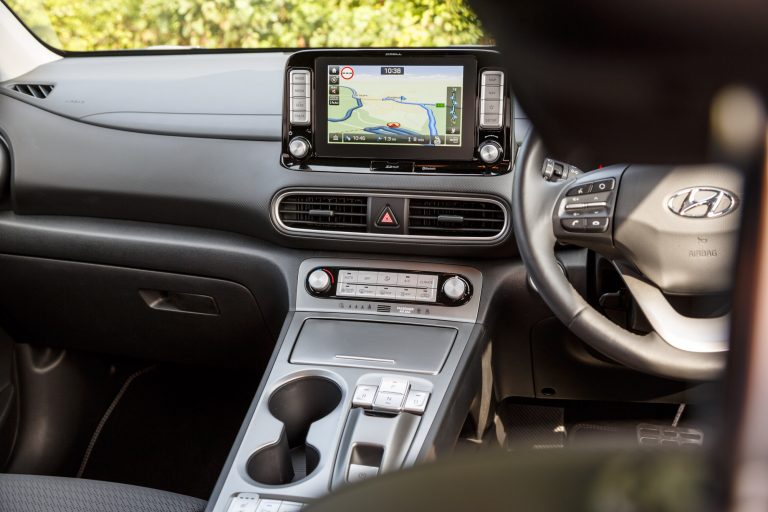 The interior is spacious, with a high-up driving position and decent leg and headroom for the front seats. The rear seats are also generous, with room for two adults at the back but legroom is at a premium.
Luggage capacity is ample at 334 litres, which is more than enough for grocery runs. There is also lots of small item storage around the cabin.
The Experience
Driving the Kona Electric is an unusual experience. I felt like Hyundai had electrified a 'normal' car, rather than driving a futuristic electric vehicle.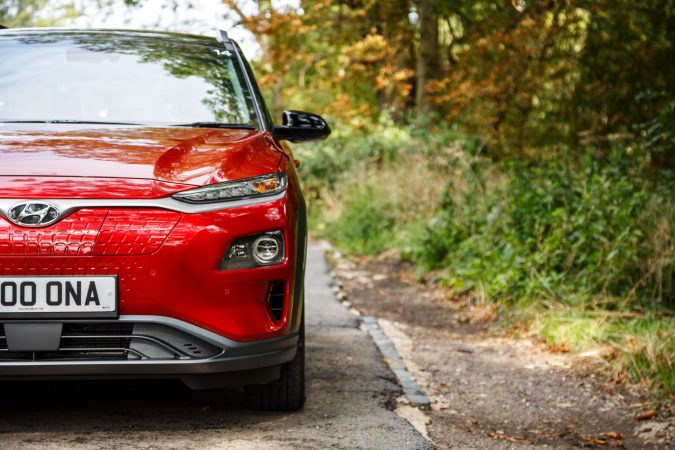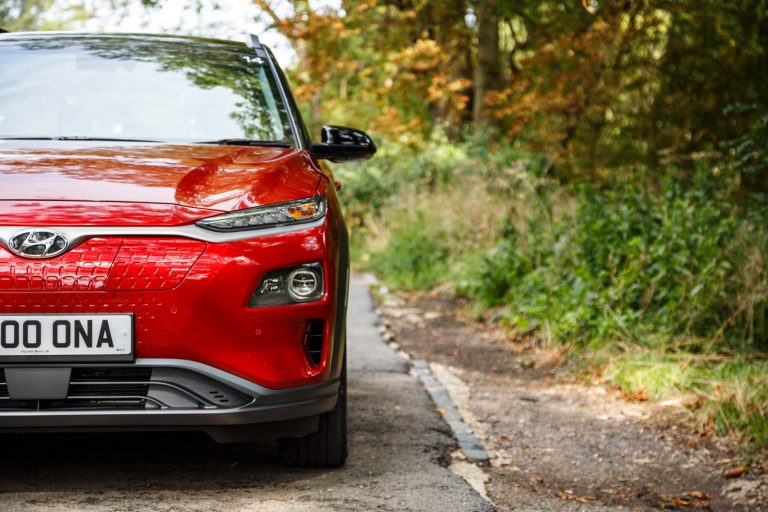 The model was easy to drive and operates as you would expect it to, but it had the EV refinements and benefits on top of the already good Kona features.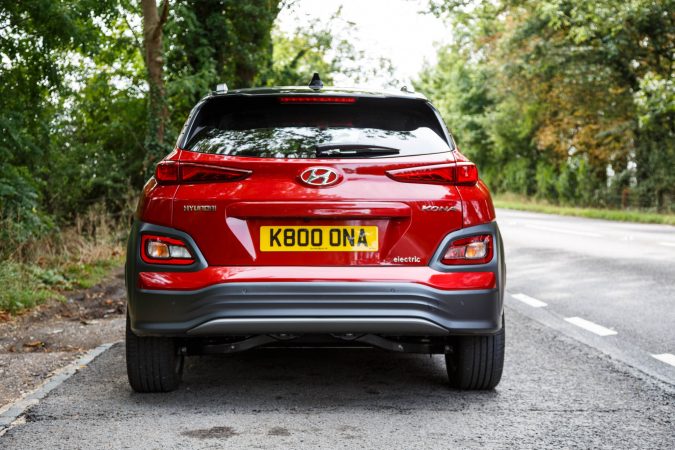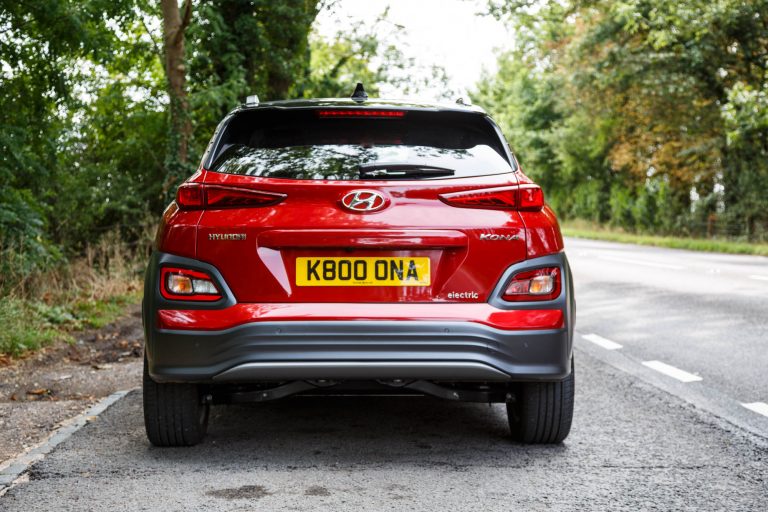 It definitely stood out on the street with its bright colours and sharp design, frequently receiving admiring glances. Especially in this lively shade of red, it brings some life and soul back to the road.
Verdict
The Hyundai Kona Electric is a fantastic EV and I am sure that they will fly off the forecourts in the UK. The test model here is priced at £32,390 (after receiving the Plug-in Car Grant from the government). It is an absolute bargain and I really mean that.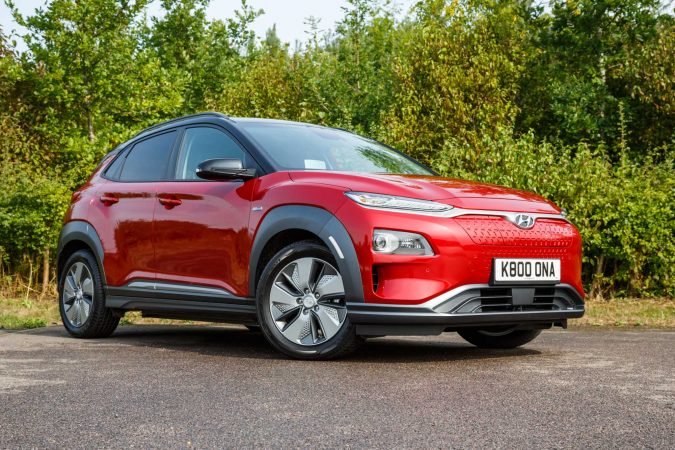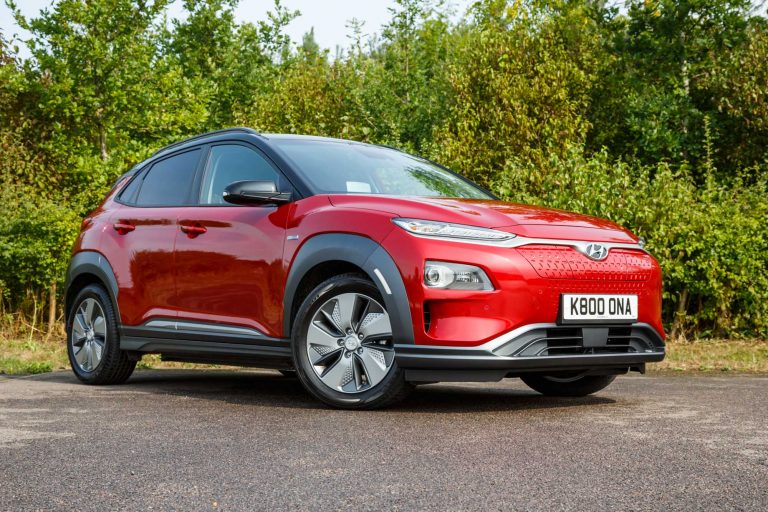 This is a zero-emissions car that can get your fuel costs down to around 3 or 4 pence per mile and will easily be able to drive around 250 miles.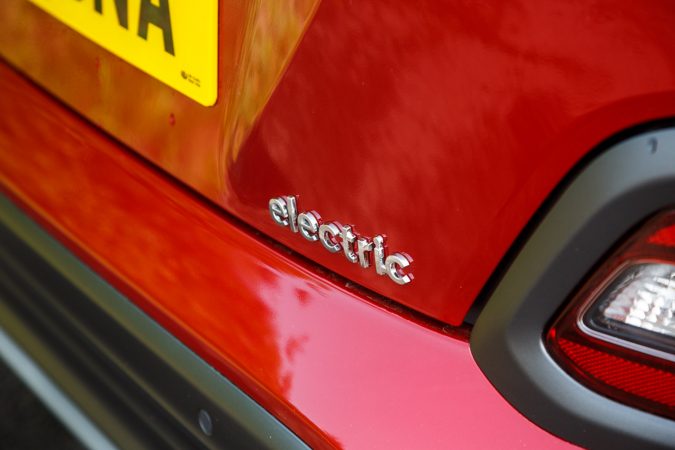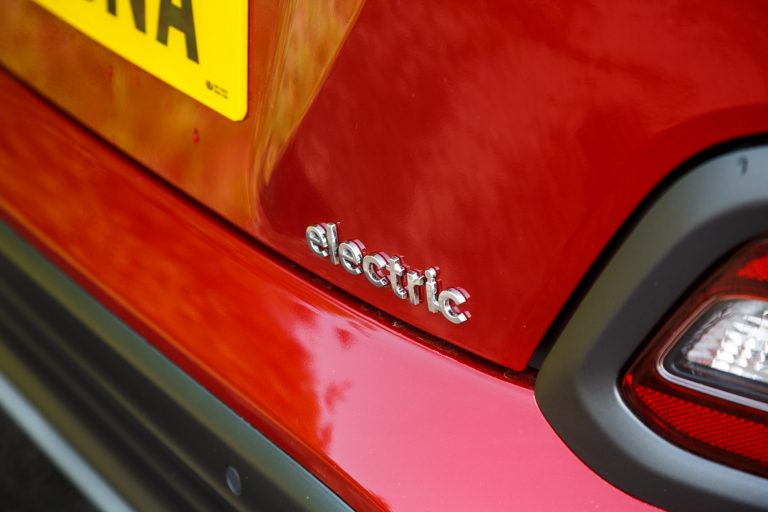 Let's not forget that it has all the same practicalities that the combustion engine Kona has, including: a vibrant colour selection, personalisation options, a five-year warranty and then an eight-year high voltage battery warranty up to 125,000 miles. This gives buyers a lot of confidence.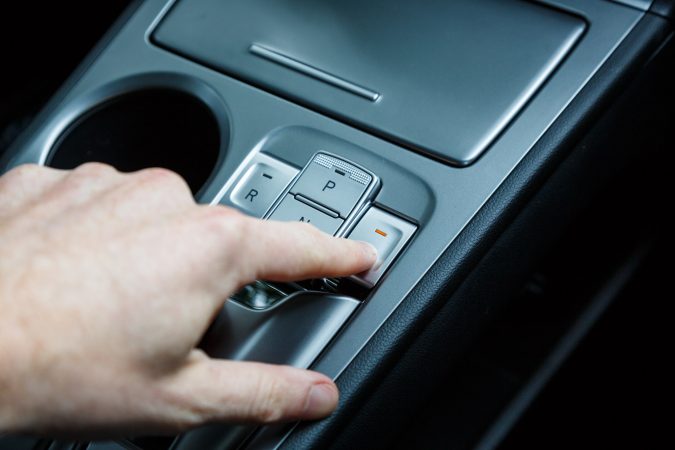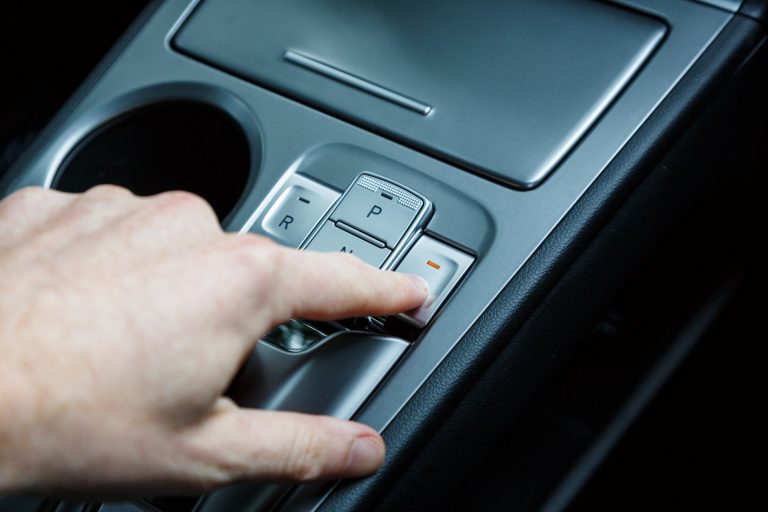 This 2018 Kona Electric with the 64kWh battery pack is going to be a real winner for both Hyundai and the electric car market.

Specification
2018 Hyundai Kona Electric Specs
Price: From £32,390
Engine: Electric Motor
Power: 204 PS
Torque: 395 Nm
Transmission: 6-speed manual
0-62mph: 7.6 seconds
Top speed: 104 mph
Weight: 1685 kg
Range: 300 WLTP
CO2: 0 g/km