Let's get straight to it, the new Lexus NX 450h+ F Sport brings a sense of techy, bold, and athletic youth-ness to the family. It's a great option if you need a do-it-all premium car that can truly do it all, and does it well.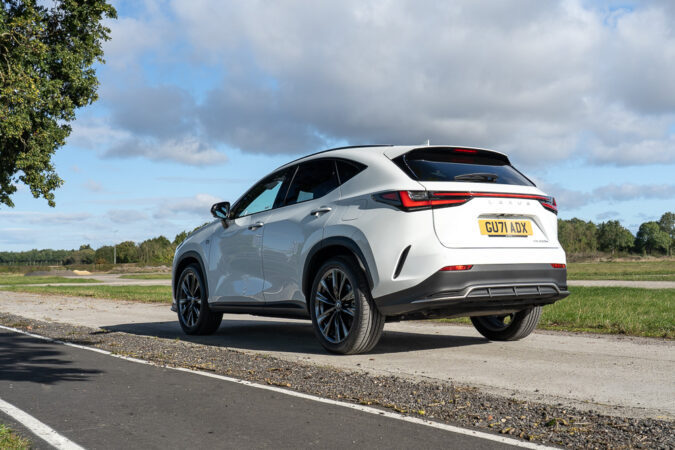 What Is The Lexus NX 450h+ F Sport About?
Though the new NX 450h+ F Sport might be all-new, from the ground up, it does carry a familiar face. Its design language is a progression from past models, gradually becoming sharper and more aggressive with each passing day. This Lexus has changed lots from the previous generation. It is more mature, built perfectly for what the market wants and certainly looks futuristic and sporting.
It carries a distinctive appearance that only a Lexus could flaunt. As such, this new NX can easily stand out among a crowd of similarly sparkly and flashy luxury cars. We can debate all day about the brand's divisive and oversized grille, but I think it looks rather neat. Not only does it make for a handsome car overall, but I also dare say that this new NX here will most likely age like fine wine, too.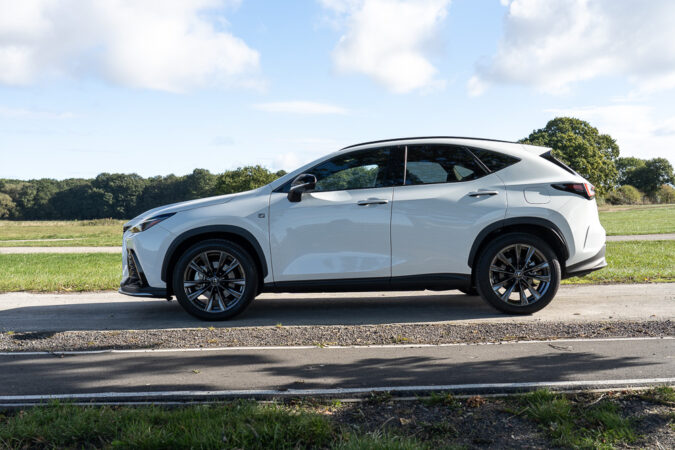 How Does It Drive?
Before we continue, it might be worth decoding the Lexus NX 450h+'s naming scheme… "h+" means it has a plug-in hybrid element, in contrast to the lower tier "h" variants, which only have self-charging. This is a big deal, as the NX 450h+ is Lexus's first-ever plug-in hybrid, mating a workhorse 2.5-litre inline-4 in tandem with a pair of electric motors. Thus, offering full-time all-wheel drive.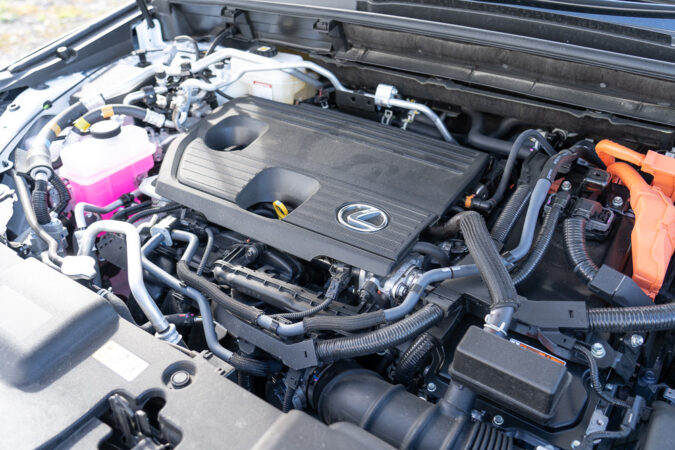 While it may look like a tall and bulky crossover, the NX isn't as SUV-like to drive as you might think. It weighs around 2 tonnes, yet the NX 450h+ feels much lighter and airier to drive. This is partly owed to its healthy 305bhp output and (relatively) sprightly 6.3-second 0 to 62mph time. With that hybrid and AWD, it ensures that power could translate into very grippy traction, even on challenging tarmac.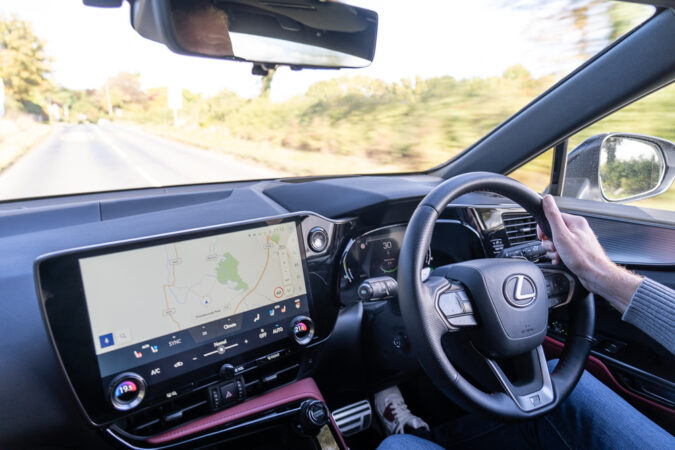 Still, that's not to say that being a heavy car is bad. The NX 450h+'s mass, if anything, may have actually helped quite a bit with dampening the ride quality. And, providing a sense of solidity as you're hauling it down a country lane. Aside from that, its supremely poised and smooth drive is then further aided by the F-Sport fine-tuning done to the adaptive sports suspension as well.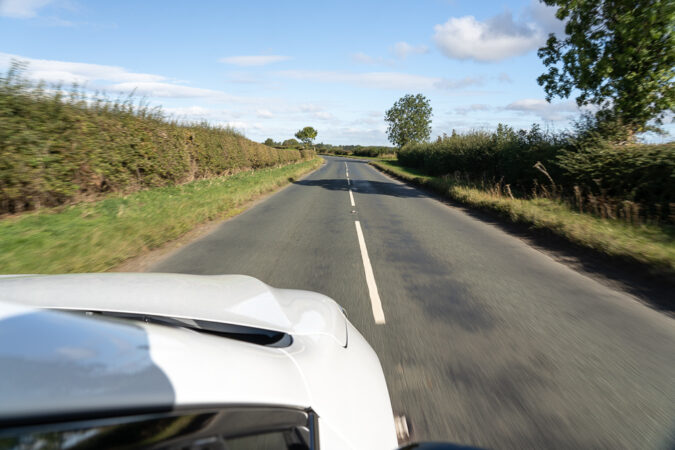 Yet, once you stamp your foot on the throttle, power is delivered in a smooth and progressive manner that lacks any of the odd steps or transitions between its hybrid and ICE powertrains. Its regenerative brakes have also been tuned rather beautifully. Thus, making it a much more natural thing to lean on instead of showcasing an odd brake feel. Surprisingly for the SUV dimensions, it still goes rather speedily if you need to.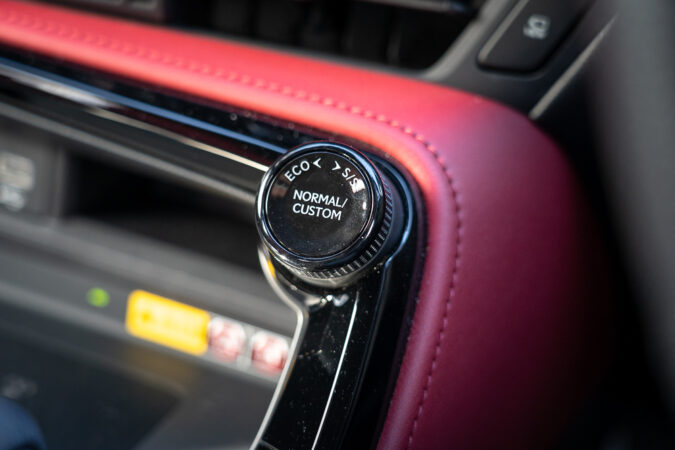 What Is It Like Inside?
Though the NX 450h+'s exterior is evolutionary and similar to its previous generation, the interior marks a massive step forward for Lexus as a whole. The fit and finish are as stunning, solid, well-built, and plush. Nevertheless, the way it all feels and looks now is much more techy and sci-fi… Quite in line with the tastes of the younger generation, rather than making this just another boring old Lexus.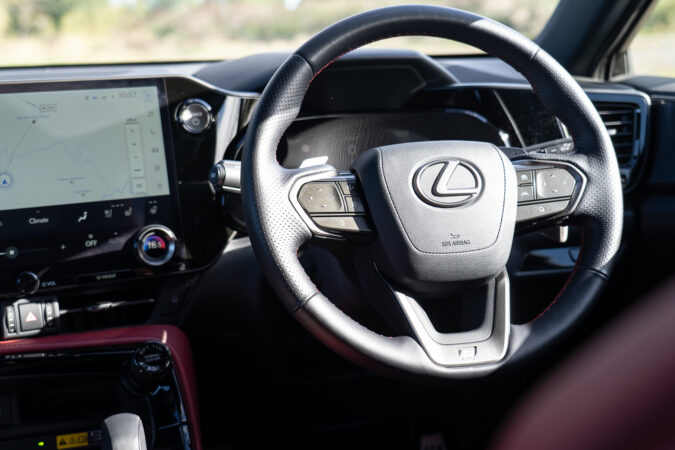 It's also much more refined compared to previous Lexus cabins, too. Ergonomics, intuitiveness, as well as technology, were cluttered and clunky in past models. Yet, the latest NX 450h+ is very well-thought-out. It's the minute attention to detail where it really matters… Such as the metallic feel you get from the switchgear, or that solid click you hear as you grasp onto the door handles. Really great stuff.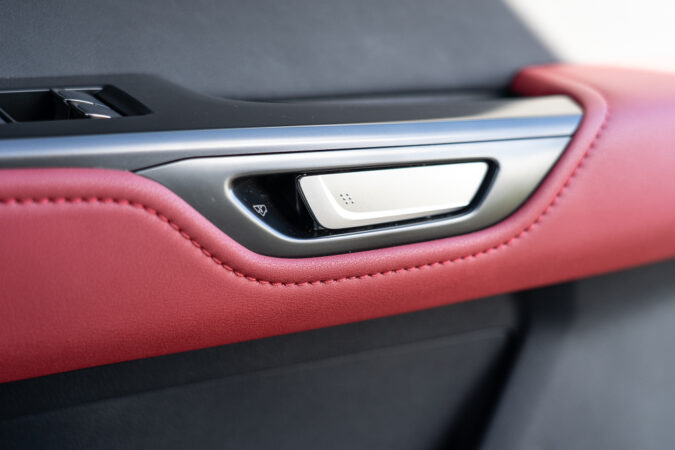 Keeping up with the times, Lexus has blessed the NX with not one, but two giant screens. That digital instrument cluster isn't as featureful or as TRON-esque as the ones you might get in its German rivals. But, as far as usability is concerned, you can preview all the data you'll ever need with its super sharp and crispy display. Plus, there's Lexus's new infotainment system, now enlarged to a meaty 14 inches.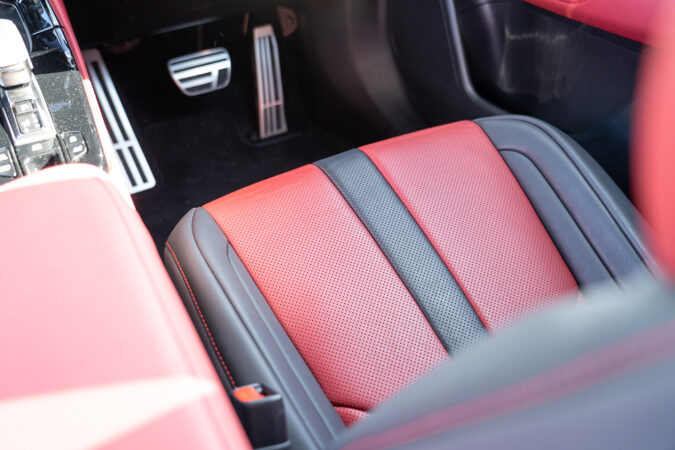 This time around, Lexus has fully redesigned the infotainment system inside and out. I find that in many ways, it's speedier, more enjoyable, and easier to use than rival infotainments.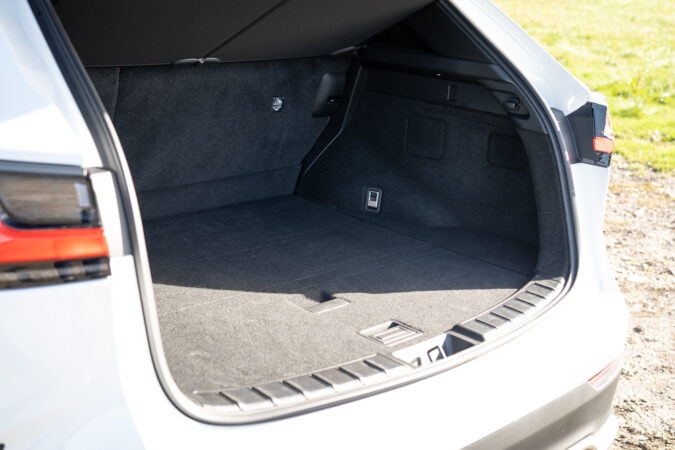 The Experience
Lest we forget, we should also remind ourselves that the NX 450h+ is a plug-in hybrid… So, what does it feel like to experience in the real world? Well, its plug-in hybrid system works in tandem with a self-charging hybrid. You could plug its hybrid system into a wall outlet, and let it charge. Specifically, the NX 450h+ uses a Type 2 charger, which you could handily plug in at home.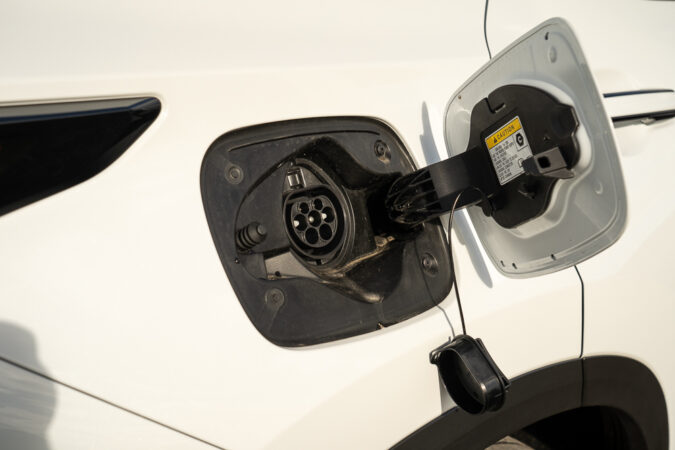 Realistically, it would take you around 3 to 4 hours (on a 7KW wallbox at home) to charge up its 18.1kWh battery pack. With 100% charge, you could readily manage at least 40 or so miles (Lexus quotes up to 43 miles) of electric-only driving. Compared to some of its competitors, that is still pretty good. It will be more than sufficient for most shorter commutes, such as going to work and heading back home.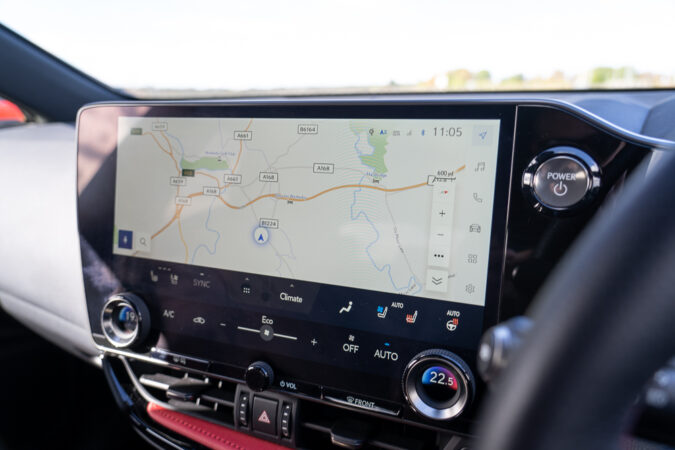 On top of that, being a plug-in hybrid (instead of an EV) gives you the added peace of mind that you'd be able to fall back onto something else should the battery run flat. It ensures that you can more reliably use the NX 450h+, even in colder or adverse weather, where fully-electric cars tend to struggle with range. There's also the extra adjustability of how the hybrid operates.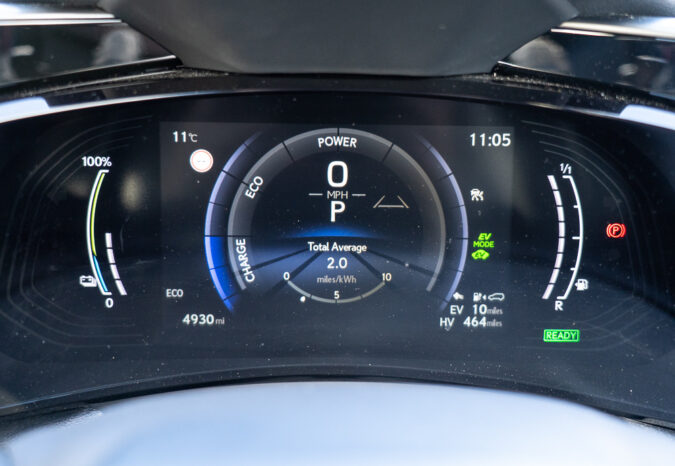 For example, you could choose to run on electric power as much as possible… Or, use its engine for a bit longer. Or, you could opt to have the computers sort out the most ideal way of having the battery charged up as you're driving along. And, fine-tune those settings to mix and match your driving style and commuting routes the best. Beyond the hybrid, the NX is also jam-packed with loads of gadgets.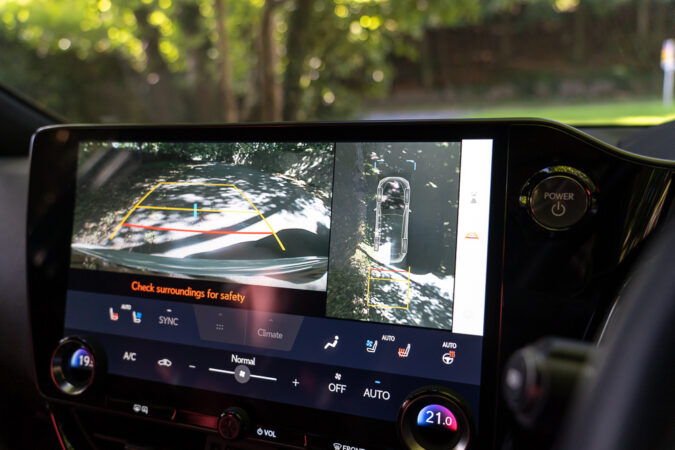 One of my personal highlights is the fantastic backup camera. As you're reversing, it would make your car invisible in its top-down view. Hence, allowing the camera to show you what's underneath the car itself. It's a minor detail, but it certainly makes the NX 450h+ that much more of a breeze to live with, day to day. In addition, it comes with a bucket load of driver aids and active safety systems.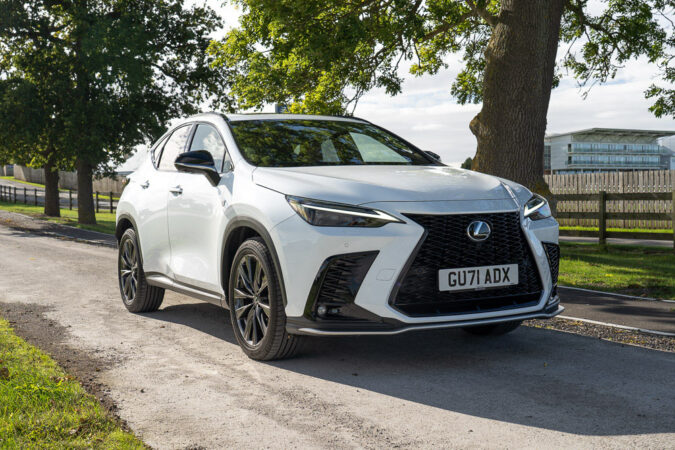 There's the usual array of intelligent cruise control, lane-keep assist, road sign recognition, automatic high beams, blind spot monitoring, as well as front and rear cross-traffic alert. Plus, Lexus has added a few more unique features to further keep you safe from harm, too. This includes lane trace assist, adaptive high beams, and lane change assist, among others keeping a close eye on what's around you.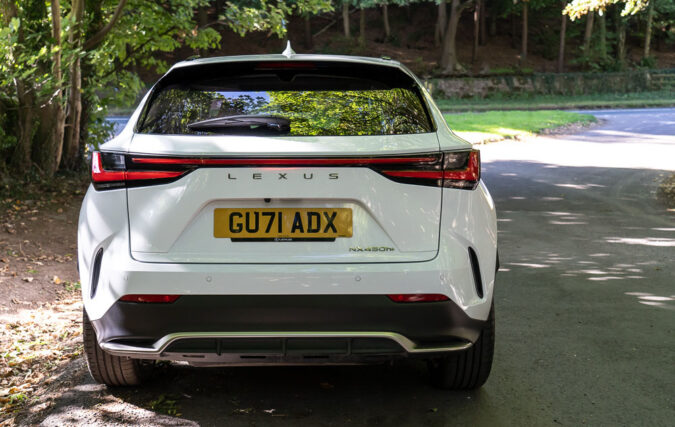 Lexus NX 450h+ F Sport Cost
The Lexus NX range opens up with the NX 350h (front-wheel drive, and a self-charging hybrid), and it starts at around £42,760. Meanwhile, that top-of-the-range NX 450h+ with its all-wheel drive as well as a plug-in hybrid, as you see it here, with a few options, costs £62,450. One of the pricier options that were ticked and added to our press car was metallic white paint, costing us an additional £670.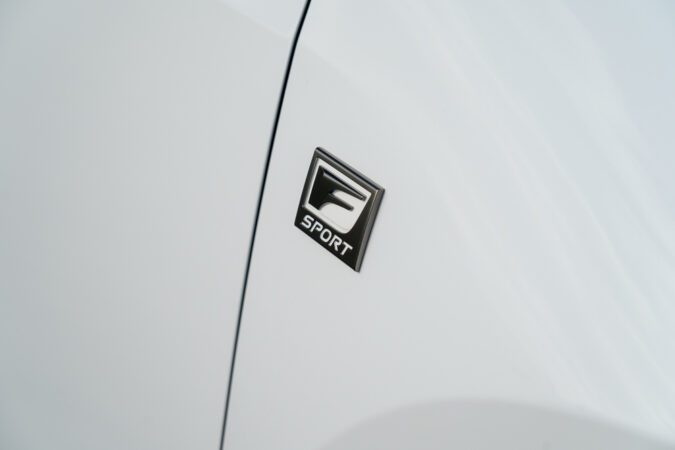 I personally think this is a great starting price for a car with this much technology, refinement, luxury, and capability. For added peace of mind, Lexus offers a 10-year (or 100,000-mile) extended warranty, too. In the past, it was often tough to justify spending this much money, though with some fancy trim added to it. But in the case of the NX 450h+, it's a really attractive package.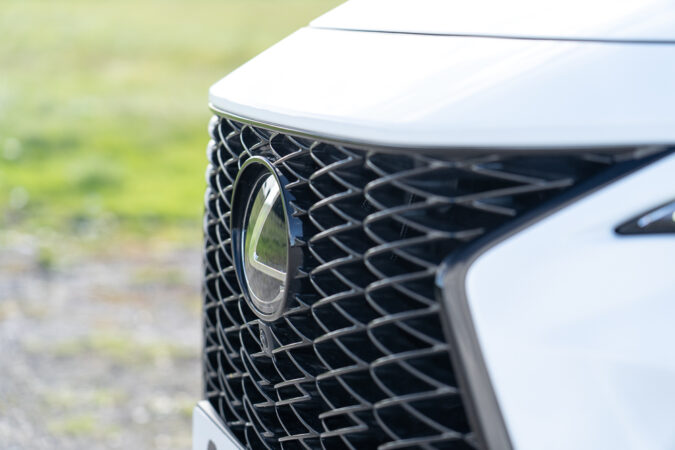 Verdict
In summary, the NX 450h+ is a beautifully executed machine, and a grand return to form for Lexus. It's refreshing to see a proper Lexus make its return with its all-new NX family.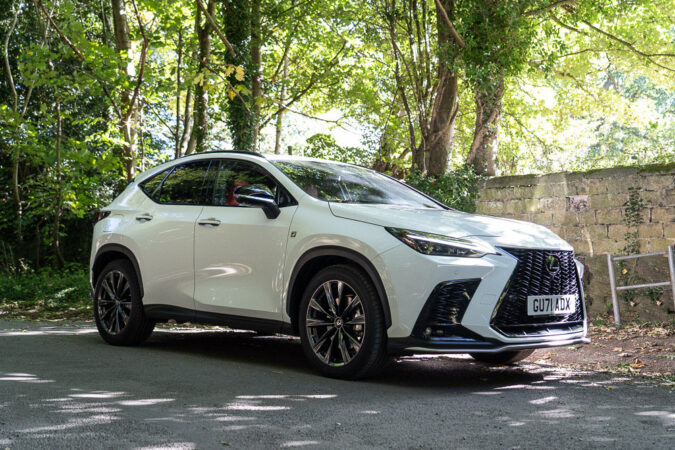 This new era for Lexus, as we've seen with the NX 450h+ F Sport, is well worth the long-awaited hype (and the expense). It might look like any other crossover from the outside. Yet, it offers an abundance of usability, practicality, technology, ease of use, and creature comforts. Maybe now, Lexus could finally throw some strong punches against its German rivals.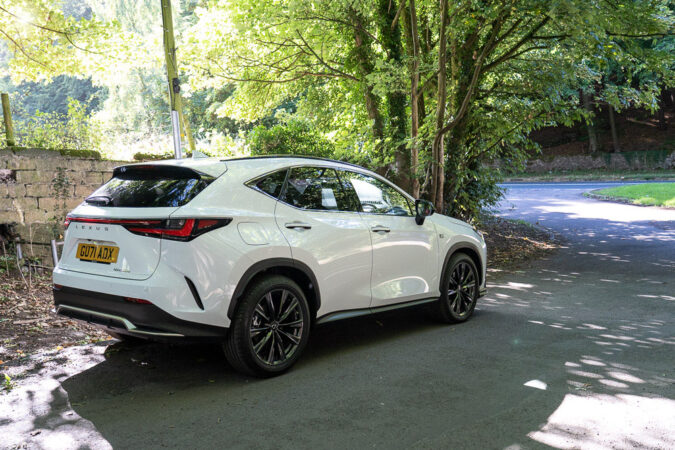 Specification
Lexus NX 450h+ F Sport Specs

Price: £62,450
Engine: 2.5-litre inline-4 (PHEV)
Power: 305bhp
Torque: 227Nm
Transmission: e-CVT
0-62mph: 6.3 seconds
Top speed: 124mph
Weight: 1,990-2,050kg
Economy combined: 256.8-313.9mpg
CO2: 20-26 g/km