Morgan Roadster 3.7 Review
I was invited down to Morgan Motors' factory, based in beautiful Malvern, Worcestershire. When I was there I had the rare opportunity to drive Morgan's current 3.7-litre V6 Roadster, I was also lucky enough not to get the normal Roadster, I got to drive the customised model that was designed by the well-known British bespoke tailor, Timothy Everest and the Japanese tattoo legend Horiyoshi III. Somehow that collaboration ended up with a white Morgan covered in bats. But who am I to question this one off masterpiece, it certainly captures people's attention.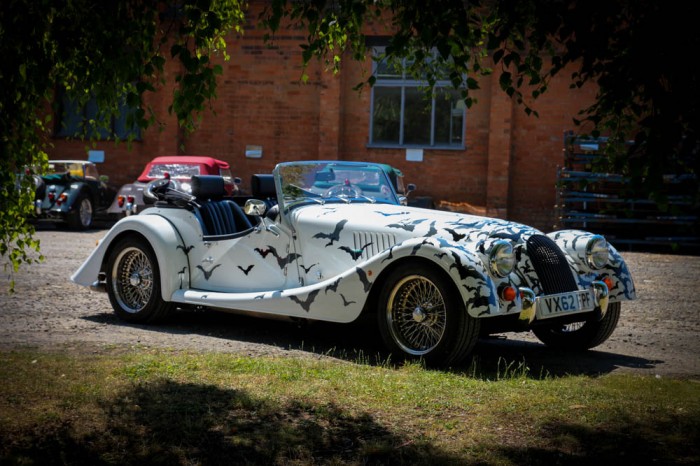 I'll be honest, I've never really desired to own or drive a Morgan Roadster 3.7, and I didn't understand the strong appeal and following Morgan had – so if you are after an honest opinion this is the article for you.
What is the Morgan Roadster 3.7 all about?
To put it simply it is a newly produced traditional looking car. It has a conventional look with a modern engine and gearbox. You slide into the Morgan snuggly, you sit just in front of the back axle with an upright steering wheel at your chest and look down the car over that long bat covered bonnet. Roof down you feel very open and exposed to the elements, and with the low rise doors and short seat backs, you sit protruding from the car which gives a real trilling sensation when driving the British sports car.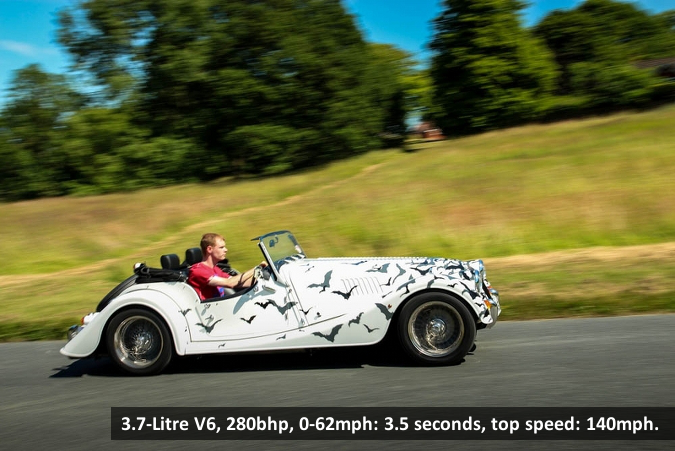 The Roadster has 50bhp more per ton than an e92 M3
Morgan Roadster 3.7  Performance
So Morgan have put in at 3.7-Litre V6 ford engine into the Roadster. The engine puts out 280bhp and the car only weighs 950kg, so the power to weight ratio of the car comes out at 295bhp per ton. Needless to say this thing bolts like a racehorse and sounds awesome when you tease the accelerator. To put the performance into perspective, a modern benchmark for a performance car is the E92 M3 which puts out 244bhp per ton; the Roadster has 50bhp over the M3, which is phenomenal performance for a car made partly of wood and with no roll bars. Being made from aluminium metal and ash wood, the Morgan is super lightweight, and the combination of great engine performance and lightweight agility gives the car and very unique, classic, racing feel. Within the first few minutes driving and exploring the capabilities of the Roadster my eyes were wide open with excitement. This experience quite literally opened my eyes to Morgan's sports cars.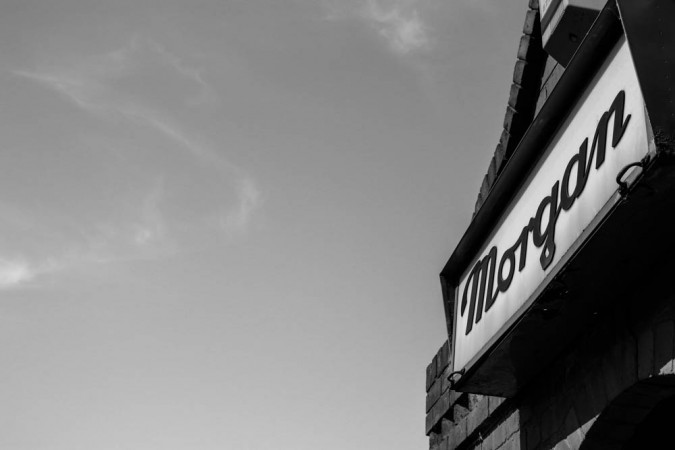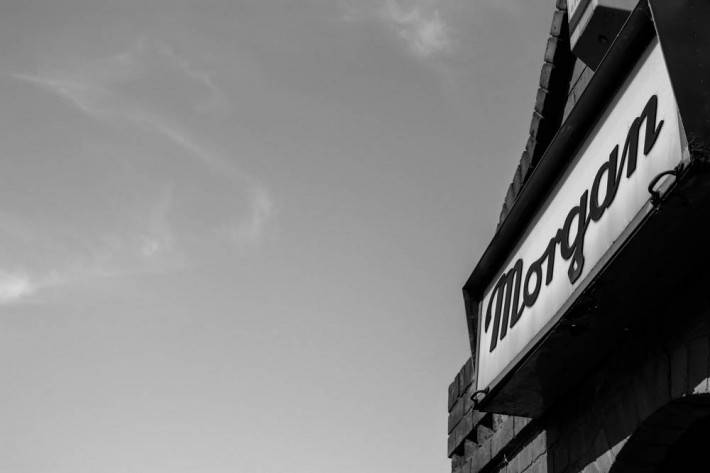 The Roadster Appeal
After 30 minutes in the car I started to understand why people would choose one of these handcrafted masterpieces over a modern-day plastic warrior. The car is built by real craftsmen and portrays great character and charisma. Pulling up at the traffic lights heads turn, people slow down and take pictures, perhaps this time because it was covered in bats but I'm sure that wasn't the only reason.
I think the thing that makes Morgan's cars stand out from the crowd is that they look and feel as a true British sports car always has done and always should do. The essence of the Morgan experience for me is all about the agility that the car exhibits when being driven, this impressive level of agility is possible because of Morgan's lightweight design and build techniques.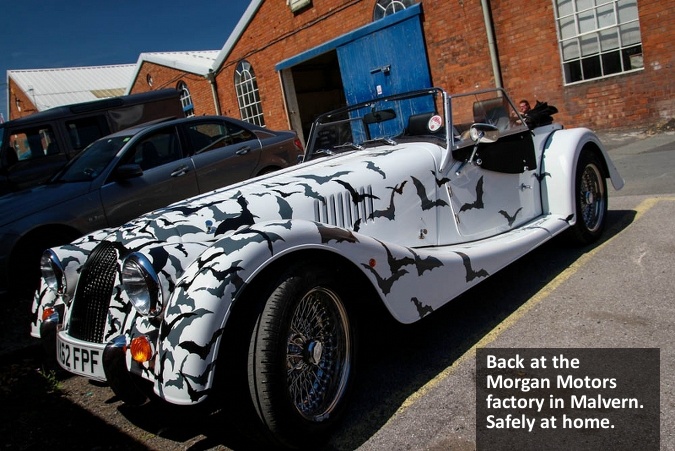 So, am I converted by the Morgan Roadster 3.7?
I now have an understanding for the true elements that make up the Morgan and how it differs from its competitors. As a weekend car the roadster would be an absolute delight to own for very obvious reasons, and how can anyone resist this charismatic British sports car.
Whilst at the factory I learnt a lot about the production and development, and just what Morgan Motors are trying to achieve, and I think having this knowledge and deeper insight into the Morgan specialist car culture I no longer look at it is just an old looking new car. Morgan's are best described as 'constantly improving but never changing'. Morgan is true to its legacy and you can sense the unique heritage even in the modern cars coming out of the factory today.

Morgan Roadster 3.7 Specification
Engine: Ford 3.7 V6
Gearbox: Ford 6 speed
Power: 280 bhp @ 6000rpm
Torque: 280lb/ft
0-62mph: 3.5 Seconds
0 – 62: 5.5 seconds : 140mph
Top Speed: 140mph
Power to weight: 295bhp/ton
CO2: 229g/km
Combined: 28.8 mpg
Dry weight: 950kg
Author: Paul Hadley