When Toyota brought back the Supra, its reception wasn't as overwhelmingly jubilant as we hoped. Most were happy, but others were a bit peeved that it was as much of a BMW as it was a Toyota. But it didn't matter, because the fifth-generation Supra was a fantastic sports car, enough to fulfil the cravings of any enthusiast. However, it was a dream that not everyone can afford.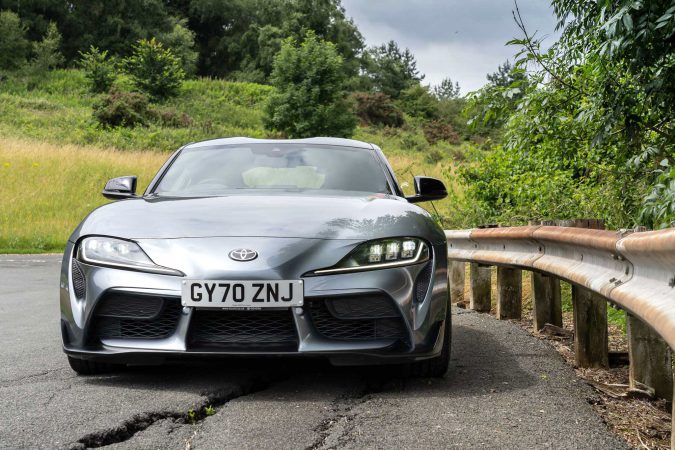 This changes, as the price barrier for entering into Supra ownership, is a slight bit lower now. It once had a BMW-built and Toyota-tuned straight-6 from the Z4 Roadster. For a smidge less money, you can now opt for a Supra with a 2.0-litre four-pot (also BMW-built and Toyota-tuned) engine. But has this GR Supra Pro with two missing cylinders turned into a lesser car than its bigger brother?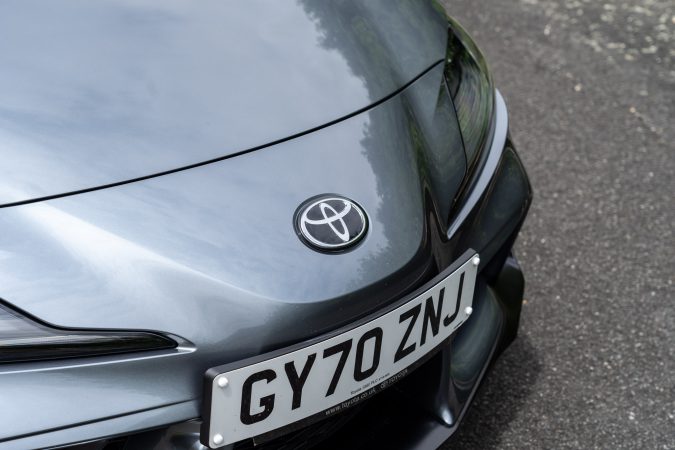 What Is The Toyota GR Supra Pro About?
I was so happy to see that the actual production-ready Supra looked so much like the FT-1 concept. Having laid eyes on that for the first time, it was awe-inspiring. So much so, that I had it firmly in my head that it be would criminal for Toyota to never use this design again. Surprise, surprise, the Supra's FT-1 inspirations shaped it into quite a handsome, yet intricately designed car.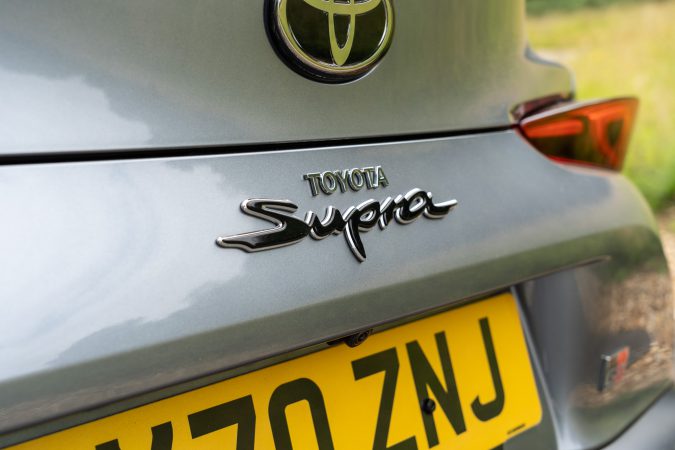 There's no shortage of flowing lines to round off the curvature, as it tapers off into a sharp ducktail spoiler at the rear. Although some – like yours truly – sort of wished it had a bigger wing, but I digress. If you look closely, you could even see a Zagato-esque double-bubble roof. The complexity of the design may take some getting used to, but it's fitting for a car that's as energetic as this.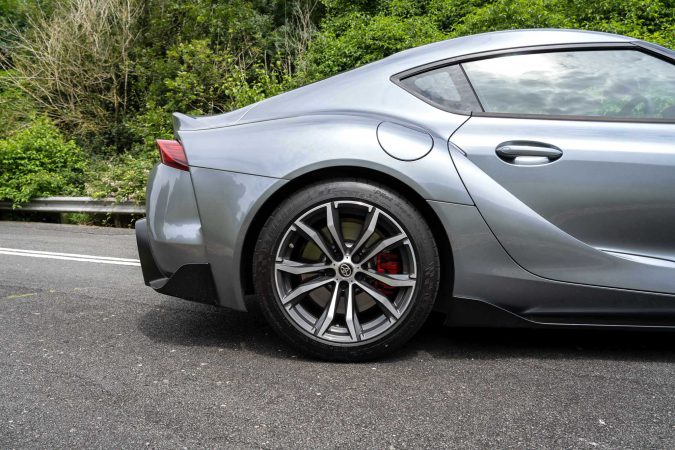 How Does It Drive?
So, what do you give up by choosing a seemingly four-pot over a hairy-chested inline-6? To satisfy our top-trumps curiosity, the GR Supra Pro has a 2.0-litre inline-4, with a pair of twin-scroll turbos. Connected to this is a familiarly half-German 8-speed automatic. Altogether, it can produce 254bhp and 400Nm of torque. This is enough for a 0 to 60mph jaunt of 5.2 seconds.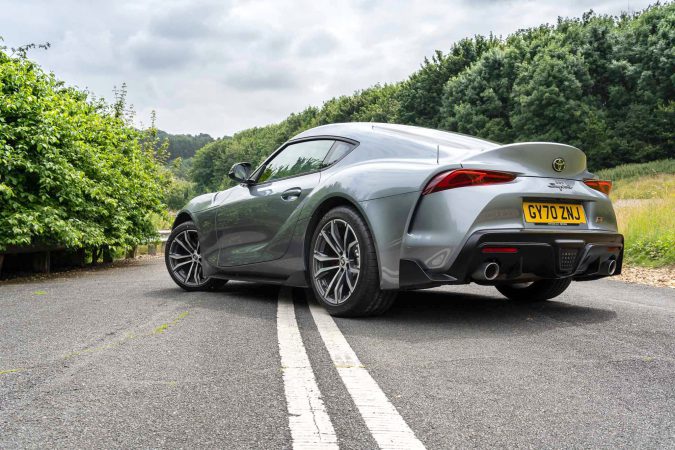 It could then top out (electronically) to 155mph. As the figures may suggest, this Supra Pro isn't as blindingly quick or as sprightly as the straight-six. But despite lacking the bigger engine, it's more than just enough to have a bit of fun with, as you grab it by the scruff of its neck. Straight-line speed aside, the real rewards come into play when you chuck it into the bends.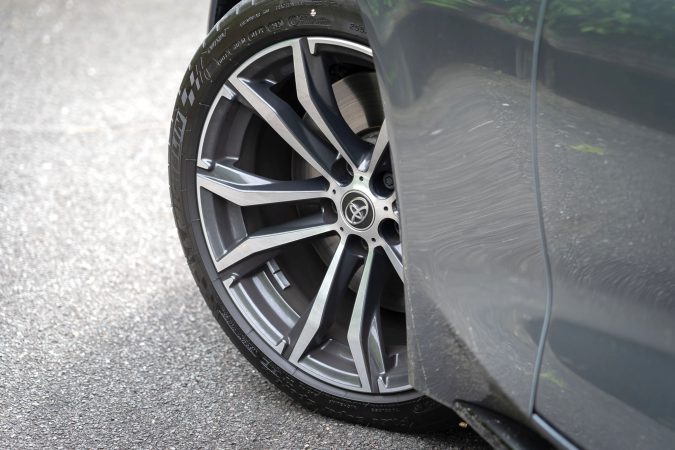 By chopping off two whole cylinders – and plenty more elsewhere – this four-banger Supra is slightly lighter. The kerb weight is relatively light at 1,395 kg. In doing so, its dynamics are (albeit by a small margin) a step above the six-cylinder option. It feels a tad livelier, and it handles like its lost a palpable amount of mass. One could argue that it's a better driver's car than the inline-6.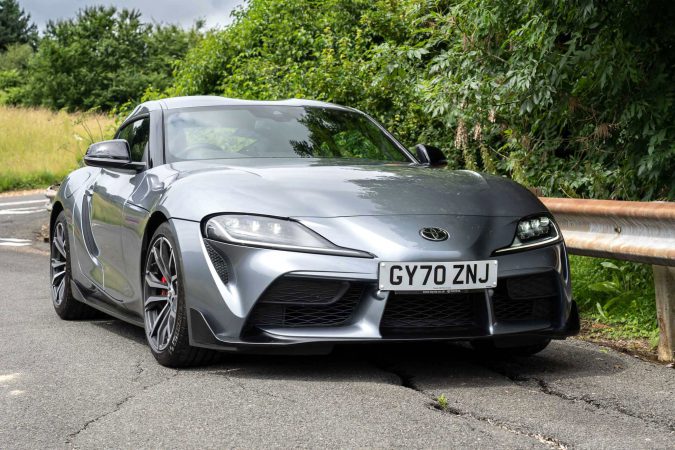 It may not have as much grunt, but it's more nimble, playful, and athletic in the corners. Driving it, there is no doubt that the GR Supra Pro is a proper sports car. Plus, it's a machine that's so very happy to cheer on its driver to keep pushing harder. The tuning in the suspension and steering is spot on. The brakes, meanwhile, feel like they've been tuned to stop higher horsepower counts.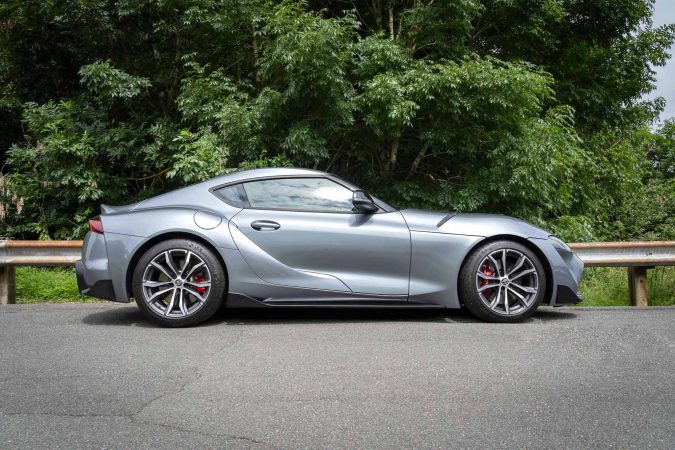 What Is It Like Inside?
The Supra isn't small, but placing yourself in the cabin, you do feel cosy. It has a sloped roofline, and your head feels like just barely brushing against the roof. You feel cocooned in the cockpit, sitting one with the car – in a good way, we think. It's a sporty driving position, like being dropped into a Le Mans racer. This has compromised the everyday usability, such as not having the best visibility.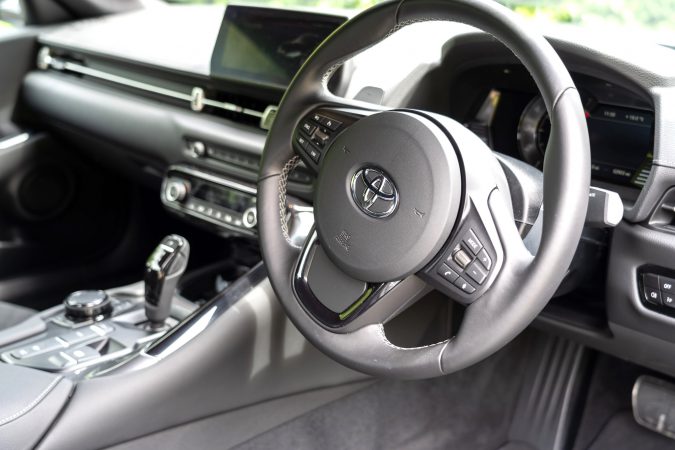 Peeking out of the windows can also feel like you're looking through a letterbox. Overall, it's a nice place to be. You do get hints that it's a part-time BMW in here, too. The gear-lever, infotainment controls, rotary knob, and a few other buttons here and there are basically the same as with any BMW. But they work well when you want them to, so we have no complaints.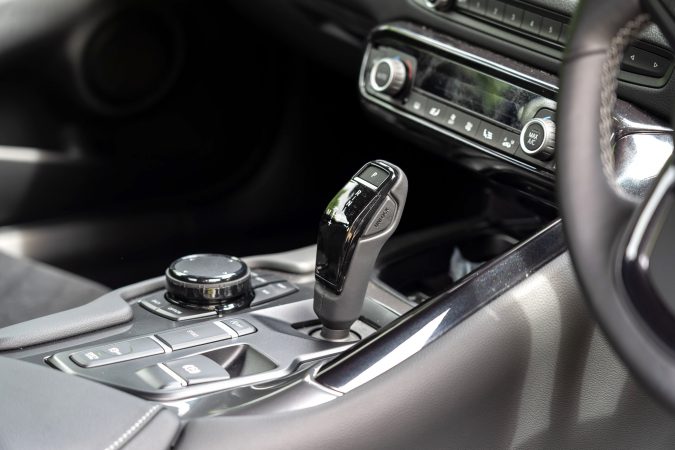 The Experience
Speaking of BMW, there's a very iDrive-like 8.8-inch infotainment screen in the middle. Unsurprisingly, this also works quite well in the Toyota GR Supra Pro. It doesn't have the screens-everywhere sort of interior design approach as some other cars, but this uncluttered look is a better experience for a sports car. In front of you, there's a simple set of two analogue dials, flanking a tiny display.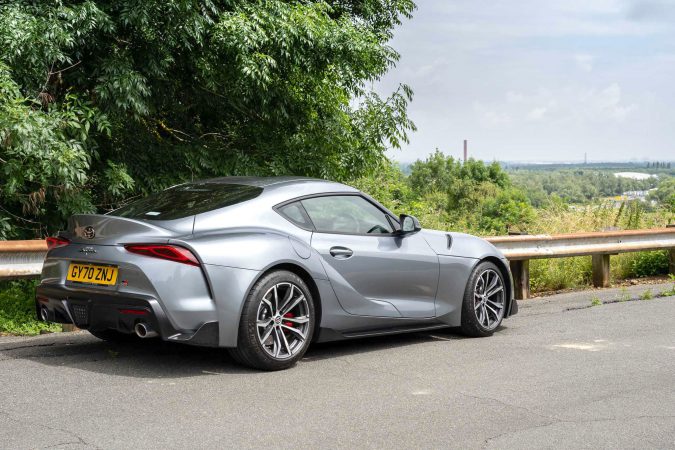 Our time spent inside the Supra completes its engagement-focused driving ethos. According to Toyota, they've designed the cockpit to be akin to sitting in a single-seater race car. That said, the Supra, which traces its lineage back to the 2000GT of the 60s, doubles very pleasantly as a grand tourer. It rides comfortably, as the four-pot motor rasps gently every now and then as a reminder.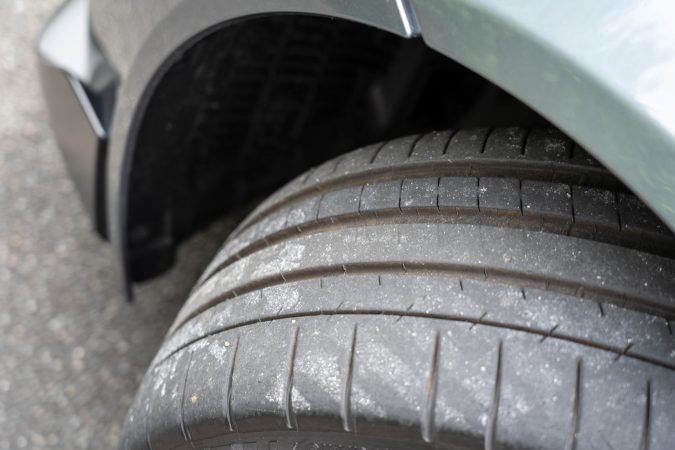 Toyota GR Supra Pro Cost
In the UK, the GR Supra 2.0 Pro starts at £46,010. That's compared to a £54,365 starting price for the GR Supra 3.0 Pro, this being the more powerful inline-6 version. Our particular test car here has one option in particular, £710 for "premium" metallic silver paint. But overall, those savings are quite steep, lowering the barrier of entry for a Supra to make it easier for a lot more people.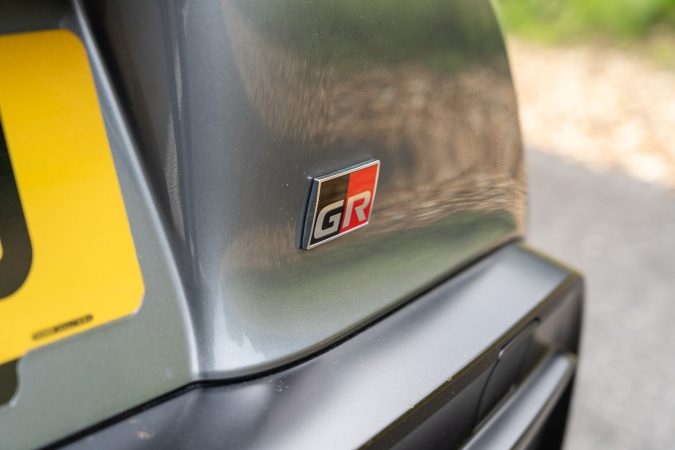 If you want the same horsepower of that bigger engine, there's always the option of tuning your inline-4. Around the exterior, you may have spotted some fake vents here and there. There's a good reason why they're there. The plastic vent covers can quickly be removed if you're thinking of modifying your Supra. Add some ventilation or intakes, and you can scale it up from there.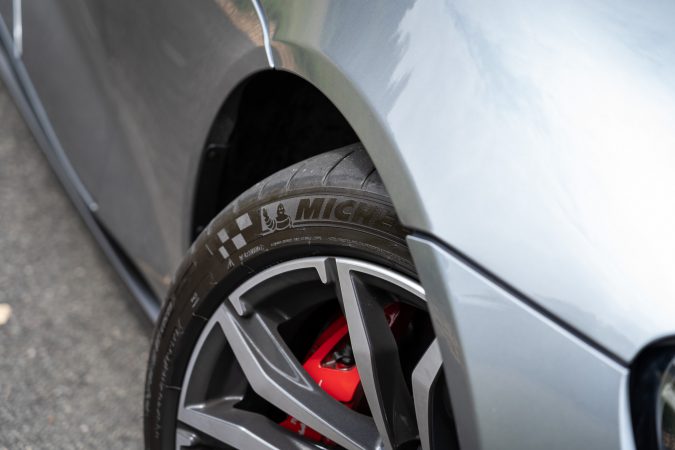 Verdict
It's hard to say no to the GR Supra Pro, as there aren't a lot of sports cars in this price range that has the same degree of fun, lively and engaging driving experience. It's spirited, to a point where you could forget that it's not even the 'quickest' Supra you can get. Either as a pure driver's car or a relaxed grand tourer, it's properly refined in and out, and more than happy to put a smile on your face.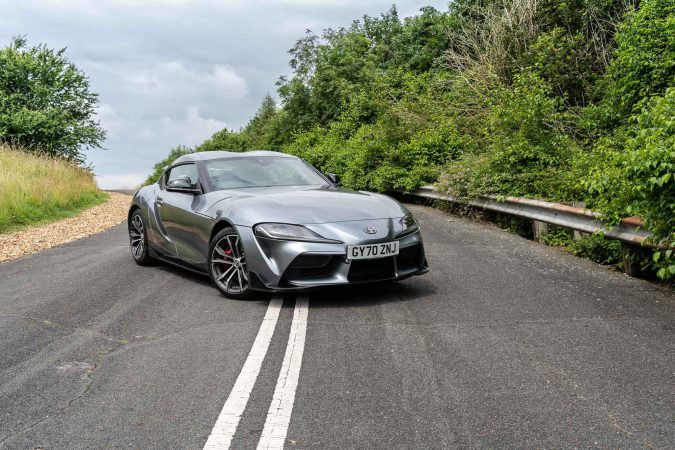 Specification
Toyota GR Supra 2.0 Pro Specs

Price: £46,010
Engine: 2.0-Litre Inline-4, Twin-Turbocharged
Power: 254bhp
Torque: 400Nm
Transmission: 8-Speed Automatic
0-62mph: 5.2 seconds
Top speed: 155mph
Weight: 1,395kg
Economy combined: 38.7mpg
CO2: 167g/km