Audi, like its fellow Germans, had a bit of a late start into the EV era. Having long trailed and then slipstreamed Tesla's rapid success, they're now taking a giant leap forward into electrification. This future continues to manifest with this, the Q4 e-tron 40 Sport. It's made to tick off as many boxes as possible. Practical, easy to live with, seamless to drive, have loads of tech, and is efficient.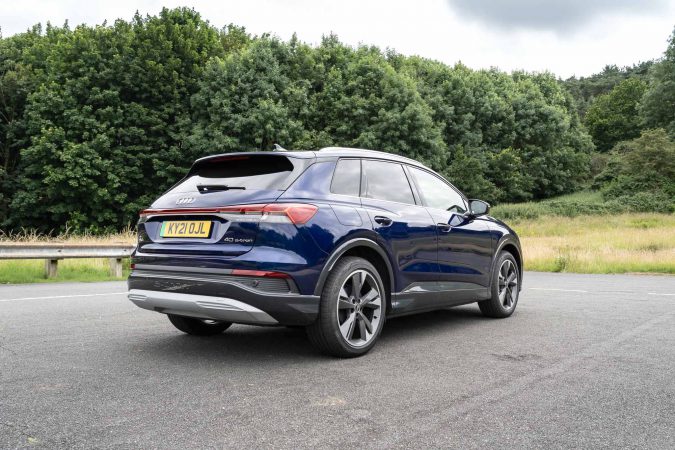 The only major hurdle to get past through first would be that name. For a start, it's a mouthful, so let's try and break it down… e-tron tells us that this Audi Q4 is an EV. The number '40' denotes how sporty of an EV you'd like it to be, with this sitting between the '35' and the '50'. The latter has a larger battery and more horsepower. Meanwhile, 'Sport' is the trim level. Got it? Good.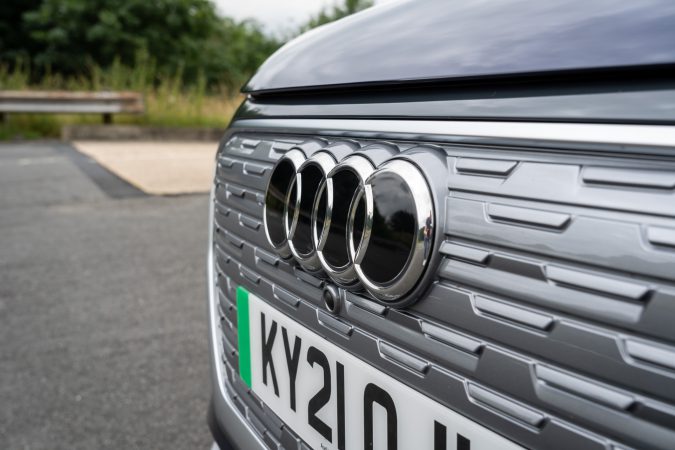 What Is The Audi Q4 e-tron 40 Sport About?
Since Audi is charging ahead into a new age, they have a new look to represent this shift. Design-wise, Audi's been on a roll lately since the e-tron GT came along. If this is the design ethos of Audi moving forward, then we can certainly look forward to a lot more handsome cars. The Q4 is no different, and Audi's taken a chisel to shape it to be sharper, bolder, and more distinct.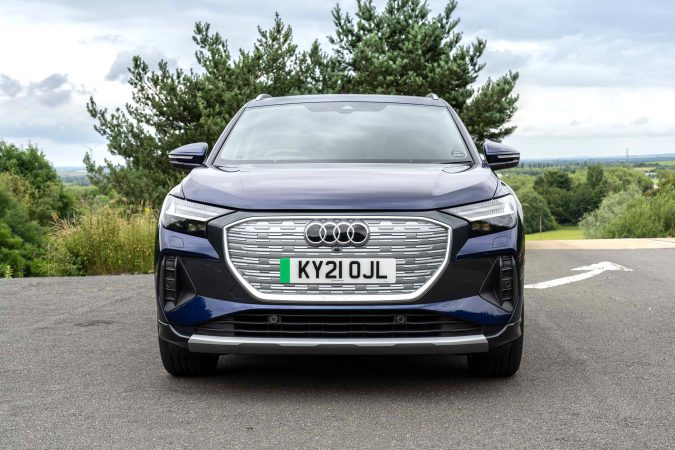 It's fascinating to pit this against the sea of similar-looking SUVs out there. It squats fairly low, with most of its visual mass placed way down to give it an aggressive stance. Ready to pounce, Audi's glitzy lighting signature is present, as always. It would be at home in Tron, the movie. We're still not sure if the grille needs to be that big, but overall, the Q4 e-tron has a sporting appearance.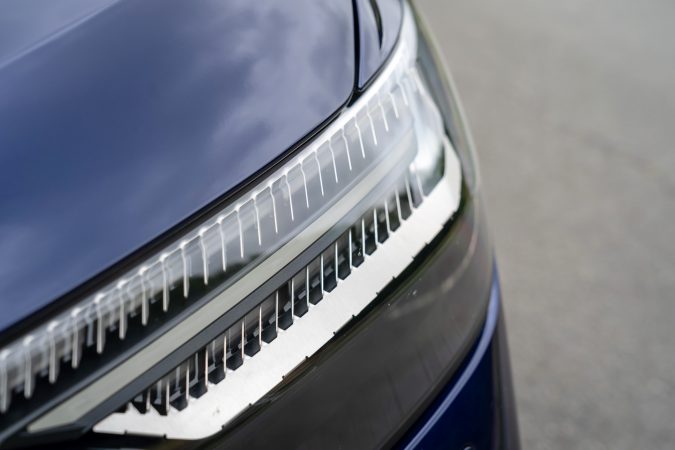 How Does It Drive?
While the exterior exudes an athletic fascia, the Q4 e-tron 40 isn't the most athletic car to drive. Under the flesh, we have an 82kWh battery, mated to a motor in the rear. Peak output is rated at 204PS, on top of 310Nm of electrifying torques. With this, it can hop from 0 to 62mph in a leisurely 8.5 seconds, before topping out at just under 100mph. No trailblazing numbers, then.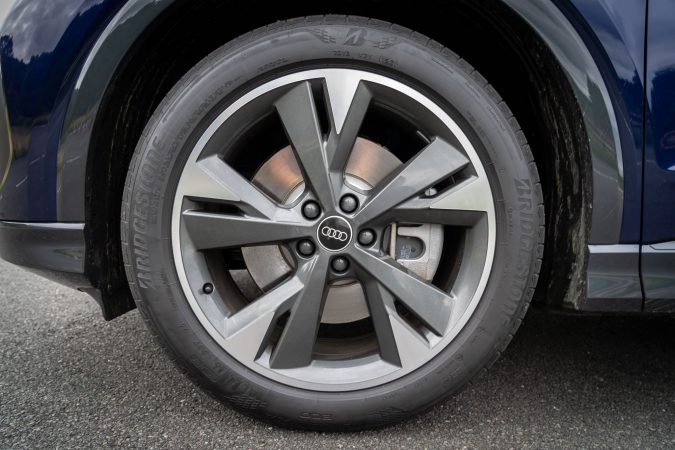 It's fine for the most part and has more than enough poke for everyday driving. But if you're in the mood for a quick wind-in-your-hair dash, don't get your hopes up. There really isn't much dynamism to be had in this 40-spec e-tron, but then again, were you really expecting that? Being an EV, it's quiet and serene as you would want, and this here is where it shines.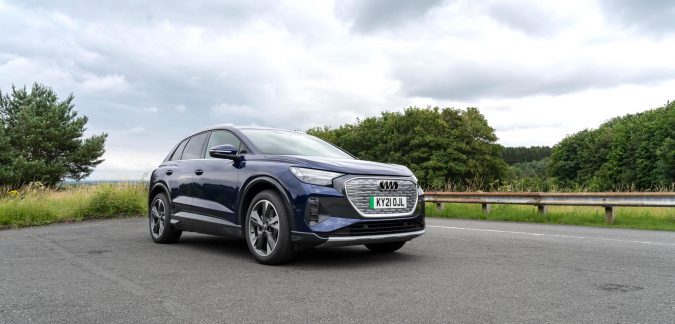 Even better, that zen is amplified by a factor of umpteen given the extra refinement that you desire in an Audi. For commuting, going through the school run, or being used for road trips, the Q4 e-tron 40 is an excellent companion, and aces it all. The ride is buttery smooth too, as the suspension barely breaks a sweat when ironing out the most cratered of country lanes.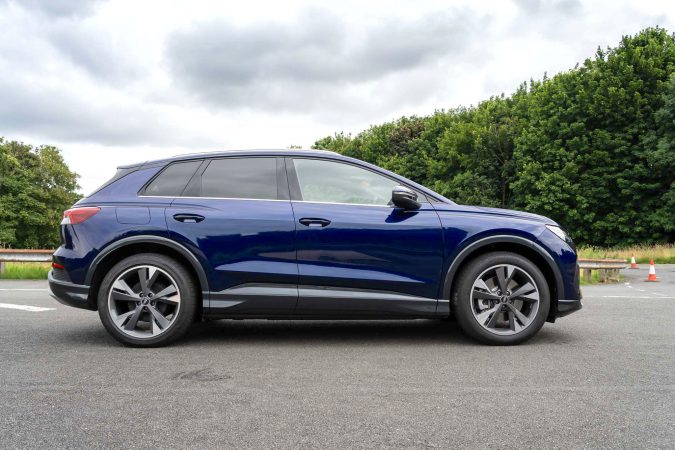 What Is It Like Inside?
One of the advantages of getting an EV is the rejigged packaging, as it needs no engines or fuel tanks to get in the way. This is all to the benefit of interior space, and the Q4 e-tron has loads of it. There's plenty of room for passengers, and an even larger boot further in the back. Apart from roomy cabins, the design and layout of the interior are very futuristic, too.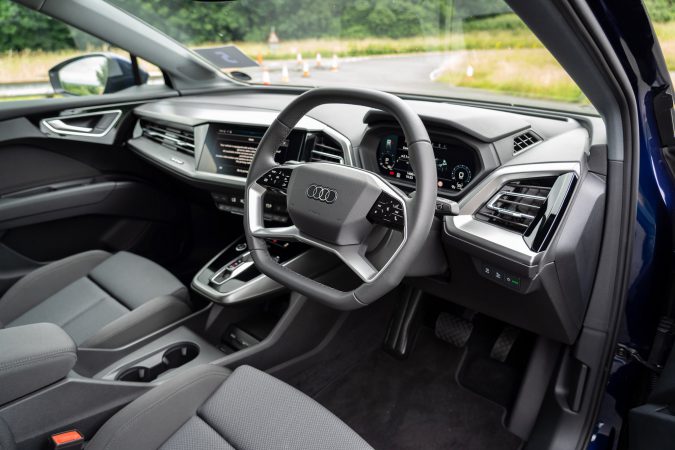 Being an Audi, you can of course expect the best of build quality, with sumptuous material all around. Tech is a standout feature too, and Audi's always been amazing with the crispness and smoothness in this 10.1-inch MMI infotainment system. The Virtual Cockpit dash, meanwhile, is sharp and incredibly customisable. And joy oh joy, we have actual physical buttons to play with too.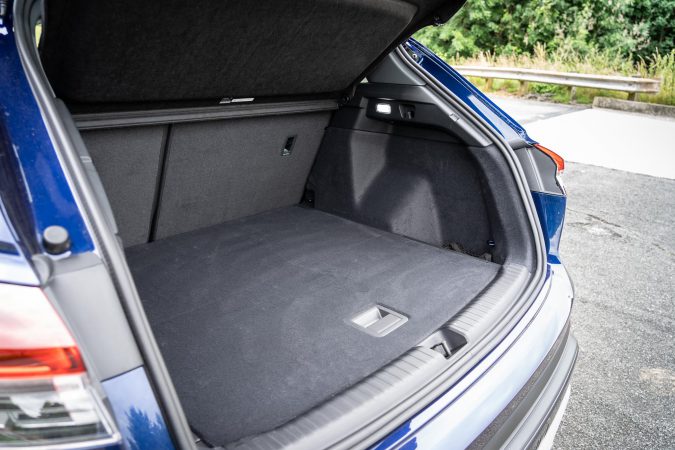 The Experience
Earlier, we noted that the performance of the Q4 e-tron 40 Sport is not worth writing home about. But its timidity to unleash all that power has one very significant positive trade-off – electric range. This is made all the better by the massive battery in the e-tron 40 spec, with a quoted WLTP range of around 316 miles. These are really big numbers to help resolve any concerns of range anxiety.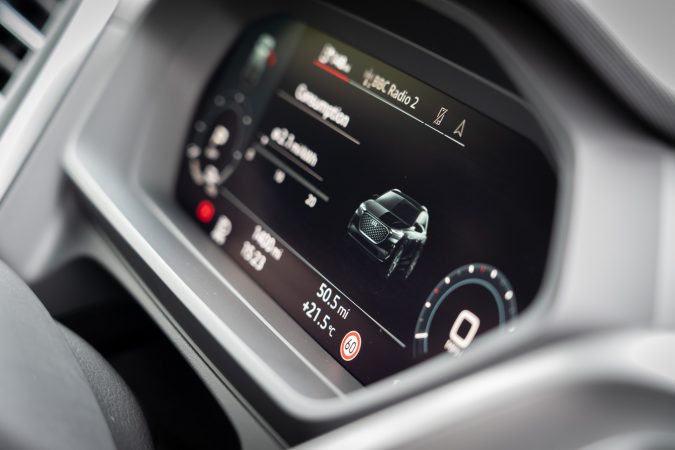 Topping up the batteries is a breeze, as the mid-range e-tron 40 has the ability to charge up at 125kW. You could, with a rapid charger, brim it up from 5% to 80% in just 35 minutes; the perfect time to get a cup of coffee while you wait.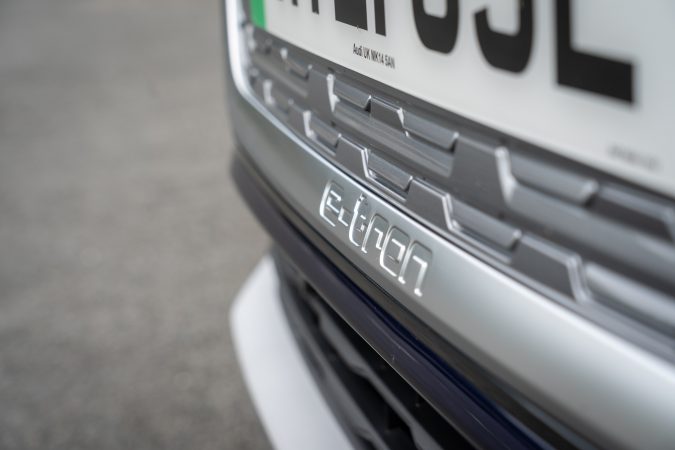 Audi Q4 e-tron 40 Sport Cost
With a high-tech Audi that seems to be able to do everything you need, Q4 e-tron 40 Sport doesn't come cheap. As tested, ours here costs £52,685, though this particular model starts off at £44,275. You can lose a lot of cost by unticking some of the options. For our test car, the techy bits and pieces are pricey options, leaving us £1,200 lighter.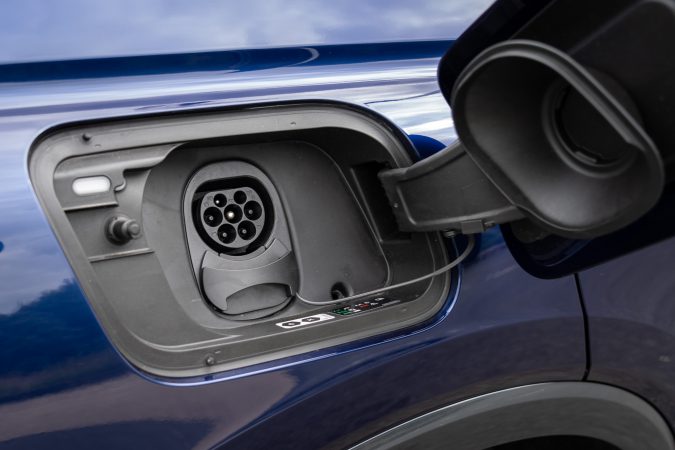 You can opt for a lot of them with the Q4 e-tron, like a heads-up display with augmented reality. The cool LED Matrix headlights are another £1,075, while the extra driver assistance package is another £1,000 in options. That cosy suspension we loved with active dampers is £950, as the 20-inch alloys cost us £660. The lovely Navarra Blue metallic paintwork is £575.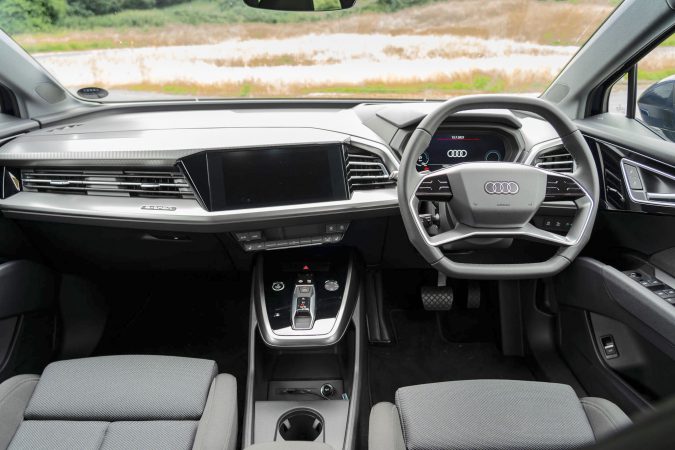 Verdict
Overall, the Audi Q4 e-tron 40 Sport is a great all-rounder. It's beautifully designed, standing itself out far beyond other SUVs. It is immensely practical with endless cabin space, and 520-litres worth of room for luggage. The tech is astounding, leagues above some other carmakers. It's more like an electronics fair in here than a boring old car.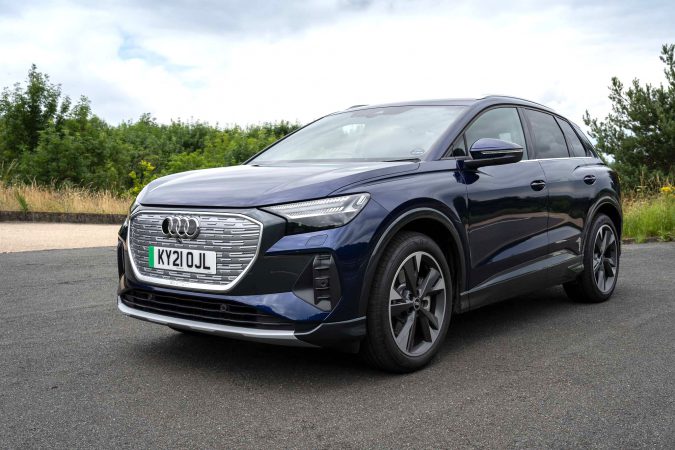 The EV side of things is impressive, too. A range of 300+ miles is easily achievable, and when you do need to charge it back up, it tops up rather quickly. Performance is a little lacklustre for an EV, not so keen on giving you all too many burnouts. But that isn't what you'd be looking for anyway. As a package, the Q4 e-tron 40 Sport will be hard to beat for those in the market for a high-end electric SUV.

Specification
Audi Q4 e-tron 40 Sport Specs

Price: £52,685
Engine: 82kWh Battery, Single-Motor
Power: 204PS
Torque: 310Nm
0-62mph: 8.5 seconds
Top speed: 99mph
Weight: 2,095kg
Economy combined: 316 Miles (WLTP)