Driven: 2018 Toyota Hilux Arctic Trucks AT35 Review
Today we have something quite unique and different from the norm at Motor Verso – a modified car on show and tell. We hop on board the Toyota Hilux Arctic Trucks AT35 to gather an opinion on it.
What is the Toyota Hilux Arctic Trucks AT35 all about?
If you have seen the Top Gear UK of old with the classic trio, you'll most probably remember the Polar Special episode which debuted over a decade ago by now. In that episode, Jeremy Clarkson and James May raced Richard Hammond to the North Magnetic Pole. That was premise, but the main goal was actually for Clarkson and May to attempt to hit the record of being the first people to ever reach the Pole using a motor vehicle.
The motor vehicle they chose was a truck they deemed indestructible, a Hilux, but modified by Arctic Trucks for sub-zero duty, hence named the Hilux AT38. The Toyota Hilux Arctic Trucks AT35 we have today is essentially a newer, milder variation of the AT35. Being genuinely commercially available in the UK, we wanted to test if this expedition truck is a worthwhile proposition for the off-road crowd.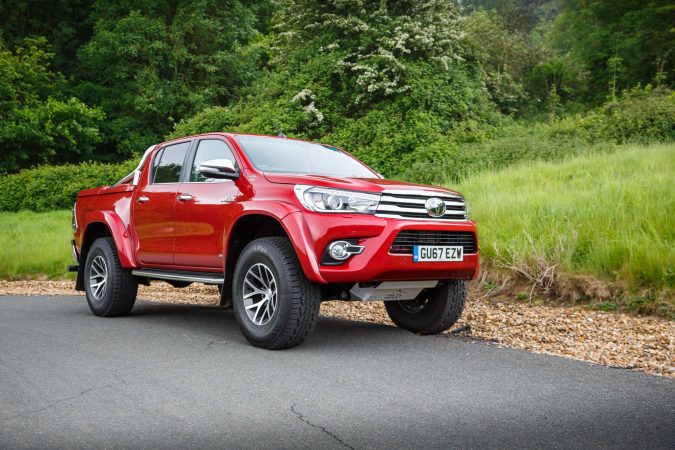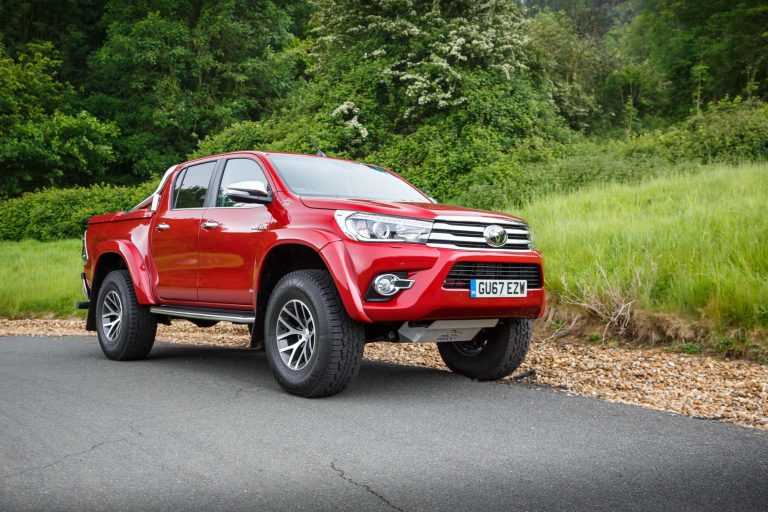 Design-wise, it remains largely unchanged on the outside. Since it is a more all-rounded exploration vehicle, there's really no need for Arctic Trucks to install a ridiculous bull bar which would really swell up the body. Instead, you'll find it is rather a normal looking 2018 Hilux.
Of course, to qualify as an actual expedition truck, Arctic Trucks gave it a significant 40mm suspension lift and donned it with the usual off-road accoutrements: an Arctic Trucks front skid plate, extended side steps, widened wheel arches, a rear receiver hitch and Arctic Trucks mudflaps.
The wheel and tyre combination also play a big part in the looks of an off-road ready truck. The Hilux AT35 boasts a nice set of 17″ AT Silver Alloy wheels wrapped with 35″ Nokian 315/70R17 Rotiiva tyres which are tough, action-ready tyres revered by those who love the mud.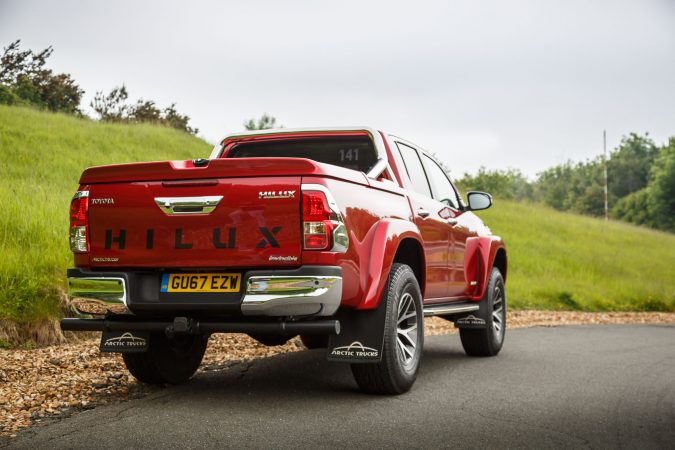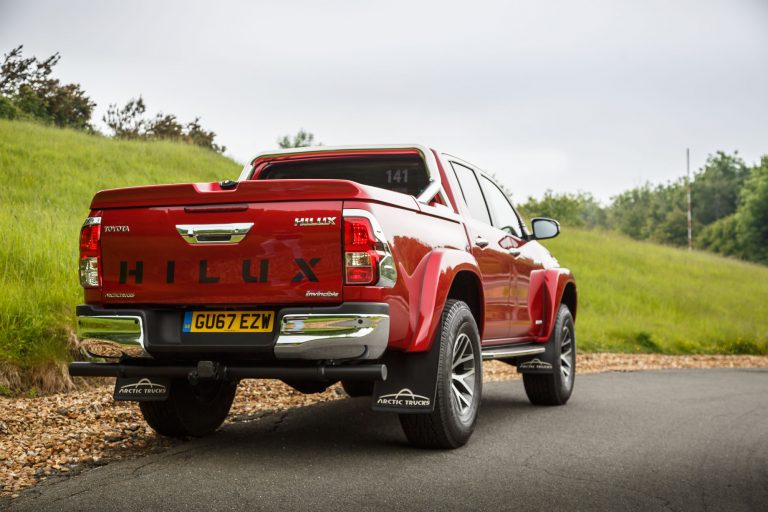 With all of these endeavours to beef up the Hilux, you may assume that Arctic Trucks has worked their magic underneath the bonnet. However, it surprisingly remains the same as the UK specification Hilux, i.e. a 2.4-litre 2GD-FTV turbodiesel inline-4 which produces 150 horsepower and 400 Nm of torque.
Married to that engine is a 6-speed automatic transmission which can be found on a normal Hilux that drives all four wheels. This drivetrain is normally used to propel a regular Hilux from 0-62 mph in 12.3 seconds, onto 106 mph. But considering that the Toyota Hilux Arctic Trucks AT35 weighs about 40 kg more and has considerably beefier tyres, it's a safe bet to say that it'll be slower.
A normal Hilux can expect fuel consumption to be at around 36.2 mpg while putting out 204 g/km of CO2. It's thus also fair to assume that the Hilux AT35 will be less efficient.
How does it drive?
While the Toyota Hilux Arctic Trucks AT53 does weigh a fair bit more than a regular Hilux and in theory carries a bit more rotational mass at the tyres, it's surprisingly not as dispiriting as I had anticipated. Perhaps it's because of the whole gritty working-man ethos of the engine, that it makes a boatload of torque almost instantaneously.
The prompt engine response makes it easy to work with around town, where you will predominantly find stop-start traffic. However, also due to being a gritty working engine, it gets coarse under acceleration. Of course, it also clatters quite a bit at idle. However, it's definitely more refined than the 3.0-litre diesel it replaces, and remains a pleasantly smooth experience while cruising.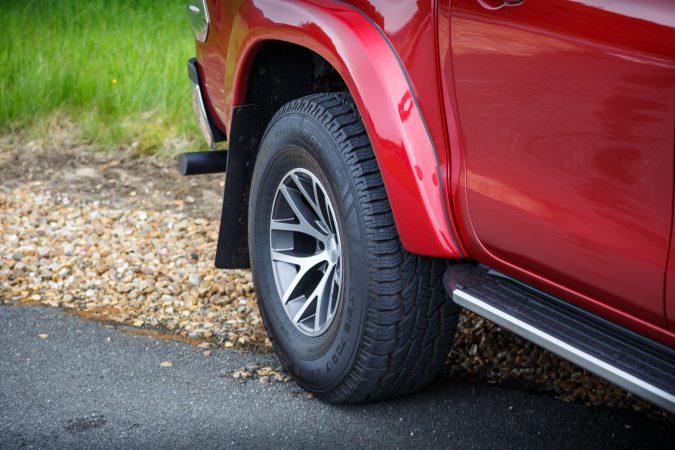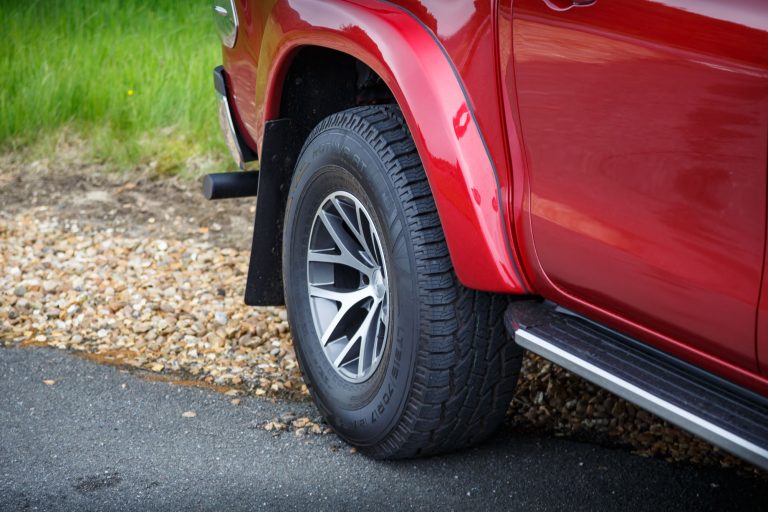 Another praiseworthy aspect of the Toyota Hilux Arctic Trucks AT35 is the 6-speed automatic transmission. It shifts smoothly through gears at low speeds and downshifts accordingly when you need immediate pace. Although it can hang onto gears way overdue at times, which strains the engine that's made to work down low.
Being an incredibly tall pickup truck that thrives off the beaten path, the Hilux AT35 is predictably unwieldy around corners. The suspension are however quite out of their element when you attempt to rotate around a corner, introducing quite a lot of body roll mid-corner, as you might expect.
It's also not exactly responsive, as the nose leisurely wallows into corners if you push it hard. The steering is startlingly lightweight, but not particularly communicative and the brakes slow the car down suitably. Traction isn't confident-inspiring on asphalt; you'll start sliding if you jab the throttle while attempting to shift the truck around a corner, making the truck fun the rain for sure.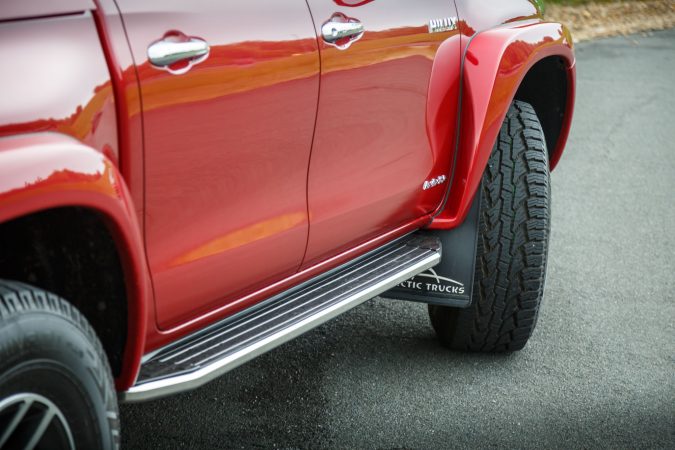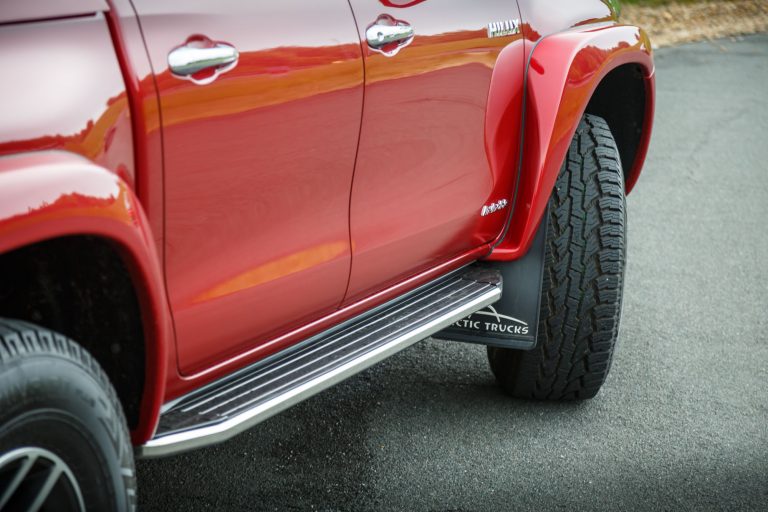 Even though it is a rather cumbersome endeavour around any kind of B-roads, it's unexpectedly effortless to drive around town. All the inputs are light and painless, and with the suspension being oriented towards off-road driving, it is literally pillow-like. It can cushion up any sort of puny on-road bumps you toss at it, and you barely feel a thing going over potholes and crevasses.
You do assume an astoundingly commanding driving position. Make no mistake, you'll intimidate any sort of passenger cars roaming around the city, and people will generally give you space. The tall seating position grants you excellent visibility though. It is a bit tricky to park well since its quite wide but Toyota's reverse camera helps immensely with that.
On the motorway, it's similarly stupendous. Somehow Nokian has managed to tame these tyres for motorway use, and the tyre roar, while present, is perfectly acceptable for these treads and siping. Wind rush is definitely audible but nothing too bad for an expedition pickup.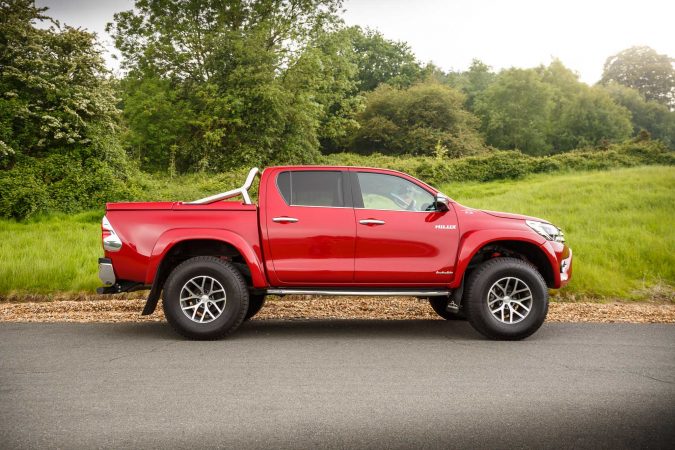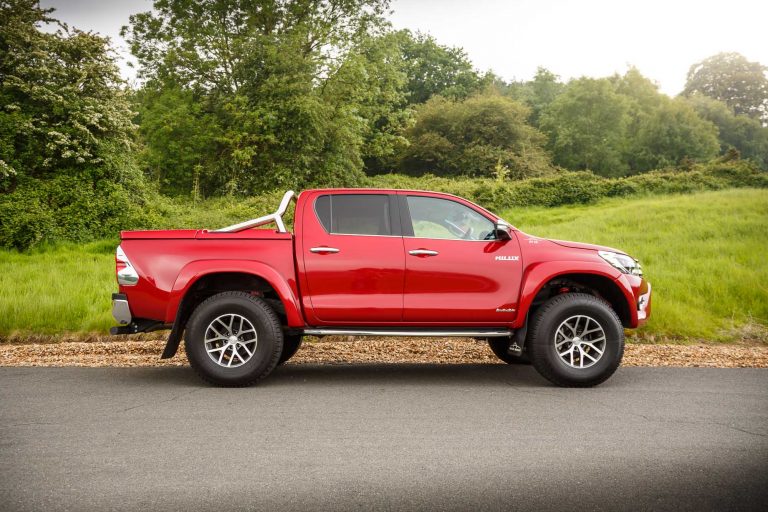 Of course, the whole point of buying a Toyota Hilux Arctic Trucks AT35 is to quite literally, drive anywhere you please. With low-range and a differential lock, you can plan an excursion to anywhere you want. During my short time spent with it, I didn't find any moment where the Hilux AT35 even displayed a smidge of reluctance or hesitance.
With over 350mm of ground clearance, a 37° angle of approach, and a 28° angle of departure with excellent wading depth, it's an evolution over the normal Hilux's off-road prowess. These tyres certainly come to life around loose terrain too, allowing you to claw onto the rapidly shifting mud.
It is quite strange to work with the automatic transmission on such a capable exploration truck, but you can consider it a luxury. While the cabin moves around quite a bit, the suspension does a fantastic job on coping with washboard gravel and unceasing undulations.
What is it like inside?
Inside the car, it's pretty much all Toyota Hilux. The Hilux AT35 is actually based upon the Invincible X trim, the range-topping package you can opt for on a normal Hilux. So you can expect a rather posh cabin for an expedition truck. You do however have to use the side steps and pull on the grab handle to get on, or step about 1 ft into the air.
The seats upholstered in black leather, are presumably the 'Professional design' from Toyota. It's quite nice, and it does a good job at hugging you in place when action arises. These are power-adjustable, they can slide, recline and rise or drop in height.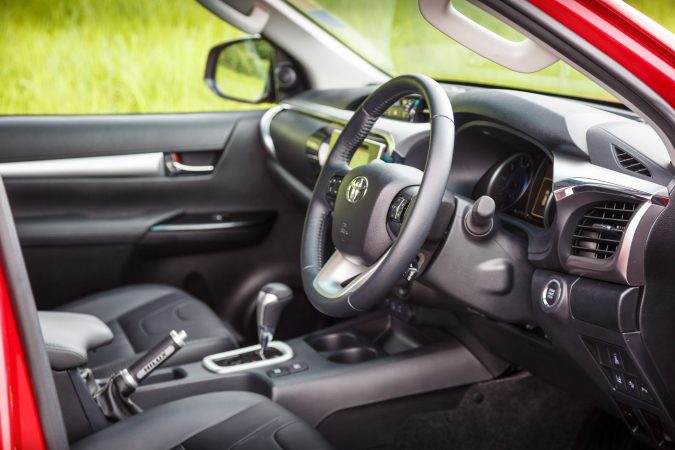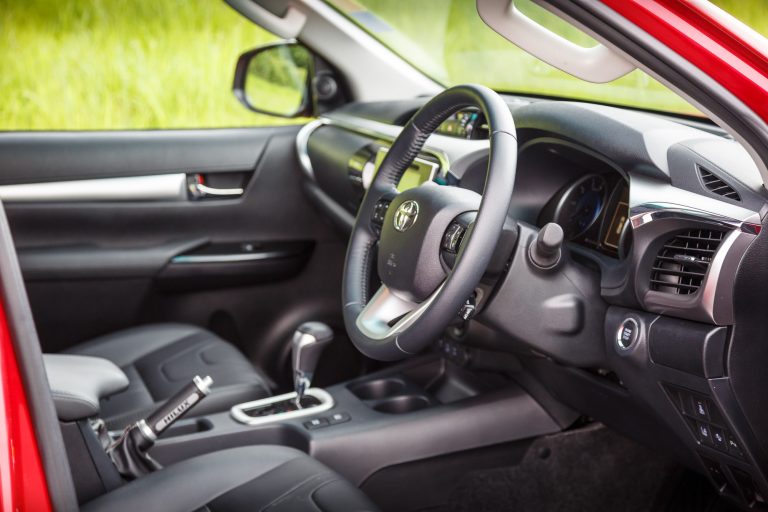 You'll then find a weirdly curved centre console, in which the 7″ Toyota Touch 2 with Toyota's Go navigation strangely protrudes out of. There's an additional 4.2″ information screen on top of the infotainment touchscreen. The climate controls are below that, while you'll find all the off-road and drive mode controls further below that.
The material used is as expected for a duty-ready truck, mostly hard plastics but it all feels plenty rugged and durable. In fact, you can probably wipe most of the muck off, should you dirty the dashboard. Its interior design eminently takes cues from the Auris and Avensis, which introduces an SUV feel, something laudable for a truck.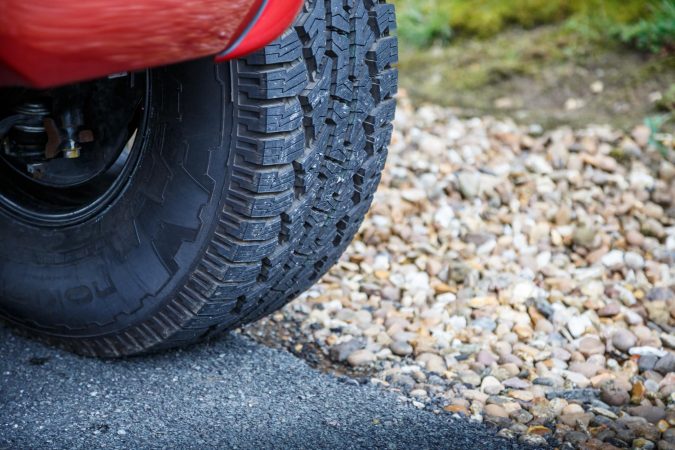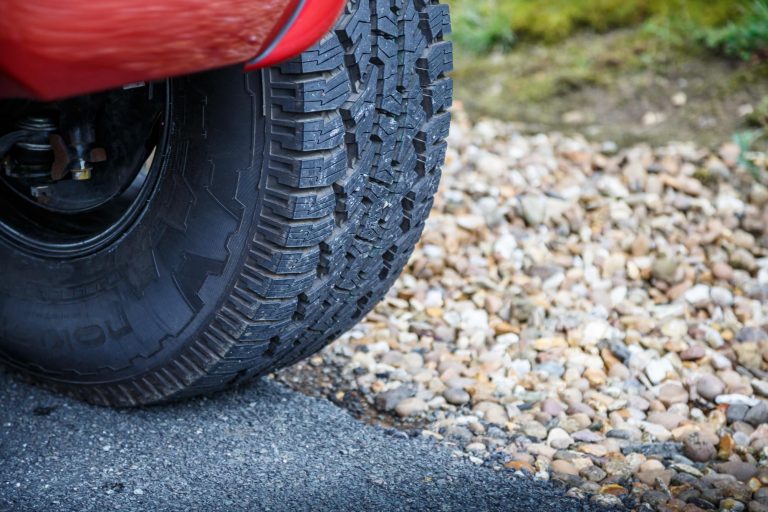 Practicality is amongst the top concerns for potential prospects, and the Hilux AT35 does boast quite an array of small item storage. You can expect two decently sized gloveboxes, a cubby underneath the armrest, two front cupholders and a place to put your phones, as well as suitably deep large pockets.
Passenger room is on-par with normal pickups. Front and rear head and legroom are quite agreeable; the front will comfortably accommodate adults for cross-country adventures. If you intend to journey across a particularly lengthy trail though, it's advisable to only seat two adults at the rear.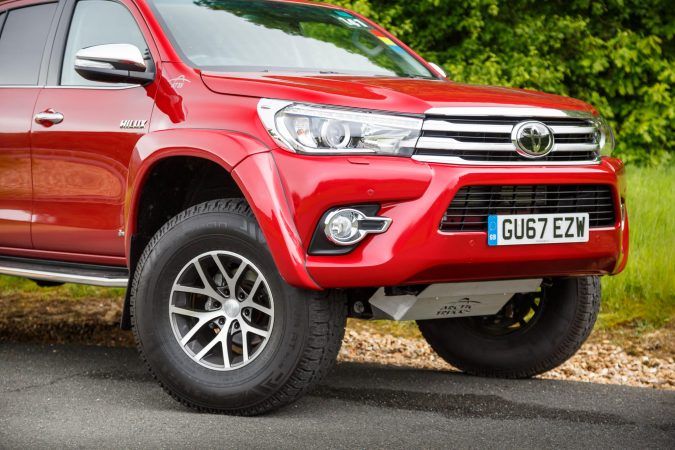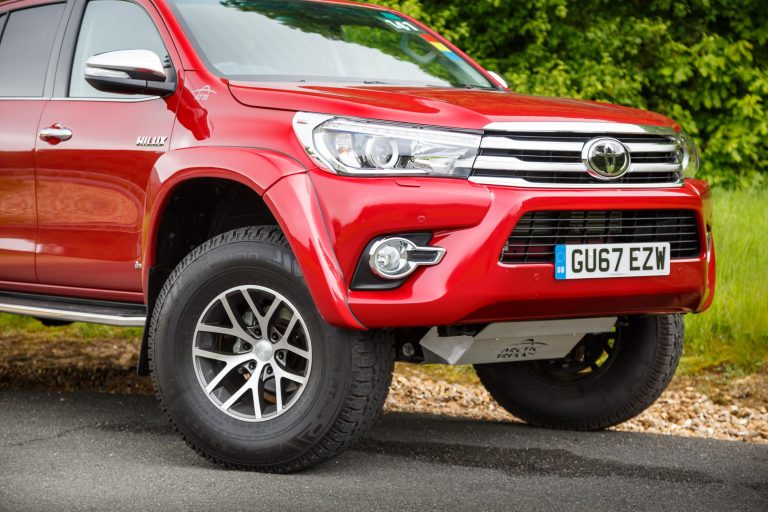 The Toyota Hilux Arctic Trucks AT35 also comes with a hard tonneau cover, along with a lined bed, rail caps and a high over bar. It'll hold 1,120 kg of payload inside the deck. If you really intend to tow something off-road, the Hilux AT35 should be able to tow around 3,500 kg.
The Experience
While the Hilux AT35 is pretty much one of the most impractical cars you could immediately sign a check for in the UK, I absolutely adore it. It's probably the child within us men that gravitates us toward comical expedition trucks like this. It'll happily deal with any sort of arduous terrain you manage to find, and it's not as horrendous an experience on the road as you might imagine.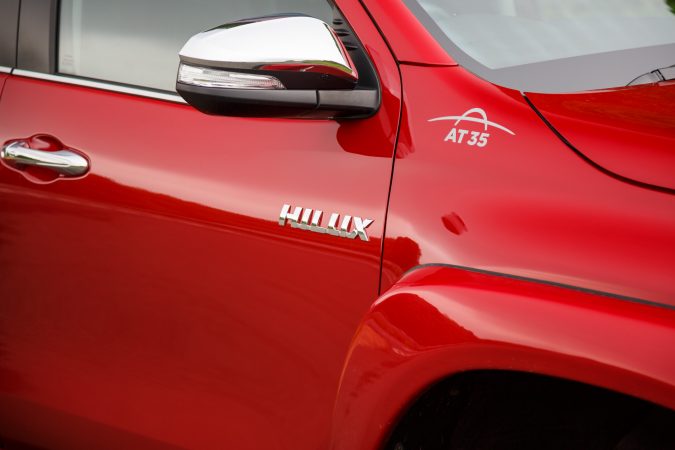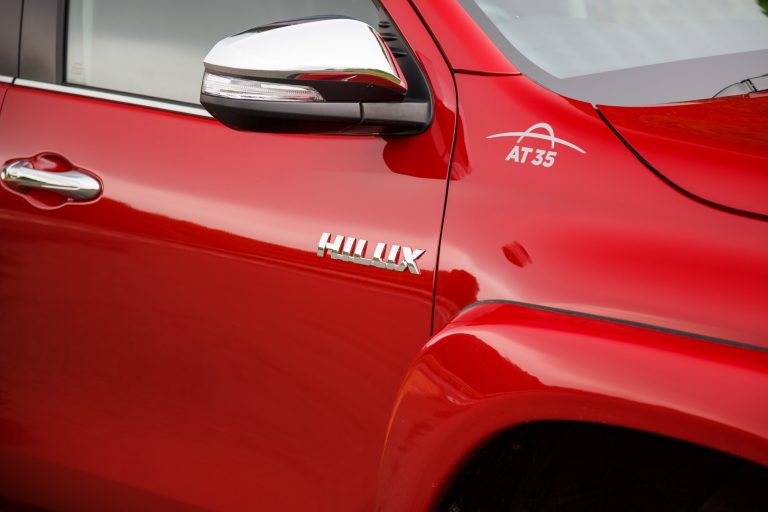 I've actually gone to Iceland before, which is where Arctic Trucks originate from. The Arctic Trucks modified Hiluxes there, are absolutely ludicrous, and the populace there may need it, considering how formidable some of the topography are over in Iceland. Some Arctic Trucks Hiluxes even have an extra axle!
Verdict
So, should you buy one? It is a very cool expedition truck, and I definitely believe that while no one in the UK will ever find an excursion truck like this a necessity, it'll still sell over here. Everyone will give you a second glance while you're roving through town, and they'll give you another glance when your Toyota Hilux Arctic Trucks AT35 is all muddy.
Of course, this is the sort of car that I really don't have to give you advice on. You'll know if you need it or just want it. I always find it fascinating to be able to just go out and buy something from Arctic Trucks, a revered specialist that often crafts beasts that can survive driving over volcanoes or exploring the poles.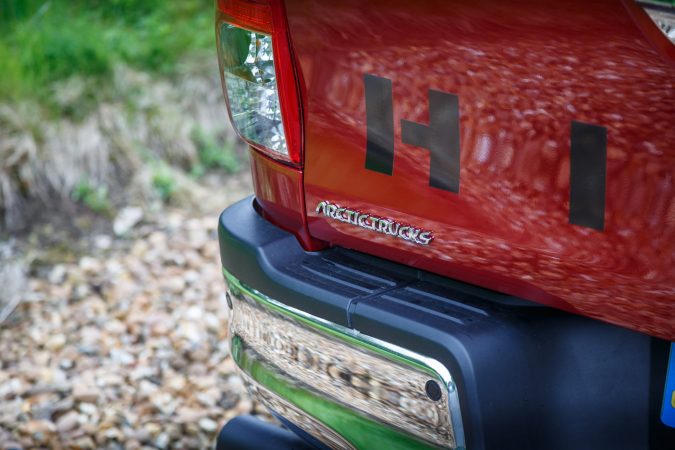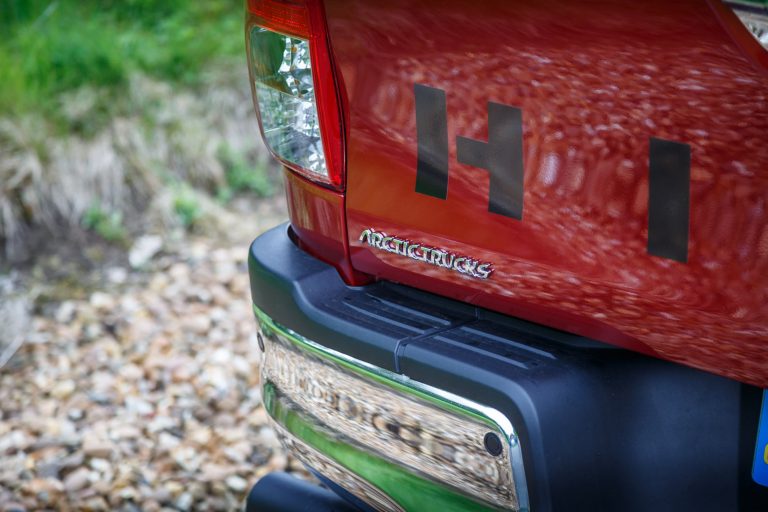 And even more remarkable is that this is officially endorsed by Toyota, which means you still benefit from the same 5 year/100,000 miles warranty like any other Hilux. An exploration truck that Toyota encourages you to torture off-road? Now you're talking.
2018 Toyota Hilux Arctic Trucks AT35 Specs
Price: £TBA
Engine: 2.4-litre 2GD-FTV turbodiesel inline-4
Power: 150 hp
Torque: 400 Nm
Transmission: 6-speed automatic
0-62mph: ~12.3 seconds
Top speed: ~112 mph
Weight: 3,250 kg
Economy combined: ~36.2 mpg
CO2: ~204 g/km