With electric vehicles becoming more prevalent, the attention has now turned towards the infrastructure needed to make them practical. One of these happens to be a solution for home charging. While this is convenient as you can in essence refuel your car from the comfort of your home, the time involved does mean that a bit of planning is needed.
To make life easier in this regard quite a few smart home-charging solutions have been popping up over recent years. Rolec is a British firm that has been quite active in this field and they have been offering a wide variety of charging accessories for EVs for quite some time now. I got to test the WallPod EV HomeSmart charger by Rolec. Is it the perfect home charger?
Full EV and Hybrid Drivers
I went for the socketed option as I felt it was more versatile for me as a motoring journalist but if you want to avoid the hassle of finding cables every time, you can go for the tethered option as well. You might wonder why you should invest in something like this when you can get the work done with a bog-standard 3 pin plug. While the latter option is more affordable, it is also very limited in both power delivery and functionality. Charging on a 3 pin plug can take days to charge rather than hours in some cases so a quality charger like the Rolec WallPod EV HomeSmart is essential really.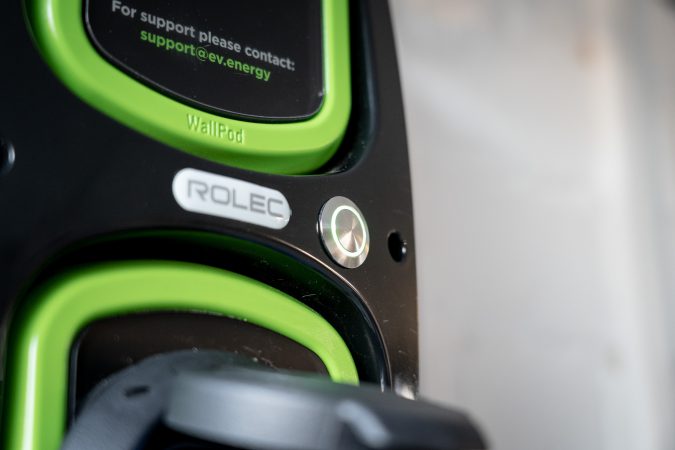 The WallPod EV HomeSmart charger as the name implies is equipped with the ability to do a lot of that work for you. This is not just a better way of charging your EV or Plug-in Hybrid car, it is also one of the only ways of qualifying for the OLEV grant as it is now mandatory to have a smart device to qualify for this benefit.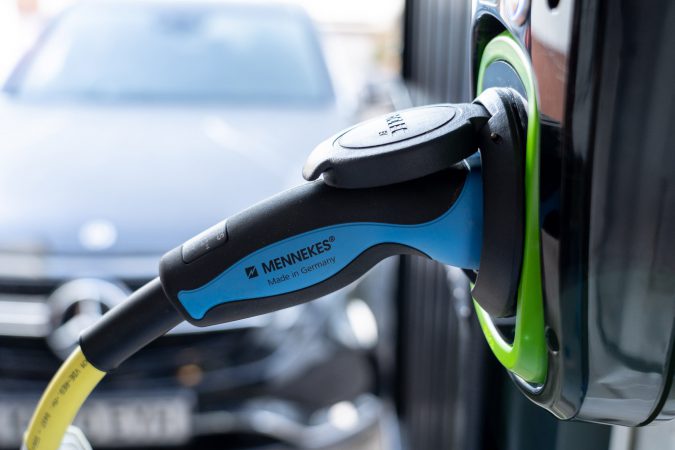 Its biggest strength in my opinion is its versatility. It can charge a wide range of cars irrespective of whether they are fully electric or hybrid. As long as it can be plugged into the wallbox with a type 2 cable, it can be charged by this device. This is especially helpful for people who own more than one car that is either partially or fully powered by electric motors or people like me that commonly drive different cars. A big selling point of this smart charger is its integration with its own mobile app which we will take a look at in a short while.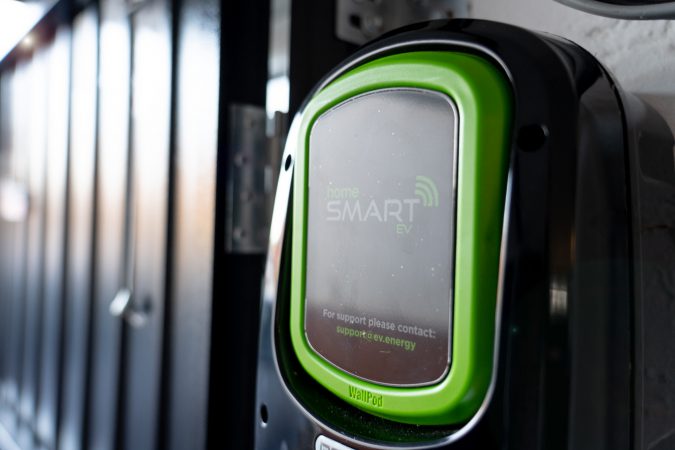 Low Carbon Impact Charging – WallPod:EV Charger
Unlike any regular car charger, this smart charging unit is capable of customising the way it delivers power to the car. It works really well with power tariffs and moderates the charging in such a way that it can take advantage of off-peak rates. While this is easier on your wallet, it is also easier on the local power grid.
Power stations produce more emissions when operated close to peak capacity and particularly when they are overloaded. By reducing the load on the grid during these times, this smart charger lessens the impact you have on the environment.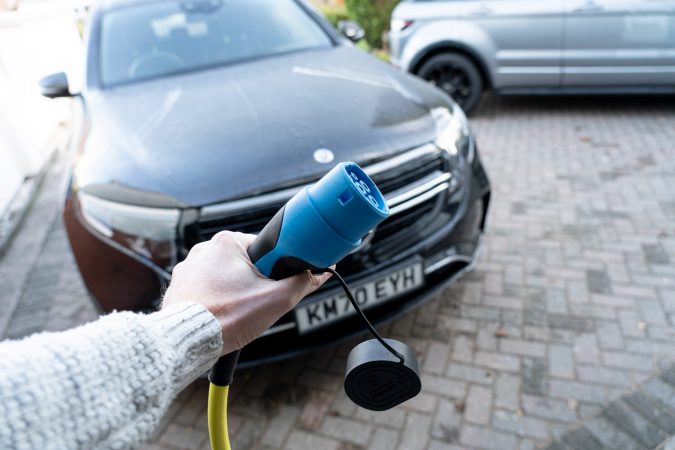 If your ultimate aim is to become carbon neutral, this smart charger helps you get closer to that goal. It obviously, does this in a way that enables your car to still get charged ready for when you need it but within the parameters you set. It achieves a lower carbon impact by something called off-peak optimisation.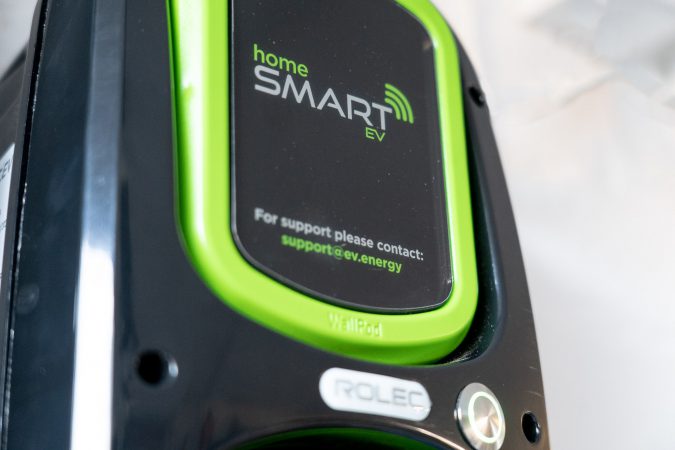 To put it simply, more power is drawn when the power grid is operating at its most energy-efficient state (when the overall demand is lower, or at least not spiking). This is also when the tariffs are bound to be lower and that is a win-win situation as you get to save some money while saving the environment. For corporate entities, there are charging units by Rolec that also offer fleet-management services that can make charging an entire fleet of hybrid cars or EVs as power-efficient and hassle-free as is currently possible.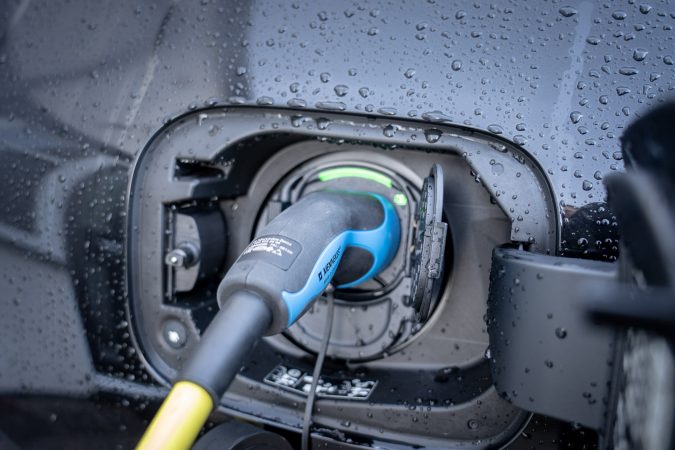 The standby energy consumption of the Rolec WallPod EV HomeSmart charger is approximately 0.05kWh per day which is very low and keeps the energy losses when the device is not in use to a bare minimum. So all the smart tech inside isn't costing you much at all even if you are an infrequent user.
Simple Operation – Rolec WallPod:EV HomeSmart Charger
Once set up, you can just connect your car to it with a cable as you would with any other charging solution and it will take care of the rest. It comes with its own communications system that allows it to be connected to the grid. What this does is allows this device to understand the tariff rates and adjust its power consumption accordingly. It also enables the charger to ramp up or ramp down these devices based on the current state of the grid, in essence reducing the chances of overloading the grid and none of this involves you having to move a muscle.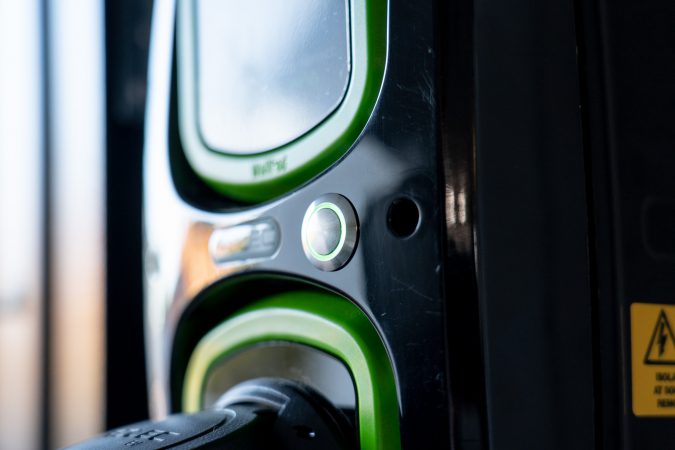 However, if you really want to take full advantage of this offering from Rolec, you need to use their app. This further allows you to carry out a host of operations that we will discuss in detail a little later. If you want to take advantage of the OLEV grant, it would be best to get it installed by Rolec through one of their approved partners.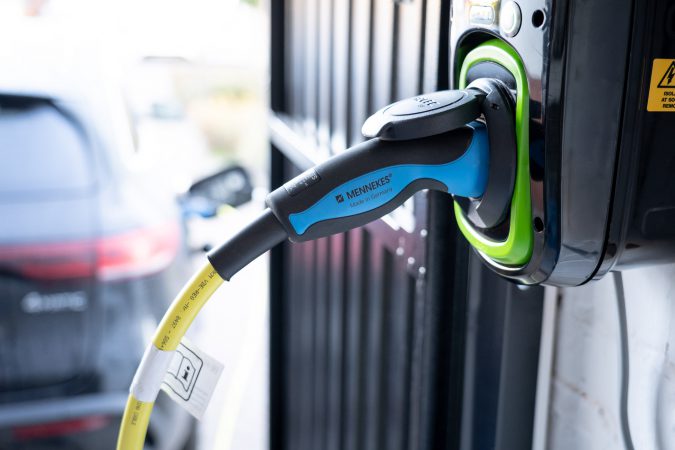 In essence, this device is not all that different when compared to other charging units except that it offers a deeper level of customisation and even most of that is done automatically. The in-built GPRS antenna, modem, and roaming SIM allow this device to communicate easily with the grid. The only requirement is that there is a signal strength of 14 CSQ or above. In the rare case, you have poor signal in your area, Rolec offer accessories that can help with that.
In all, using the Rolec WallPod EV HomeSmart is not at all intimidating or difficult and shouldn't be a hassle for anyone thinking of a smart charging solution.
Build Quality And Design
EVs have their own cool aesthetics and the charging station needs to complement that and this one does. The combination of black and green is quite eye-catching but if it is too bold, Rolec does offer a lot of other colour combinations on request. This can allow you to colour coordinate this device with your car, house or parking area. This is a neat little feature that not everyone offers.
Build quality is very good. Everything feels sturdy and the cable clicks into place satisfactorily. The front face of the device is a fingerprint magnet though and some might want to wipe with a clean cloth regularly, just to keep it looking faultless. Apart from that, I found nothing wrong with the way this device looks or feels. It comes with a 3-year warranty to cover any issues that might arise.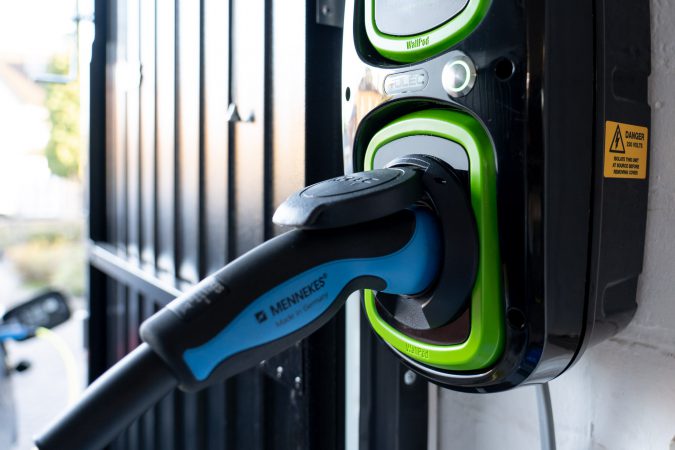 As for the actual design itself, it strikes the fine line between being noteworthy and inconspicuous. The Rolec WallPod charger, especially in its original black and green colour scheme does look quite futuristic almost like something you would find inside a computer game set in the distant future. It also has the right dimensions. It won't feel like an afterthought in your garage or on the front of your house which is always a nice thing for such a device.
Opening up the faceplate during the installation I got to take a look inside and revealed a lot of electrical and electronic components neatly arranged and the wires are all properly cable-managed. This further reduces the risk of failures.
This charging device is made out of good-quality polycarbonate which makes it strong but not too heavy. It is also 'Safety In The Home Certified' and the external shell is IP Rated and UV Stabilised. This coupled with its ability to function in a wide range of temperatures from  -30°C to 50°C gives it the capability to be installed outdoors without any qualms. All the parts that will be exposed to the elements are corrosion resistant, fire retardant & impact resistant making the Rolec charger very sturdy.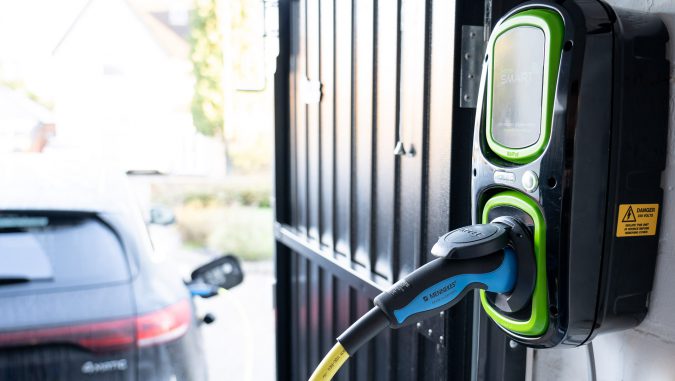 Testing and Charging Speeds
I tested the credentials of this charger initially on the Mercedes EQC which has an 80 kWh battery bank. This device was able to fully charge the Merc in about 11 hours. The maximum rate of charge is 7.2kW per hour which is the standard for home charging. It did manage to accomplish the first 50% of the charging in a relatively sprightly 5 hours. However, in most cases, you will never be charging from completely empty and will just be topping up the car.
Is this good enough? This device is right up there with what is realistically available right now. It should not be forgotten that the entire EV ecosystem is evolving at a rapid pace and what is really good today can become obsolete quite quickly. That is a risk that is associated with EV technology. However, this device is certainly good enough for all the latest crop of EVs out there as demonstrated by my test on the Mercedes EQC AMG Line Premium Plus and this means that you should be able to use it for the foreseeable future without really needing to upgrade. In every use case with this charger overnight, you would be able to put 200 miles of charge into your car meaning you will always be ready to go.
If you really feel you need a faster charger and your property has three-phase power available you can install a Rolec WallPod:EV Superfast 22kW charger, meaning you can charge up to 3 times faster.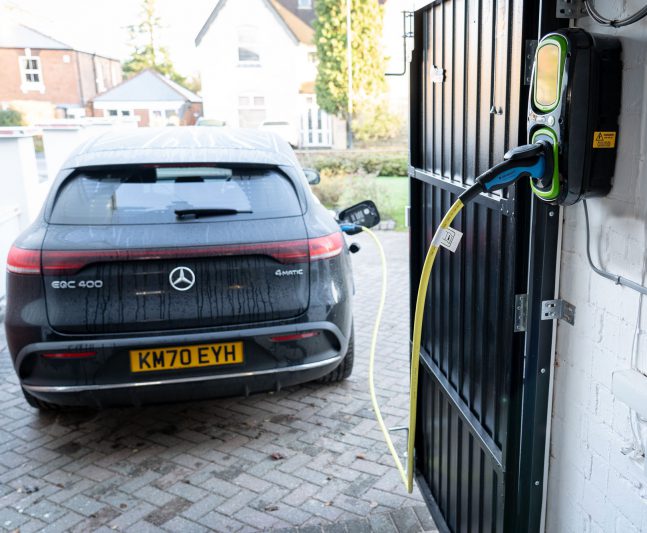 Rolec EV Energy App
That brings me to the crème de la crème of the entire experience of testing this charging solution – the app. I will admit that I was a bit apprehensive at first. Generally, apps associated with cars and car-related products tend to be gimmicky. They can be cool but in the real world, they tend to offer very little that can be considered an actual added benefit. However, that is not the case with the Smart Charging App. It has a cool interface that is easy to work with which is a good thing as there are plenty of options to play around with here. As alluded to earlier, the app allows you to control this device with ease.
The fact that you can view a lot of data such as the charging rate, the carbon impact, charging cost and a whole host of other data was what I found really interesting. These real-world numbers make it a lot more easy to plan the charging of EVs in a manner that involves minimal guesswork. You can also change the way the device interacts with the grid. This allows you to use it really economically. You can even give the car a one-off boost if you need power asap and don't want to wait for the lower carbon impact charging window.
Connecting the app to the device wasn't a hassle at all and the process is quite intuitive. This is a big deal as a lot of apps bundled with devices meant for cars tend to fail at this juncture. Adding an app to the entire process can either make things very convenient or an added hassle and in my experience, it was the former and that puts the Rolec WallPod EV HomeSmart a touch above most of the competition.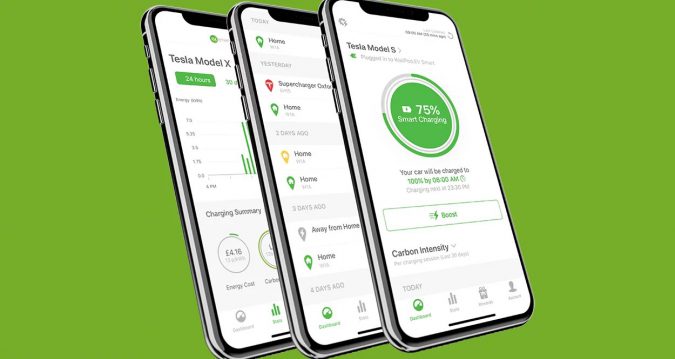 Rolec WallPod:EV HomeSmart Charger Verdict
The 7.2 kW WallPod EV HomeSmart charger comes in a socketed or tethered form. The former's price tag starts around £445 and the latter starts at £515. The exact cost will depend on where this device is installed. Without the OLEV grant, this is a bit on the pricey side but with the OLEV grant it can be an absolute bargain. Either way, this is ideal for people who own an EV or hybrid car. The app is also a big part of the entire experience and part of what justifies the price.
So, if you want a truly low carbon EV experience when it comes to charging your electric or hybrid cars then the Rolec WallPod EV HomeSmart charger is definitely something you should check out. We will be recommending it to our readers.

Rolec WallPod:EV HomeSmart Charger Tech Specs
Charging Socket: Type 2 (IEC 62196)
Rated Output: 7.2kW
Rated Current: 32A
Charge Protocol: Mode 3
Input Voltage: 230V AC/50Hz (Single Phase)
Overload & Fault Current Protection: External 40A, 30mA Type A RCBO & Built-in 6mA DC Sensitive Device
Cable Terminals: 3x 16mm
Communications: GPRS (Recommended signal strength of 14 CSQ or above)
Standby Consumption: Approx 0.05kWh per day
Dimensions: 179mm x 367mm x 142mm (W x H x D)
Operating Temperature: -30°C to +50°C