Ryobi Brushless Impact Wrench 18V ONE+ R18IW7-0
Owning a car is not just about driving it, but also about taking good care of it. A big part of that would involve the removal or tightening of nuts and that is where an electric impact wrench comes into the picture. However, if we are going to spend some money on getting one, we want the right tool for the job. Doing jobs on the drive or on the road, we need it to be cordless and able to work anywhere. Another requirement of such a tool is that it should also have some mechanism to light up the work area as we need to rely on it night and day.
The Ryobi brushless impact wrench 18V ONE+ R18IW7-0 fulfils all the above criteria and much more. It is a desirable tool for any car owners.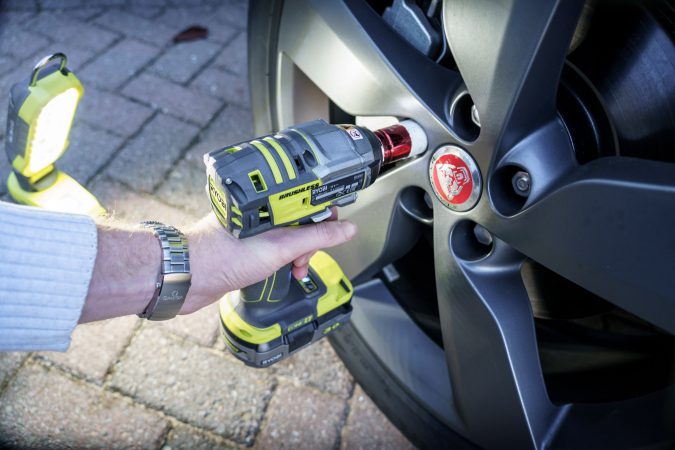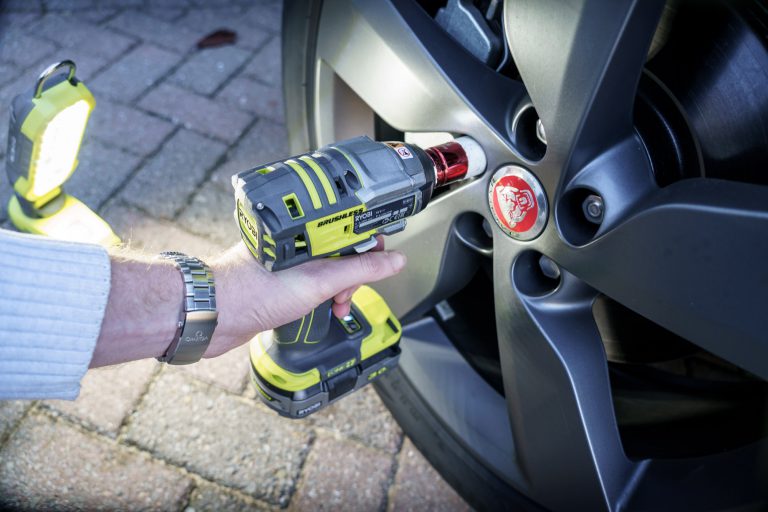 The Ryobi impact wrench comes with 3 torque settings and an AutoStop feature that allows you to optimise the setting perfectly to the job requirement at hand. This makes it equally adept at tightening and loosening nuts. Overall, it can deliver a maximum torque of 270 Nm which is more than adequate for most applications for it. The impact mechanism is also perfect for a cordless wrench as it makes it quite easy to use without giving too much mechanical feedback which can be especially helpful when you want to change a tyre quickly.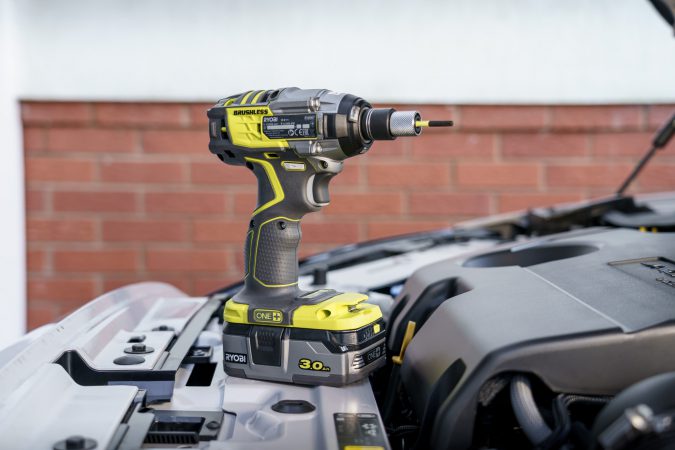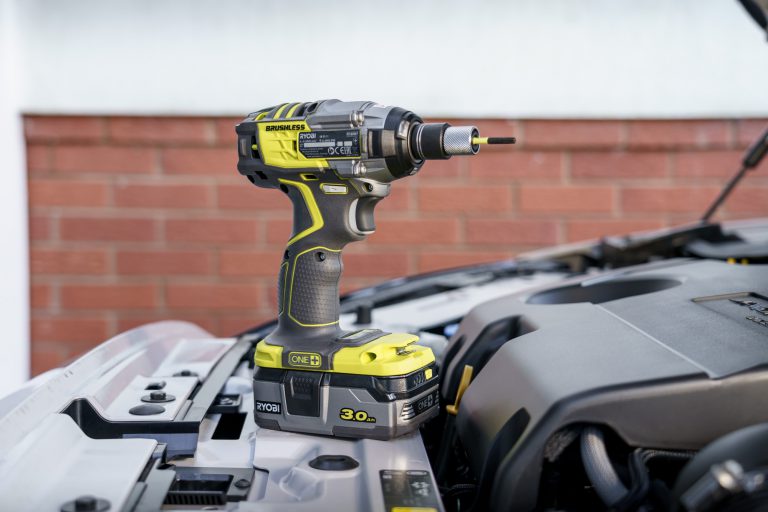 Another great feature of this impact wrench is the standard 1/2″ Square drive with locking pin that makes it quite versatile. You can attach a wide variety of your sockets thus allowing you to tackle pretty much any situation. They clip on and off perfectly.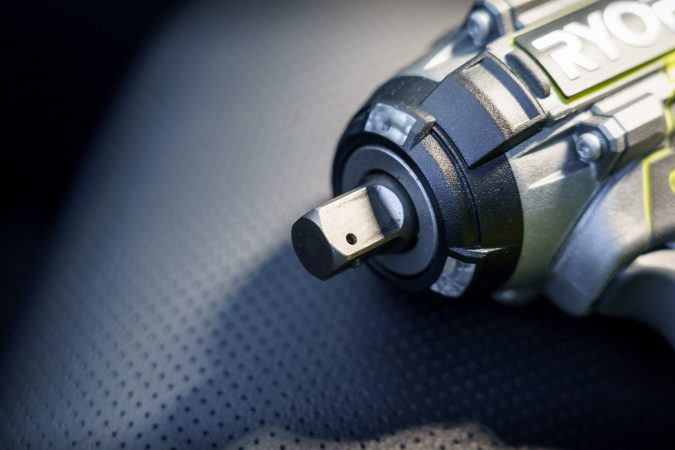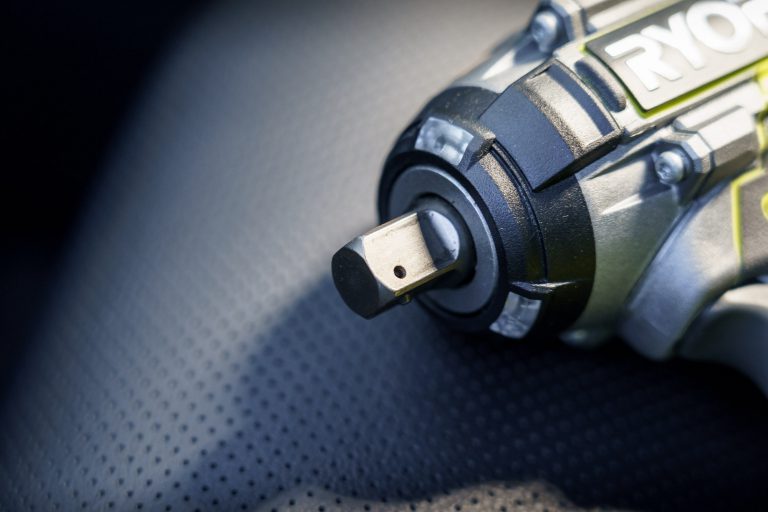 The final icing on the cake are the built in LED lights. Most portable power tools these days come attached with lights but generally, they aren't bright enough and are poorly placed. That is not the case with the Ryobi Brushless Impact Wrench. It has three lights strategically placed so that the nut you are working on and its surrounding area is lit properly without any shadows being cast.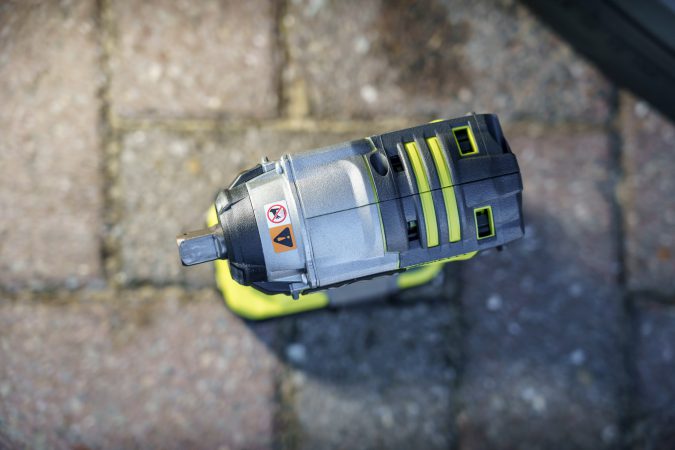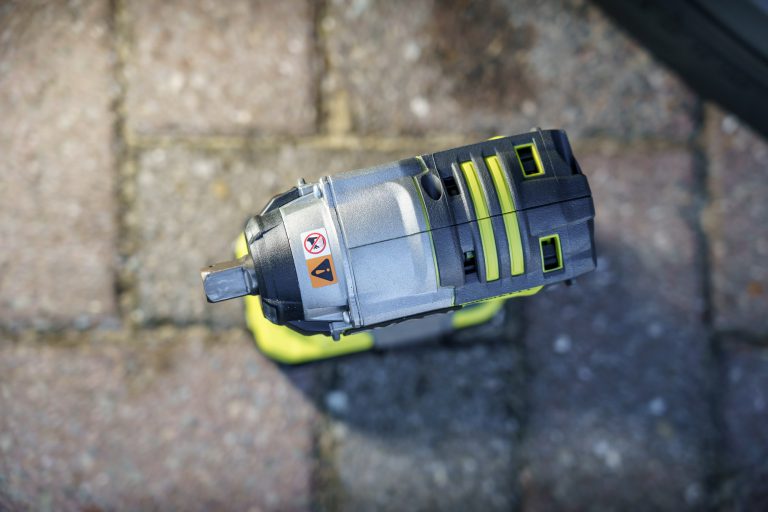 It is also very important for power tools to be built well and the Ryobi impact wrench boasts excellent build quality. It weighs 1.3 kg with the battery pack which gives it a very solid feel. The weight distribution is also perfect allowing you to grip it nicely and always be in control of it which makes it quite safe to use. Noise is another thing that people tend to associate with power tools. The Ryobi impact wrench is not overtly loud and can be used without waking up the entire neighbourhood. Of course, commonly impact wrench tools required noisy compressed air in the past, this lithium-based modern impact wrench doesn't require anything like that.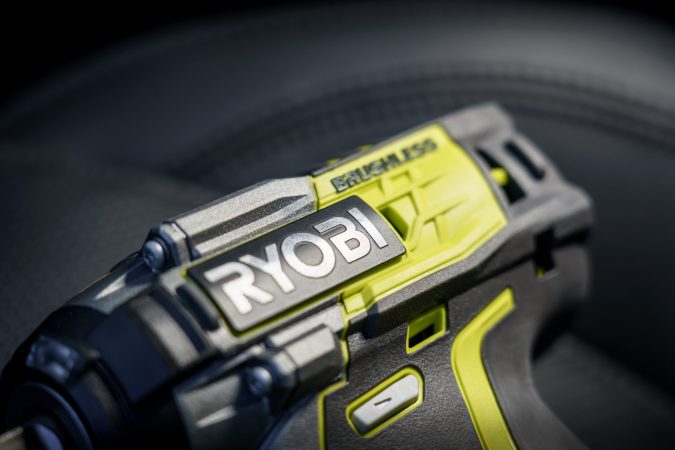 Keep in mind that the impact wrench does not come with the charger or the battery pack as standard which needs to be purchased separately. Ryobi has an 18V ONE+ system meaning that you can buy one battery and it will fit a wide range of power tools, this in-tern keeps the cost down and you can pick and choose what you need.
Ryobi Area Light 18V ONE+ R18ALP-0
While the light attached to the Ryobi impact wrench is quite handy, sometimes you need more than just the area the tool is directly pointing at and that is when a portable light comes in quite handy. Be it an inspection or a full-on automotive job, the Ryobi Area Light is the perfect accessory to own. It is versatile and compact without compromising on its lighting ability. It employs 18 high-quality LEDs to light up a good area of your workspace.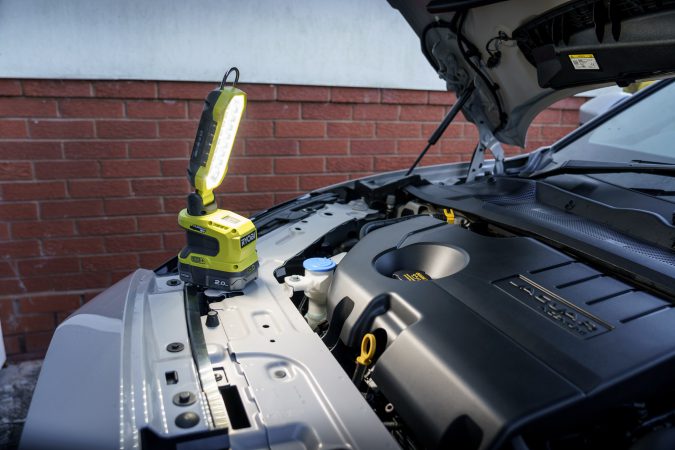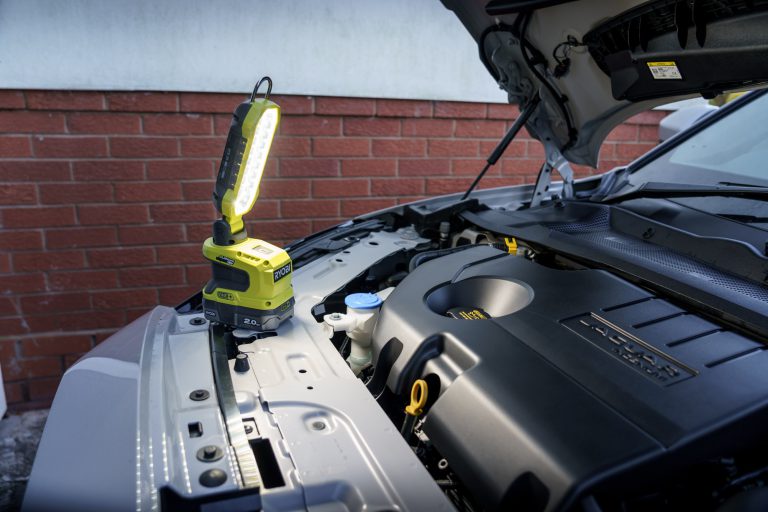 It can also be hung or adjusted to various angles making it useful for a variety of situations. The brightness can also be adjusted and there are three different settings for it. The temperature of the light is also great and increases visibility quite well. It only weighs 0.5 kg without the battery pack making it quite easy to store and transport, something further enhanced by its excellent build quality. It uses the 18v ONE+ battery, that will give many hours of light and can be swapped out for a fresh battery when needed.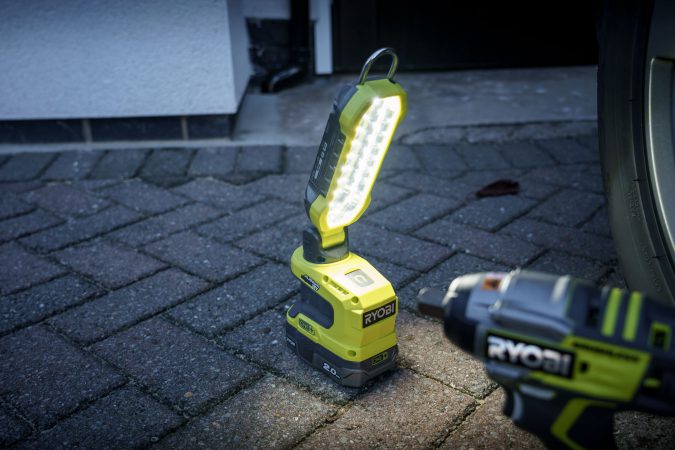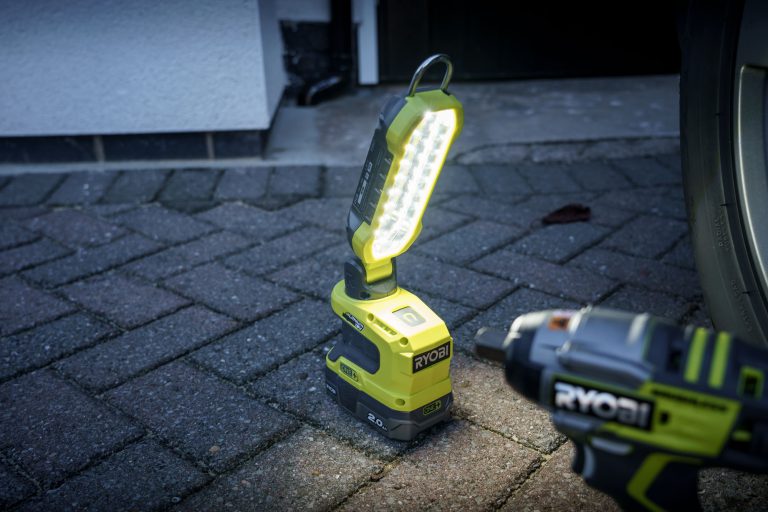 Ryobi High Energy Battery 18V ONE+ Lithium+ 3.0.Ah RB18L30
A very important component of any cordless tool is its battery and the Ryobi High Energy Battery 18V ONE+ Lithium+ 3.0.Ah battery perfectly complements Ryobi's impact wrench and other cordless tools. Battery technology has come a long way and the Ryobi high energy battery 3.0Ah is a testament to that. Ryobi offers a range of different battery capacities, with the 3.0Ah sitting in the middle of the range, better for getting more work out of your tools.
Safety is another important necessity when it comes to batteries and more power often comes with overheating issues. Thankfully, the design of this battery ensures that it does not get hot even after prolonged usage. It is also built to withstand impacts with a tough exterior and built-in impact protection.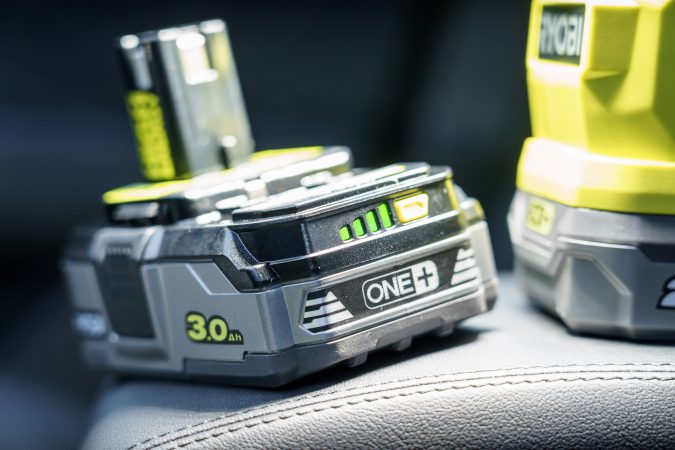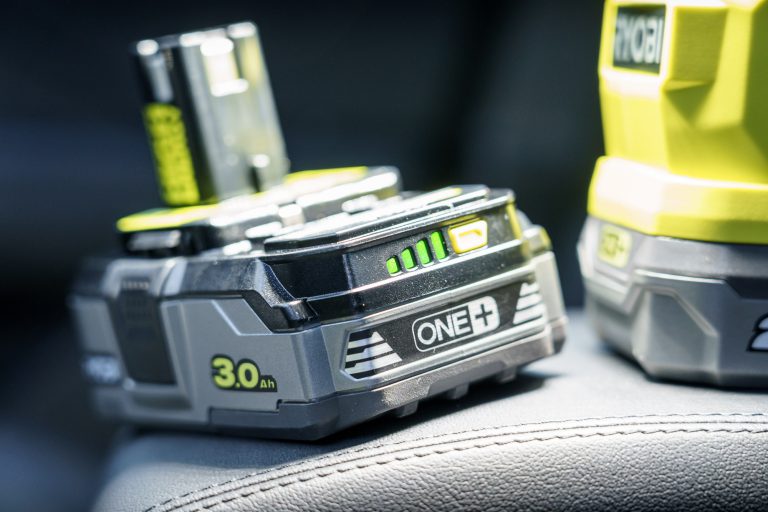 A cool feature about this battery is that it follows a universal design scheme that makes it compatible with the entire cordless range of tools from Ryobi. This means that you can buy different Ryobi power tools and not worry about having to buy separate battery packs for each tool. It is quite user-friendly too. It comes with an indicator that shows you the current charge level of the battery. It can indicate fully charged, 75% charge, 50% charge and 25% charge.
Under ideal conditions, the R18DD5 power drill can drill up to 310 16x50mm holes which is more than adequate to run multiple tools on a single charge. One final component of a battery's performance is its charge time. It depends a lot on the charger but for this battery, it can take anywhere between 45 mins to 2 hours depending on the charger and even the longest charge time is quite acceptable considering the fact that you do not have to charge this battery very often.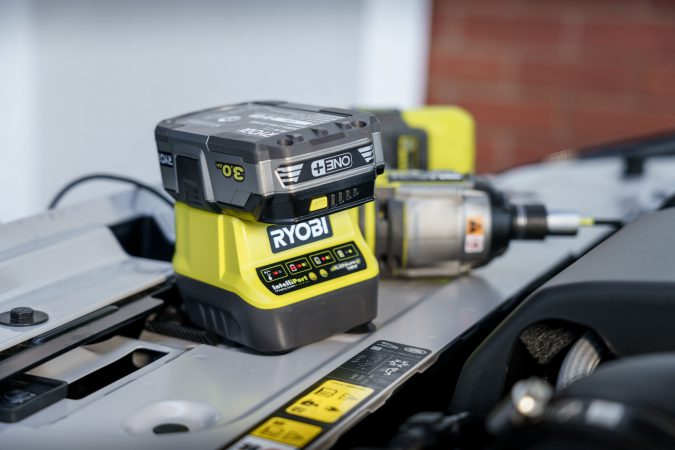 Ryobi Battery & Charger 18V ONE+ 2.0Ah RC18120-120
If you need a smaller version of the 3.0Ah battery along with a charger then this 2.0 Ah version is a great option as the rest of the features stay the same. You also get a 2.0A charger that can charge the 2.0Ah battery in just an hour or the 3.0 Ah battery in 90 minutes which is quite impressive and handy. This charging kit is also compatible with all Ryobi cordless power tools making it the perfect addition to your toolset.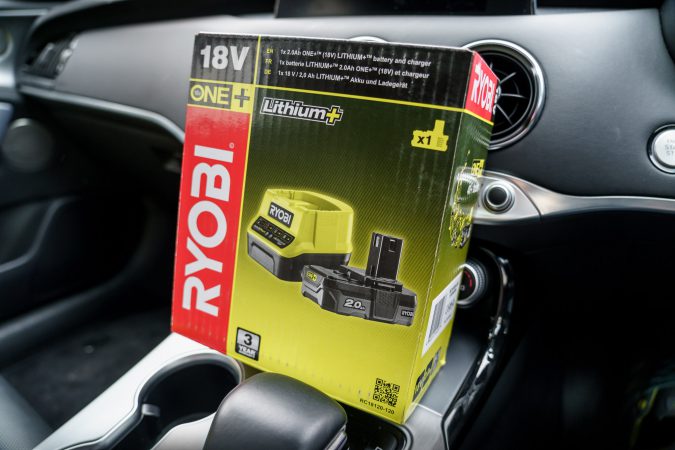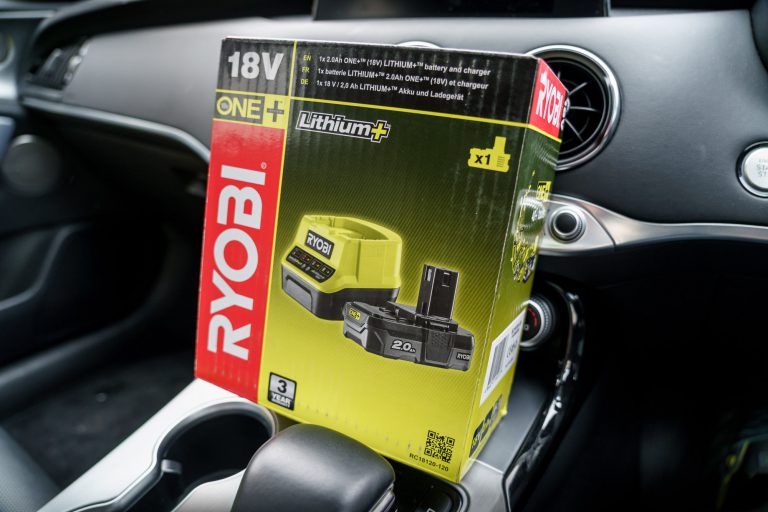 Ryobi Brushless Impact Wrench & Work Light Conclusion
Although us car people, we aren't taking the wheels off our cars every week, having a quality, powered impact wrench available is a great luxury for when you quickly want to get a wheel or two off the car. The other thing to consider for anyone that is maintaining an older car, is that we always come across rusted nuts that are jammed on.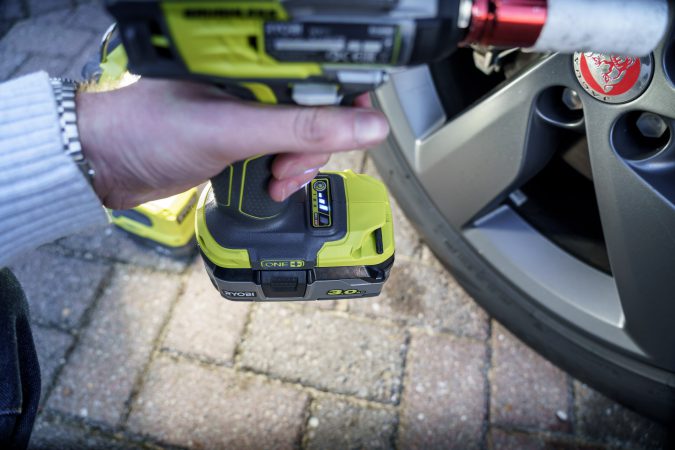 Working at these bolts with a long spanner some times does work, but other times they just won't budge. This is where the impact wrench comes into its own, the wrench has the ability to shock nuts free with its hammering motion, this is just something you can't do by hand and will certainly get you out of a jam in the future. Take a look at Ryobi for more info.