A dual-action car polisher might not be amongst the most necessary tool when it comes to car maintenance but it certainly can come in handy especially if you want your car to look as close to new as possible. I have used a wired polisher for years but found it to be a bit too cumbersome and too much trouble for some jobs
However, I was keen on trying out a cordless option and the Ryobi One+ Dual Action Polisher seemed like the perfect fit as I already have the Ryobi One+ battery system. This was especially true in light of the fact that Ryobi's products have impressed me recently. Did this dual action Polisher impress me too? Let's find out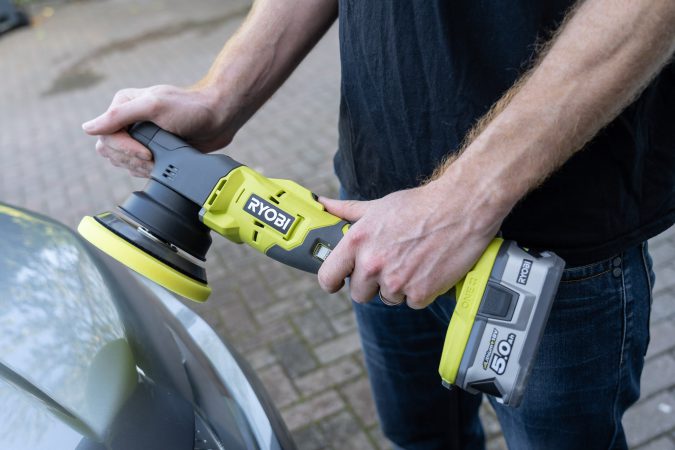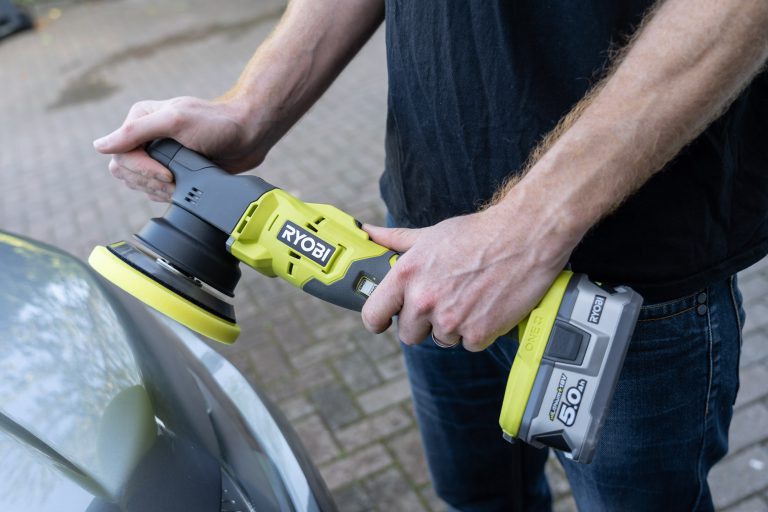 Ryobi One+ Dual Action Polisher – Cordless And Convenient
It is quite annoying to manage the cord on the machine polisher I already own. It severely restricted my range of motion and hampered the confidence I had in my abilities. As such, I only used the machine polisher when I needed to as there was always a risk of damaging the paint by the cord dragging over the car.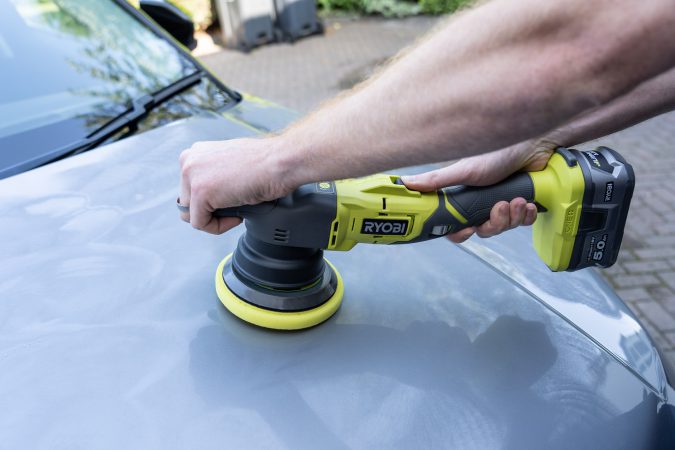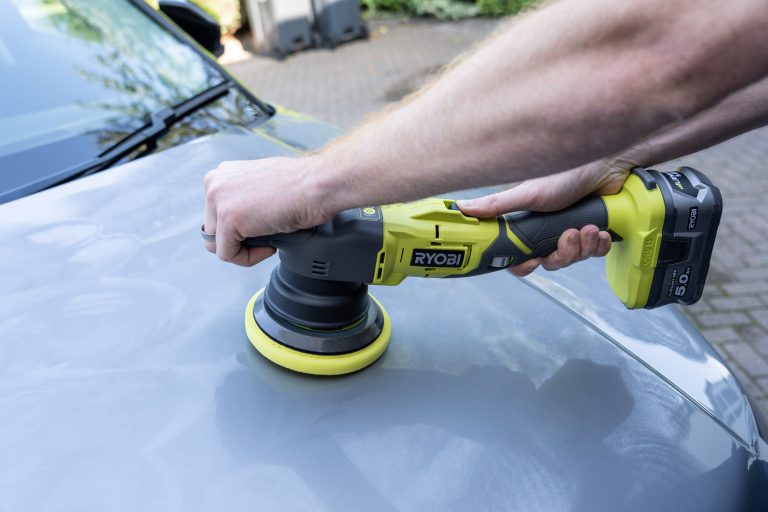 Compared to that, this experience felt so much more convenient and confidence-inspiring. I was able to hold the polisher with assurance and I didn't feel nervous using it on my car. This I feel will make it even more convenient for the seasoned polishers and detailers out there. This will also come in handy for people who would use it on larger boats where it can be quite inconvenient to manage a cord and find a power outlet. As an added bonus, the Ryobi One+ Dual Action Polisher is quite easy to store or just set aside temporarily thanks to the battery acting as a stand to prop the whole thing up.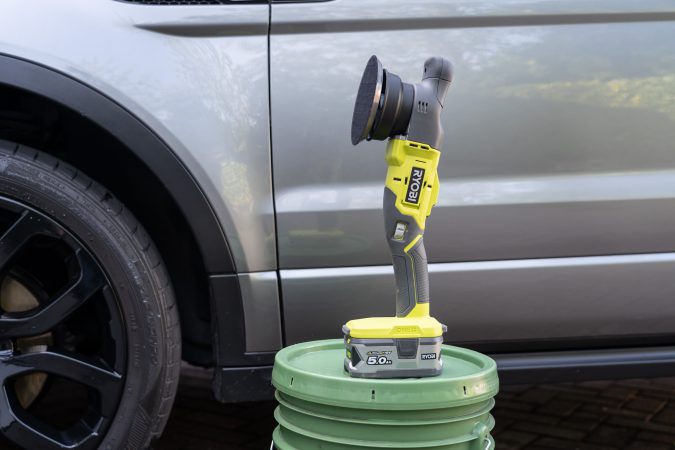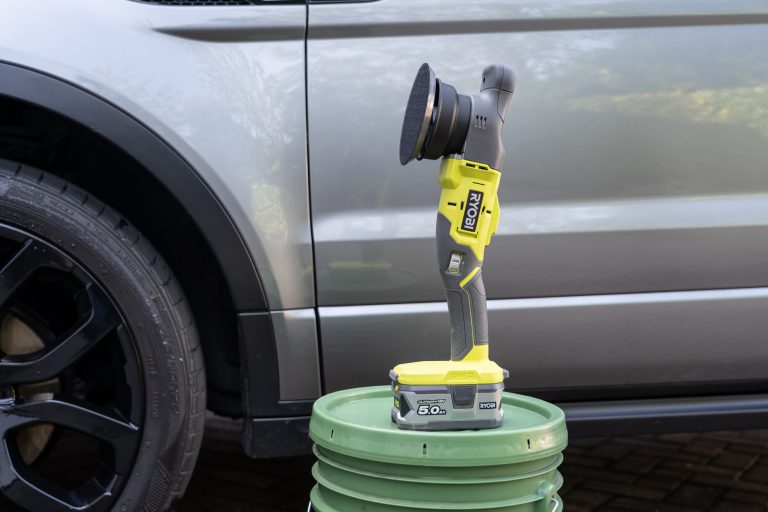 Excellent Design
It can be just as easy for a cordless device to become bulky and awkward to handle. The Ryobi One+ dual action polisher stays well clear of that pitfall. It is designed in an ergonomic manner.
The pommel handle near the head of the polisher makes it very easy to hold the device and manoeuvre it around exactly where needed. The handle near the base is also intelligently designed and getting a solid grip takes very little effort. Together, this allows you to use it safely without the fear of losing control and causing inadvertent damage.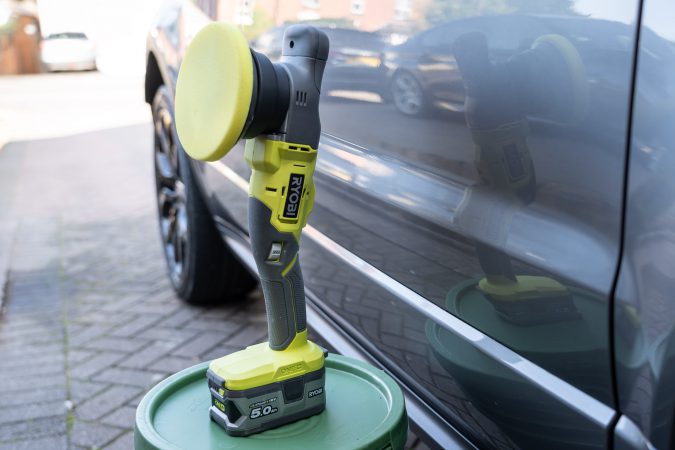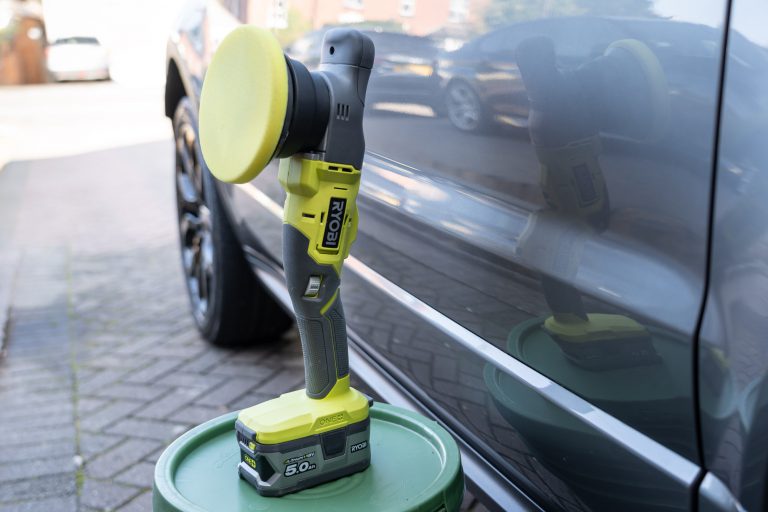 Overall, the build quality is also very good and it doesn't feel fragile. The battery does look like it might get in your way, however, it never came in the way of actually using the tool. It is nicely balanced and helps with the weight distribution. This stops the Ryobi One+ Dual Action Polisher from becoming top heavy and keeps it quite manageable even when the orbits per minute are set quite high. This allowed even someone like me who isn't a professional detailer with a tool like this to use it without any hiccups.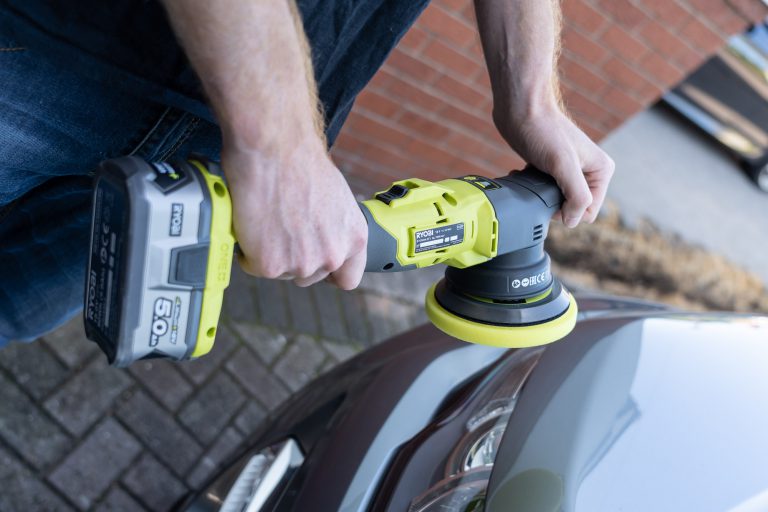 Easy To Use – Polishing, Waxing and Scratch Removal
Polishing, detailing, and, scratch removal are skills that people are really interested in can delve very deeply into. This can often involve a lot of technical jargon that can put many tools for these types of jobs out of the reach of a regular car owner.
This solution from Ryobi makes it as easy as it can get. The lock-on switch makes it easy on the thumbs and the variable speed switch is also quite convenient and self-explanatory. It is quite simple to attach and remove the pads thanks to the velcro system.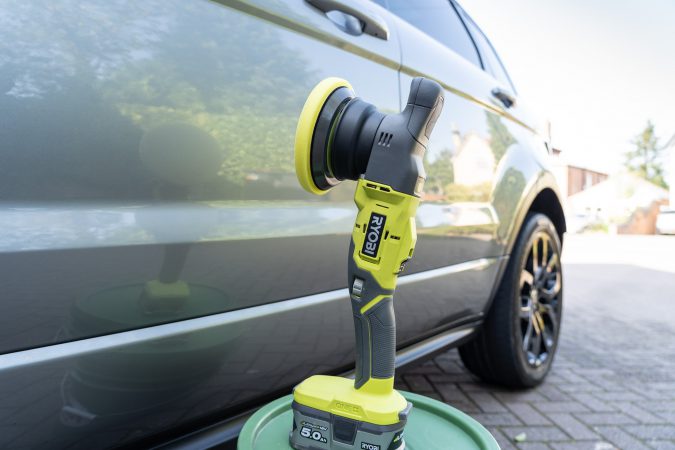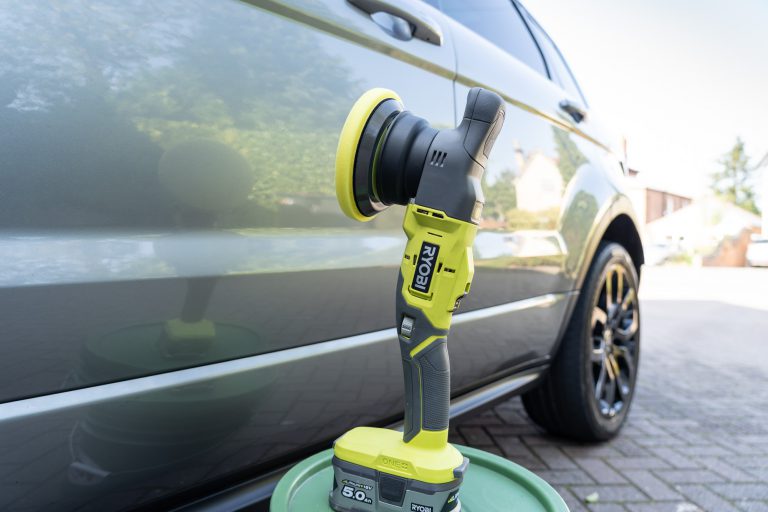 There are no complicated technicalities involved in choosing the right pad. They come in three types – polishing, applying a protective coat, and scratch-removal. This does not mean that this tool is only meant for newbies. Experts alike will also find it the perfect tool for the job. The 125mm pad size makes it compatible with a wide range of pads that are more specialised than the three that come with this device. It also means that there is no need to upgrade it as you get more and more experienced in machine polishing your car.
Adequately Powered
The biggest concern with investing in a battery-powered power-tool is if it will have enough oomph to meet the requirements of the task you are looking to accomplish. The Ryobi R18P polisher users the standard Ryobi One+ battery system. I found the 5.0Ah battery to balance the weight best and give maximum run time.
The orbits per minute (OPM) range start from 3,000 and goes all the way to 7,500, I couldn't think of any polishing, detailing or scratch removal task that would need more power. If anything, any more power would be overkill and you would run the risk of damaging the finish of your car or boat or any other project where the finish is critical. If you are new to machine polishing, it is safer to work at lower OPMs where possible.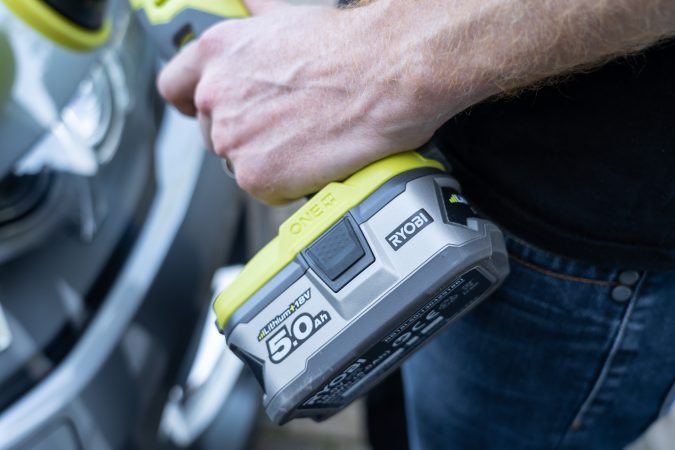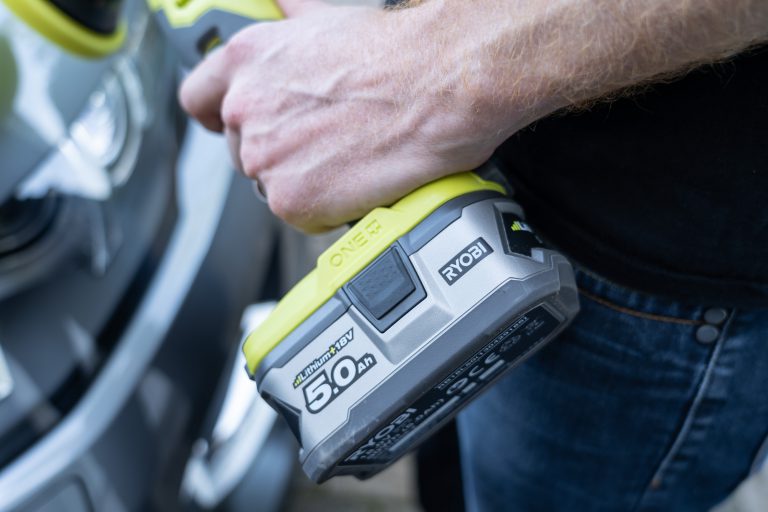 It would also be meaningless if it ran out of juice quickly but I was able to work on an entire car on a single charge and still had enough charge left to go over the whole area a second time. The 5.0Ah battery can power this tool for around 50 minutes on a single charge.
It is also worth noting that the battery used by this dual action polisher is compatible with Ryobi's entire range of One+ battery-powered tools and if you are someone who uses other Ryobi tools then adding this polisher to your arsenal is almost a no brainer.
Versatile And Great Results
The dual action makes it quite easy to get a near-professional level of result with minimal effort, compared to a single action polisher you are less likely to burn into your paintwork. Using this for all the three types of tasks it is meant for is equally intuitive and as alluded to earlier, it can be used on cars, boats, furniture, and epoxy resin for polishing, scuff removal, restoring paint finish and cutting in rubbing compounds. It can even be used for polishing glass.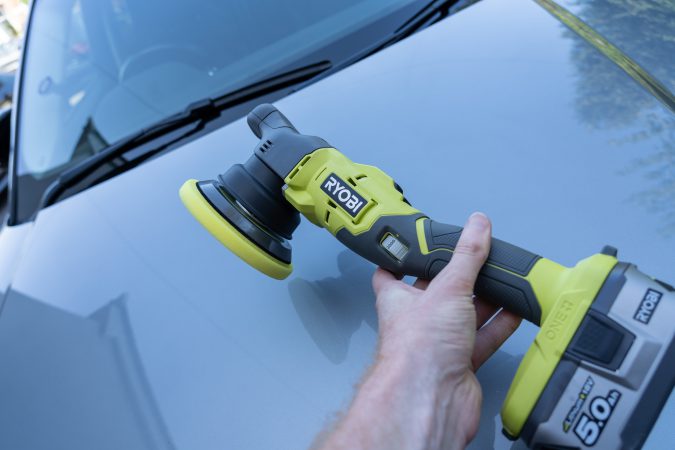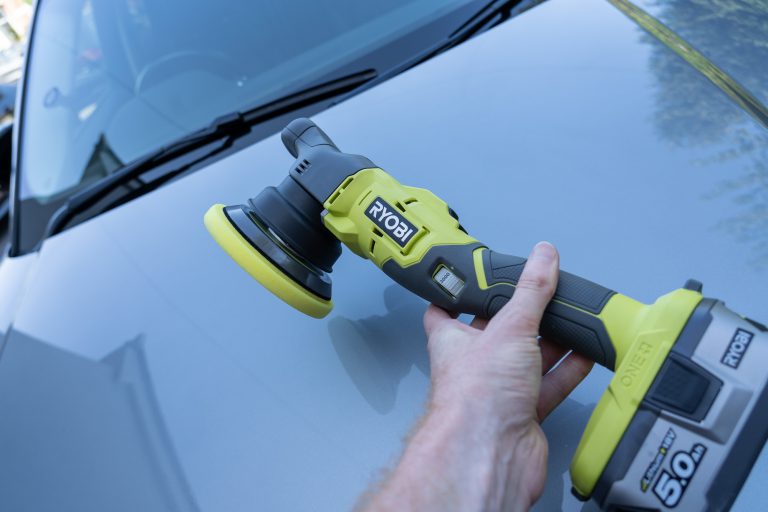 So, it can come especially useful for people who dabble in a bit of woodwork and epoxy resin craft. Even if you were to buy it solely for using it on your car, it still offers enough return on your investment to make it a worthwhile purchase and it definitely left me impressed.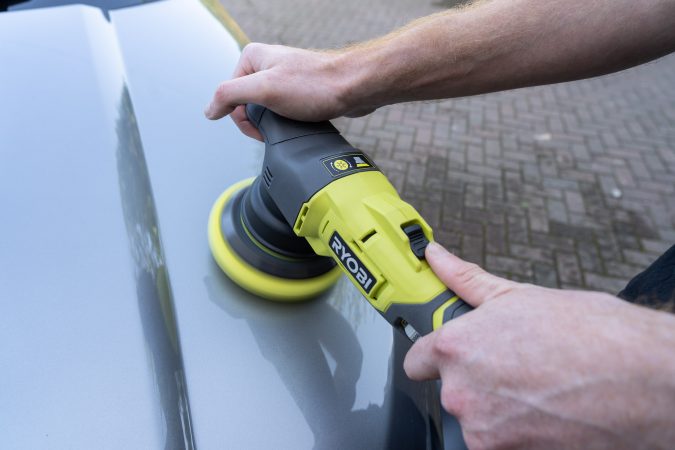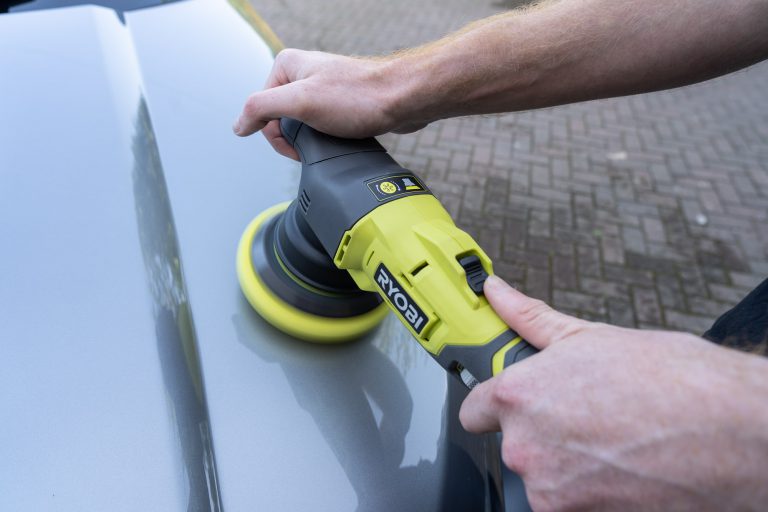 Specs
No-load speed: 3000-7500 OPM
Orbital Diameter: 8mm
Pad size: 125mm
Motion: Random orbit motion with variable speed
Battery: 5Ah with 50 minutes run time (depending OPM usage)
Price: £99
Release date: Jan 2020