If there's one thing a car enthusiast can always appreciate, it's getting to spend time in a garage and working on your beloved automobile. It could be giving your car a nice clean down after a dirty day out on the road. Or, tinker around with the mechanicals to make it just that bit faster and better. But something we've learned from our DIY experience, is that you'll need a good set of tools to make that work. Ryobi has caught our eyes for a very good reason.
They've made some of the best and most versatile tools on the market, especially with what you're paying for. So then, how does their latest and greatest addition to the armory, the Ryobi RRS18X, fare in our gauntlet? Whether you're cutting up exhaust pipes, suspension bushings, or bits of your IKEA cabinet, you'll learn in our Ryobi RRS18X review that this is one great little machine to have in your tool shed.
Great Speed and Power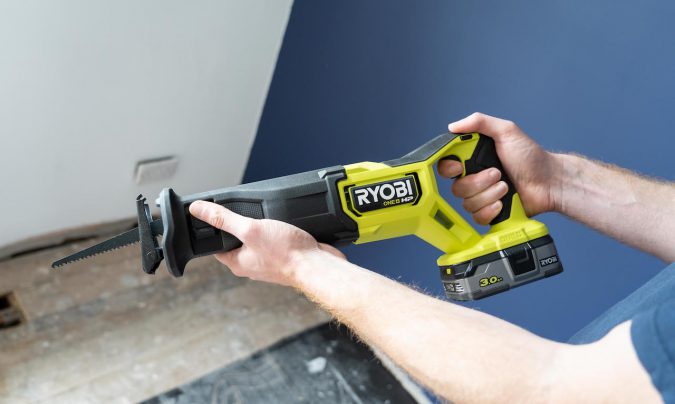 Of course, one of the most important attributes for any tool is how quickly and efficiently it can get the job done. Well thankfully, the RRS18X works a treat in this regard. It fits into Ryobi's 'HP' line, which is where their higher performance variant of tools reside. So, you can expect a healthy dose of fast cutting speeds. It'll be able to cut through with its 1-¼" stroke length blade at a speed of around 3,200 strokes per minute.
This makes it one of the most potent saws on the market as far as sheer performance goes. Even more expensive options on the market could sometimes only muster less than 3,000 SPM. It also represents a huge leap forward for Ryobi. The RRS18X has a cutting speed that is 64% faster than the previous iterations of Ryobi's workhorse reciprocating saws. This is possible thanks to the upgraded brushless motor.
Versatility Comes Standard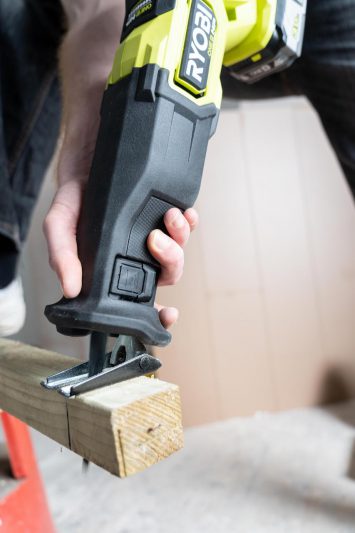 Ryobi's design enables a motor that could provide more battery runtime, enhanced power to the blades, and a longer lifespan for the motor itself. In effect, this means you could get more than 380 cuts done within a single charge according to Ryobi's marketing. Realistically to you and me this is a couple of full days work in the garage (using the 5.oAh battery). Endurance-wise then, it has you covered as well. As far as the operations go, we've found it to cut pretty quickly and cleanly. In the box, it comes standard with a blade made for cutting wood, but for us car guys a bi-metal blade is more useful and is highly effective cutting exhaust pipes, old bolts and suspension arms etc.
So, you certainly won't have to worry about not being able to get the job done well and on time. Moreover, Ryobi's tools have proven themselves to be quite robust and reliable as well during our testing, so you could expect fewer downtimes or problems. In the UK or other markets, you'll be able to find this under the RRS18X moniker. If you're in the US, where it's already available on sale, you can find this with the model name, PBLRS01.
The One Battery To Rule Them All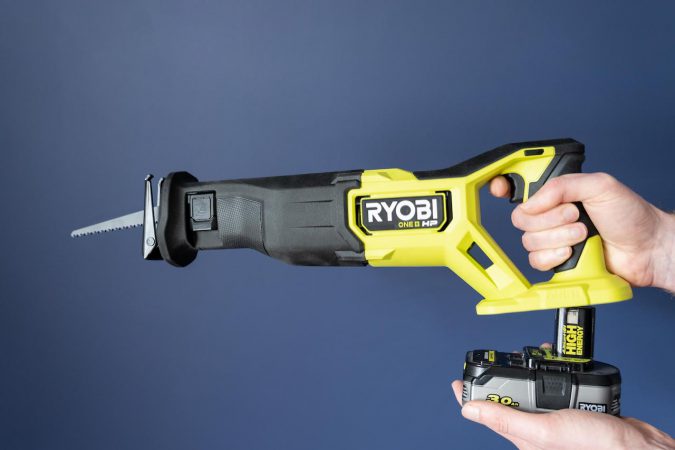 Next up, we need to discuss a bit more on what powers the RRS18X recip to run in the first place. This is no doubt another important consideration. No matter how great a tool might be at cutting things, it's worthless if it runs out of puff in just a few minutes. Well, we highlighted earlier that improvements to Ryobi's brushless motor design have made the RRS18X last longer than its predecessors. Another little convenience aspect is how you interface with the battery itself.
The RRS18X reciprocating saw is a part of Ryobi's tried-and-tested 18V One+ series. Their key feature is that every single tool in this line-up – from saws, angle grinders, drills, chainsaws, leaf blowers, nail guns, lawnmowers, vacuum cleaners, and a whole lot more – could be powered from the same battery. In short, there are 175 other cordless tools you can find on Ryobi's website that are easily interchangeable with the RRS18X's battery.
This is a huge inconvenience spared, especially if you're deeply invested in the Ryobi ecosystem. You can have an entire shed of Ryobi's One+ compatible tools, and it could all be powered by the same 18V battery. No need for additional adapters or plugs and all could be recharged by the same battery charger. In contrast, other brands have batteries that are only unique only to a single tool or a small range of tools. No longer will you have to contend with a whole shelf full of lithium-ion packs.
The Nice To Haves Features For The Garage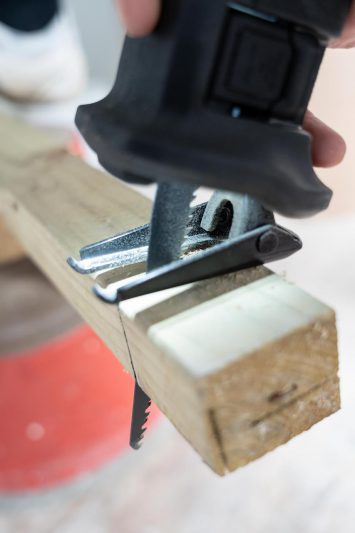 Being able to operate safely is one other factor that Ryobi's RRS18X recip saw does not skimp on. There is a lock switch placed neatly just above where your thumb would normally rest. Just like the safety on a gun, activating this would lock the trigger from working. It's quite easy to quickly switch it on in a pinch, while not placed so that it'll be easy for you to bump it accidentally.
There's also a very sturdy rest on the front end, so you can lay the saw neatly against whatever it is that you're cutting through. While we're on this side of the RRS18X, we could talk a bit about how there are some handy LEDs to make life easier when you're using them in the dark or badly light areas. Furthermore, Ryobi has built a neat little mechanism that allows for quick and easy blade changes. You could even swap out those sharp pointy blades with just one hand.
Traction For Days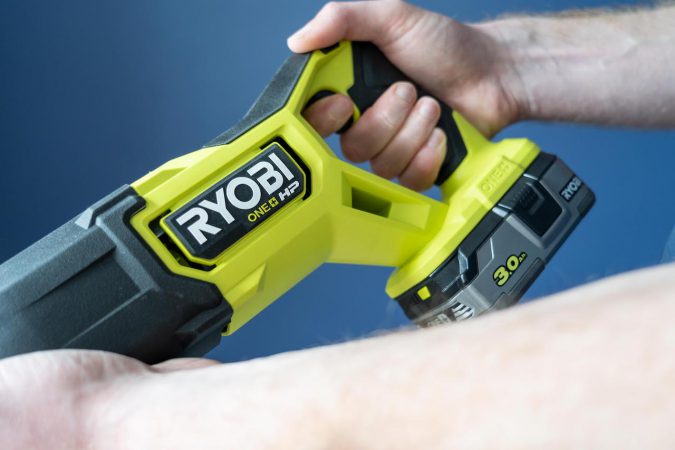 On the back end of the RRS18X, you'll naturally find the grip. This is often an overlooked aspect when it comes to designing tools. The thinking goes that so long as the reciprocating saw cuts, then why bother with anything else? So, it's good to see that Ryobi has put the user in mind here, as well. Over here, you'll find Ryobi's ANTI-VIBE rubber grip.
As the name suggests, this rather large and fairly ergonomic grip is designed to help dampen out some of the shock and vibrations while you're working. The end result is a reduction in user fatigue. We've found this to be a hugely underrated feature for those longer DIY jobs. Meanwhile, Ryobi has applied their GRIPZONE rubber molding tech here, too. It means there are some extra micro-textures along the surface of the handle. This ensures that you can grip it as firmly and as comfortably as possible.
Conclusion – Perfect Automotive Cutting Tool
Summarising our review here, we can conclude that our experience with the Ryobi RRS18X reciprocating saw has been quite a good one. It's never let us down, and it offers everything that you could possibly need. Fast cutting speeds… Check. Decent battery life… Check. Ergonomics… Check. Then, there are other bonuses we appreciate such as having a single battery to use with all our other Ryobi tools. This one's definitely a keeper.