Not too long ago, we took a quick look at Topdon's BT300P. We concluded then that it was among the most featureful battery testers that you can find on the market today. It even had a tiny printer that you could scan out your battery tests. We remarked how useful this was for say, a mechanic to print out and show how poorly a battery's doing in their customers' cars, among others.
But what if you're not a mechanic, and do not need to keep rolls of voltage receipts lying around? In that case, you could save yourself a pretty penny with its entry-level cousin, the Topdon BT100. Yet, and despite the lower price, it still kept all the good attributes of the beefier BT300P. So, is the BT100 compromised owing to its price point, or does it represent a fantastic value for the money?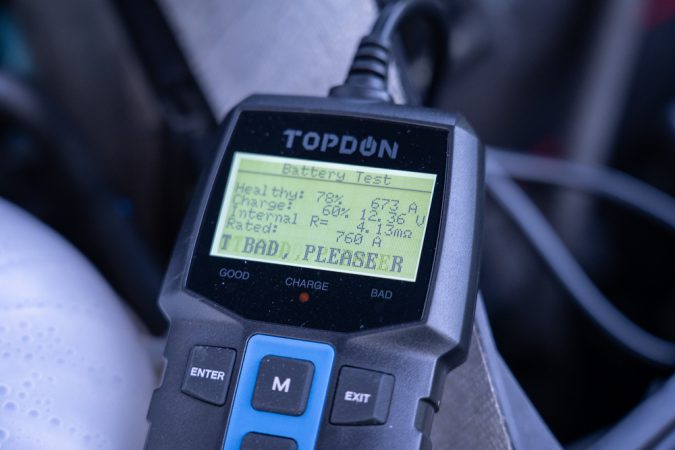 What's Changed Since?
In all, it's mostly similar to the BT300P, sans the card swipe machine-style roll-out printer. On top of that, this BT100 here has had some revisions over the earlier models. Topdon's reworked the insides and optimised its functionality even further. This, in effect, has made it more accurate when posting data about your battery tests. Otherwise, it's business as usual elsewhere on the Topdon BT100.
For example, it can test 12V lead-acid batteries across a wide range of vehicles. This includes cars, motorcycles, trucks, ATVs, RVs, SUVs, boats, lawnmowers, and even golf carts. In addition, it's easily compatible with numerous types of batteries. These include 100-2,000CCA regular flooded batteries, AGM (absorbent glass mat) flat plate or spiral, EFB (enhanced flooded battery), or gel cell batteries.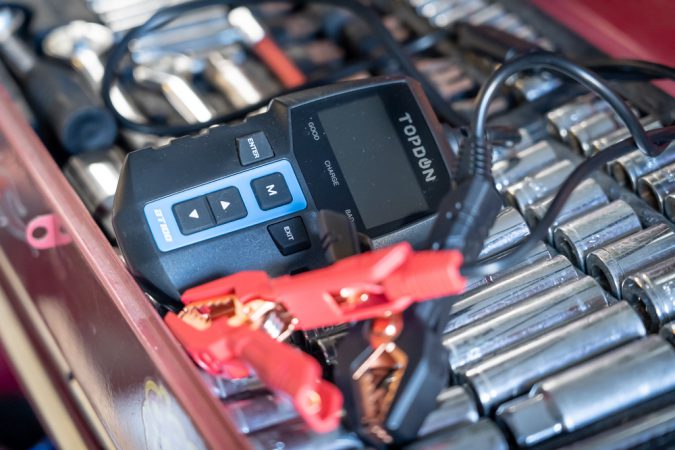 What Can It Do?
You can interface with the BT100 using the crisp and responsive display. With that in mind, the BT100 can keep you informed of a few things. For instance, the SOH (state of health), SOC (state of charge), the voltage, current, rating, and many other key points of data about the battery. Understanding these will help you get better acquainted with the battery's condition. Plus, it's more than mere analysis.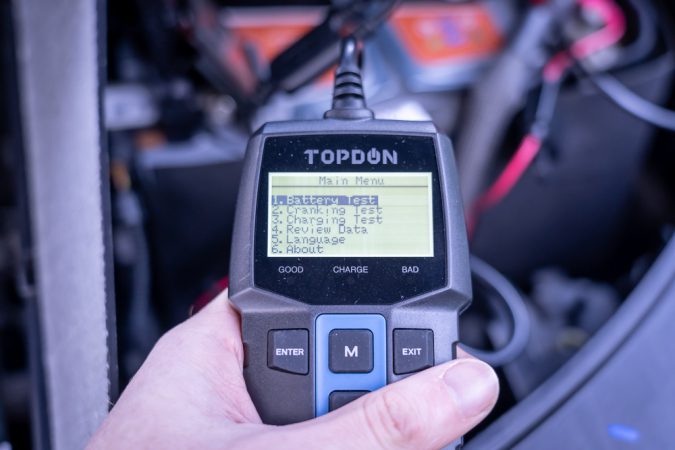 Topdon's BT100 can also conduct thorough tests on the battery to determine its condition. There are three tests in particular:
Battery Health Test – Checks up on the battery to see if it's in good working order. The particular set of variables that it looks through are as mentioned earlier.
Cranking Test – See if the electrical systems on your car is sufficient to crank and start it up. This is measured by the cranking voltage and cranking time.
Charging Systems Test – Analyses the alternator, generator, rectifier diode, and charging current to see if anything's amiss. Primarily, it'll keep a lookout for a reliable charging rate.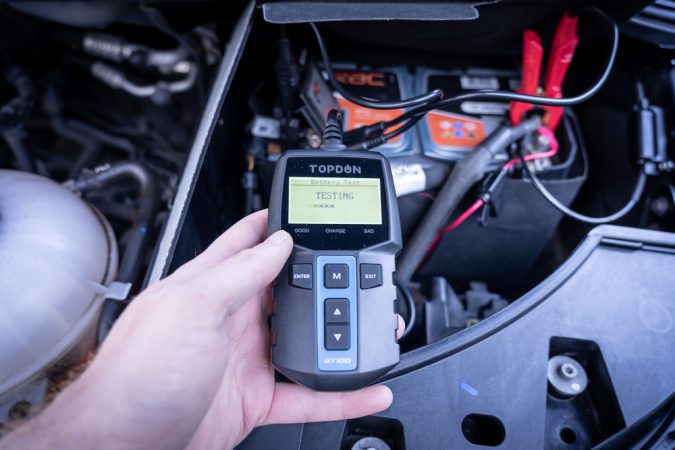 Is The Topdon BT100 Easy To Use?
Very easy, as a matter of fact. The compact nature of the BT100 means that you can quite handily carry it around in your glovebox. Once you're ready to give the battery a test, you can quickly view the three coloured LEDs up top. These can make you aware of the battery's health at a glance. That said, the BT100 can hastily complete detailed tests and analysis with the full results within seconds.
At the very bottom, you'll find a pair of high-quality copper clamps that can both prevent sparking, and reverse polarity. In all, the BT100 is a complete all-in-one package to not only assess the state of your batteries. But also, to keep you informed of any issues that may lie ahead. For a cost of £46.99, Topdon's BT100 is a fantastic accessory to have in any garage, for that keen DIYer or professional.