I recently had the opportunity to try out the VIOFO A119 MINI 2 Dash Cam in my VW Camper, a compact device brimming with advanced features. Allow me to say, it indeed lived up to the hype, surpassing my expectations from such a small form factor device.
Compact, Stealthy Design
The design of the A119 MINI 2 is quite remarkable. Its small footprint makes it a discreet fixture in your vehicle, easily nestling behind your rear-view mirror. This ensures not only a clear, unobstructed view of the windshield but also significantly lowers the chances of it attracting undue attention or theft.
Superior Image Quality
The A119 MINI 2 comes equipped with a high-quality sensor, delivering stunning 1440p resolution at 30 frames per second. This ensures top-tier image quality, irrespective of the time of day. The sensor's proficiency in improving low-light images, reducing noise, and preserving crucial details is a clear standout.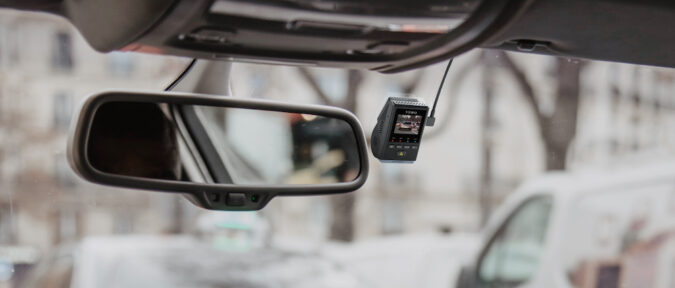 Smooth Connectivity and User-Friendly Interface
The A119 MINI 2 raises the bar in terms of user-friendliness with its built-in Wi-Fi functionality. This allows you to adjust settings, preview footage, and even download and share recorded videos right from your mobile device using the VIOFO app. Additionally, the dashcam features an easy-to-reach emergency button for quickly locking a file to prevent it from being overwritten.
Advanced Parking Modes
The A119 MINI 2 also boasts a variety of advanced parking modes. These features offer peace of mind when your vehicle is parked, ensuring it remains under constant surveillance. From automatic event detection to time-lapse recording, the A119 MINI 2 has your vehicle security handled.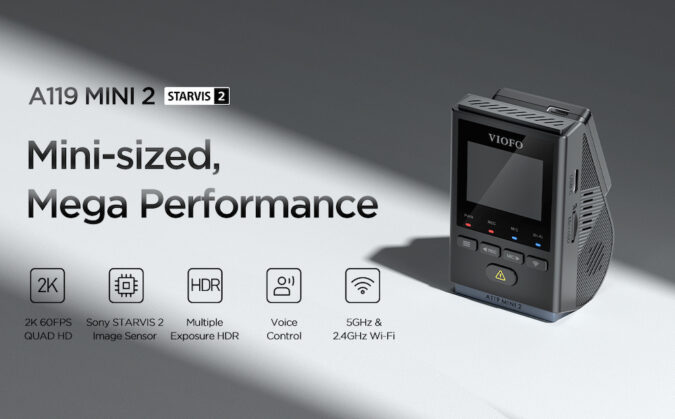 GPS Logger and Safety Features
The built-in GPS logger is another commendable feature. It offers detailed location, speed, and time data, ensuring you are always aware of your vehicle's whereabouts if an incident were to occur. The A119 MINI 2 also supports seamless loop recording, and in the event of a collision, the dashcam's integrated G-sensor will automatically lock the footage to be used as evidence later.
Voice Notifications and Durability
Taking it a step further, the A119 MINI 2 comes with intelligent voice notifications. This feature keeps you informed about any changes in settings or memory card errors, allowing you to stay focused on the road ahead.
Latest Sony STARVIS 2 Image Sensor
Pioneering the industry, the A119 Mini 2 becomes the first-ever dashcam to incorporate Sony's latest STARVIS 2 IMX675 sensor. This groundbreaking sensor leverages Sony's unique STARVIS 2 technology, providing high sensitivity and an expansive dynamic range. Notably, it operates with around 30% less power compared to traditional models like the STARVIS IMX335 image sensor.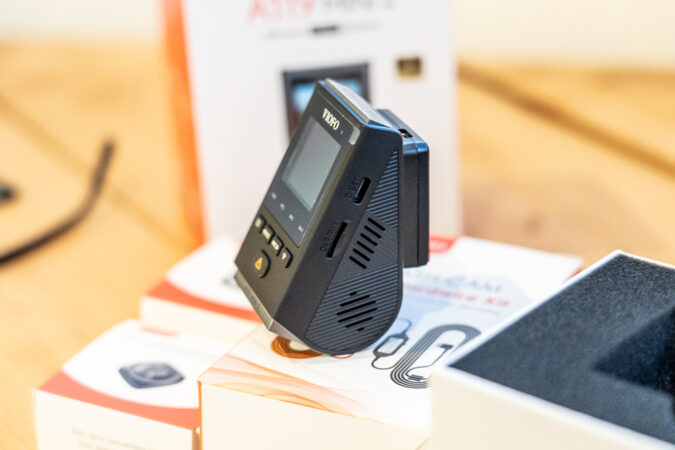 Conclusion
All things considered, the VIOFO A119 MINI 2 is a sound investment. It combines superior recording, intelligent features, and robust construction, all at a price point that's hard to beat. The availability of optional accessories, such as the CPL filter and hardwire kit, further amplify its functionality. For anyone in the market for a reliable, high-performing dash cam, the VIOFO A119 MINI 2 is a compact device that truly delivers on its promises.