If you are looking for an affordable family sedan on the pre-owned market, there are only a handful of options more compelling than the Chevrolet Cruze. However, some model years of the Cruze suffer from significant reliability issues. 2013 is one such year. So, are you interested to learn more about the 2013 Chevy Cruze problems?
The reliability issues with the 2013 Cruze range from minor cosmetic problems to catastrophic drivetrain failures. Some of these issues will often take large sums of money to fix properly. When looking for one of these vehicles, it is important to have a clear understanding of all these problems.
If not, you run the risk of wasting both your valuable time and money. So, with that in mind, let us start our discussion by looking at the history of the Chevy Cruze. And if you need further references, do head over to our in-depth looks at the common Chevy Cruze problems. As well as, whether the Chevy Cruze are good cars (or not).
History Of The Chevy Cruze
Before diving into the 2013 Chevy Cruze problems, it will be beneficial to have an understanding of its history. To date, there have been two generations of the Chevrolet Cruze. Here, we will take a closer look at both of them.
1. First Generation
The origins of the Cruze can be traced all the way back to 2008. Actually, the "Cruze" nameplate pre-dates the family sedan we know and love today. Initially, it was used as the name for an SUV-shaped hatchback that was sold in Japan, New Zealand, and Australia.
Chevrolet introduced the Cruze to the world in 2008. The Cruze was created as the replacement for the outgoing Cobalt and was a globally developed effort. This model was also sold in the South Korean market, where it went by the name Lacetti Premiere under GM's Daewoo brand.
Additionally, Australian gearheads were able to purchase this family sedan as the Holden Cruze. Under the body of the first-generation Chevy Cruze was the then-all-new Delta II platform. 65 percent of the body was constructed using high-strength steel, making it more rigid than any Chevy sedan that came before.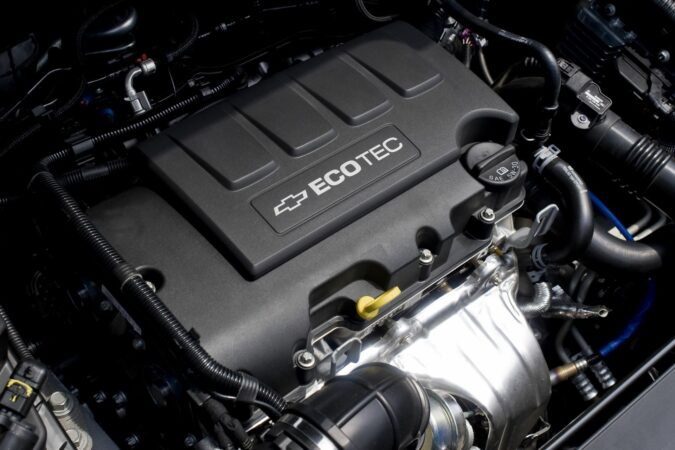 The Cruze was front-wheel drive and came with MacPherson struts at the front and a solid torsion beam axle at the rear.
Initially, Chevy presented Cruze buyers with the choice of three different engines. Two of them were driven by gasoline, while the other was a diesel. The smaller of the two gasoline engines was a 1.6-liter inline-four engine which produced 111 horsepower along with 113 lb-ft of torque.
On the other hand, the bigger 1.8-liter Ecotec made a healthy 136 horsepower along with 123 lb-ft of torque. However, the 2.0-liter diesel was the most powerful engine offered for the Cruze at that time.
It was capable of producing 148 horsepower, and even more, powerful engines were introduced down the line. All these engine options could be paired with either a six-speed "Active Select" automatic or a five-speed manual transmission.
2. Second Generation
2016 saw the introduction of the long-awaited second-generation Chevy Cruze. When compared to its predecessor, this new model was bigger in almost every dimension. However, it came with the promise of providing a more dynamic and exciting driving experience.
The engine of choice was a 1.4-liter engine with four cylinders. This turbocharged powerplant made 153 horsepower and 177 lb-ft of torque, which was an adequate figure for a vehicle of its size. Both manual and automatic transmission options were available, with each system having six gears.
Several new trim levels made their debut with this generation too. L was the base model, with LS, LT, Premier, and RS ramping up the luxury and performance features. The Cruze Turbo Diesel also remained on sale as well.
Depending on the trim level of your choice, many additional features were made available. These ranged from exterior features like the appearance and size of the wheels, and LED lights to interior options like wireless charging, a center display with Chevrolet MyLink technology, and the availability of Apple CarPlay and Android Auto (but, do you know how to use Android Auto, and how to turn off Apple CarPlay, as well as how to connect Android Auto).
However, not all options were trim-level specific. Safety technologies like 10 airbags, disk brakes on all four corners, a rearview camera as well as Chevy's patented "StabiliTrak" stability control system made the Cruze one of the safest family vehicles on the road.
Other safety features of note include lane keep assistance, a forward collision warning system, rear cross-traffic alerts, and blind spot monitoring.
2013 Chevy Cruze
Now that you know all about the previous generations of the Chevy Cruze, let us shift our attention toward the 2013 model specifically. Nearly a decade has passed since this family sedan hit the showroom floor, and you'll regularly find these for sale with prices ranging from $7000 to $13,000.

The 2013 Chevy Cruze could be had with one of two fuel-efficient powertrains. Base models came with a 1.8-liter engine, that was known to be excessively noisy when you put the pedal to the metal.
However, this was not the case with the turbocharged 1.4-liter engine. It came as standard on the more upmarket LT & LTZ models and delivered a smooth and refined driving experience.
The suspension of the 2013 Chevy Cruze varied depending on trim levels. LT models came with a touring suspension, which gave occupants a refined and comfortable ride. As the name suggests, this suspension was more focused on on-road use.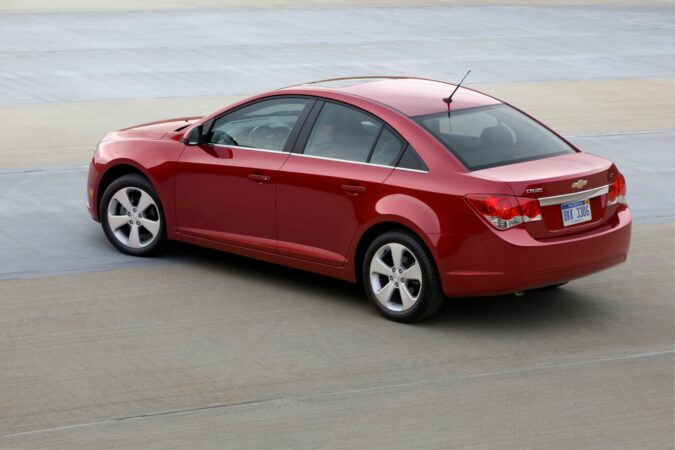 On the other hand, the performance-focused 2LT and LTZ models came with a sport suspension. This system had many aspects which made it the go-to choice for performance driving. Some standout features of the sport suspension included retuned dampers, stiffer springs, and a half-inch ride height drop.
At the time of its launch, the 2013 Chevy Cruze offered one of the best safety packages in its category. It earned the maximum five stars at the federal NCAP tests and was named a top safety pick by the Insurance Institute for Highway Safety (IIHS).
One safety feature that set the 2013 Cruze apart from its competitors was the Automatic Crash Response system. Through the use of the built-in GM OnStar feature, the Cruze could automatically notify the authorities in case of a major incident.
2013 Chevy Cruze Problems
By now, you have a good understanding of the features which made the 2013 Chevy Cruze a popular choice among gearheads at the time. However, as a number of 2013 Chevy Cruze problems started to rear their ugly heads, diminishing that popularity.
A few of the most common reliability issues of this model encountered by owners include,
Coolant Leaks
Engine Issues
Power Steering Failure
Misfires
With that out of the way, we will go through each of these problems in more detail. If you already own a 2013 Cruze, this information will help you diagnose whether your vehicle is also suffering from these issues. And if you are looking to purchase one in the future, use this information and take notes on what to look out for.
Coolant leaks are one of the most infamous 2013 Chevy Cruze problems out there. Although they are easy to spot, fixing these leaks properly can be a time and resource-consuming task. Other than the formation of puddles under your vehicle, there are several other symptoms of coolant leaks as well.
The check engine light is turned on along with an OBD2 code ranging between P0597 to P0599 is an indication of a coolant leak. Not only that, a sweet smell coming from the exhaust while driving is another clear sign of this issue.
2013 Chevy Cruze Problems #1 – Coolant Leaks
Other symptoms include the formation of coolant residue under the hood, low coolant levels, engine overheating, leaks in the thermostat, and gurgling sounds coming from the heater core. So, it's safe to say that a coolant leak isn't ideal, so be wary of what causes that coolant leak.
It can be challenging to spot a coolant leak, especially if you're losing coolant, but there's no visible leak. Elsewhere, another one of the common symptoms of low coolant levels is an empty coolant reservoir.
There are many causes that can lead to the formation of coolant leaks in the engine of your Chevrolet Cruze. Having low coolant levels on your reservoir is one of the most probable causes, as are cracks in the plastic thermostat housing.
A faulty radiator, loose or leaking hoses, and improperly secured connections between hoses are other front-running causes. On average, a professional auto shop will charge you around $300 to fix a coolant leak.
A breakdown of the costs shows that diagnosing the issue costs around $50, parts cost around $170, and around $100 is spent on labor. However, if you are interested in doing it yourself, you can save some money.
In order to perform a DIY coolant leak repair on your Chevy Cruze, first pressurize the coolant system using an antifreeze pressure tester. This will help you easily locate the leak. Once you do that, replace the faulty component, and the issue will be fixed. Don't forget to inspect the rest of the system for rusted or damaged hoses and clamps.
2013 Chevy Cruze Problems #2 – Engine Issues
The origin point of many 2013 Chevy Cruze problems is the engine. Stalls, smoke coming from under the hood, high oil consumption, and complete engine failure are some common engine issues reported by 2013 Cruze owners.
A vast amount of causes can result in the aforementioned problems. Alternator issues, faulty sensors, blown head gaskets, improper lubrication, and even using the wrong type of fuel are some of them.
High oil consumption is a Chevy Cruze engine issue that is primarily present in models equipped with turbocharged engines. If your engine is suffering from high oil consumption, you will be able to spot blue smoke exiting the exhaust pipe.
Other symptoms include rough idling and either the P0171 or P0106 Chevy Cruze error codes being displayed. In order to fix the high oil consumption issue, you'll have to replace the exhaust manifold, the valve cover, or the camshaft cover.
However, keep in mind that these are expensive repairs, and should only be performed by a professional.
2013 Chevy Cruze Problems #3 – Power Steering Failure
Power steering is an essential feature that allows drivers to control their vehicles easily. Sudden failures of this system are dangerous, as they can make you lose control of your vehicle. But, this is exactly the situation faced by some Chevy Cruze owners.
Not having adequate power steering fluid (usually due to a power steering fluid leak) in your reservoir is one of the main causes of power steering failure. Generally, you should change this fluid once every two years to ensure the longevity of the whole system.
Contamination of the fluid can also result in failures. This is due to the contaminants deteriorating the various hoses that carry power steering fluid. As you might have guessed, the power steering pump is one of the main components of this system.
So, it is no wonder that a failure of this component can lead to some 2013 Chevy Cruze power steering problems. Similarly, worn internals in your electric power steering rack can result in resistance when turning the wheel in either direction.
Given how crucial this system is, make sure that you're attentive to any symptoms of a bad power steering pump. Or, if your Chevy Cruze is exhibiting the signs of a faulty electric power steering pump. If so, you might have to get a replacement power steering pump.
2013 Chevy Cruze Problems #4 – Misfires
Misfires are another common engine issue that affects many 2013 Chevy Cruzes. An engine that is running rough, reduced fuel economy, and poor acceleration are some symptoms you can use to identify these engine misfires.
There are two probable origins of engine misfires, which are coil packs and spark plugs. First of all, let's take a look at the coil pack. Coil packs are responsible for powering the spark plugs through the energy of a vehicle's electrical system. These are regulated by the car's onboard computer, and they mainly fail due to corrosion.
If you need to diagnose this further, do check out our guide on how to test a coil pack without a multimeter. The coil pack, also known as the ignition coil, might otherwise exhibit typical symptoms of a bad ignition coil.
When the coil packs fail, the spark plugs won't receive enough voltage, leading the engine to misfire. Additionally, faulty coil packs can result in RPM drops, excessive engine noise, and rough idling as well. If the coil pack of your Chevy Cruze has gone bad, you should replace it with a new one.
Typically, an ignition coil replacement on a 2013 Chevy Cruze costs about $250. As we already mentioned, spark plugs are the other source of engine misfires.
Spark plugs can naturally go bad over time with use, but they can also wear out due to dirty air filters, fuel injector issues as well as due to idling the vehicle for an excessive amount of time. In this case, replacing the spark plugs at a cost of about $150 will get rid of the misfires.
Chevy Cruze Years To Avoid
If you're keen on diagnosing the latter yourself, do refer to our guides on what do spark plugs do, and what does a bad spark plug look like. We also looked into how to check the spark plugs, in addition to how long do spark plugs last, and the symptoms of a bad spark plug, as well as the cost of a replacement spark plug.
Also, before we completely pivot towards the Cruze years to avoid, there are easier ways to diagnose an engine misfire. Simply, you can plug an OBD scanner into your Cruze, and note any misfire error codes. That includes (but isn't limited to) the following:
Going by the above information, you can understand that 2013 is a Chevy Cruze model year that you should probably avoid. But, it is safe to say that this is not the only model year of this vehicle that you should keep away from. Some other Chevy Cruze years to avoid are,
Now, we will take a look at each of these models and see why they have gathered so many negative reviews over the years.
Chevy Cruze Years To Avoid #1 – 2011
2011 was one of the earliest model years of the Chevy Cruze, but it was one of the most problematic years in its history as well. Apart from a subpar interior that was full of plastic pieces, there were issues with the engine as well.
Another area of concern with the 2011 Chevy Cruze was the transmission. These issues usually set in at relatively low mileages, and cost upwards of $3000 to fix properly. The defroster of the 2011 Chevy Cruze is another area of concern. To replace a simple plastic component, you'll have to spend upwards of $700.
Chevy Cruze Years To Avoid #2 – 2012
Although 2012 brought a handful of improvements to the model that preceded it, there were still some major reliability issues. The engine and transmission issues were still present, and the vehicle was recalled 7 times.
There were various issues behind the above-mentioned recalls. The most severe problem was the key getting stuck in the ignition, making drivers unable to remove it. This can lead to the car rolling away and causing accidents.
Problems with the airbags, engine oil leaks, faulty welds in the fuel tank, and the loss of brake assistance were some other issues that caused the 2012 Chevy Cruze to be recalled. These are some of the more common 2012 Chevy Cruze problems.
Throttle body failures were a common complaint of 2012 Chevy Cruze owners. The replacement cost of a Chevy Cruze throttle body is around $450. Coolant leaks from the radiator, water pump, and engine itself are other major issues observed with the 2012 Chevrolet Cruze.
Chevy Cruze Years To Avoid #3 – 2014
When talking about Chevy Cruze years to avoid, we cannot gloss over 2014. The engine, transmission seals, as well as cooler lines, are some areas of concern with this model. The PCV diaphragm on the valve cover of some vehicles had defects, as did the thermostat housing.
Another common complaint of the 2014 Chevy Cruze sedan owners was blue smoke coming out of the exhaust. This, along with excessive oil burn and rough idling was caused by wear and tear of internal engine components.
The issues with the 2014 Cruze were so extensive that Chevrolet had to extend the warranty coverage of this vehicle to 10 years. Therefore, with the abundance of 2014 Chevy Cruze problems to note, you'll have to be very careful when picking one from this model year.
2013 Chevy Cruze Thermostat
The thermostat is a common area of failure in the Chevy Cruze. The main responsibility of this component is regulating the flow of coolant through the engine. You see, when the engine is cold, the thermostat is closed.
But once the engine warms up, the car thermostat will gradually open and let the coolant flow through the engine as intended.
Here are some signs you can use to identify a faulty thermostat before it causes any major issues.
Coolant Leaks
Issues With The Heater
Overheating And Overcooling
Strange Sounds From The Engine
Among the symptoms of a bad thermostat (as is the case when you notice a P0128 code in your Jeep or a P0128 Dodge code) also include a P0128 Chevy OBD error code, if you've plugged a diagnostics scanner into your car.
If you are experiencing any of these issues with your Chevy Cruze, we recommend you take your vehicle to a mechanic as soon as possible. The cost of a Chevy Cruze thermostat replacement is about $400. The actual part itself costs about $314, while the remaining amount is spent on labor costs.
Chevy Cruze Reliability
With the information we have discussed so far, you might think that all model years of the Chevy Cruze are equally unreliable. However, this couldn't be far from the truth. Although a few models do suffer from severe reliability problems, there are some other model years of this vehicle that are known to have great longevity.
The best model years of the Chevy Cruze include,
1. 2019
2019 is one of the most recent model years of the Cruze and one of the most reliable ones as well. A new grille up front along with updated front and rear bumpers gave this Cruze an eye-catching look. Additionally, the taillights received an upgrade too, making 2019 one of the most eye-catching Cruze models to date.
On the mechanical front, the 2019 Cruze had far fewer problems when compared to its predecessors. The handling was praised by many owners, and it had far fewer reliability issues as well.
2. 2018
The year that preceded 2019 was a great year for the Cruze as well. The NHTSA awarded the 2018 Cruze a five-star safety rating, making it one of the safest family sedans on the road. A new color named Satin Steel Metallic also made an appearance this year, and the hatchback model received a turbo-diesel engine for the first time.
3. 2017
The 2017 Chevy Cruze was outfitted with some of the best technological features available at the time. Coming off a major redesign the year prior, 2017 also ranks as one of the best model years of the Cruze money can buy.
Verdict
When it comes to the 2013 Chevy Cruze problems, there are a few major issues that deserve your attention. Some of the most common ones include engine misfires, coolant leaks, and issues related to the power steering system.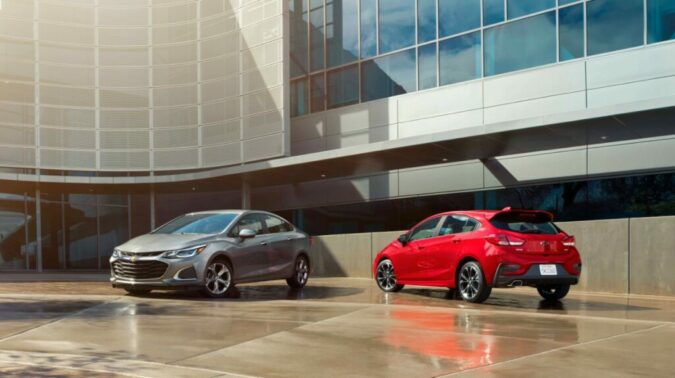 Altogether, these issues make 2013 one of the Chevy Cruze models you should probably stay away from. If you are serious about purchasing one of these economical sedans, consider one belonging to the second generation, which was made between the years 2016 (be wary of the 2012 Chevy Cruze problems, though) to 2019.
FAQs On 2013 Chevy Cruze Problems
Are Chevy Cruze Good Cars
Some model years of the Chevy Cruze are known to be very reliable, while others aren't. According to many gearheads, the best Chevy Cruze model years to get are 2016, 2017, 2018, and 2019.
How Long Do Chevy Cruze Last
The longevity of your Chevy Cruze mainly depends on how you take care of it. With proper maintenance, a Chevy Cruze will serve you reliably for well over 250,000 miles.
Is Chevy Reliable
Chevrolet is one of the most reliable American car brands out there. Apart from the Cruze, some of the most reliable Chevy models include the Camaro and the Equinox.
What Year Did The Chevy Cruze Come Out
The first generation Chevy Cruze was released to the world in 2010 for the 2011 model year. 6 years later, the second generation Cruze was released to the world.
Does The Chevy Cruze Have A Turbo
The Chevy Cruze comes as standard with a turbocharged engine. This 1.4-liter powerplant makes 153 horsepower, which is quite adequate for a vehicle of its size.