Until the recent uptick in the popularity of SUVs, sedans were the go-to vehicle for family transportation. There have been some popular sedans over the years, but the Chevrolet Cruze has the accolade of being one of the most popular models ever created. So, how about the 2012 Chevy Cruze problems?
However, there are some Cruze models that are more reliable than others, and today we'll be taking a look at the 2012 model. Here, we hope to give you an in-depth look at the most common 2012 Chevy Cruze problems, which will help you when making a purchase decision in the future.
When choosing a new vehicle to purchase, having a good idea about its reliability is of utmost importance. You see, the technologies used in vehicles change rapidly between model years. That is why some model years of vehicles are more reliable than others.
We know that you are curious about the reliability of the 2012 Chevrolet Cruze, and we won't keep you waiting any longer. So, if you're still wondering about are Chevy Cruze good cars or not, let's get started!
History Of The Chevy Cruze
Before diving head-on into the 2012 Chevy Cruze problems, we thought of taking a look at its history. Before it was discontinued, Chevrolet produced two generations of the Cruze.
First Generation
In July 2015, Chevrolet revealed the first renderings of the Cruze to the world, before launching the official images to the world the following month.
The Cruze was designed as GM's replacement for several of its popular sedans. These models included the Chevy Cobalt, Holden Astra, Pontiac G5, and Daewoo Lacetti. This was an important vehicle for Chevrolet, as the company was depending on its success from the losses it incurred during the economic crisis.
The first-generation Cruze was based on a front-wheel-drive platform. A global design and engineering team was in charge of its development. With a total cost of $4 billion, this was one of the most expensive vehicle development programs undertaken by the American manufacturer.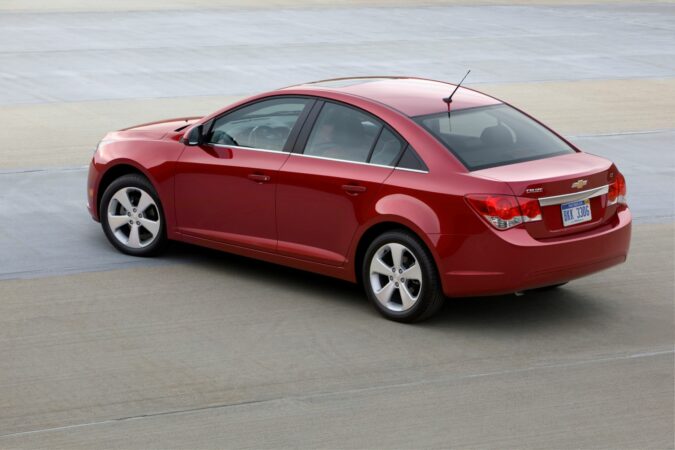 The body of the Cruze was made using 65 percent high-strength steel. The front suspension used McPherson struts. Similarly, the rears used a solid torsion beam axle. This implementation greatly reduced the cost of the suspension system.
Precise steering and feedback were provided through the rack and pinion steering system. The Cruze also came with an isolated four-point engine mount. This reduced the noises and vibrations in the passenger compartment. The use of a triple-layer sealing system in the doors provided further noise isolation.
New models of the Cruze were introduced down the line. A five-door hatchback model made its appearance in 2010. Similarly, a Chevy Cruze station wagon entered the market in 2012.
The wagon was the perfect car for people who were after that extra cargo space. With the seats folded down, it could hold nearly 1500 liters of cargo, which is an impressive figure for a car in this price range.
Second Generation
In early 2016, Chevrolet released the second generation of the Cruze. This generation bought with it a new design language, emphasized by an improved front grille and a sloping roof design. Additionally, the wheelbase was increased to provide more space for the passengers.
Several trim levels were on offer including the L, LS, LT, and Premier. On the inside, all trim levels received an improved infotainment system. Named "MyLink", this system came with voice control, USB integration, AM/FM, as well as an optional satellite radio.
The second-generation Cruze came with a new and improved four-cylinder engine under the hood. This new 1.4-liter EcoTec powerplant produced 153 horsepower, along with 177 lb-ft of torque. This engine was paired with a six-speed manual or a six-speed automatic depending on the trim level you go for.
In 2018, the sedan received a mid-cycle refresh which gave it an updated appearance. Here, the two top trim levels received updates to the RS Package. Inside, the MyLink system was upgraded to the third generation, and the manual transmission option was eliminated entirely.
2012 Chevy Cruze
The 2012 model year belonged to the aforementioned first generation of the Cruze. For this model year, Chevrolet offered owners a choice of two engines. The first was a 1.8-liter four-cylinder, capable of producing an impressive 136 horsepower.
This engine came as default in the base level "LS" trim. However, most Cruze owners opted for the other engine, which was a turbocharged 1.4-liter inline-four. Though it is smaller on paper, the inclusion of a turbo makes the power output of this engine marginally higher at 138 horsepower.

Additionally, this engine produced more torque, allowing the Cruze to get up to speed faster. The turbocharged engine comes as standard on the "Eco" model, where it gets an impressive 42 miles per gallon. The EPA estimated an average fuel economy of 25 mpg in the city and 36 mpg on the highway for Cruze models across the board.
When it comes to acceleration, the turbocharged engine was faster in this aspect as well. It only took the Cruze 9.2 seconds for the Cruze to bolt from 0 to 60 MPH.
Both a manual and an automatic transmission were available, with both containing six gears,
The safety features of the 2012 Cruze are respectable for a car in its sector. Stability control, ABS, side curtain airbags, side-impact airbags, and front knee airbags all come as standard. The Cruze obtained five-star ratings on both side-impact and frontal crash tests, making it one of the safest cars on the road.
On the inside, the Cruze came with a signature "twin cockpit" design. It comes with a two-tone design, which gives it a more premium look. Both the front and rear seats offer plenty of space making it comfortable for occupants of all sizes.
2012 Chevy Cruze Problems
Throughout the years, owners have discovered a fair share of problems with the Cruze. These range from simple repairs that cost only a few dollars to fix, all the way to major overhauls that costs thousands of dollars.
Some of the most common Chevrolet Cruze problems include,
Misfires
Coolant Leaks
Engine Issues
Problems With Power Steering
Faulty Water Pump
PCV Diaphragarm Defects
Loose Battery Cables
Now, let us take a closer look at all of these issues. If you own a 2012 Cruze or plan to own one in the future, this information will be of great use to you.
2012 Chevy Cruze Problems #1 – Misfires
Misfires are one of the most common 2012 Chevy Cruze problems often complained about by the owners.  There are two main sources of this issue. Can you guess what they are? If you guessed the coil pack and the spark plugs, you are absolutely correct!
If your Chevy Cruze is having trouble starting up, you should first go ahead and take a look at the spark plugs. Common symptoms of faulty spark plugs include reduced fuel economy and weaker acceleration. You can refer to our guide on what does a bad spark plug look like and how to check spark plugs to learn more.
Clogged air filters, dirty fuel injectors, and wear and tear over time can all lead to spark plug issues. Having the old spark plugs replaced brand new once by a certified mechanic is the best way to sort out this issue. Therefore, be diligent about the symptoms of a bad spark plug, as well as the cost of a replacement spark plug.
A faulty coil pack is another main factor that can be the cause behind the rough idling of your engine. The coil pack is controlled electronically by the ECU, and corrosion causes them to wear out over time. As such, to know if you have a bad coil pack, you can refer to our resources to learn how to test a coil pack without a multimeter.
On top of causing misfires, a faulty coil pack can cause other issues like rough idling, increased engine noises, and RPM drops under acceleration. Once again, replacing the coil pack is the best way of solving this. We also have other guides on the ignition coil, including bad ignition coil symptoms (which you can diagnose by learning how to test a coil) and the ignition coil replacement cost.
2012 Chevy Cruze Problems #2 – Coolant Leaks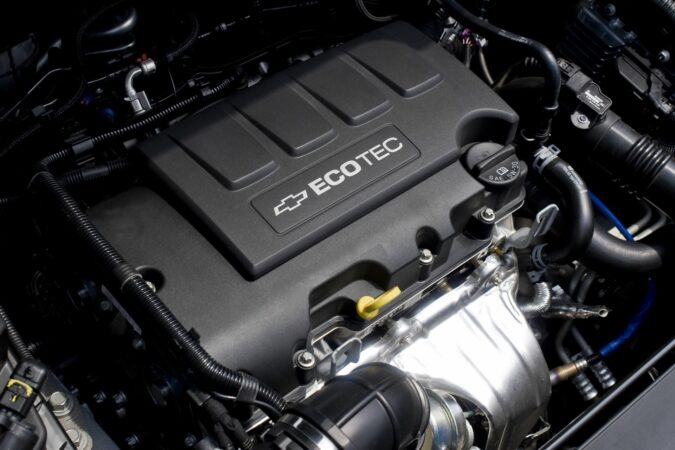 Coolant leaks are another one of the 2012 Chevy Cruze problems that have become a headache for many owners. Coolant can escape from your vehicle in many places like the radiator, hoses, and thermostat housing as well as the dozens of connection points between the hoses.
There are several signs that you can use to identify whether or not your Cruze is suffering from a coolant leak. A sweet smell coming from the car, puddles of coolant on the ground beneath the vehicle, and low coolant levels in the coolant reservoir tank (or if it's empty) are some of the most preliminary signs.
If you hear a loud gurgling sound coming from the engine, that is another indication of a low coolant level. The origin of the sound is from air pockets that are being pulled into the heater core due to the lack of fluid. Similarly, intermittent heat is one of the symptoms of low coolant levels.
Another way to identify low coolant problems (or if you're losing coolant but there's no leak) and coolant leaks in the 2012 Chevy Cruze is by performing an OBD scan. If the check engine line has been illuminated, take your vehicle to a mechanic and have them perform a scan.
Should the resulting error code is from P0597 through to P0599, it is most likely that your car is suffering from a coolant leak somewhere. If you're still unsure, feel free to hit up our write-up on what causes a coolant leak to find out more.
2012 Chevy Cruze Problems #3 – Engine Issues
The 2012 model year of the Chevrolet Cruze is known to suffer from several engine issues. In fact, over 50% of all driver complaints about the Cruze are related to problems with the engine.
Some engine related 2012 Chevy Cruze problems to keep an eye on include stalling, smoke coming from under the hood as well as complete engine failure.  There are many causes behind these issues. A few of the most ones are defective sensors, lack of fuel, using the wrong type of fuel, and alternator issues.
Additionally, the Cruze is known to develop leaks in the cylinders, which cause oil leaks. Blown head gaskets and lubrication issues are not uncommon either. Some well-informed home mechanics might be able to repair these issues at home.
But, we recommend taking your vehicle to a certified mechanic for more accurate diagnosis and repairs.
2012 Chevy Cruze Problems #4 – Problems With Power Steering
Power steering is a feature that we don't even notice during our day-to-day drives. But, you are bound to miss it dearly when it is gone. This is a dangerous problem too, as the sudden loss of power steering during high-speed driving.
During their time of ownership, many 2012 Chevy Cruze owners have experienced problems with the power steering system. Power steering fluid contamination is one of the leading causes of power steering failure.
You see, the tubes and hoses of your power steering system naturally deteriorate over time. When this happens, air bubbles and various other contaminants will find their way into the system, resulting in various power steering failures.
Failures and damage to the water pump also have a negative effect on the power steering. Although these components are made to be highly durable, putting excess stress on the belt can cause the pumps to fail prematurely.
With that in mind, make sure that you're aware of the power steering pump symptoms, as well as the power steering pump replacement. Other than that, you might also find some of our other resources handy, such as looking into whether can you use power steering fluid as brake fluid, and a power steering fluid leak.
When talking about the power steering pump belt, it is important for you to understand the various factors that can cause it to fail. Corrosion, over-stretching, and breakage of this component are common, resulting in the whole system going out of commission.
Another cause of Chevy Cruze power steering problems is maintaining improper fluid levels inside the system. On average, this fluid needs to be changed every two years, but most drivers fail to perform this crucial service.
When there isn't enough fluid in the system, the power steering is unable to exert the required force to turn the wheels as intended. On the other hand, having too-much or too-little fluid in the system causes its own set of issues as well.
Oftentimes, the power steering fluid reservoir is the first place you should check when you are experiencing issues related to this system.
2012 Chevy Cruze Problems #5 – Faulty Water Pump
Similar to the power steering pump. The water pump of the 2012 Chevy Cruze is prone to failure as well. This is an issue mainly present in models that come with the 1.4-liter engine.
When this happens, the vehicle will overheat, and the air conditioning system will seize functioning. The only viable solution for this problem is replacing the faulty water pump with a new one.
If you need more context, we have our guides on the symptoms of a bad water pump, as well as the replacement cost of a water pump. Or, to find out more, check out our guide on what does a water pump do for your car.
2012 Chevy Cruze Problems #6 – PCV Diaphragm Defects
The PCV diaphragm is made of rubber and is responsible for supplying clean air to the vehicle's engine. Not only that, but it is responsible for cleaning the incoming air as well. Some models of the Cruze, especially the ones equipped with the 1.4-liter engine, are susceptible to the failure of this component.
When the PCV diaphragm goes bad, it causes several issues like rough idling, burning engine oil, turning on the check engine light as well as causing blue smoke to come out of the exhaust. If you are experiencing any of these symptoms, you should get the PCV issue sorted out as soon as possible.
2012 Chevy Cruze Problems #7 – Loose Battery Cables
Have you noticed the display of your 2012 Chevy Cruze turning on and off at random? Or are you having issues with the anti-lock brakes and traction control systems? Then, your vehicle might have a loose negative battery cable.
This is a common issue with first-generation Chevrolet Cruze models, and the manufacturer has issued a service bulletin to get it fixed.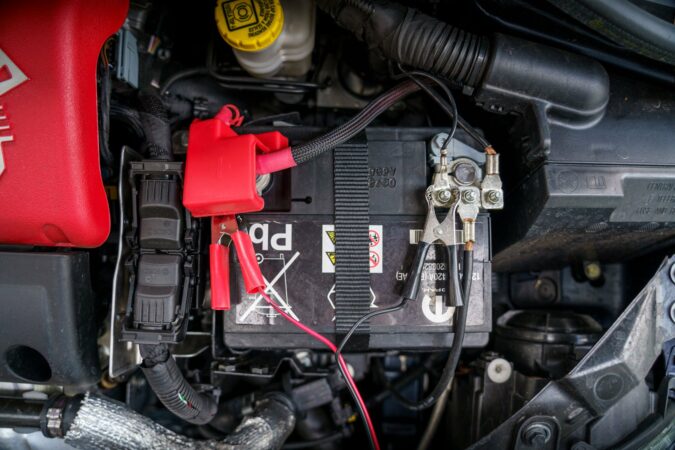 In addition to the issues we discussed, the 2012 Chevy Cruze suffers from some turbo-related issues as well. Are you curious to learn more? If so, follow along!
2012 Chevy Cruze Turbo
Chevrolet fitted the Cruze with a turbocharger with the thought of increasing both efficiency and performance. Although it achieved these objectives at first, the turbocharger has since become one of the most prominent sources of 2012 Chevrolet Cruze problems.
In fact, over 4000 of these family sedans were recalled due to this annoying issue. There are several symptoms that can help you identify turbo problems before they cause any serious damage. The first and most obvious one is the check engine light on the dashboard turning on.
If you perform an OBD2 scan at this point, the vehicle will output the DO2999 error code. Furthermore, you will notice a loss of power under acceleration, and the engine note may change as well. Additionally, the fuel economy will get worse, and you'll notice black smoke coming out of the exhaust pipe.
Depending on the type of issue, the cost of a Chevy Cruze turbocharger replacement ranges between $2600 and $3080. However, this cost may vary depending on the labor costs of the area that you live in. The trim level of your vehicle also has an effect on the repair cost as well.
Chevy Cruze Years To Avoid
If you are on the fence about spending your hard-earned money on a Chevy Cruze, there are some model years that you should stay away from. Some of the worst Chevy Cruze model years buyers should avoid include,
We will take a closer look at each of these and see what makes them one of the worst purchase decisions you can make.
Chevy Cruze Years To Avoid #1 – 2011
2011 is one of the most notoriously bad years of this American family sedan. This model year suffered from a whole host of issues which included the likes of transmission problems, jerky power delivery from the engine, and strong odors in the passenger compartment among others.
Not only that but, the 2011 Cruze has been the subject of 7 recalls, which goes to show its unreliability.
Chevy Cruze Years To Avoid #2 – 2012
The 2012 model did not address many of the reliability issues of the previous year. Most troubles of the 2011 model were found here as well, with the addition of thermostat housing faults.
Transmission failures become more prominent, as many owners reported that their transmissions bit the dust when the vehicle was only around 80,000 miles.
Chevy Cruze Years To Avoid #3 – 2013
Engine oil leaks, electrical malfunctions, transmission failure, and coolant leaks were just a few of the problems that affected the Chevrolet Cruze models made in 2013. It is important to add that this model has garnered close to 1000 complaints related to reliability concerns.
If you are in the market for a Cruze, we recommend you keep away from the 2013 model.
Chevy Cruze Years To Avoid #4 – 2014
It is safe to say that 2014 is one of the frontrunners for the title of worst Chevy Cruze model year. This model suffered from a whole host of issues like overheating, turbo issues, and cracking pistons. Additionally, electronic problems and steering lockups while on the road were common with this model as well.
We've covered this model year in particular in our guide on the 2014 Chevy Cruze problems.
Best Year For Chevy Cruze
As we already looked at the worst years of the Cruze, it would be an injustice not to look at the best model years too. When taken as a whole, some of the best years for the Cruze can be listed as,
All these models share great reliability, mixed with comfortable passenger compartments and the latest technological features. So, if you plan to make a Chevy Cruze your next car, we highly recommend going for one made during these model years.
Final Verdict
Although Chevy Cruze sedans made in 2012 can now be had for an affordable price, the vast amount of known reliability issues is something you should take into consideration before making a purchase.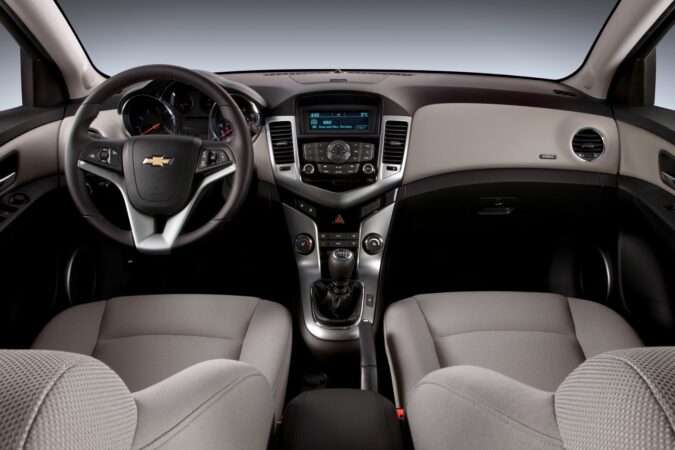 A few of the most common 2012 Chevy Cruze problems include issues with the engine, coolant leaks, misfires as well as faulty power steering.
FAQs On 2012 Chevy Cruze Problems
Are Chevy Cruze Good Cars
In terms of reliability, the Chevrolet Cruze does not have a great reputation. However, this largely depends on the model year. 2011, 2012, 2013, and 2014 model years have horrible reliability issues. In contrast, Chevy Cruze sedans made between the years 2016 – 2019 are considered by many gearheads to be the years to go for.
How Long Do Chevy Cruze Last
On average, the Chevy Cruze is made to last between 150,000 to 200,000 miles. This means that your sedan will last you between 10 to 13 years.
Is Chevy Reliable
When it comes to American car brands, Chevrolet ranks among the most reliable ones. However, that is not to say that it is the most reliable car brand out there. Japanese brands Toyota and Honda still top the charts when it comes to durability.
How Much Is A 2012 Chevy Cruze Worth
In 2012, the base Chevy Cruze LS had a starting price of $17,500. Nowadays, you can have one of these cars for between $6000 and $12000.
Are Chevy Cruzes Reliable
The reliability of the Chevy Cruze greatly depends on the model year. 2011, 2012, 2013, and 2014 are some of the models that are known to suffer from an array of reliability issues such as engine failure and problems with power steering.