The Land Rover Defender is one of those iconic cars that used to fall under the "if it isn't broken don't fix it" category. However, it has started to show its age especially in terms of engine technology. WIth the 2021 line-up of expanded Defender models, Land Rover has fixed that and much more. The models have become far more versatile and there is something in there for everyone including the first-ever plug-in hybrid Defender.
Defender P400e – The Plug-In Hybrid Show Stopper
The talking point of the new line-up is this plug-in hybrid that not only makes the Defender much more environment-friendly but also very exciting as well. While the body design retains the classic Defender style everyone knows and loves, it is brimming with innovations. It is a full-sized plug-in hybrid electric 4×4 and a really cool feature of this car is that it can be run in pure EV mode in low-range making it one of the most powerful off-roaders.
It is powered by a combination of a 2.0-litre four-cylinder petrol engine and an electric powertrain and together they can generate 404PS of power. The all-electric range is an impressive 27 miles while CO2 numbers are as low as 74 g/km. Being a plug-in hybrid has other perks namely in the form of a 0-60 mph time of 5.4 seconds which is mind-blowing for a full-sized 4X4. There are also a host of other visual and technical goodies scattered throughout this model to make it one of the most well-equipped Defenders yet and if you are thinking of leasing one then visit Orange Wheels.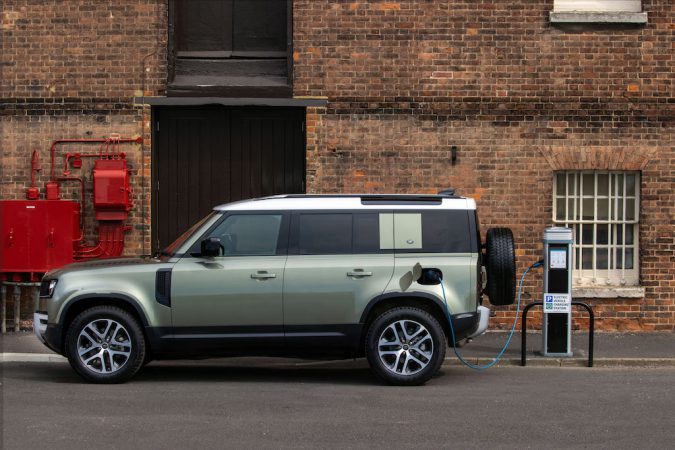 MHEV Goodness For The Other Models
If you are not yet ready to take the full plug-in plunge then the 2021 line-up has something for you as well. These include the new in-line six-cylinder diesel option from the Ingenium engine family. It employs MHEV or Mild-Hybrid Electric Vehicle technology which offers better torque delivery and smooth throttle response while also helping with fuel economy. Top of the line among these is the D300 that offers 300PS and 650Nm of torque. Higher fuel economy is delivered through a Stop/Start system that cuts the diesel engine off when idling and by recovering energy under braking and deceleration. Similarly, the D200 and D250 also use MHEV technology to improve their performance and efficiency while delivering 200Ps and 249PS respectively.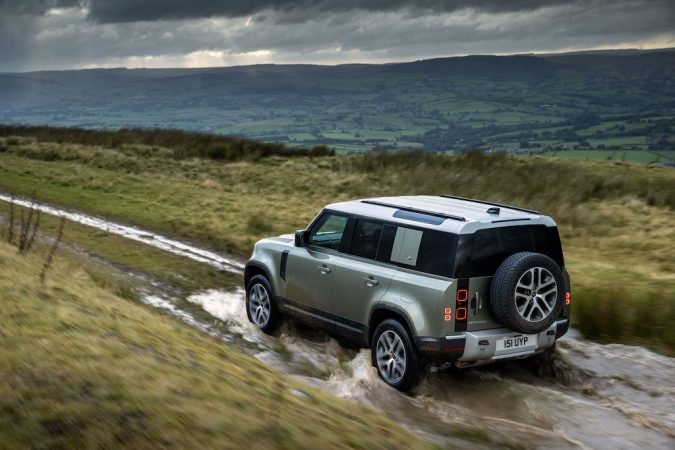 The petrol alternatives include the P300 and P400 with a similar use of MHEV.  The Defender 110 and 90 complete the line-up with the latter being the most capable off-roader thanks to its Electronic Air Suspension and superior breakover geometry. Each of these come in a variety of trims making it quite easy to choose the Defender exactly according to your needs.
X-Dynamic Trim To Further Up The Ante
One of the biggest innovations of the 2021 line-up is the X-Dynamic trim. It offers another level of choice when it comes to the specifications across the entire range. Cars with this trim will both look and feel tougher thanks to elements like Silicon Satin front and rear skid pans, with matching grille bar, allow wheels, Narvik Black mirror caps, window decals and lower sill and wheel arch cladding. The inside will feature the use of Robustec which is a highly durable and tough material that further adds to the off-road capabilities of this line-up.