1. Drift King.
Mansell once did one of the manliest drifts ever seen!
2. Hop in Senna.
Mansell once used his F1 car as a taxi to give Senna a lift back to the pits after a race at Silverstone where Senna's car had run out of fuel (watch out for Senna kicking the marshal).

3. That Mustache.
Mansell is the only person I know that could pull off such a mustache.
4. Top Gear Leaderboard.
Mansell may be in his 60's but he is still close behind all the younger F1 drivers around the Top Gear test track.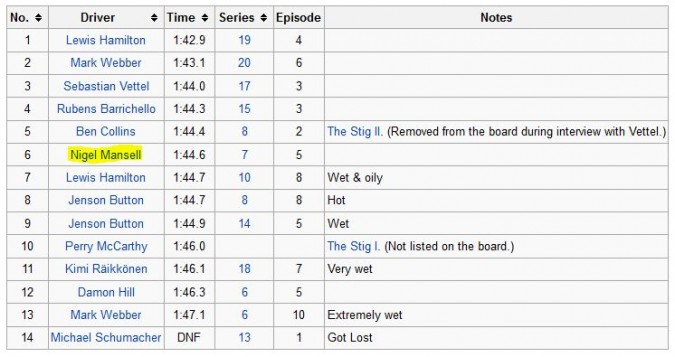 5. Crowned the Most Successfull British Formula One Driver Ever.
Mansell is still measured as the most successfull British Formula One driver. To date he remains unbeaten with 31 race wins and is sixth overall on the Formula One race winners list behind Michael Schumacher, Alain Prost, Ayrton Senna, Sebastian Vettel and Fernando Alonso.