Being the centenary year for Aston Martin, they have been kicking out new models more frequently than ever. Now they have released the convertible Aston Martin Vanquish Volante and what a stunner it is! The drop top will be the first convertible Aston Martin with a carbon body, which promises to be the most rigid soft-top made to date. The Volante will have the drive-train and the 565bhp engine straight from the coupe; however the convertible roof adds an additional 105Kgs of weight and an extra £6000 to list price, making the start price £199,995.
We all love the setup of the Vanquish Coupe and now we have a sunny day version. It houses a well-tuned 5.9-litre V12 that creates 565bhp and 457lb ft of torque, delivered through the six speed paddle shift gearbox to the rear wheels. Aston Martin insists the performance of the car isn't affected by the additional weight, maintaining the same 0-62 at 4.1 seconds and a top speed of 183mph.
 The Vanquish has amazing presence on a set of 20inch wheels surrounded by super skinny 35 profile P Zero tyres. You don't have to look too closely to see the huge set of ceramic composite brakes inside the wheels. Aston Martin is boosting that the body is 14% stiffer than its predecessor, the DBS Volante and also promises to handle better than the DBS Volante. This Aston Martin definitely has the performance to back up its soft top looks.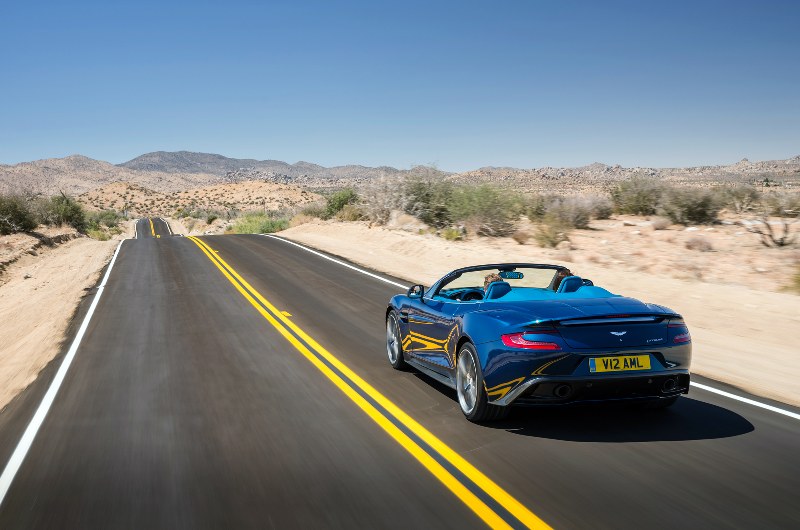 Lets raise the roof It will take 14 seconds from start to finish to increase your headroom, and it's possible to convert the triple layered cloth roof whilst travelling below 30mphs. When the roof is safely in the boot you will still get twice as much boot space as the DBS Volante.
The inside is just as beautiful as ever; it has a slightly squared off steering wheel, touch-sensitive buttons and a super slick centre console that flows from front to back. Now that the roof can be neatly folded away everyone can enjoy the view of the interior like never before.
There is no doubt this is a beautiful car, the only question left is how would you spend your £5 change from the £200,000?
Author: Paul Hadley